More exciting news today!
Steve Olsher, founder & editor-in-chief of Podcast Magazine, has just released a brand new free resource you can grab right away.
If you are a podcaster or soon to be, or if you are using or want to use social audio in your business or just for fun, and if you are a business owner, practitioner, speaker, author, coach, consultant, or someone with a message then this resource is for you.
It's the updated ultimate directory of podcasters, edition 2021. 
STEVE OLSHER'S AUDIO DOMINATION
TRAINING SUITE OPEN UNTIL APR 25
Full review 
Video overview
Extra Bonuses (private FB group, done-for-you and done-with-you marketing services, 2 complete sales funnels)
The Ultimate Directory Of Podcasters 2021
The Ultimate Directory Of Podcasters
A very generous giveaway for those that want to approach podcasting icons and influencers so they can get booked on their shows in order to increase their visibility, credibility, and authority instantly.
The directory that he gives away for free normally costs $297 throughout the year.
In this 62-pages PDF, Steve features hundreds of the world's leading podcasters. This directory aims to help people build relationships with the world's top podcasting names.
I just downloaded my copy and it's a high-quality PDF that is not just a simple list. It contains detailed contact information:
Podcasters photos
Show names
iTunes category
iTunes sub-category
Short biographies
Podcast URLs
Email addresses
Steve's introduction:
Inside, you'll find everything you need to discover shows from each of Apple  Podcasts categories, including many you've likely never heard of but should be listening to.

In addition to paid listings, we chose to highlight many of those whom the Podcast Magazine community ranks at the top of their respective categories.

As with any subjective process, we acknowledge that ours is, perhaps, an imperfect system. We likely missed more than a handful or two of podcasts that should have been included.

That said, the hundreds included are considered among the world's best, and many are actively looking for guests just like you. Wondering how you'll know which to potentially contact if you're interested in leveraging the power of podcast guesting?

Look for the symbol to the right, which indicates those currently booking guests. Combined, they reach thousands upon thousands of people each and every day!
Arts: books, design, fashion & beauty, food, performing arts, visual arts
Business: careers, entrepreneurship, investing, management, marketing, non-profit
Comedy: comedy interviews, improv, stand up
Education: courses, how-to, language learning, self-improvement
Fiction: comedy fiction, drama, science fiction
Government
Health & Fitness: alternative health, fitness, medicine, mental health, nutrition, sexuality
History
Kids & Family: education for kids, parenting, pets & animals, stories for kids
Leisure: animation & manga, automotive, aviation, crafts, games, hobbies, home & garden, video games
Music: music commentary, music history, music interviews
News: business news, daily news, entertainment news, news commentary, politics, sports news, tech news
Religion & Spirituality: Buddhism, Christianity, Hinduism, Islam, Judaism, religion, spirituality
Science: Astronomy, chemistry, earth sciences, life sciences, mathematics, natural sciences, nature, physics, social sciences
Society & Culture: documentary, personal journals, philosophy, places & travel, relationships
Sports: baseball, basketball, cricket, fantasy sports, football, golf, hockey, rugby, running, soccer, swimming, tennis, volleyball, wilderness, wrestling
TV & Film: after shows, film history, film interviews, film reviews, TV reviews
Technology
True Crime
As Steve mentions, this directory was compiled after a thorough examination of thousands of podcasters and shows. He and his team created a ranking system based on:
The number of times a podcaster appeared in the Top 10 of the 'parent' category during a 4-week period
The number of times a podcaster appeared in the Top 10 of the 'sub-category' during a 4-week period
The number of 4 and 5-star ratings for their shows
The number of reviews for their shows
Other variables
This directory can help you
'Broadcast
your Brilliance' with the world if you manage to connect effectively with the featured podcasters. These 670 Top names combined, reach hundreds of millions of people each and every month, and now you can imagine the size of impact this list can do for your business. It would be monumental.
BUT…
Steve underlines that before you try to connect with these people you have to be 100% ready. And you will know you're 100% ready when you can confidently answer 'YES' to at least 4 of the 5 following questions:
Have I already been a guest on at least 20 other shows?
Have I already added value to the person I'm reaching out to in a meaningful way?
Do I have my own show, or a substantial online presence, and have I already connected with, or had a podcaster on my show?
Have I made my presence felt in their community?
Do I know this person, their interests, likes, dislikes and have a solid affinity for them?
And he recommends:
Get featured on shows with significantly less reach before reaching out to these celebrities
Research the podcaster's "currency" and discover ways you can help them achieve their desired objective, and simply do it
Become clear on the people you are trying to reach with your show, launch your own podcast, and begin building your own tribe of fans, followers, and subscribers
Engage with the podcaster's community consistently to develop a relationship.
Download and listen to at least 5 episodes from the podcasters you want to reach out to.
If you follow these guidelines, you'll be able to reap meaningful and countless benefits for your business. But, on the other hand, if you decide to create shortcuts, for example, by sending out immediately cold emails to the 670 Top names, trying to get featured on their shows, the results will have a dramatic negative impact on you…
as Steve highlights…
You may burn bridges that cannot be rebuilt. The podcasters featured within these pages are the true icons of the podcasting world. You
have ONE shot to get it right. Mess it up and not only will you never be invited back to their show, given that the world of podcasters is fairly tight, word will spread about your appearance and the odds of being invited onto others' shows will be dramatically reduced.
He continues by underlining that an aspiring podcaster should first develop real relationships with the podcasters that he wants to appear on their shows and then continue by pitching them the right way.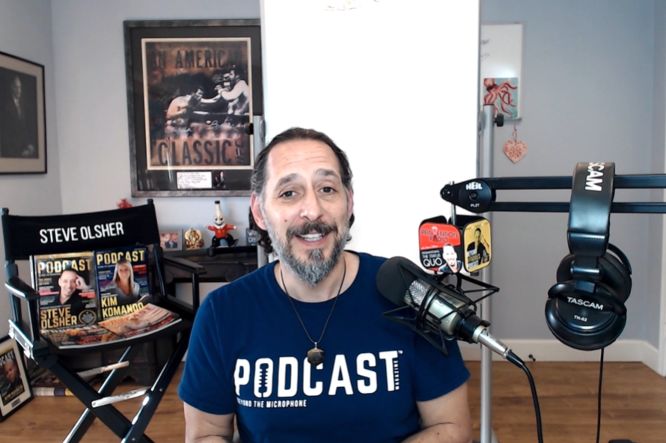 Steve Olsher's Podcasting Background
He has been podcasting since 2009 and got featured on over 500 shows in the past 3 years. He appeared in shows like Click Funnels Hacker Radio, the Go-Giver podcast, Mixergy, the Foundr Magazine's podcast, and many others. He was able to convert this No-Cost visibility into over 100,000 leads and serious revenue.
He is the host of the #1 podcasting show – The Reinvention Radio, and the Best Business Podcast. Additionally, he is a New York Times bestselling author of "What is Your What?", founder of Liquor.com, pioneer of the CompuServe launched in 1993, and creator of the New Media Summit.
And of course, he's the man behind Profiting from Podcasts, the best and most comprehensive training in the world that helps people leverage the power of podcasts and turn their visibility into cash.
If you want to step up your podcasting game and get featured on other people's shows and make valuable connections, create strong business relationships, and elevate your status, this catalog will help you get started.
It's the most comprehensive directory of podcasters that exists and Steve is delivering these kinds of resources for years now.
Plus you can get access to various bonuses I am offering.
We host a series of training sessions. We delivered the 1st session this Sunday, April 11th and you can watch the replay. We discussed the social audio revolution, We analyzed the tremendous opportunity and why now is the best time for brands, entrepreneurs, and people that want to share their message to invest in these mediums.
And most importantly, we helped clarify what an ideal audience is, how to identify your own niche market, your target audience, and we gave numerous examples. Targeting the right people is critical for any business and it's the first step towards success.
When you are clear on who you are serving, you can attract more people in the shortest period of time by using the specific language they use, and boost your visibility and authority instantly.
Also, there's a worksheet you can download for free to follow along with this training and do your homework to get prepared for our next webinar that's happening tomorrow, Thursday, April 15.
In this session, we are going to discuss
Market and competition research
Introduction to direct response marketing and branding
How to plan and prepare your podcast show
How to approach and pitch podcasting icons, medium-sized influencers, and hosts
And, I will give you an overview of Steve's live training that took place this Tuesday, April 13, the rise of podcasting 2.0.
All my bonus resources are on this page.
Steve Olsher's Free Resources:
That's it, another article has finished, here on Web Market Support. I am waiting for your comments and thoughts. Till next time…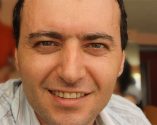 Tasos Perte Tzortzis
Marketing Specialist, Entrepreneur
Although doing traditional business offline since 1992, Tasos fell in love with online marketing in late 2014 and has helped hundreds of brands sell more of their products and services on the web.
He enjoys reading, music & arts, mathematics, chess, coffee, swimming, Audi, and playing with his kids.
Some of the links on this page are affiliate links. For more information, I refer you to the disclaimer page