Last Updated: Oct 13, 2020
Improving the user experience on your website should be a #1 priority. If users can find what they are looking for they will leave your site happy. And that matters, a lot.
One way to do that is by installing useful plugins or widgets. Those widgets enhance performance, add new dimensions and multiply the overall functionality. There are thousands of available free plugins for every type of website. Lately, as I was interested in installing a live chat application I came across many options but I decided to start with Tawk.to. The reason?…the most appealing offer.
And here I am reviewing the application for you as I am already using it for a couple of months now.
When you arrive at the homepage the main headline is pretty straightforward, as it should be…
Message your customers in real-time.
A free messaging app that lets you monitor and chat with visitors on your website of from a free customizable page.
Copy a simple line of Javascript to the HTML of your website and the chat widget starts working instantly.
Start chatting: log in to the dashboard to invite members of your team, create shortcuts, and start chatting with visitors.
Track progress: Monitor and track you and your teams' progress over time, review chat history, and check performance in analytics.
I chose to install the plugin from the WordPress.org directory.
The founder Robert says…
You shouldn't have to pay to chat with the visitors on your own website. They're your visitors!
and they continue…
The best products are free: Facebook, Google, Twitter, Instagram. But free does not mean cheap. The app is jam-packed with all the features you need to provide winning customer support. It is fast, reliable, and scalable. Every day we listen to user feedback so that we can improve the features of the program. Feel free to chat with us at any time to discuss your specific live chat needs.
They say…just because tawk.to is free, that does not mean we don't care about building the features you would expect from a premium chat application. 
Real-time monitoring
Native mobile apps
Automated triggers
Customizable widgets
Ticketing built-in
Remove branding
Canned shortcuts
100+ integrations
What you can do with this app
Monitor website visitors in real time
Answer chats from your mobile device
Proactively engage visitors with Triggers
Customize the widget to suit your site
Localize greetings and messages in your language.
Respond quickly with predefined shortcuts
Integrate with WordPress, Joomla, Magento
and more…
Some of the Tawk.to Clients
Sheraton hotels & resorts
PubCon, Hyundai, Pizza Hut, Europcar
Mercedes-Benz, Commercial Bank, Chevrolet
How can you offer this for free? Currently, we generate revenue by providing live answering services for a selective group of customers.
How many agents can we add? As many as you like!. No limits.
Do you limit the number of concurrent chats? No, no limits again.
Is our data safe? All communications are over 128bit SSL on encrypted servers.
Will I ever be charged to use the software? No, the desktop and mobile apps are all 100% free.
Are there any ads? No, there is nothing to interrupt your experience. 
Sounds like an amazing app, does not it?
27 languages, GEO IP tracking, Aliases, Message filtering
Javascript API, unlimited agents, departments, high load dashboard
Group messaging, track sentiment, file transfer, secure encryption
Video & voice (add-on), unlimited history, tags, custom tabs
Agent messaging, track engagement, attention bubble, message sneak-peak
Screen sharing (coming soon), detailed reporting, domain restriction, visitor information
Desktop notifications, ban/unban visitors, scheduler, in-char payments (in beta mode)
1880+ emoji, agent alerts, mail notifications, automated translation (in beta mode)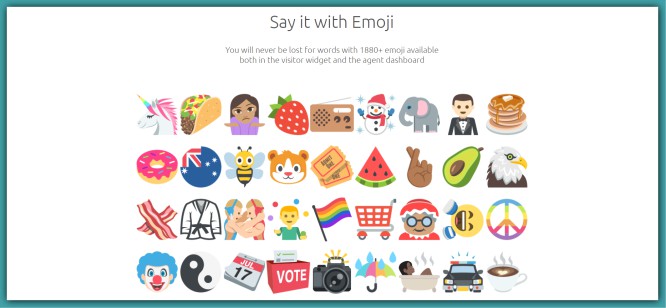 iPhone
Android
Windows
Mac
WordPress, Joomla, OpenCart, Drupal, Magento, Shopify, Weebly, Wix
OsCommerce, Prestashop, whmcs, GeoIP, Talon, ZenCart, Cayzu Help Desk
…and more
The official website is full of guides that can answer any of your questions regarding the app.
Getting Started
Using the dashboard
Integrations
Chat widget customization
Advanced features
Shopping cart integrations
All the members are illustrated as cartoons.
Robert, Julija, Shankar, Thilagah, Kevin, Norbert, Adellon, Tim and more…
If you want to join them there is an email link on the team page. Or you can send your CV/resume to jobs@tawk.to to arrange an interview
They are looking for
UI/UX designer
Backend developer
They offer
Competitive remuneration, motivated team, career growth
Independent environment, international experience
Modern office in Riga's Old Town Centre
 Examples
New iOS & Android mobile apps
Be a guest on our new podcast
Mobile widget for the desktop and more
Tawk.To Premium Services / Add-Ons
Remove the tawk.to branding and use your logo instead.
$9/month – paid annually
$15/month – paid monthly
Hire live agents that are professionally trained and ready to answer chats on your behalf 24/7. Make sure that they are a good fit for your specific niche.
Video/Voice/Screen sharing. Solve problems fast for your customers with Video chat, Voice calls, and a 2-way screen sharing.
More services are coming soon.

I really love this cool application. At first, when I signed up, I was not expecting to find so many features in a free program.
The settings are endless and you can customize the user experience to suit your site's design. 
I installed the tawk.to plugin from my WordPress dashboard. I use a laptop and tawk.to opens in a tab on my internet browser.
On the upper right corner, there is a tab where you can change your status. There are 3 options (invisible, away, and online). Do not forget to change the status when you are offline as all the triggers you already have set will remain enabled. 
Another thing that I like is the sound notifications. Anytime someone enters the chat widget you will be notified from your computer. So there is no need to monitor the tawk.to internet tab at all.
The "Dashboard" tab shows important statistics from all the previous sessions. The "Monitoring" tab shows all the users that are currently on your site. The "Messaging" tab shows all the previous messages with all the visitors separately. When someone wants to chat and you join the conversation, the app automatically shows you the following details
In which page/post the visitor is currently on.
How much time they spent on each page/post on your site
How exactly they landed on your site. For example, referred by a search engine.
If they navigated from one page to another on your site, this is displayed as well
Their country and name
 All of the above details are very useful as you can prepare for the right answer before you even join the conversation. Not only, but you can also analyze the behavior of visitors and even understand which pages and call to actions work better than others.
 The "Reporting" tab shows detailed statistics and analytics. The "Admin" tab is where you change all the settings.
You can also set automated triggered messages. For example, I have set up a welcoming message "Hello, how can I help you?"…whenever a user stays on a page for more than 5 minutes. This way, I can show the visitor that I am there ready to answer their questions. Many visitors started a chat with me by answering my automated message.
It is really up to you. You can ignore this feature if you think it does not get any results. Of course, sometimes visitors might feel they are getting interrupted, but these are rare situations. There are also times that you will receive an angry response…like "Help me?…really?…
But do not get disappointed. Probably those visitors are not potential customers. And even if they are you don't want to mess up with people that do not respect others.
The app is very fast and when you are talking with a visitor the app displays your letters when they type for their next chat message. If they delete or change the text that is updated instantly as well. A feature that can save you tons of time, as you have the chance to prepare the next answer before the user send the message. So, your answer will fly to another end, improving the performance of your site.
 In case you are offline and a visitor wants to leave a message you will be notified when you revisit the tawk.to dashboard and by email as well. The visitor has the option to leave a message and an email address so you can get back to them whenever possible. 
So far I am very satisfied with this application. I have answered dozens of messages and many people enjoyed the tawk.to experience. When I was not using a live chat application the only way visitor could contact me was through the contact form or by leaving a comment. But with the live chat app, you can serve people way faster.
*Update: They lately introduced a partnership program that has 3 levels.
They say…
Become a partner and get access to millions of business users on the tawk.to platform.
Plus, earn ongoing monthly income for every chat widget you add to a client site and client you refer. Earn up to 20% of their monthly spend, for the life of a customer.
3 Levels
Affiliate
Partner
Trusted Partner
Who Can Benefit
Designers
Freelancers
Marketing Agencies
Influencers
Experts
Paid traffic specialists
The tawk.to app is a handy tool, useful for any website, any niche, any industry. Users need answers to their questions and a live chat app is where you can demonstrate speed and your knowledge.
Comments, emails, and contact forms are useful as well. But a live chat app is where you take communication to the next level.
We are living in an era of technology where speed is very important. I suggest that you consider using a live chat app as soon as possible. You won't regret it.
That's it, another review has finished, here on Web Market Support. I am waiting for your comments and thoughts. Till next time.

Tasos Perte Tzortzis
Business Organisation & Administration, Marketing Consultant, Creator of the "7 Ideals" Methodology
Although doing traditional business offline since 1992, I fell in love with online marketing in late 2014 and have helped hundreds of brands sell more of their products and services. Founder of WebMarketSupport, Muvimag, Summer Dream.
Reading, arts, science, chess, coffee, tea, swimming, Audi, and family comes first.
Some of the links on this page are affiliate links. For more information, I refer you to the disclaimer page.