Are you an aspiring or current entrepreneur looking for ways to expand your reach and visibility online? Are you a blogger, website owner, or someone with a message that needs strong and loyal relationships with fans and followers? Are you open to new ideas, methods, and programs?
Or are you a current podcaster looking to get your show to the next level? Or maybe you want to get featured on other people's podcast shows in order to deliver your message effectively.
If you answered 'Yes' to any of the above questions, then this article is for you…
The Ultimate Directory of Podcasters
Steve Olsher is giving away the "Ultimate Directory of Podcasters", a brand new addition to his course "Profiting from Podcasts", which is only available once in a year. The directory that he gives away for free normally costs $297 throughout the year.
In this 147-pages PDF, Steve features 670 of the world's leading podcasters. This directory aims to help people build relationships with the world's top podcasting names.
I just downloaded my copy and it's a high-quality PDF that is not just a simple list. It contains:
Podcasters photos
Show names
iTunes category
iTunes sub-category
Short biographies
Podcast URLs
Email addresses
As Steve mentions, this directory was compiled after a thorough examination of thousands of podcasters and shows. He and his team created a ranking system based on:
The number of times a podcaster appeared in the Top 10 of the 'parent' category during a 4-week period
The number of times a podcaster appeared in the Top 10 of the 'sub-category' during a 4-week period
The number of 4 and 5-star ratings for their shows
The number of reviews for their shows
Other variables
This directory can help you
'Broadcast
your Brilliance' with the world if you manage to connect effectively with the featured podcasters. These 670 Top names combined, reach hundreds of millions of people each and every month, and now you can imagine the size of impact this list can do for your business. It would be monumental.
BUT…
Steve underlines that before you try to connect with these people you have to be 100% ready. And you will know you're 100% ready when you can confidently answer 'YES' to at least 4 of the 5 following questions:
Have I already been a guest on at least 20 other shows?
Have I already added value to the person I'm reaching out to in a meaningful way?
Do I have my own show, or a substantial online presence, and have I already connected with, or had a podcaster on my show?
Have I made my presence felt in their community?
Do I know this person, their interests, likes, dislikes and have a solid affinity for them?
And he recommends:
Get featured on shows with significantly less reach before reaching out to these celebrities
Research the podcaster's "currency" and discover ways you can help them achieve their desired objective, and simply do it
Become clear on the people you are trying to reach with your show, launch your own podcast, and begin building your own tribe of fans, followers, and subscribers
Engage with the podcaster's community consistently to develop a relationship.
Download and listen to at least 5 episodes from the podcasters you want to reach out to.
The outcome
If you follow these guidelines, you'll be able to reap meaningful and countless benefits for your business. But, on the other hand, if you decide to create shortcuts, for example, by sending out immediately cold emails to the 670 Top names, trying to get featured on their shows, the results will have a dramatic negative impact on you…
as Steve highlights…
You may burn bridges that cannot be rebuilt. The podcasters featured within these pages are the true icons of the podcasting world. You
have ONE shot to get it right. Mess it up and not only will you never be invited back to their show, given that the world of podcasters is fairly tight, word will spread about your appearance and the odds of being invited onto others' shows will be dramatically reduced.
He continues by underlining that an aspiring podcaster should first develop real relationships with the podcasters that he wants to appear on their shows and then continue by pitching them the right way.
Steve Olsher's Podcasting Background
He has been podcasting since 2009 and got featured on over 500 shows in the past 3 years. He appeared in shows like Click Funnels Hacker Radio, the Go-Giver podcast, Mixergy, the Foundr Magazine's podcast, and many others. He was able to convert this No-Cost visibility into over 100,000 leads and serious revenue.
He is the host of the #1 podcasting show – The Reinvention Radio, and the Best Business Podcast. Additionally, he is a New York Times bestselling author of "What is Your What?", founder of Liquor.com, pioneer of the CompuServe launched in 1993, and creator of the New Media Summit.
And of course, he's the man behind Profiting from Podcasts, the best and most comprehensive training in the world that helps people leverage the power of podcasts and turn their visibility into cash.
The Ultimate Directory of Podcasters – Categories & Examples
Categories included
:
Fashion & Beauty, Food, Literature, Performing Arts, Visual Arts, Business, Education
Careers, Investing, Management & Marketing, Shopping, Comedy, Language Courses, Training
Games & Hobbies, Automotive, Aviation, Government & Organizations, Health, Kids & Family
Music, News & Politics, Religion & Spirituality, Science & Medicine, Society & Culture
Sports & Recreation, TV & Film, Technology
Every category is divided into sub-categories featuring the Top 10 podcasters names and data
From the Top 10 Overall
:
What should I read next? – Host: Anne Bogel
The black tapes – Host: Alex Reagan
From the Top 10 Design
:
Boagworld show – Host: Paul Boag
Seanwes – Host: Sean McCabe
Profiting from Podcasts – Free Video Training Part 01
The Podcast Revolution is the 1st part of the free video training series that's included in the Profiting from Podcasts course. This course aims to help aspiring podcasters: 
Learn how to best use the ultimate directory of podcasters so that they can optimize the likelihood of getting booked on their high-visibility platforms
Why 'Now' is the best time to launch a podcast show
How to understand and navigate the podcasting terrain based on where they are 'Right Now' in their businesses.
How Steve and his clients are able to generate massive no-cost visibility by appearing on the world's top shows
How to convert visibility and listeners into thousands of high-targeted leads
Open their eyes to the podcasting enormous potential and provide them with the knowledge they need to take full advantage of the unbelievably powerful yet underutilized media
Have meaningful conversations with prospects
How to generate revenue
The course teaches both sides of the podcasting world's coin. How to leverage the power of podcasting as a show and as a guest on other people's shows. The training shows aspiring podcasters that regardless of their industry and niche they serve, there are unlimited opportunities as thousands of already successful podcasters are looking for guests on their shows, as they want to expand their reach and serve their audience as well.
The 2 main reasons why Steve Created this training
There are thousands of coaches, entrepreneurs, authors, speakers, practitioners, or consultants that unnecessary struggle for visibility
Steve's been online since 1993, and he invested millions of dollars in training on SEO, Google AdWords, email marketing, Facebook ads, blogging, keywords, and others. Based on his huge 25+ years experience nothing can be compared to the power of podcasting
There's no cost associated
The podcasters do all of the work, to produce the show, to market it, and get people to download it
It's the podcasters' job to promote your appearance and make you famous
All you have to do as a guest is to show up and share your expertise or story
The podcasters handle everything else
Unlike TV or radio shows where your part lasts only 2-3 minutes maximum, the average podcast interview length is 62 minutes so that prospects get to know you and trust you
You always have the chance to direct people to your website or landing pages to continue the conversation with the prospects
Podcast interviews live on in perpetuity
The echo effect: the podcast episode lives forever so that people can access it anytime, again unlike traditional broadcasting media such as television and radio shows where people don't have the chance to listen to what you said if they missed the moments of your appearance.
One single appearance in a podcasting show can bring visibility for years to come
Already successful podcasters need guests to share their stories and personal experiences, because this is what their audience needs. People are getting bored hearing the same voice all the time, they need change, is part of the human nature
There's a major shift in how people are consuming informational and educational content
All a podcaster needs is a mouth, a message, and a microphone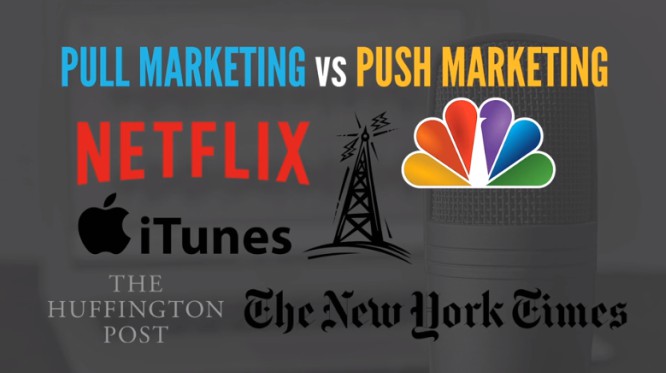 Push Marketing vs Pull Marketing
The push method represents the old way of communication, like radio, television, newspapers, magazines, email, social media marketing. With this method, a message is being distributed and pushed on a mass market basis to all who have access to the respective distribution channel regardless of what the people want to receive.
The pull method represents the future of all content consumption. It is built on the foundation of what the consumer exactly wants, taking into consideration the device people want to use or the channel. The pull method is the future of marketing communication. It helps develop more meaningful relationships, consistently generating no-cost leads, and ultimate drive huge gains in revenue and profit.
Push marketing examples: NBC, the New York Times
Pull marketing examples: Netflix, iTunes, the Huffington Post
When someone downloads a podcast episode to listen to, basically that means they want it. It's like having a
100% open rate
or click-through rate.
People consume podcast shows using their headphones and that creates a strong bond with the podcaster, it's like listening to music. There's a personal connection.
Podcast listeners are 130% more likely to invest in a product, program, or service recommended by the podcast host.
Podcast listeners have money to spend based on recent research. The research uncovers that 41% of podcast listeners have an annual household income of $75,000. 15% of them have more than $150,000 annual income.
Podcast listenership is set to explode:
Because technology is now available to the masses, that was not available in early times. People had to take many steps before getting access to a podcast show.
In the next 5 years or so, all cars will have available wifi connections. The dashboard of our cars is changing. A dashboard with features like phone, music, maps, messages, podcasts, audiobooks. Apple and Google are developing car apps at the moment.
Profiting from Podcasts – Free Video Training Part 02
Steve released the 2nd part of the free podcasting workshop, called "Get Clients from Podcasts". Additionally, this material is accompanied by a 13-pages e-book under the same title.
The Podcast Revolution is a free training you should not miss. Not only you're getting access to the world's leading podcasting names and data, but you'll dive deep into the world of podcasting. It will open your eyes to the real potential of this medium that is underutilized at the moment. And this is a great opportunity for all the aspiring podcasters from every corner of the world.
I was introduced to Steve Olsher and his material by a friend of mine and after discussing with other partners on various forums and communities, everyone had only positive comments and stories to share.
Based on my 4+ years online marketing experience I can confidently say that listening to podcasts and audio files generally, was the method that had the biggest impact on my career.
I prefer listening to podcasts and audio in my car, and when I do I'm completely focused and connected to the podcaster's host and their guests.
All that Steve Olsher uncovers in his 1st part of the training are absolutely true. Podcast listeners are way more likely to purchase products, programs, and services. I know I do when I listen to podcasts. I purchased way more marketing books and courses after listening to podcasts than all the other marketing methods combined.
If it works for me, for Steve Olsher, and thousands of other entrepreneurs, podcasters, and podcast guests, it will work for you.
But you may ask me…
How come you don't have a podcast show up and running yet?
This is a tough question for me but I will answer, I will speak the truth.
I do marketing since December 2014. I live, breathe, and dream marketing. This is what I do for a living. I help companies sell more of their products, both locally and globally. I offer marketing and advertising services to clients directly and as a marketing publisher indirectly through this website.
My approach and marketing methods are very similar to Steve Olsher and Profiting from Podcasts.
With the only exception, that I don't do podcasts, at least yet. Right now, my schedule is full and my next goal is to open a local agency office downtown. That's the first reason I'm not doing podcasts yet.
The 2nd and very important reason I have not yet started doing podcasts or videos for that matter is my voice. Yes, my voice. My native language is Greek, and my English accent is something I'm not very proud of, I hope you know what I mean.
Even legendary marketers like Neil Patel have not utilized the power of podcasts and videos, until very recently. He was in the same exact situation as me. He got over it after being a marketer for over 10 years or so. I hope I'll be able to get over it soon, but I may need your help on this.
With all that being said, podcast is the medium that gets people attention, that creates strong relationships and connections, and ultimately motivates people to buy because of all the things we mentioned before in this article.
Steve Olsher's experience is a guarantee, and the Ultimate Directory of Podcasters is a massive free resource you simply can't miss.
Even if you don't plan on podcasting any time soon, you have to take advantage of this huge offer.
Steve Olsher's Free Resources:
That's it, another article has finished, here on Web Market Support. I am waiting for your comments and thoughts. Till next time…

Some of the links on this page are "affiliate links". This means if you click on the link and purchase a product, membership, or service, I may receive an affiliate commission at no extra cost to you. Regardless, I only recommend products and services I use personally or I believe will add value to my readers. I am disclosing this in accordance with the Federal Trade Commission's: Guides Concerning the Use of Endorsements and Testimonials in Advertising. For more information, I refer you to the Disclaimer page.