Now, my friend Steve Olsher is giving away a lifetime digital subscription to his "Podcast Magazine". 
STEVE OLSHER'S AUDIO DOMINATION
TRAINING SUITE OPEN UNTIL APR 25
Full review 
Video overview
Extra Bonuses (private FB group, done-for-you and done-with-you marketing services, 2 complete sales funnels)
Steve Olsher
Free Lifetime Subscription To The "Podcast Magazine"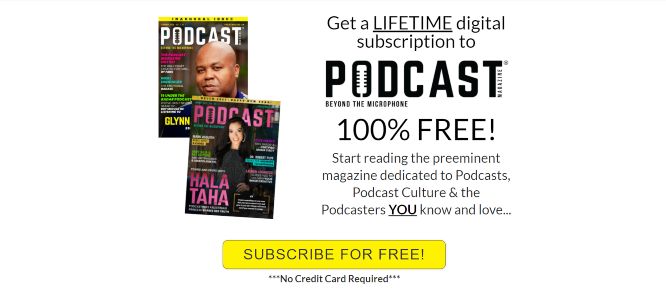 He's known as:
the podcasting icon!
He's been podcasting since 2009, he's kind of old.
Founder & Editor-In-Chief of Podcast Magazine®
30+ year entrepreneur and creator of

 

four multimillion-dollar businesses
* Founder & Editor-In-Chief of

 

Podcast Magazine®
* Creator of the largest podcast-specific 'Club' on Clubhouse,

 

ClubPod™
* Host of the #1 rated podcast, Reinvention Radio 
*

 

NY Times bestselling author

 

of

 

What Is Your WHAT? Discover The ONE Amazing Thing You Were Born To Do
* International keynote and

 

TEDx speaker
* Creator & Host of

 

The New Media Summit

 

where the world's top podcasters gather to share best practices and book guests for their high-visibility platforms…

 

on the spot!
I got access to the magazine last year and now you have the chance to get access too. I am reading it like a maniac, as I am preparing for my podcast, "Ellada Igetis Kai Pali".
What does that mean?
It's a podcast in Greek, it means "Greece Leader Again". Although Greece is not the right name, our country is called "Hellas". Hellenic, Hellenistic, Hellenism are some words you might recognize.
The podcast is all about helping Greek startups identify their target audience using our unique "7 Ideals" methodology.
I have recorded a few episodes and I'm going to release them soon.
All of that, thanks to the Podcast Magazine, the New Media Summit I attended a while ago, and other training resources by Steve Olsher.
What to Expect:
Takes you behind the scenes and into the lives of today's leading podcasters

Showcases, and reviews, both well-known shows and amazing shows that fly under the radar

Goes deeper into the stories podcast fans love and can't get enough of!

Introduces readers to new, podcast-related gear, products, technologies and platforms

Features the Podcast Magazine Hot 50! The only monthly chart based on podcast fan voting!

and so much more!
Let me walk you through some of the resources!
Inside The Podcast Magazine
Categories:
Arts
Business
Comedy
Education
Fiction
Gadgets, gizmos, and gear
Government
Health and fitness
History
Kids and family
Leisure
Music
News
Religion and spirituality
Science
Society and culture
Sports
Technology
The professional podcaster
True crime
TV and film
Article and stories samples:
It's fun to be silly by Christine Franklyn.
Under the radar: marriage is funny.
A wonderful wacky world.
Dads vote for May top podcasts
UTR: baggage claim
Jane Goodall's Hopecast
Painful pivot
Under the radar story: me to we talk podcast
Rachel Hollis: unapologetically Rachel
the database is huge.
Hot 50s:
Hot 50 countdown:

Each month, Podcast Magazine's own Rob Actis counts down the Top 50 podcasts in the land as determined by podcast fans. From True Crime and Society & Culture, to Self-Help, Health & Fitness, Science, News, Sports, Technology and every podcast category in between, month in and month out, nearly every genre is represented.

Hot 50 voting: cast your vote, podcast 1, 2, and 3.
The team:
Steve Olsher: founder, editor-in-chief. 
Kelly Poelker: executive editor
Elizabeth Scott: creative director
Megan Yakovich: assistant editor
Steve Olsher's Podcasting Background
He has been podcasting since 2009 and got featured on over 500 shows in the past 3 years. He appeared in shows like Click Funnels Hacker Radio, the Go-Giver podcast, Mixergy, the Foundr Magazine's podcast, and many others. He was able to convert this No-Cost visibility into over 100,000 leads and serious revenue.
He is the host of the #1 podcasting show – The Reinvention Radio, and the Best Business Podcast. Additionally, he is a New York Times bestselling author of "What is Your What?", founder of Liquor.com, pioneer of the CompuServe launched in 1993, and creator of the New Media Summit.
And of course, he's the man behind Profiting from Podcasts, the best and most comprehensive training in the world that helps people leverage the power of podcasts and turn their visibility into cash.
Go on and register for free and get lifetime access to the Podcast Magazine. They will be delivering you to your inbox.
If you want to stay updated on the major shifts, get to know podcasting and social audio icons that you can approach with your pitch so you can get booked on their shows, and enhance your knowledge in this industry, this is a must-have resource.
Besides, it's free for life but only for a few days.
Also, I'm giving you access to our live training masterclass series as a bonus for grabbing this free resource 
Your journey to podcasting has just become brighter
Steve Olsher is the go-to-podcasting-icon of all times. 
Additionally, he managed to become the #1 podcasting influencer on Clubhouse in a matter of days. 
The magazine is a must-have resource if you want to step up your game and beat the competition.
Steve Olsher's Free Resources:
That's it, another article has finished, here on Web Market Support. I am waiting for your comments and thoughts. Till next time.
Tasos Perte Tzortzis
Marketing Consultant, Creator of the "7 Ideals" Methodology
Although doing traditional business offline since 1992, I fell in love with online marketing in late 2014 and have helped hundreds of brands sell more of their products and services. Founder of WebMarketSupport, Muvimag, SummerDream.
I enjoy reading, arts, science, chess, coffee, swimming, Audi, and playing with my kids.
Some of the links on this page are affiliate links. For more information, I refer you to the disclaimer page.