STEVE OLSHER'S AUDIO DOMINATION
TRAINING SUITE OPEN UNTIL APR 25
Full review 
Video overview
Extra Bonuses (private FB group, done-for-you and done-with-you marketing services, 2 complete sales funnels)
Steve Olsher & Lineup – Audio Domination Livestream
Saturday, Apr 24 @ 1 pm Pacific
He's known as:
the podcasting icon!
He's been podcasting since 2009, he's kind of old.
Founder & Editor-In-Chief of Podcast Magazine®
30+ year entrepreneur and creator of

 

four multimillion-dollar businesses
* Founder & Editor-In-Chief of

 

Podcast Magazine®
* Creator of the largest podcast-specific 'Club' on Clubhouse,

 

ClubPod™
* Host of the #1 rated podcast, Reinvention Radio 
*

 

NY Times bestselling author

 

of

 

What Is Your WHAT? Discover The ONE Amazing Thing You Were Born To Do
* International keynote and

 

TEDx speaker
* Creator & Host of

 

The New Media Summit

 

where the world's top podcasters gather to share best practices and book guests for their high-visibility platforms…

 

on the spot!
Audio Domination Livestream
During this in-depth training, you'll learn:
How to convert Clubhouse, podcasts, and social audio into revenue
You'll meet some amazing social audio all-stars that have mastered how to leverage the combined power of podcasting and social audio
And they will show you how to do it on your own
plus there are high-value prizes including a favorite microphone, features in the Podcast Magazine, appearances on Clubhouse stages, and much more.
Lineup: 
Steve Olsher –

 

Podcast Magazine® / ClubPod™

Deb Cole – coach,

 

Social Media & Brand Strategist

Christian Mickelsen –

 

#1 Author of Get Clients Today! 
Roland Frasier –

 

Digital Marketer, Business Lunch Podcast
Jeff Brewer –

 

Product Launch Expert–Digital Eye Media
and so many more
We're going to meet these amazing podcasting icons and social audio rockstars.
Each and every one of them has impacted thousands of people and they have mastered how to combine audio mediums like podcasting and social audio in their business.
And of course, there's no better moment in time to get involved with these mediums to share your message with the world using just your voice. A microphone or smartphone, and an internet connection. 
That's all it takes.
I am ready to broadcast my brilliance with audio. I did it with video, although I had a huge problem appearing live and showing my face.
I believe audio is way easier. Faster productions, no need to worry about your appearance and the way you look. Just plug and play.
Awesome, join me for today's live stream, this is going to be epic.
Steve underlines that there are 3 types of people when it comes to business. 
Those who watch the things happen, those who wonder what happens, and those who make things happen. 
Choose your group wisely!
Steve Olsher's Podcasting Background
He has been podcasting since 2009 and got featured on over 500 shows in the past 3 years. He appeared in shows like Click Funnels Hacker Radio, the Go-Giver podcast, Mixergy, the Foundr Magazine's podcast, and many others. He was able to convert this No-Cost visibility into over 100,000 leads and serious revenue.
He is the host of the #1 podcasting show – The Reinvention Radio, and the Best Business Podcast. Additionally, he is a New York Times bestselling author of "What is Your What?", founder of Liquor.com, pioneer of the CompuServe launched in 1993, and creator of the New Media Summit.
And of course, he's the man behind Profiting from Podcasts, the best and most comprehensive training in the world that helps people leverage the power of podcasts and turn their visibility into cash.
I'm also giving you another exclusive bonus just for attending the free event with Steve today.
We host a series of training series where we not only discuss social audio and podcasting but we teach you how to market and grow your shows and social voice.
You'll get access to the training and all the replays, the webinars, the slides, worksheets, and all the free material we are releasing.
Our 4th live training was broadcasted today We have the replay available. 
You don't want to miss this replay.
We did a recap of what we covered so far in the world of social audio.
We discussed advanced marketing strategies, paid advertising, email marketing, and sales funnels.
We presented you with the new opportunity through Steve Olsher's Audio Domination training suite. And we gave a complete overview of what this program covers. The 6-week live intensive training led by Steve, the profiting from podcasts training, a standalone digital course, the done for you services like the 2 podcast bookings on other people shows, the custom media one sheet to boost your professionalism, the podcast booking software, and all the bonuses that Steve's team compiled.
And we announced our huge bonuses. A dedicated FB group where I'm going to be training you live on marketing, advertising, and sales. The done-for-you and done-with-you marketing services and the 2 complete sales funnels we are going to create for your audio business together. 
If you're already subscribed to our marketing magazine, you have access to the bonus training and all the resources. 
The Audio Domination Livestream is a must-attend free training you should not miss. Not only you're getting access to the world's leading podcasting icons and social audio experts, but you'll dive deep into the world of podcasting and social audio. It will open your eyes to the real potential of this medium that is underutilized at the moment. And this is a great opportunity for all aspiring podcasters from every corner of the world.
Steve Olsher's Free Resources:
That's it, another article has finished, here on Web Market Support. I am waiting for your comments and thoughts. Till next time…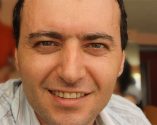 Tasos Perte Tzortzis
Marketing Specialist, Entrepreneur
Although doing traditional business offline since 1992, Tasos fell in love with online marketing in late 2014 and has helped hundreds of brands sell more of their products and services on the web.
He enjoys reading, music & arts, mathematics, chess, coffee, swimming, Audi, and playing with his kids.
Some of the links on this page are affiliate links. For more information, I refer you to the disclaimer page