In the previous article, we discussed how you can take advantage of the Ultimate Directory of Podcasters, shared by Steve Olsher, in order to create connections with top industry names. We explored the Podcast Revolution, the 1st part of the free workshop where Steve underlines all the benefits of the podcasting business model. And eventually, we discovered that podcast listenership is set to explode in the next years.
Podcasting is a medium with unlimited potential and countless benefits but it's under-utilized at the moment, and the podcasting circle is fairly tight. This makes the perfect moment in time for aspiring podcasters to share their message with the world.
STEVE OLSHER'S AUDIO DOMINATION
TRAINING SUITE OPEN UNTIL APR 25
Full review 
Video overview
Extra Bonuses (private FB group, done-for-you and done-with-you marketing services, 2 complete sales funnels)
Get Clients from Podcasts
Profiting from Podcasts – Free Video Training
Steve just released another free workshop, called "Get Clients from Podcasts". Additionally, this material is accompanied by a 13-pages e-book under the same title.
Steve Olsher's Podcasting Background
He has been podcasting since 2009 and got featured on over 500 shows in the past 3 years. He appeared in shows like Click Funnels Hacker Radio, the Go-Giver podcast, Mixergy, the Foundr Magazine's podcast, and many others. He was able to convert this No-Cost visibility into over 100,000 leads and serious revenue.
He is the host of the #1 podcasting show – The Reinvention Radio, and the Best Business Podcast. Additionally, he is a New York Times bestselling author of "What is Your What?", founder of Liquor.com, pioneer of the CompuServe launched in 1993, and creator of the New Media Summit, a live event where you can connect immediately with top podcasters and get booked on their shows on the spot.
And of course, he's the man behind Profiting from Podcasts, the best and most comprehensive training in the world that helps people leverage the power of podcasts and turn their visibility into cash.
The Podcast Revolution is a free video training series that's included in the Profiting from Podcasts course. This course aims to help aspiring podcasters: 
Learn how to best use the ultimate directory of podcasters so that they can optimize the likelihood of getting booked on their high-visibility platforms
Why 'Now' is the best time to launch a podcast show
How to understand and navigate the podcasting terrain based on where they are 'Right Now' in their businesses.
How Steve and his clients are able to generate massive no-cost visibility by appearing on the world's top shows
How to convert visibility and listeners into thousands of high-targeted leads
Open their eyes to the podcasting enormous potential and provide them with the knowledge they need to take full advantage of the unbelievably powerful yet underutilized media
Have meaningful conversations with prospects
How to generate revenue
The course teaches both sides of the podcasting world's coin. How to leverage the power of podcasting as a show and as a guest on other people's shows. The training shows aspiring podcasters that regardless of their industry and niche they serve, there are unlimited opportunities as thousands of already successful podcasters are looking for guests on their shows, as they want to expand their reach and serve their audience as well.
The 2 main reasons why Steve Created this training
There are thousands of coaches, entrepreneurs, authors, speakers, practitioners, or consultants that unnecessary struggle for visibility
Steve's been online since 1993, and he invested millions of dollars in training on SEO, Google AdWords, email marketing, Facebook ads, blogging, keywords, and others. Based on his huge 25+ years experience nothing can be compared to the power of podcasting
There's no cost associated
The podcasters do all of the work, to produce the show, to market it, and get people to download it
It's the podcasters' job to promote your appearance and make you famous
All you have to do as a guest is to show up and share your expertise or story
The podcasters handle everything else
Unlike TV or radio shows where your part lasts only 2-3 minutes maximum, the average podcast interview length is 62 minutes so that prospects get to know you and trust you
You always have the chance to direct people to your website or landing pages to continue the conversation with the prospects
Podcast interviews live on in perpetuity
The echo effect: the podcast episode lives forever so that people can access it anytime, again unlike traditional broadcasting media such as television and radio shows where people don't have the chance to listen to what you said if they missed the moments of your appearance.
One single appearance in a podcasting show can bring visibility for years to come
Already successful podcasters need guests to share their stories and personal experiences, because this is what their audience needs. People are getting bored hearing the same voice all the time, they need change, is part of the human nature
There's a major shift in how people are consuming informational and educational content
All a podcaster needs is a mouth, a message, and a microphone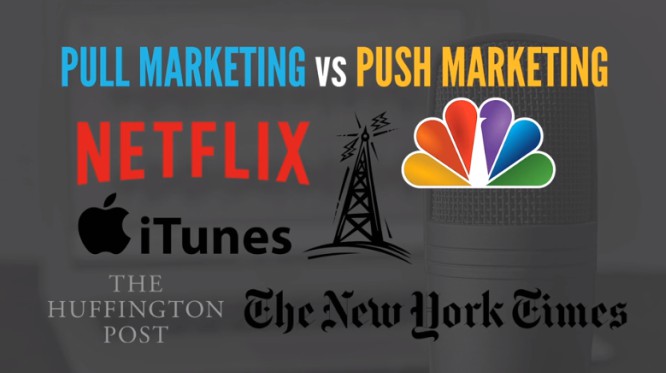 Push Marketing vs Pull Marketing
The push method represents the old way of communication, like radio, television, newspapers, magazines, email, social media marketing. With this method, a message is being distributed and pushed on a mass market basis to all who have access to the respective distribution channel regardless of what the people want to receive.
The pull method represents the future of all content consumption. It is built on the foundation of what the consumer exactly wants, taking into consideration the device people want to use or the channel. The pull method is the future of marketing communication. It helps develop more meaningful relationships, consistently generating no-cost leads, and ultimate drive huge gains in revenue and profit.
Push marketing examples: NBC, the New York Times
Pull marketing examples: Netflix, iTunes, the Huffington Post
When someone downloads a podcast episode to listen to, basically that means they want it. It's like having a
100% open rate
or click-through rate.
People consume podcast shows using their headphones and that creates a strong bond with the podcaster, it's like listening to music. There's a personal connection.
Podcast listeners are 130% more likely to invest in a product, program, or service recommended by the podcast host.
Podcast listeners have money to spend based on recent research. The research uncovers that 41% of podcast listeners have an annual household income of $75,000. 15% of them have more than $150,000 annual income.
Podcast listenership is set to explode:
Because technology is now available to the masses, that was not available in early times. People had to take many steps before getting access to a podcast show.
In the next 5 years or so, all cars will have available wifi connections. The dashboard of our cars is changing. A dashboard with features like phone, music, maps, messages, podcasts, audiobooks. Apple and Google are developing car apps at the moment.
Proven Strategies for Turning Visibility Into Cash
The Podcasting phenomenon is revolutionizing the way entrepreneurs everywhere are connecting with ideal prospects, cultivating a loyal, borderline fanatic following and selling their products, programs, and services to customers all over the world.
Steve mentions that getting booked starts with identifying the RIGHT shows to appear on, those where you have the best chances to get booked, in order to connect with "icons of influence" who host the shows and have already built their following of loyal fans and listeners.
The key thing is to get booked on shows that share the same interests with your area of expertise. It's way better to get booked on smaller shows in the same exact niche with yours, than getting booked on popular shows that are more generic.
How to Identify the Right Shows
Although there are many distribution channels for podcasts, the king is
iTunes
. The vast majority of podcasters are using this platform.
The "Riches are in the Niches".
This expression in the world of podcasts should become your Mantra, Steve continues…
A show that focuses on your particular topic will have a VERY high percentage of listeners who fall within your target market and have a demonstrated interest in this subject matter. 
These are the shows I suggest you focus on first.
Not only will you see a significantly higher response rate to your teachings and offerings, you'll be able to cut your teeth on smaller shows and gain comfort with speaking in sound bites, interacting in an effective manner with the hosts and be ready to crush it on the larger shows when the invitations come… which they will.
Step #1 – Articulate your area of focus, your Topic of Influence (TOI)
Your Topic of Influence is the 1, 2, 3 or 4-word phrase that summarizes who you are and what you specialize in. For example, Steve's TOI is one word, reinvention.
VBV (Visibility Begets Visibility)
Visibility is the lifeblood of your business and visibility begets more visibility – the more visibility you have, the more visibility you'll generate.
Step #2 – Search in iTunes
Let's say for instance that your Topic of Influence is Retiring Rich. Steve suggests just typing in 'retirement' into the search box as this is a fairly niche subject, to begin with. Multiple relevant shows are found including Money For The Rest Of Us, Radical Personal Finance and InvestTalk. Let's start with one of the first shows that comes up, Money For The Rest Of Us from J. David Stein
Step #3 – Look for when the last episode was released
You want shows that are active, meaning the last episode should have been released in the last 45 days. If the last episode was released over 2 months ago, Steve suggests that you continue researching shows.
Step #4 – Listen to at least 3-4 episodes
You need to understand what the show is all about, if you like the content and the host podcaster, is it a show you'd like to appear on? Moreover, you have to make sure the podcaster is open to interviews.
The Profiting from Podcasts training covers 5 different types of podcasting shows, and an interview-style show holds the highest likelihood for you to get booked on, by far.
Step #5 – Visit the podcaster's website
Probably there's an about page to get a sense of what the show is, and there's contact information either on that page or on the contact page. Now it's time for you to decide if you want to pitch the podcaster with an email about what you do and how you can benefit their audience by appearing and sharing valuable information.
Next thing is to use iTunes and search for your TOI (topic of influence) and repeat the process for other podcasters and shows.
November 2013, the Lowest Points of Steve's Life
Steve is sharing a story and how he was able to bypass countless major drawbacks and problems.
Monetizing your Visibility – the $1000 Funnel
You need to be an engaging guest to enroll people in your eco-system. You want to pique people's interest so that they want to continue their conversation with you.
Unlike traditional broadcast media, podcast hosts will always invite you to share the best place for listeners to get more information about you, to connect with you or to grab one of your free resources. This is where The $1,000 Funnel begins.
Create a Free resource that furthers the discussion
This lead magnet could be anything, like eBooks, reports, blueprints, audio downloads, videos, PDFs. templates, files, free training. The resource should be simple and meet the following criteria:
1) It must be FREE and cost you nothing to deliver.
2) It must further the conversation from your interview, and
3) It must be an absolute 'no-brainer' to provide one's name and email address to receive.
In other words, the listener has to feel as though the value of the freebie far exceeds the 'price' of providing their name and email.
Then Steve describes the whole process with examples of his $1000 funnel.
He appears on a lot of personal development related shows where he uncovers his proven framework for helping people discover their WHAT, the one thing they were born to do.
At the end of the interview, the host will always allow him to invite listeners to connect if they like more information. This is the moment he shares a free copy of his New York Times bestseller book, What is your What.
On average, 250 people provide their emails to get access to the free book.
Then, on the same page, he offers a different version of the same resource. A free hardcover copy of the book where people have only to pay for shipping, something like $7.99.
20% of those 250 people say yes, and buy the hardcover book.
And although having people to pay $8 is not exactly a business, this is a very important moment as Steve describes…
Because the most difficult thing in any business is to acquire a customer. To get people to spend one dollar with you. After this point, the next sale is exponentially easier, and every sale after the 2nd point is even easier to make.
When someone invests in you, it completely changes everything.
I have to agree on that, this is the most difficult point in selling and marketing in general. This way a passive prospect becomes an active customer, even if they only spend a dolar.
This is when Steve offers a 3rd version of the same exact resource. In this case, the Reinvention Workshop, which is an online course that takes people through the "What is your What" process.
He says…
We recorded one of the last Workshops I did, broke it down into short-form videos, added the written materials from the live event and sell it as an online course. After someone invests in grabbing the hardcover book for $7.99, we present a one-time-only offer to invest in The Reinvention workshop online course for just $49 and approximately 25% of them do so.
And he continues…
As I said, roughly 20% of those who opt-in for the eBook choose to get a hardcover copy. This equates to 50 people. At $7.99 apiece, I generate approximately $400 in revenue.
Of these 50 people, roughly 25% invest in The Reinvention Workshop Online Course. This equates to approx. 13 people. At $49 apiece, I generate, on
average, $612 in revenue.
Add the two together and it adds up to $1,012 in immediate revenue.
This method can add up very quickly, as Steve appears in multiple interviews per week. But even if you have only a few hours to spend in a week, still, you can do miracles.
I really enjoyed the Get Clients from Podcasts workshop by Steve Olsher. Now the Podcasting method becomes clearer.
And I want to be completely honest with you.
If you're just getting started, then you need to be clear on your topic of influence (TOI), and you need to be fluent enough to appear on other people's shows or to create your own podcasting show.
To make Profiting from Podcasts course a success for you, you need to work following the training and you need to have a strong presence online.
Additionally, you need to create free resources and lead magnets in order to hook people into your content. In other words, you need to have an active sales funnel in place.
But even if you don't have products or services to sell, appearing in podcasts and interviews will increase your authority, and help you gain high-targeted leads that you can convert them into cold hard cash shortly.
This is where I can help you with my bonuses to get recognized faster and I will guide you through the training step-by-step.
All in all, the material Steve shared are high-quality, comprehensive, and can get you booked on top podcasting shows.
You have nothing to lose in trying Steve's methods. They are free. Grab them now when there's still time.
Steve Olsher's Free Resources:
That's it, another article has finished, here on Web Market Support. I am waiting for your comments and thoughts. Till next time…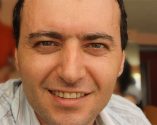 Tasos Perte Tzortzis
Marketing Specialist, Entrepreneur
Although doing traditional business offline since 1992, Tasos fell in love with online marketing in late 2014 and has helped hundreds of brands sell more of their products and services on the web.
He enjoys reading, music & arts, mathematics, chess, coffee, swimming, Audi, and playing with his kids.
Some of the links on this page are affiliate links. For more information, I refer you to the disclaimer page