STEVE OLSHER'S AUDIO DOMINATION
TRAINING SUITE OPEN UNTIL APR 25
Full review 
Video overview
Extra Bonuses (private FB group, done-for-you and done-with-you marketing services, 2 complete sales funnels)
Steve Olsher – Audio Domination Part 2
Monday, Apr 20 @ 1 pm Pacific
He's known as:
the podcasting icon!
He's been podcasting since 2009, he's kind of old.
Founder & Editor-In-Chief of Podcast Magazine®
30+ year entrepreneur and creator of

 

four multimillion-dollar businesses
* Founder & Editor-In-Chief of

 

Podcast Magazine®
* Creator of the largest podcast-specific 'Club' on Clubhouse,

 

ClubPod™
* Host of the #1 rated podcast, Reinvention Radio 
*

 

NY Times bestselling author

 

of

 

What Is Your WHAT? Discover The ONE Amazing Thing You Were Born To Do
* International keynote and

 

TEDx speaker
* Creator & Host of

 

The New Media Summit

 

where the world's top podcasters gather to share best practices and book guests for their high-visibility platforms…

 

on the spot!
In today's live training, Steve is going to reveal his top strategy for turning your voice into profits. No matter how popular you become with podcast shows and appearances, and social audio rooms and clubs, you should be monetizing your presence. This training will help you do that efficiently and reach your monetizing goals in the shortest period of time.
During this in-depth training, you'll learn:
The new billion-dollar opportunity
Why this opportunity is completely unique, incredibly rare and loaded with virtually limitless profit potential
Clubhouse: the story and strategy behind Steve's success with the growing ClubPod™

  into the #1 largest podcast-specific group on ALL of Clubhouse…and how he didi it in just a few months

Discover how you can leverage the combined power of podcasts and social audio to grow your authority as an industry expert, attract boatloads of qualified leads and create predictable and colossal cash flow in your business

Why Audio Domination™ is the ONLY system for profiting through audio that can be seamlessly adapted to any distribution platform WITHOUT diminished returns.
It's the first time that Steve is going to take off the curtain and take us behind the scenes to let us know how he was able to dominate the social app that took the world by storm, Clubhouse, and how he was able to grow his audio club, ClubPod, to over 50,000 members and followers in less than 90 days.
He will explain how things changed, and what's next for podcasting, and how to use social audio as a complementary weapon to fuel your podcasting shows and guest appearances on other people's shows.
He'll be presenting numbers, amazing statistics, and facts on how much time people spend on apps like Clubhouse, and what established podcasters are doing right now, and more.
Steve is going to reveal how early adopters are using the right mix of podcasting and social audio presence to fuel growth for their businesses and how they will be able to be light years ahead of everyone.
It's a voice-first economy, a much simpler form of doing business online. No need for expensive productions anymore.
People are eager for simple things, human communication, and fruitful relationships and conversations where they can interact with brands, businesses, and with each other.
If you are a micro-influencer like me, who does not have a huge following of thousands of people, if your list is not 100,000 people big, if you are a guru, or even if you are just getting started, then this is the perfect time for you to be part of this new economy.
Now, micro-influencers have the power to reach thousands of people using only their voices.
And they compete with giants, influencers with a huge following on social media, gurus, and big corporations.
It works for every industry and nihce. It does not matter if you're a coach, consultant, practitioner, business owner, or just someone with a message. You can get people's attention with your voice, and your voice alone. 
All you need is a message, a microphone or smartphone, and an internet connection.
Steve has been blessed to watch trends come and go since the late 90's when he launched his first eCommerce site on the net. He's a pretty old player in this online game and he was always discovering the next big thing and the next one. 
He did the same with podcasting, again as a very early adopter in 2009 with his podcast show 'The Reinvention Radio' that was a huge success. At that time, Steve was helping people discover the phenomenal power of podcasting. 
This is absolutely true, trends come and go, and now we in the middle of a new one. the mix of podcasting and social audio. Audio platforms like Clubhouse, LockerRoom, Fireside, Twitter Spaces, and so many more.
If you missed the Facebook bandwagon, or Twitter, Instagram, TikTok, and so on, pay attention to the new trend.
If you were one of the early adopters on any social platform, you would have attracted thousands of leads effectively and cost-efficiently. 
But imagine right now how expensive is to pay for ads on platforms like Facebook, LinkedIn, and so on. 
Clubhouse, and the other social audio apps, on the other hand, present you with this tremendous opportunity to reach thousands of people at no cost. 
The competition on social audio apps has not yet exploded. This is the time for us to be active on these platforms.
Steve underlines that there are 3 types of people when it comes to business. 
Those who watch the things happen, those who wonder what happens, and those who make things happen. 
Choose your group wisely!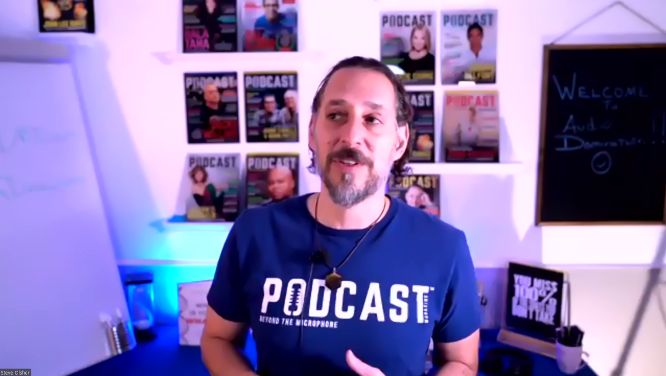 Steve Olsher's Podcasting Background
He has been podcasting since 2009 and got featured on over 500 shows in the past 3 years. He appeared in shows like Click Funnels Hacker Radio, the Go-Giver podcast, Mixergy, the Foundr Magazine's podcast, and many others. He was able to convert this No-Cost visibility into over 100,000 leads and serious revenue.
He is the host of the #1 podcasting show – The Reinvention Radio, and the Best Business Podcast. Additionally, he is a New York Times bestselling author of "What is Your What?", founder of Liquor.com, pioneer of the CompuServe launched in 1993, and creator of the New Media Summit.
And of course, he's the man behind Profiting from Podcasts, the best and most comprehensive training in the world that helps people leverage the power of podcasts and turn their visibility into cash.
I'm also giving you another exclusive bonus just for attending the free event with Steve today.
We host a series of training series where we not only discuss social audio and podcasting but we teach you how to market and grow your shows and social voice.
You'll get access to the training and all the replays, the webinars, the slides, worksheets, and all the free material we are releasing.
Our next live training is rescheduled for Thursday, Apr 22 @ 10 pm GMT+3 because at 7 pm  I'm going to be interviewing someone. We're going to give you a recap of what Steve covered these days, we'll reveal the numbers and the enormous opportunity, we'll teach you advanced marketing strategies you can use to explode your reach with audio on numerous platforms (these strategies are not included in Steve's trainings), our brand new dedicated Facebook group, and we'll make a special announcement. 
You don't want to miss this training.
I'll see you there!
If you're already subscribed to our marketing magazine, you have access to the bonus training and all the resources. 
The Audio Domination is a must-attend free training you should not miss. Not only you're getting access to the world's leading podcasting icon, but you'll dive deep into the world of podcasting and social audio. It will open your eyes to the real potential of this medium that is underutilized at the moment. And this is a great opportunity for all aspiring podcasters from every corner of the world.
And think about it, it's not enough to have a strong online presence and attract masses of people with your voice, whether it is with podcasting or social audio, or in combination.
You need to convert those passive listeners into active subscribers, prospects, leads, and eventually customers.
To do that, you need to understand the mechanics between these 2 mediums.
You need a lead generation system and funnel to collect emails and take people through your customer journey.
There's no better teacher when it comes to audio than Steve. His podcast shows and social audio rooms attract masses of people on a daily basis.
And I am here to help you with your marketing. Since 2014, I helped hundreds of brands sell more of their products and services on the web.
Steve Olsher's Free Resources:
That's it, another article has finished, here on Web Market Support. I am waiting for your comments and thoughts. Till next time…
Tasos Perte Tzortzis
Marketing Consultant, Creator of the "7 Ideals" Methodology
Although doing traditional business offline since 1992, I fell in love with online marketing in late 2014 and have helped hundreds of brands sell more of their products and services. Founder of WebMarketSupport, Muvimag, SummerDream.
I enjoy reading, arts, science, chess, coffee, swimming, Audi, and playing with my kids.
Some of the links on this page are affiliate links. For more information, I refer you to the disclaimer page