According to SocialFlow, 1 trillion content assets are created and consumed across the world in just one year. They have been used over 2 billion devices, there have been monitored 12+ billion consumer clicks, 50M+ posts, and 10,000+ social pages in the same year alone.
It's a busy world!
That's why we need to keep up with the rapidly changing environment of our digitally established planet.
We create and publish content like maniacs, curate other people's content while at the same time we want to know which social media posts drive the best engagement and have a higher impact on our businesses.
We examine analytics and insights, hashtags, followers, impressions, clicks, and all these metrics that we deal with on a daily basis.
We need tools to ease our workflow and automate some processes.
We compiled a list of the best social media tools that you can use to become more efficient and improve dramatically your performance.
Let's dive right in!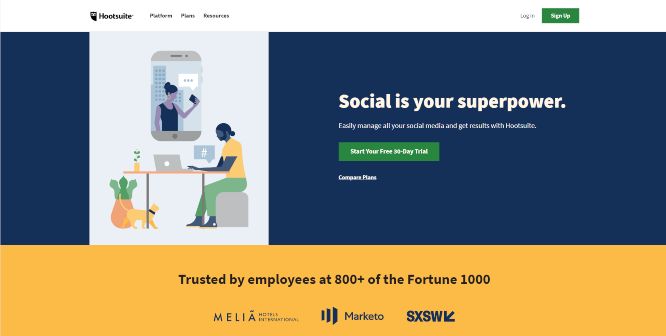 Main slogan: social is your superpower. Easily manage all your social media and get results with Hootsuite.
Platform:
Light up your channels: Plan (View and manage all your social content in a single
collaborative calendar), Create (Make it easy for your entire team to create beautiful, engaging posts for every social network), Schedule (Keep your social presence active 24/7 by automatically scheduling posts to fill the gaps in your calendar)

Make the connections that matter: Inbox (Engage with customers across public and private social channels—in one place), Streams (Monitor activity and engage at scale across all your social networks), Content library (Save time and improve response quality with a shared library of on-brand social content and assets)

Align your stars: Teams (Align and secure your social organization with smart, secure, team management and permissions), Assignments (Boost response times and efficiency by assigning tasks to the right team or region), Academy (Stay ahead with industry-leading training and certification)
Trusted by: employees at 800+ of the Fortune 1000 choose Hootsuite
Amway, Nokia, Unesco
TheBritishMuseum, GeorgiaStateUniversity
and so much more
Features:
Create and schedule posts
Manage all of your channels
Plan upcoming campaigns
Stay on top of incoming messages
Analyze your results
Tools:
Amplify
Insights
Impact
Ads
Integrations: 20+ social networks.
Facebook, Instagram, YouTube, LinkedIn, Twitter, Pinterest
and so much more
App directory: a few examples
Panoramiq insights, Google My Business, Canva
Adobe Stock, Shopview for Shopify, Zendesk Pro
Instagram grid, SalesForce
Other departments:
Solutions
Industries
Academy
Educational resources
Blog
Webinars
Careers
Leadership
Newsroom
Plans:
Free: 3 social accounts, schedule up to 30 posts,
Professional: €39/mo, 10 social accounts, reporting, $500 monthly boost spend, and more
Team: €109/mo, 20 social accounts, 3 users, and more
Business: €599/mo, 35 social accounts, 5-10 users, publishing approvals, 24/7 priority support, and more
Enterprise: 

Get tailored solutions and exclusive tools to deliver real results through social media with Hootsuite Enterprise. Request a demo.
About: In 2008, Ryan Holmes started building the idea for Hootsuite with a small team at his agency. Growth came fast, with Hootsuite soon being the center of how everyone—from small businesses to Fortune 500s—built winning brands with social.
200+
Business & Marketing Tools Collection
Work management, tracking, organizing, payments, accounting, Google, keyword, market, and competition research, SEO, analytics, and related, marketing & advertising, web development, website monitoring, domains & website hosting, coding, and related, design & multimedia, marketplaces, entrepreneurial communities, hiring & outsourcing.


Main slogan: find, analyze, optimize. Find influencers. Optimize your social profile. Build and engage a community. Grow a brand.
Platform:
Find: search Twitter bios to connect with anyone, compare Twitter accounts to find overlaps and target new influencers
Analyze: breakout your followers by location, bio, who they follow, and more, contrast your relationships with your competitors and friends
Optimize: match your activities to gains and losses in followers to give your followers what they like best, follow and unfollow in-app to hone your social graph like a razor's edge
Features:
Social authority rankings
See followers and their locations
Compare follows/followers
Follower losses and gains
Maximize times to tweet
Know when followers are active
See what tweets engage
Follow/Unfollow
Plans:
Free: 1 profile, limited access
Target: $29/mo, up to 3 profiles, more access
Multitask: $79/mo, 20 profiles, loads of access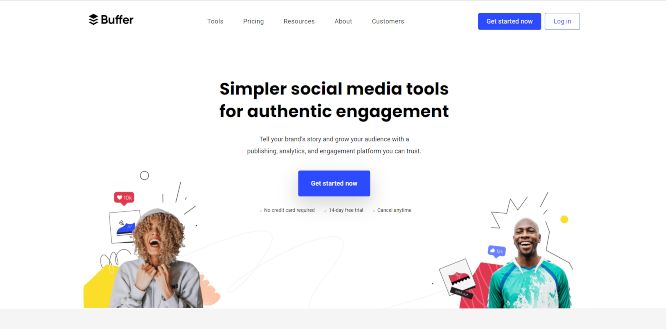 Main slogan: Simpler social media tools for authentic engagement. Tell your brand's story and grow your audience with a publishing, analytics, and engagement platform you can trust.
Trusted by: more than 75,000+ companies. Examples: Shopify, HuckBerry, Burrow, Spotify.
Stats:
10 years in business
100K+ monthly blog readers
1.2M+ social media followers
Platform:
Publish: 

Plan, collaborate, and publish thumb-stopping content that drives meaningful engagement and growth for your brand. Craft the perfect post for each social network. Direct scheduling, first comment, shop grid, reminders, plan and prepare your stories, collaborate on content with your team, tailored posts, calendar

Analytics: Measure social media performance, create gorgeous reports, and get recommendations to grow reach, engagement & sales. 

Track performance and create reports for Instagram, Facebook, Twitter, and LinkedIn. Boosted post insights, account analytics, stories and post analysis, audience demographics, custom reports, daily updates, white label reports, PDF and image exports, best time to post, best type of post, best posting frequency
Engagement: 

See all of your comments, stay on top of important interactions, and turn followers into fans using Buffer. Never miss a comment. Prioritize important conversations. 
Other departments:
Customers
Community
Request a feature
Nonprofits
Careers
Brand kit
Press
Accessibility
Help center
Webinars
Tutorials
Status
Free resources
Blog
Transparency
Plans:
Free: 3 social channels, 10 scheduled posts, 1 user
Pro: $15/mo, 8 social channels, 100 scheduled posts, 1 user
Premium: $65/mo, 8 social channels, 2,000 scheduled posts, 2 users
Business: $99/mo, 25 social channels, 2,000 scheduled posts, 6 users
About: We're a fully distributed team of 85 people living and working in 15 countries around the world. And we're working to build the best products to help our customers build their brands and grow their businesses on social media.
This is just the beginning of an extended catalog. I will keep the thread updated frequently.
In the meantime, check out the other related resources we have in store for you.
That's it, another article has finished, here on Web Market Support. I'm waiting for your comments and thoughts. Which tool is your favorite? Which one should I add? Till next time.
Tasos Perte Tzortzis
Marketing Consultant, Creator of the "7 Ideals" Methodology
Although doing traditional business offline since 1992, I fell in love with online marketing in late 2014 and have helped hundreds of brands sell more of their products and services. Founder of WebMarketSupport, Muvimag, SummerDream.
I enjoy reading, arts, science, chess, coffee, tea, swimming, Audi, and playing with my kids.
Multimedia
Multimedia resources(AZ directory - images, graphics & design, audio & music, video, animation, themes, plugins, code, apps, tools, education, jobs, buy & sell, communities, freebies)
Free stock photo websites(AZ directory, overviews, reviews)
Video marketing software (AZ directory and overviews)