We discussed podcasting and social audio a lot lately as a frame for our live training masterclass series.
Podcasting has seen tremendous growth during the last tears as medium and social audio is an emerging trend and we analyzed what that means for business owners, agencies, brands, marketers, and people that want to share their message online.
When we say "Social Audio" we refer to social media platforms and apps where we can use audio as a means of communication. We all use text, videos, emojis, GIFs, graphics, images, and other visuals to get in touch with people and brands on various social networks.
And audio is the new big thing.
The training we broadcasted live on Sunday, April 11th, was amazing. We had all these great people from all over the world joining us for the introduction to the world of podcasting and social audio.
We analyzed the tremendous opportunity and why now is the best time for brands, entrepreneurs, and people that want to share their message to invest in these mediums.
And most importantly, we helped clarify what an ideal audience is, how to identify your own niche market, your target audience, and we gave numerous examples. Targeting the right people is critical for any business and it's the first step towards success.
When you are clear on who you are serving, you can attract more people in the shortest period of time by using the specific language they use, and boost your visibility and authority instantly.
Now, we have more amazing news to share!
"Social Audio" Revolution
Live Training Wednesday, Apr 14 @ 6 pm GMT+3
We are preparing for the 2nd live training and we're working on a book to help you follow along with the training.
The 2nd training is scheduled for Wednesday, April 14 at 6 pm Greece time, GMT+3, so mark your calendars now.
We are going to discuss various marketing channels and strategies that you can use to increase your visibility and authority online.
Market and competition research
Introduction to direct response marketing and branding 
How to plan and prepare your podcast show
How to approach and pitch podcasting icons, medium-sized influencers, and hosts
Clubhouse global downloads as of February 16, 2021
People that will listen to a podcast each month in 2022
We have another free resource to share. My good friend, Steve Olsher, host of two #1 rated podcast shows, the "Reinvention Radio" and "Beyond 8 figures" is giving away a lifetime digital subscription to his "Podcast Magazine".
Steve has been podcasting since 2009 and he's an icon with massive visibility and authority.
This magazine is the preeminent magazine dedicated to Podcasts, Podcast Culture & the Podcasters YOU know and love…
I am already a subscriber to this magazine and I absolutely love it and recommend that you register too. If you want to stay updated on the major shifts, get to know podcasting and social audio icons that you can approach with your pitch so you can get booked on their shows, and enhance your knowledge in this industry, this is a must-have resource. Besides, it's free for life but only for a few days.
What's included:
Takes you behind the scenes and into the lives of today's leading podcasters

Showcases, and reviews, both well-known shows and amazing shows that fly under the radar

Goes deeper into the stories podcast fans love and can't get enough of!

Introduces readers to new, podcast-related gear, products, technologies and platforms

Features the Podcast Magazine Hot 50! The only monthly chart based on podcast fan voting!

and much more!
You can grab the resource on the next page.
1st Training Replay/Worksheet
You can watch the whole training replay that we broadcasted on Sunday and download the worksheet on the next page.
Get Ready To Rock The World Of Social Audio
Your voice is an incredible tool that you can use to attract an ideal audience, build brand awareness, credibility, trust, and authority and monetize your online presence in numerous ways.
Register for the free live training where we'll build a solid foundation for a brilliant social audio career.
The 2nd training is scheduled for this Wednesday, Apr, 14. I can't wait to meet you at the event.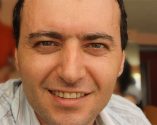 Tasos Perte Tzortzis
Marketing Specialist, Entrepreneur
Although doing traditional business offline since 1992, Tasos fell in love with online marketing in late 2014 and has helped hundreds of brands sell more of their products and services on the web.
He enjoys reading, music & arts, mathematics, chess, coffee, swimming, Audi, and playing with his kids.