I was watching the "Sing" movie with my kids yesterday night and it was amazing. I had so much fun. The kids loved it too, actually, it was the 2nd time they were watching this one.
But this movie is not just for kids. There are hidden messages inside it for entrepreneurs and marketers. Also, the movie follows a proven storytelling framework and gets viewers' attention and interest from the first moment and keeps you hooked until the very end.
So let's dive right in to see what's the connection with marketing and entrepreneurship.
Sing the Movie For Kids Meaning
Actors in this movie are all humanoid animals living in a big city. They are working, driving, doing everything humans do.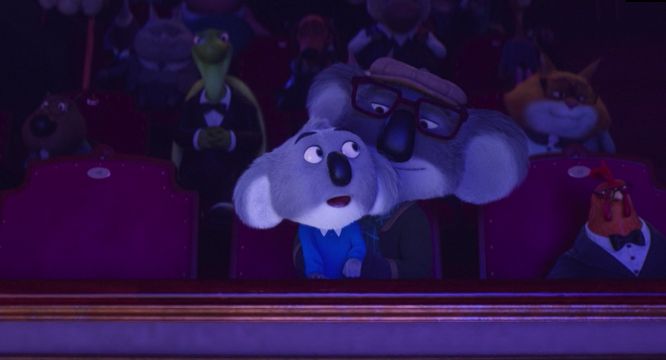 But I want to focus on the koala, who runs a theater, an impresario. The koala "Mr. Moon" is an entrepreneur, but until today he did not make anything significant, and he considers himself a loser.
His father was working for over 30 years washing cars to be able to buy his son a theater, the perfect vehicle for Moon's success.
And Moon would do anything to fulfill his father's dream although his father was not alive anymore.
Mr. Moon is devoted to making his and his father's dream come true no matter what.
He does not give up although all his theater's shows so far had failed.
He's also hiding from animals he owes money to from past productions.
He ignores the threatening notifications from the local bank reminding him that the theater will soon be closed due to his debt.
Instead, he has a brand new idea that he believes will make the "big" difference and will save the theater and his reputation once and for all.
But the problems just got started.
His assistant makes a tragic mistake accidentally and sets the prize of the new singing contest to $100,000 instead of $1,000.
Mr. Moon is not firing her, he takes this as an opportunity to reach new heights.
His friend, the sheep, reminds him that he failed miserably and that he hit rock bottom, but Mr. Moon enthusiastically says that when you hit rock bottom, there's only one direction to go, upwards.
He does not give up when the electric power company shuts down the electrical power in the theater.
He courageously finds a temporary solution when the same happens with the water supply. 
But…
When the theater collapses and gets totally ruined, he gets devastated. He does not want to see anyone and he loses the courage to go on. He admits he's a loser for life, someone that does not have what it takes.
The Spirit of an Entrepreneur
It's when the animals that were part of the new show visit him just to say hello and to see if he's OK. They try to uplift him and motivate him to stand up and fight again. 
They say they had lost big time as well but they want to go on with their lives. Even, Mina, the female elephant that was inspired by Mr. Moon once when she was afraid to sing in front of a crowd tries to show her respect and friendship. 
Mr. Moon is so miserable and he thinks nothing can change at this very moment.
But…
He finally finds the courage to go on and opens up a new business the next day, washing cars again, like his father. 
The movie has a lesson for marketers, brands, and entrepreneurs. 
When Mr. Moon finds out that the grandmother of his friend, the sheep, is still alive and is wealthy, does everything he can to make her his new sponsor.
We would call it influencer marketing and Mr. Moon goes a long way to show that anything is possible in business and in life.
I urge you to watch this movie, you won't regret it.
Mr. Moon is a well-equipped entrepreneur that does not give up.
He faces a thousand obstacles and his failures can't keep him from trying.
He tries new things, he's making alliances, friends, and enemies.
He always comes up with new ideas, he keeps on pursuing his dream despite his bad luck and the tremendous challenges.
He encourages and motivates others but he also needs the help of others to move on when things go completely wrong.
He's good at marketing, organizing and managing, and he has a good heart.
If you want to become a fully-equipped entrepreneur consider checking out our brand new and free training program, entrepreneurial success.
That's it, another article has finished, here on WebMarketSupport. I'm waiting for your comments and thoughts. Till next time.

Tasos Perte Tzortzis
Business Organisation & Administration, Marketing Consultant, Creator of the "7 Ideals" Methodology
Although doing traditional business offline since 1992, I fell in love with online marketing in late 2014 and have helped hundreds of brands sell more of their products and services. Founder of WebMarketSupport, Muvimag, Summer Dream.
Reading, arts, science, chess, coffee, tea, swimming, Audi, and family comes first.