Own Your Future Challenge
A 5-day challenge with the most influential, impactful, and amazing people on the planet to discover how to take back control of your time and life by entering an industry that is growing exponentially during these crazy times
ALL YOU NEED IS JUST 5 DAYS AND 3 STEPS
Vision without action is just a daydream
Power To Pivot
1-Day Live Virtual Immersion Workshop
THURSDAY JULY 15TH @ 9AM PT | 12PM ET
*A secret industry that's exponentially growing even during those unprecedented times
Dean Graziosi & Guests
Inside this 1-DAY live interactive training, you will discover how to take advantage of your own assets to build a better future:
Stop playing small, start or scale your own thing & THRIVE
Gain the roadmap to confidently pivot and take advantage of this window of opportunity
Pivot your thinking
Pivot your plan
Pivot your action
This advertisement is sponsored. For more information, I refer you to the disclaimer page
is this "day one" or just one day?
The industry that
changed my life
—

Get Ready To be challenged
Turn any idea into an
economic opportunity
If you have an internet presence and do not yet have products and services, the speakers at this event will guide you to create digital products and services and train you to promote them.
If you have a business and want to add digital products and services to your portfolio, then you should not miss this challenge.
If you still have neither a business running nor an online presence, this event will be the starting point of a new and brilliant career for you.
if you don't own your future, someone else will
our last challenge touched 837,000 lives
—

are you prepared for the future?
create life
on your
own terms
Don't just sit and accept where things are. Nobody's coming to save us. Especially when it comes to your economics. This event is for you if you want to explore new things and pivot by investigating new ways in an industry that's exponentially growing.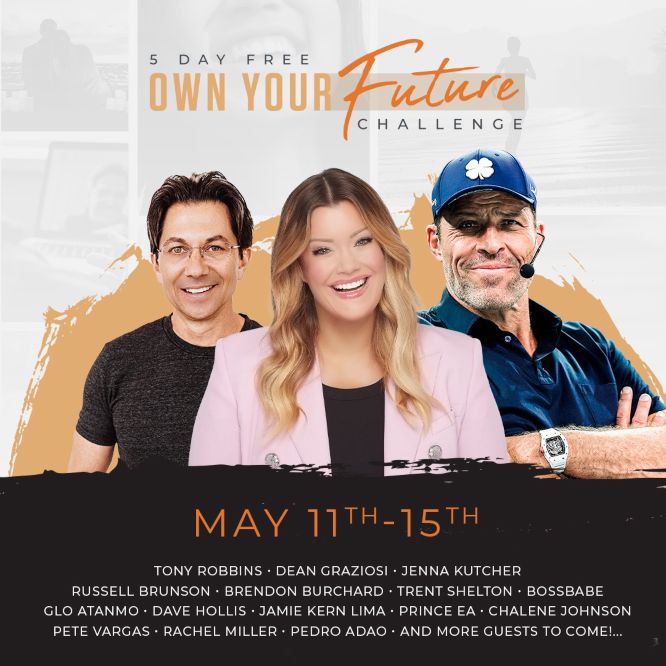 —

Get Ready To be challenged
1 million people will gather
together
Our last challenge touched 837,478 lives. This time, together, we can change the world (starting with you).
This is like the SUPER BOWL, the WORLD CUP, or WOODSTOCK…but this time it's not just for entertainment…
We're going to be growing together, learning together, planning & strategizing together.
are you pivoting?
are you investigating?
A step-by-step business success blueprint to change your life forever
people that want to share their stories & experiences and impact other people's lives
those that want to turn their mess into a message to affect millions of people
people that want to express their creativity and emotions and connect with others on a deep level
those that want to share their passions to inspre, motivate, and create change in other people's lives
people that want to use their current skills, knowledge, or experience and turn them into digital products
people that want to immerse in self-education and move fast with confidence, clarity, and follow a proven path
people that want to build and launch digital products
those that want to become knowledge brokers and report on other people's skills, expertise, knowledge, experiences & passions
people that want to follow a successful business path step-by-step
those that don't have a huge following
people with no online or digital experience
those that want to take advantage of the new dawn of the digital economy that is growing geometrically
people that want to work from anywhere in the world and take advatage of the covid-19 restrictions
those that want to get inspired by charismatic entrepreneurs that impacted thousands of people
business owners that want to add digital products to their portfolio
entrepreneurs that want to impact people and leave their legacy
marketers, authors, coaches, consultants, speakers, practitioners, small business owners, influencers, experts
Simple But Important Steps
CRUSH OUTSIDE NOISE & INNER SELF DOUBT
If you don't already have the life of your dreams with total control over your happiness, purpose and finances… it's because something (or someone, maybe even you) is getting in your way.
So you'll join Tony Robbins, Dean Graziosi and special guest experts LIVE every day for 5 days at 11AM PT and the very first step is to crush whatever has been standing between you and the life you truly crave and deserve.
CRAFT YOUR "OWN YOUR FUTURE" ROADMAP
Each day during the Own Your Future Challenge you'll discover ONE step to take immediately to actually transform your life DURING THE CHALLENGE… 
This is how you build your success roadmap so that by the end of 5 days you'll be confident about how to pivot fully into the life you know you were meant to live.
UNLOCK THE PATH TO TRUE MASTERY OVER YOUR LIFE
This challenge is designed to show you the path to new possibilities that could lead to next level success, new energy and excitement, and most importantly new impact and purpose you couldn'y have imagined before…but this is where you start, not where you finish.
If you commit to SHOW UP and play FULL OUT, you'll gain the capabilities needed to truly reshape yor future in this new untapped virtual world.
the knowledge industry
changed my life
An industry that's growing exponentially!
why you need this, why now!
someone will control where your life goes from here...shouldn't it be you?
there are new strategies and new ways to be explored so you can pivot into an industry that is only growing
an industry where you can share what you already know, and use assets you already have
you only need to find something of value to share
let me ask you
a question
How quick has the last five years gone for you?
All these dreams of where the world could go, we think we have all the time in the world. 
But, in reality, we don't.
digital economy/virtual marketplace
There's a way to impact millions of people by sharing what you already know
Isn't it time for all of us to get creative again?
Admit it… the world has been chaotic and since we've been stuck inside, we have to resort to using our kids' crayons or doodling in our journal to get the creative energy we've been lacking. 
The REAL & RAW Story Of How Dean Entered The Knowledge Industry
We all know deep down that we have a window of time to live happy, fulfilling, purposeful lives and impact others while we're here on earth… 
The problem for most of us is, the outside world actually gets in the way and we don't know how to break the cycle of a life we never envisioned for ourselves.
clarity, confidence, and a plan
In this challenge, our speakers will expose the secrets they've learned for living life on their own terms by following 3 simple but important steps
So Tony Robbins & Dean Graziosi are teaming up with the most powerful speaker lineup in history to show you LIVE and one time only how to enter an industry that's skyrocketing while others are shrinking.
the dawn of the
digital economy
impact of covid-19 on the digital economy
WHO WILL YOU INTERACT WITH IN REAL-TIME?
Every single speaker during this challenge is someone who has impacted thousands of people because they learned the strategies they needed to TAKE CONTROL of their purpose and in turn, their future…

– Nation's top life and business strategist
– World renowned entrepreneur

– co-founder of ClickFunnels and bestselling author

– a former NFL player now considered one of the most groundbreaking motivational speakers

– digital marketing expert, educator, and host of the chart-topping Goal Digger Podcast, photographer, and Minessota mama who turned a $300 Craiglist camera into a 7-figure empire

– serial entrepreneur and a mom of 6 kids in 5 years. She started as a mom blogger and built an audience of millions. She's published multiple books, including a bestseller that has sold more than 100,000 copies
–  online educator and content creator in the travel space. After venturing to over 80 countries spanning 6 continents and working with brands along the way, she's landed features in Forbes, Oprah Magazine, Conde Naste, Essence, Buzzfeed and more!

–  a world-renowned motivational speaker with more than 30 years as a health expert. She is a New York Times bestselling author, health and lifestyle expert and top health podcaster with over 20 million downloads of her show

–  filmmaker, creative, and speaker who has touched the hearts, minds and souls of millions of people worldwide. By producing creative, inspirational, and thought-provoking content, he has accumulated over 1 billion views on Facebook alone
–  a former Disney executive, who left to own his future. He is now the fulfilled dad of 4 rad kids, a New York Times bestselling author, coach, podcast host, and speaker

–  an American entrepreneur, investor, media personality and New York Times bestselling author. She is most recognized as the founder of IT Cosmetics, and the first female CEO of L'OREAL in the company's history

– the founder of "Advance Your Reach" and a master at teaching people how to grow their businesses with stages, He and his team have booked over 25,000 stages worldwide, and "Advance Your Reach" made the Inc. 5000 list of fastest-growing private companies in America.
– a 5 times ClickFunnels comma club award winner. Founder of the 100x Academy and creator of the "Crush it With Challenges" program. Pedro is best known for helping entrepreneurs launch, grow, and scale their businesses with the power of free and paid challenges

– co-founded by Natalie Ellis and Danielle Canty, is the fastest growing educational media company for female entrepreneurs, They are on a mission to make scaling successful businesses the new norm through their monthly membership, coaching programs, and courses
more to be announced…stay tuned!
Every single speaker has impacted thousands of lives
why you should attend the epic challenge
VIP Upgrade portal walkthrough
the only thing that shapes us is decions
If you don't change anything now, will you be proud of your life when you look back in 5, 10, 20 years?
Get Access To
Free Training
We support people that want to enter the self-education industry  that is booming dynamically with free training workshops and a private FB group
Your host: Tasos Tzortzis
Marketing Specialist, Creator of the "7 Ideals" Method, Entrepreneur since 1992, Business Administration @ University of Macedonia, Thessaloniki, Greece
Some of the links on this page are "affiliate links". For more information, I refer you to the Disclaimer page