Project Next Is Open Until May 20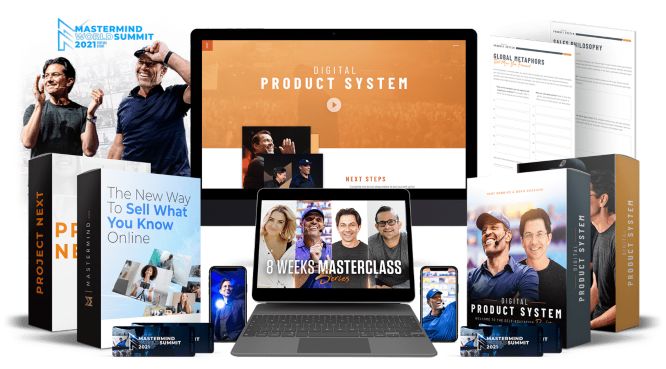 People are just tired of seeking solutions and not finding the right answers. 
They have big problems in their relationships and everyday life, with their taxes, their economics, their kids, their friends, their businesses. 
And they need answers that actually produce results.
They want to move fast and do something meaningful and impact other people as well.
And in times like this, where everything seems changed, where fear and uncertainty define our future, economies shut down and the world freezes, this is exactly when we need to pivot and take control of our lives. 
It's possible, it's doable, and it's happening every day.
Maybe you just don't know the way, yet!
But this is going to change today.
Own Your Future Challenge
5-Day Free Virtual Event
Self-education immersion 5-day challenge 
The fact of the matter is, if you don't own your future, someone else is gonna, 
The world has shifted more in the last 18 months, 12 months than I've seen in my 52 years, I know you feel the same.
61 years.
Something big, really big is coming.
Did you know that there is a new way where you can share your skills, and stories, experiences, or expertise, or even better, you can report on other people's skills and knowledge and turn them into digital products so you can impact millions of people that are in need. 
There's so much uncertainty in the world, the world's about to open up, starting to open up a little bit, but are you prepared?
And more than just prepared are you ready to take advantage of it?
You know, I did an open challenge, I just want to help any bit I could. We had almost a million people. 
865,000 people joined me for 6 days, and we shifted their mindset and their emotion,  show them what to do with their kids, and their relationships.
And I'm incredibly proud of the impact.
I know some of you are joining me for it. 
I'm gonna do another challenge. 
This time with my partner, Dean Graziosi, and about a dozen of my dear friends for five days, and it's called "Own Your Future Challenge". 
What it is, is if you don't own your future, somebody else is going to right now. 
We're living in a world with so much freedom disappearing and people have so much uncertainty, and so I'm part of an industry that is growing geometrically during these crazy times. 
Self-education industry.
People are looking for answers, and they're tired of hearing that someone at a university talking who's had no experience actually producing a result.
And there are so many people starving for solutions, and answers to what is going on in their relationship, or their business, or their finances, or their taxes, and almost all of us have some form of either education we know, life experience, or someone we know has something valuable, but most people don't know how to turn that into a product or service that you could share with people, and make a difference and earn. 
So who's gonna own your future?
That's a really crazy but important question, in today's shifting world, with uncertainty at an all-time high, there are so many people sitting around, waiting for someone else to fix it, waiting for the world to get better, that's not the way it works.
And if we don't step up, if we don't own our own future, then someone else will.
Hey, it's Dean Graziosi, and if you don't know who I am, hey it's nice to meet you.
I'm blessed that have started over 13 separate companies, multiple New York Times bestselling author, I've had more success than I ever imagined possible, but this is not about me.
It's about YOU.
My dear friend Tony Robbins and I got together with a cast of the most amazing, influential, impactful, incredible humans on this planet, and we're doing the "OPwn Your Future" 5-day free challenge.
And we'd like to invite you to come.
You see, when you're not armed with the right capabilities, if you don't have the ability to pivot, shift, then this is when you can be left behind. 
This is that pivotal time in history where you could say, I took ownership, I gained new capabilities, I took uncomfortable action, I was courageous, and I moved forward and got ahead of the wave or this is the time you say I'm gonna wait, see how it goes, see if someone else fix it, and then maybe take action.
That's when you're left behind, and we don't want that. 
That's why we've assembled some of the most amazing people on the planet, here all, to serve you all for free. 
But you gotta do one thing. Click your link below and reserve your spot. 
And again, put it in your phone, write it on your hand, put it on your refrigerator, put it in your calendar, do whatever it takes, and make sure you show up. 
The "Own Your Future" 5-day free challenge.
I will be sharing some amazing stories, examples of this phenomenal industry, insights, free downloads and other material, and a short pre-training to help you get prepared for this once in a lifetime event.
You will need to sign up with your email address separately for the bonus material. If you are already subscribed to our newsletter, you'll receive everything via email and you'll be notified of the upcoming training shortly.
Investigate This Amazing Industry
There are industries that are growing even these insane times. 
The digital world is stronger than ever before, and there is room for everyone.
This is when you can gain momentum and make things happen instead of just watching and waiting for something to change.
You know that's not going to happen. 
Things happen when we move forward and we step up our game.
That's it, another article has finished, here on Web Market Support. I am waiting for your comments and thoughts. Till next time.
Power To Pivot
1-Day Live Virtual Immersion Workshop
THURSDAY JULY 15TH @ 9AM PT | 12PM ET
*A secret industry that's exponentially growing even during those unprecedented times
Dean Graziosi & Guests
Inside this 1-DAY live interactive training, you will discover how to take advantage of your own assets to build a better future:
Stop playing small, start or scale your own thing & THRIVE
Gain the roadmap to confidently pivot and take advantage of this window of opportunity
Pivot your thinking
Pivot your plan
Pivot your action
This advertisement is sponsored. For more information, I refer you to the disclaimer page
Tasos Perte Tzortzis
Marketing Consultant, Creator of the "7 Ideals" Methodology
Although doing traditional business offline since 1992, I fell in love with online marketing in late 2014 and have helped hundreds of brands sell more of their products and services. Founder of WebMarketSupport, Muvimag, SummerDream.
I enjoy reading, arts, science, chess, coffee, swimming, Audi, and playing with my kids.
Some of the links on this page are affiliate links. For more information, I refer you to the disclaimer page.