The digital marketing world has changed. From the iOS 14 & 15 updates to the GDPR and CCPA regulations, the privacy wars, the end of cookies, new innovations in cryptocurrency and blockchain technology, and the erosion of trust in all institutions, are all signs that big shifts are happening and what people are calling Web 3.0, isn't just coming.
It's already here. Yes, we are transitioning, we are entering a new era.
And if you are doing business online, the way you adapt and prepare for these changes will make the difference between winning the Web 3.0 future or getting left behind.
And I wonder…is your business going to pass the Web 3.0 test?
Is Your Business Ready For Web 3.0?
Free Quiz
The Web 3.0 Readiness Quiz
The quiz has been put together by my good friend Ryan Levesque, Inc. 500 CEO of the ASK Method and Bucket.io.
He's the bestselling author of 2 books, Ask and Choose, both of them are included in my elite list.
He also has been featured in various publications like the Inc. Magazine, Forbes, The Huffington Post, USA Today, Los Angeles Times and so many more.
The quiz will uncover the area with the biggest opportunity for your business.
It will give you insights into what is happening right now in the digital marketing landscape, why you arrived here, and what the future brings.
It will guide you into the new reality by pointing out to certain things you need to be changing in your business if you want to stay ahead of the curve.
It will also uncover common pitfalls and mistakes that business owners make, how to take action, and how to adapt.
But most importantly, it will show you what to do next to get ready to win the Web 3.0 game.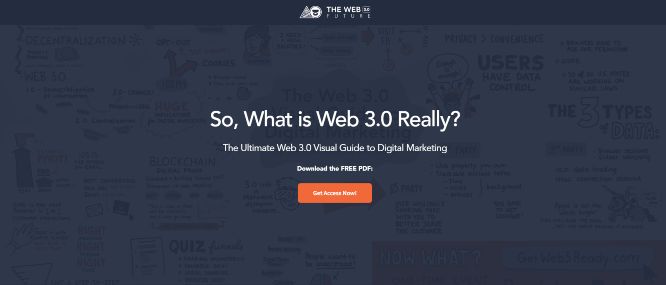 The Ultimate Web 3.0 Visual Guide to Digital Marketing
Ryan and his team put together an incredible visual guide to help you dive deep into the new version of the internet.
All the changes that happened and are still happening in digital marketing are explained. What caused users' distrust and dissatisfaction, centralization and decentralization of data, core offers, Facebook's and Google's ad platforms, the iOS 14 & 15 updates and their effects, users' privacy and convenience, browsers, regulations, emails, blockchain, approaching consumers with the right questions, building funnels, how people make purchasing decisions, and the future of the web.
A very beautiful guide!
I discuss what Web 3.0 means for business and its implications in marketing, the history of the web, all the problems associated with Web 2.0, our current era, and the new era of entrepreneurship and marketing away from 3rd-party data in which we all relied heavily upon.
I analyze all the different types of data that we collect and use, zero-party, 1st-party, 2nd-party, and 3rd-party data, and I group them into 2 main categories.
I discuss how the new term "zero-party" came into existence, I give examples of each type of data and how we collect them, and I created a handy table where you can easily spot the differences between the types of data.
I also explore what the future brings, I explain why we are so damn prepared for the new version of the web with my methodology, the "7 Ideals", and where you should focus on going forward.
So go on and take the quiz to discover your Web 3.0 current status.
There will be things you need to change immediately, I have no doubt about it because I just took the quiz and I need to improve some areas in my business as well.
And I was prepared.
Don't forget to access the other guides I've put together and use the table that contains all the types of data.
Data is today's currency in the marketing world and you need to step up your game.
And last but not least, download the visual guide to explore the new web in a more profound way and start designing your next moves to differentiate from the competition. 
Remember, we're moving toward a more secure, safe, and private web. We can't bombard people with annoying messages and ads all over the net, we need to be selective, start listening, and of course, making the right questions.
Stay tuned as we are hosting a massive webinar very soon, all about the new version of the web and the power of questions in marketing.
That's it, another review has finished, here on Web Market Support. I am waiting for your comments and thoughts. Till next time.
Tasos Perte Tzortzis
Marketing Consultant, Creator of the "7 Ideals" Methodology
Although doing traditional business offline since 1992, I fell in love with online marketing in late 2014 and have helped hundreds of brands sell more of their products and services. Founder of WebMarketSupport, Muvimag, SummerDream.
I enjoy reading, arts, science, chess, coffee, swimming, Audi, and playing with my kids.
Some of the links on this page are affiliate links. For more information, I refer you to the disclaimer page.