Project Next Is Open Until May 20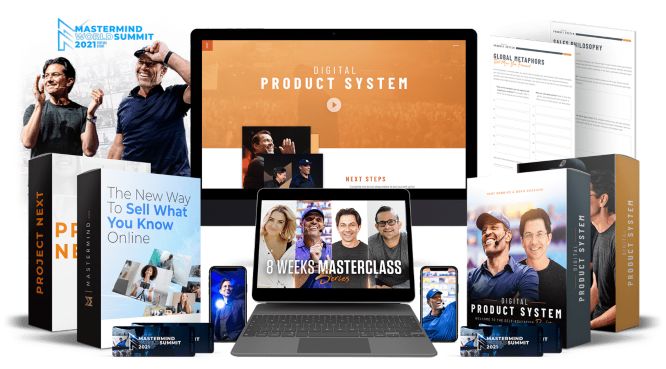 Is This Day One or Just One Day?
The self-education industry is open for you when you are ready to jump in. But these days, you have the chance to learn from the best of the best.
Dean Graziosi, Tony Robbins, and their guests.
They have created something incredible. A masterpiece training program that covers everything you need to know about this industry and become a fully-equipped and passionate digital entrepreneur.
But the registration doors are only open for a few days.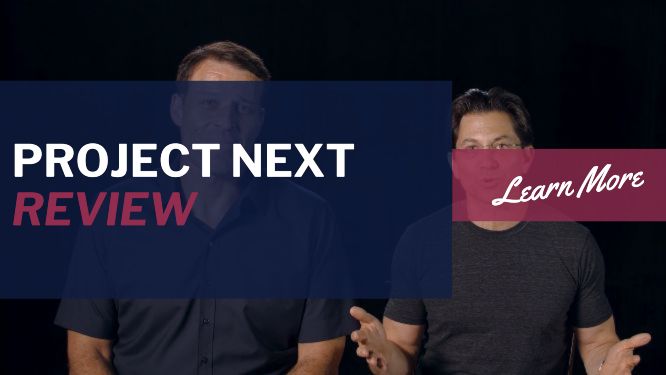 Project Next Training Suite
Here's everything that's included.
The training suite is divided into:
The

 

Digital Product System

 

(an online course in video format that is fulfilled immediately)
An

 

8-week LIVE masterclass course walkthrough

 

with Dean and elite guests to make sure people not only take action but also graduate
A

 

VIP ticket

 

to the 3-day virtual live event – the

 

Mastermind World Summit
Access to the

 

Mastermind platform, where students can upload their courses, training, masterminds, or other digital products making them available to the public
Access to the Self-Education Revolution private

 

Facebook community.
Access to

 

bonuses

 

and other material
Notice: Project Next is included in my Elite marketing training programs list.
These are the official bonuses:
Jenna Kutcher – Unleashing Your Creativity: It's a never shared before training – a social media success guide. Her best kept secrets for social platforms.

Jamie Kern Lima – Becoming Unstoppable: Jamie will be sharing her strategies to achieving confidence, certainty, and the right habits to accomplish her goals and made her dreams come true.

Russell Brunson – The Reporter Method: Starting out as a knowledge broker is the fast way to get your message out there.

Bossbabe – Insider Course Selling Secrets: help you get your product and course to the market, which seems like a daunting task

Glo Atanmo – Build Your Brand Shortcut: After going this bonus training, you'll be able to dominate your niche, your dot, and you will build trust and become an authority brand

Rachel Miller – Facebook Group Mastery: Rachel will help you dominate Facebook groups and other social media platforms for that matter, by using her secret strategies, and most importantly, you won't spend a dime on advertising. 

Tony Robbins – Modeling the mentors: Tony interviewed Kevin Hart, Michael Phelps, Sara Blakely, Conor McGregor and Sylvester Stallone in a closed-door training ONLY – world-class success secrets
Pedro Adao – how to do challenges: a FREE 90-minute deep dive training to help you design your first or next challenge
Pete Vargas – confidently share your message: the master of stages is offering a FREE training to help you harness your own message so you can confidently deliver it!
These are our extra bonuses:
Dedicated Facebook group: In this group, I'll be hosting live training sessions about marketing, business, and sales. We'll discuss advanced strategies, tactics, and methods I use for me, my promotions, and my clients.
Done-For-You and With-You Marketing Services (real value $1,997): We'll create 2 complete sales funnels for your business together so you get to know how it's done and to model it on your own. By automating marketing and selling, you'll be able to focus on growing your business without stress. Think of these marketing funnels as salespeople that you don't have to pay for.
Dean, Tony, and their guests are sharing their best strategies to help their students extract their current knowledge, passions, skills, expertise, stories, and experiences or report on other people's skills and knowledge, and transform this knowledge into digital products and services that can be delivered in the marketplace. Courses, training programs, coaching and consulting services, masterminds, workshops, and events (live, in-person, or virtual).
Additionally, the masterclass suite provides next-level strategies, tools, and mindset training to give students confidence, clarity, and a proven path they can follow to get attention in the busy online world and make an impact on people's lives.
It's a step-by-step comprehensive program in which Dean and his partners show the real opportunity that exists today online.
It's also packed with an 8-week live masterclass training. Students will get coached by Dean and elite guests to overcome objections and obstacles, get their burning questions answered, get the confidence they need to finish the course, and ultimately launch their products and services to the world.
Alongside the "Digital Product System" and the live training program, students get access to the Mastermind World Summit.
Additionally, you get access to the powerful Mastermind platform, where you can upload your courses and make them publicly available. It's an intuitive and very easy-to-use software to go from theory into practice and implementation at a moment's notice.
Founding students get also access to some amazing bonuses that add extreme value to the already insane package.
The private Facebook community is the go-to place for asking questions, interacting with like-minded entrepreneurs, giving and receiving valuable feedback, learning, and growing.
For that matter Dean says…it's a course that is changing people's lives.
It's for those looking to create an online business and change their lifestyle, it's for people with a desire to create income online, and to share their passions with the rest of the world.
But it's also a program designed to help influencers, experts, people with passion, people with a following to extract their knowledge and package it into a product.
Dean made self-education the new norm in this information age.
Based on the tremendous success of the 2 precedentors, The Knowledge Business and Broker Blueprint, where over 50,000 members enrolled and graduated, I predict that the "Project Next" will be the biggest training program in the internet's history.
I've never seen anything like that before. That's why I am so passionate about it.
They provide the immersion through the digital product system, the repetition through the 8-week live masterclass training, the implementation through the mastermind platform, and the mastery through the 3-day live event the Mastermind World Summit.
And you have these amazing bonuses, our extra bonuses, and all the help in the world via the 40,000+ members strong private community.
All of these are offered for only $997.
Yes, and this suite should be easily offered at $2,000 or $3,000.
It's a no-brainer!
Digital Product System Overview
The "Digital Product System" is a complete training program on its own and it's all about the immersion, getting your hands dirty,  learning, and applying knowledge into your business (real value $5,000).
There are 6 modules and it helps you discover the right entrepreneurial mindset which is the first and most important step to success, there are strategies, frameworks, methods, and tactics to discover your unique superpower, what you are going to create, who you will be targeting with your products and services, how to market your products in order to generate leads and convert them into paying customers.
There is also training on how to produce valuable content with confidence, how to use the Mastermind platform and software, and how to become a knowledge reporter or broker so you'll be able to gather, organise, and systemize the knowledge of other people.
I got early access to the training program, a rough draft version before it was completed and officially available to the public.
The majority of the lessons are recorded live with Dean delivering the teachings on Zoom. He's interacting with students in real-time and he invites some of them to participate and helps them progress with their projects.
He helps students implement the teachings to their specific situation and he gives feedback, answers questions, and makes recommendations and suggestions.
An incredible experience, to say the least.
The first module – becoming unstoppable is all about the entrepreneurial mindset. Overcoming inner negative and those so-called limiting beliefs, imposter syndrome, and objections. Dean and especially Tony will guide you through some powerful strategies and techniques that will make it so easy for you to transition, and adopt the right mindset from day one.
Without the right mindset, none of this matters.
In module 02 – what to sell and who to sell it to.
You'll create your own framework on what you are going to offer in the marketplace. You'll use the seven levels deep technique to really niche down your target market, which is key to achieve results in this very competitive world.
Module 3 – how to market your message through service is all about marketing your products and services ethically and elegantly to attract leads and convert them into paying customers.
Dean, the main and only instructor in this module is teaching the marketing philosophy. Dean is an exceptional marketer with vast experience. I always learn something from him although I'm experienced too.
You'll get to see the big picture here and you'll overcome your limiting beliefs about selling, because selling, in its essence, is just serving.
Module 04 – finding your perfect clients through social media is all about understanding how to become competitive in a very crowded space. 
You'll identify your ideal customers and locate them exactly where they spend time on.
In module 05 – how to sell like a pro and feel good about doing it, you'll learn how to stack up irresistible offers people simply can't deny. 
It's all about selling, closing the sale, and driving people to take action and commit to your products and services willingly.
Module 06 – how to deliver your message in today's new world, is all about creating products and services.
You'll learn how to create courses, training programs, workshops, masterminds, coaching and consulting services, books, and so much more.
You'll learn how to deliver your product to the world and how to use a number of platforms including the amazing mastermind system.
8-Week Live Masterclass Overview
The live masterclass training is all about the repetition and implementation of the teachings in real-time (real value $2,000).
For Dean and Tony, it's not enough to deliver their knowledge, strategies, tactics, and methods in videos and leave their students on their own.
In today's world, the need of people changed. The majority of people who enroll in a course, training program, mastermind, workshop, bootcamp, never finish what they start.
People need to be kept accountable, they need inspiration, motivation, to give and receive feedback.
Mastermind Platform Overview
The Mastermind platform is the absolute tool and software to deliver your products, services, and offerings to the world.
After spending $1 million to create the powerful MindMint software, 2 years ago, Dean and Tony realized that they ended up offering something complex. Simplicity wins complexity every single time.
They sat down, this time they cooperated with Russell Brunson's tech team, and created something new, from the ground up.
The result is phenomenal.
Self-Education Revolution Private Community
The private community Dean and Tony created in 2019 is the most engaging community on the planet. Passionate people sharing valuable information, knowledge, stories, and experiences with the world.
You will also meet people from the KBB (Knowledge Business/Broker Blueprint) training program and you'll unite under a common goal, to grow this movement.
Educators, teachers, business owners in any industry imaginable, bloggers, marketers, knowledge enthusiasts, people that immersed in the self-education movement.
This community will help you move forward, get unstuck, get your questions answers. It's a place to interact with like-minded entrepreneurs and knowledge brokers so you gain the confidence needs to make this a success.
Mastermind World Summit Overview
It's all about mastery.
A 3-day event 10 hours long each day, full of immersion and next-level strategies (real value $1,497).
If you enroll in the Project Next program, you finish the 8-week live masterclass training, and use the mastermind platform to upload your product and training, you'll be able to scale your business and enter the knowledge industry dynamically by attending this huge event.
Dedicated Facebook Group (priceless)
In this group, I'll be hosting live training sessions about marketing, business, and sales. We'll discuss advanced strategies, tactics, and methods I use for me, my promotions, and my clients.
I'll also record the sessions and will share downloadable material that you can use in your business.
You can send questions on a daily basis, for any reason at all.
I'll answer your questions and I will give you feedback on your work and progress with the Project Next training.
My goal is to help you move forward with confidence and to show you the real potential and the importance of marketing for any business.
Beyond marketing and sales, I'll also help you scale your business with partnerships, joint-ventures, and other advanced strategies.
Done-For-You and With-You Marketing Services (real value $1,997)
We'll create 2 complete sales funnels for your business together so you get to know how it's done and to model it on your own.
By automating marketing and selling, you'll be able to focus on growing your business without stress. Think of these marketing funnels as salespeople that you don't have to pay for.
These include:
All the necessary landing pages on your website
Paid advertising campaigns on Google, Bing, Facebook, and other networks
Methods and content to attract online traffic organically. Organic traffic is when people discover your website on search engines and you don't pay for it.
Email drip campaigns – an email drip campaign is a series of automated emails we send out to prospects so we can convert them into customers
You'll get in the action as I'll be assigning you some homework here.
We'll be refining, improving, and perfecting the funnels over time.
Now It's Time For A Decision
As Tony Robbins says…we are mostly shaped by our decisions.
Are you going to take advantage of the self-education industry and learn from the best of the best? 
It's a critical moment in history and you have a once-in-a-lifetime opportunity to join this masterpiece at such an incredible price tag that won't be available ever again.
Or this is the time you are going to be left behind? By pausing, staying inactive, procrastinating, letting your inner demons take control, and then blaming yourself?
As Dean says…is this day one or is it just one day?
You get to decide.
For a full in-depth analysis, video walkthrough, pricing, guarantee, and details on my extra bonuses you can read our "Project Next" review.
That's it, another article has finished, here on Web Market Support. I am waiting for your comments and thoughts. Till next time.
Power To Pivot
1-Day Live Virtual Immersion Workshop
THURSDAY JULY 15TH @ 9AM PT | 12PM ET
*A secret industry that's exponentially growing even during those unprecedented times
Dean Graziosi & Guests
Inside this 1-DAY live interactive training, you will discover how to take advantage of your own assets to build a better future:
Stop playing small, start or scale your own thing & THRIVE
Gain the roadmap to confidently pivot and take advantage of this window of opportunity
Pivot your thinking
Pivot your plan
Pivot your action
This advertisement is sponsored. For more information, I refer you to the disclaimer page
Tasos Perte Tzortzis
Marketing Consultant, Creator of the "7 Ideals" Methodology
Although doing traditional business offline since 1992, I fell in love with online marketing in late 2014 and have helped hundreds of brands sell more of their products and services. Founder of WebMarketSupport, Muvimag, SummerDream.
I enjoy reading, arts, science, chess, coffee, swimming, Audi, and playing with my kids.
Some of the links on this page are affiliate links. For more information, I refer you to the disclaimer page.