Are you looking to transform your static photos into mesmerizing moving images? And do that in just a few minutes?
It's possible and I have amazing news to share!
An incredible new 3d photo animation software is launching called PhotoVibrance.
In just days from now, the world of multimedia is going to change. This software is modifying and converts static images into mind-boggling moving assets that get people's attention instantly.
Let's see what it can do!
PhotoVibrance | Goes Live June 08 @ 11 am EST
Lifetime-Discount One-Time
Main slogan: take your images to another dimension.
A software product by Vidello limited.
How it works: A very easy-to-use tool that you will fall in love with. Simply drop your image into Vibrance, choose the effect you want to apply, then select your preferred resolution, and inside the editor is where the magic happens.
Click around the parts of the image you want to remain still, then choose the motion arrows to add movement and point them in any direction.
The advanced editor is where you can create 3D parallax animations. Control the path and rotation of the camera, adjust the easing of your animations, and add real 3D particles to your images.
Once you're ready, choose the format and hit publish.
Advantages/benefits:
Grabbing people's attention
No complex editing
Perfect advertising tool, image and video ads
Moving images
Bring photos to life by adding motion, special effects, and particles 
Fully compatible with both macOS & Windows operating systems.
Dashboard:
Text
Image
Objects
Shapes
Size
Camera (rotation, scale, reset)
Animation easing
Animation presets (linear, power 1-4, elastic, bounce, circ, expo, sine…)
Type (in, out)
Total duration
Image cutout
Layers
Timeline
Keyframes
Particles
Arrows
Anchors
Play
Select
Grab
Stock images
Particles (quantity, size, opacity, depth, brightness, contrast, blur, color rotation, shapes, custom images)
Resize for all social resolutions. Change the resolution in one click! You can also manually set custom dimensions & export your images as GIFs or MP4 videos.
What you can do:
Add motion to any image with the magic motion effect & sky replacements
Take your images to a whole other dimension with camera zooms & 3D particles
Features:
Transform ordinary images into moving masterpieces –

PhotoVibrance makes it easy for everyone to transform static images into moving motion pictures that get attention. Great for driving traffic from social media.

Motion pictures get people's attention on the newsfeeds, if something moves, we pay attention, we take notice

Turn regular product shots into engaging video ads – great for generating traffic on social media

Take your images into a whole new dimension –

Transform any photo into a 3D animated image with our first to market technology built with a 3D camera & 3d particles! 
Add motion arrows to add magic motion onto any image in seconds! Great for eye-catching imagery on social media, animating water, hair, skies and much more!
Drive more eyeballs to your posts & ads – Turn boring static images into eye-catching moving images with our powerful motion technology.
Resize for all social resolutions – Change the resolution in one click! You can also manually set custom dimensions.
Add special effects & even sky replacements – Easily draw the parts of your effects you want to show, to add creative effects to any image
Add particles with one click – Easily add real 3D particles from rose petals, leaves, snow and you can even upload your own custom particles! Works with any PNG image, logo or icon. 
Mask to show effects on specific areas – Easily draw the parts of your effects you want to show, to add creative effects to any image
Seamlessly looped – Every image created with Magic Motion is exported with seamless loops, great for using on website hero's or social newsfeeds. You can also create seamless loops using keyframes with our 3D parallax effect
Pexel's & Pixabay stock image integrations – Quickly find royalty-free images to use with our Pexel's & Pixabay integrations. Search a keyword, and select an image!
Support & help:
Quick getting started video
Tutorials
Support
Lifetime-Discount One-Time
From June 08 and for only a few days, you'll be able to get a lifetime account for a super low one-off price! No ongoing fees, massive discount.
Make sure to watch out for a link around 11 am EST on June 08.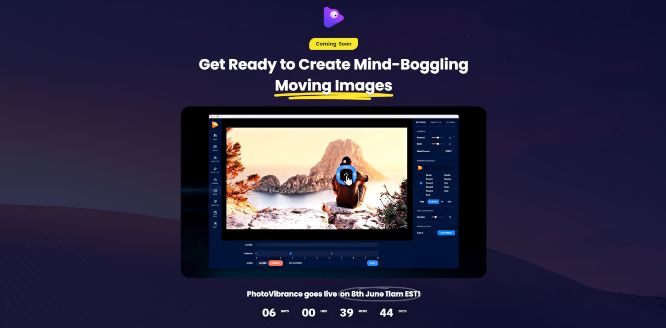 I'll be updating this thread with new information as we get closer to the launch date.
Stay tuned!
That's it, another article has finished, here on Web Market Support. I am waiting for your comments and thoughts. Till next time.
Tasos Perte Tzortzis
Marketing Consultant, Creator of the "7 Ideals" Methodology
Although doing traditional business offline since 1992, I fell in love with online marketing in late 2014 and have helped hundreds of brands sell more of their products and services. Founder of WebMarketSupport, Muvimag, SummerDream.
I enjoy reading, arts, science, chess, coffee, swimming, Audi, and playing with my kids.
Some of the links on this page are affiliate links. For more information, I refer you to the disclaimer page.