…if you have $2 .. you will love us
This is a catchy marketing headline and serves one very important cause.To make you believe that this business model has minimum risks.
I love money , join us today , become our next success story.
And they continue to intrigue your senses…more and more people are looking for online income sources now that jobs are underpaid , most of online opportunities are not fulfilling their promises , others cost a lot of money , in others you have to spend a fortune in advertising and so on…
How it Works
That is why they developed a unique model which fits everyone's needs and budget.You don't need any skills to master the highest possible income potential and stay always profitable.
3 important characteristics of the Pays4ever program
You don't need to setup a business – they pay 100% commissions to promote your affiliate link
You don't need any laborious training to earn money – you only need to refer 4 people as quickly as possible
There is no end in sight to the potential income you make – you only promote your affiliate link and they will provide you with advertising resources
I will not comment on that yet…
The Model
Pays4ever works on a 4 X 3 Matrix that runs in 2 phases to completion.Every member needs to bring in 4 referrals.Any more than those initial 4 referrals on the 1st level are automatically placed in the next available spot in your downline team.
Every affiliate has a limited number of members in his/her direct downline.You can't upgrade to a higher level unless the current level gets filled first.
The payments are from member to member.
All upgraded members receive over 100,000 text and banner ad credits.There are also special traffic packages
The Compensation Plan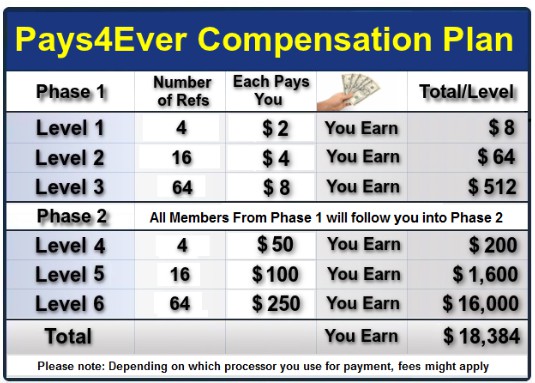 7 Steps to Success
Step 1 – Give $2 – Receive $8
Register an account and pay your matrix upline a one time fee of $2.Some fees may apply depending on your payment processor (Paypal , STP and Payza).
Notice : as the program requires payment over 3 levels to 3 different uplines you should have an account with at least 2 out of 3 processors.
Step 2 – start the duplication process
Invite 4 people and help them to upgrade and show them how to invite their 4.
DONE – now you are ready to earn your $35,924 effortless income.Once you filled that level you would have earned a total of $8 , meaning you get $6 profit.
Step 3 – Give $4 – receive $64.
Pay $4 to upgrade to Level 2.Fill your level 2 and earn 16 X $4 = $64.
Let's make a parenthesis here for you to understand better how this system really works and it won't be necessary to analyse the levels ahead.
You start and pay $2.You manage to invite 4 people into the matrix and you complete the 1st Level.Every downline member of yours will pay you $2…That means 4 X $2 = $8 minus the initial investment of $2 = $6 profit.
Now you can move on to the next Level 2.In order to complete this Level your downline 4 members of Level 1 must invite 4 new members each.
4 downlines X 4 new members each = 16 downlines in Level 2.
They will pay you $4 each so you can grand $64.
The next step is very obvious , these 16 new members must invite 4 new members each before the Level 3 is complete.
Can you estimate how much time would you need for that process?…Not to mention those who will abandon their efforts and those that could not invite new members as they lack the social connections and sales skills.
Inviting 4 members is not an easy task alone.If you have experience with MLM businesses you know how hard is to recruit new people.
Of course the initial investment of $2 makes this offer irresistible but the matrix has levels that need to be filled by your team members efforts.
In order to recruit new members you will spend money and more importantly time.Can you really make sales without spending anything?
These are all important things to consider before we decide to join an opportunity.Is there a real potential?…It seems that the $2 would lead to nothing.
The Products
Everytime you upgrade to a new level you will receive advertising credits to advertise any affiliate business , blog or website.
Additionally they are delivering e-books that focus on self improvement and how to overcome various obstacles in your life.
But who is going to evaluate the quality of these e-books?
The most important factor in online opportunities is to have a system that is healthy , products that sell and comprehensive marketing training.
These e-books can not help me very much.
Final Words
Although the Pays4ever company mentions how easy is to reach the $18K or the $32K in profits and that you don't need any skills to accomplish that , things are very different in real life.
In order to be successful with that particular matrix you have to be an MLM expert.A killer salesman that recruits people while he sleeps.Not only , you have to help your downlines to recruit their 4 new members and they have to do the same with their downlines.
The world is full of opportunities , why someone would choose your offer instead of anything else?
And this is where marketing comes into play.Without a website , a live blog department and sales skills you are going nowhere.You can't just pick up the phone and recruit people.
But you may think that it won't hurt you too much if you spend $2.Then I would say , go ahead , check it out on your own.
The key thing though is that Pays4Ever has no products to sell in the retail market, And that is a huge problem, not only in MLM, but in business generally. The matrix is designed so that every member pays their upline. This is a rotten cycle of cash gifting transactions, that only serves the owners of the company.
However if you want to build a real online business on your own , like I did , you can follow my top recommendation.You will be creating a website following certain training modules and then you will have the chance to promote not only 1 or 2 opportunities , but unlimited number of them.
And this does not stop there.You can take this business to any level you want by creating your own digital products and by selling marketing services to other companies.
Top Places to Get Affiliate Marketing Help
That's it , another review has finished , here on Web Market Support.I am waiting for your comments and thoughts.Till next time , your online partner.