Project Next Is Open Until May 20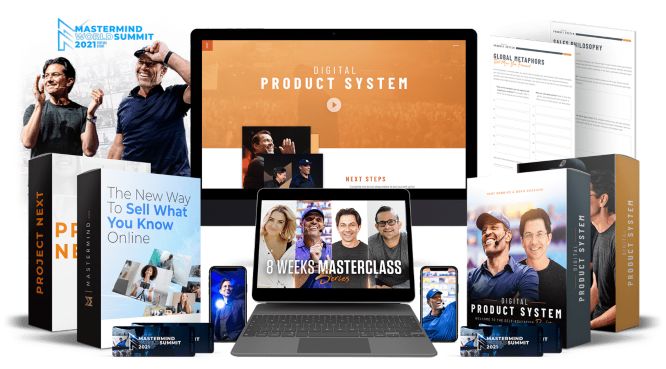 The time has come.
Today, at 2 pm ET, 1 million people will gather together to embrace the new digital economy, and as a result, the world will change.
When we look back, we'll know that we took massive action and did what we had to do. We made things happen instead of waiting for things to happen.
If you haven't registered yet for the 5-day challenge, I invite you to join me in this epic event to own our future.
But if you are already registered, you might be thinking if the VIP upgrade is worth it.
Let's dive right in!
Own Your Future Challenge
Today 2 pm ET – VIP Upgrade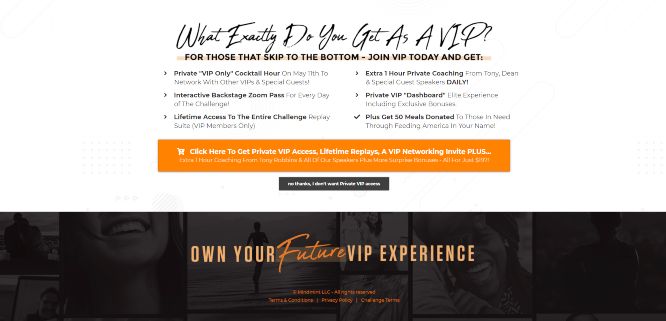 Private "VIP Only" Cocktail Hour On May 11th To Network With Other VIPs & Special Guests!
​Interactive Backstage Zoom Pass For Every Day of The Challenge!
Lifetime Access To The Entire Challenge Replay Suite (VIP Members Only)
Extra 1 Hour Private Coaching From Tony, Dean 
& Special Guest Speakers DAILY!
Private VIP "Dashboard" Elite Experience Including Exclusive Bonuses.
Plus Get 50 Meals Donated To Those In Need Through Feeding America In Your Name!
The extra VIP session was off the charts. Dean and Tony answered people's questions, they went deeper into the world of self-education and made a big promise for tomorrow (today).
Everyone applauded Jonathan (if I remember correctly his name), an aspiring entrepreneur, and a couple (can't remember names) that were frustrated about scaling their business.
Dean explained that this is only possible by hiring people and outsourcing things and Tony showed how he is able to manage over 80 companies, be a dad and husband at the same time, and a man that needs some time alone.
I won't reveal more information about the VIP session, on purpose, of course. 
This time, the extra VIP session was sentimental. We had Trent and Dean answering questions and at least 3 of the attendees expressed their emotions and almost fell to tears.
Dean and Trent made everything they could to go deep with their answers and help the attendees overcome their fears, insecurities, and disbelief. 
They clearly showed the way that is all about embracing ourselves for what we are and there are always people willing to hear what we have to say. We can't satisfy everyone but we can do miracles for some of them.
Today's session is one I will never forget!
This time, the extra VIP session was all pure Q&A sessions. Dean and Russell answered specific questions people had about their businesses and how to enter the self-education industry.
Dean again explained the tremendous power of thinking about this business from this lens: that you are talking to your 20-year old self and helping them overcome obstacles and limiting beliefs.
Another phenomenal session.
This time, the extra VIP session was all pure Q&A sessions. Dean and Glo answered specific questions people had about their businesses and how to enter the self-education industry.
We listened to a coach that wanted to become unique and show up as different and Dean explained that he had to change the way he was doing marketing. 
We listened to an educator from Canada that he was anxious about what to teach and Glo opened his heart.
And we listened to some other amazing people that were afraid that no one would ever listen to them but Dean and Glo laid out the path for them. 
Again, a session that I will remember forever.
Upgrading to VIP is only optional. The free live event is worth $10,000 alone.
You'll get to meet all these amazing people that have impacted millions of souls around the world.
They will reveal their secrets strategies to help you adapt to the new digital economy.
You will be empowered to crush it as an online entrepreneur for the rest of your life by entering dynamically an industry that has taken the world by storm.
But upgrading is a whole new game.
I upgraded but that is because I want to experience the backstage Q&A and parties and I also get access to the recordings of the event.
There are also secret bonuses that are not yet revealed.
Plus you get to donate 50 meals to people that need it right now.
If you need that something extra, if you want to experience a high-level treat, then the VIP upgrade is a perfect fit for you.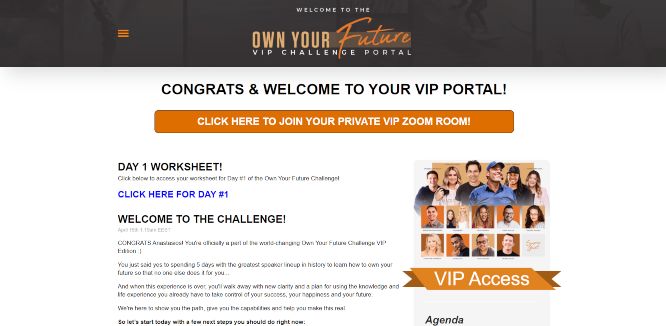 Today the world is about to change
Upgrading or not, the world is about to change. The "Own Your Future Challenge" will be marked as the day that 1 million people joined forces to be part of the biggest movement in the internet's history. 
Don't forget, the event is about to start in a few hours, at @ pm ET. 
That's it, another article has finished, here on Web Market Support. I am waiting for your comments and thoughts. Till next time.
Power To Pivot
1-Day Live Virtual Immersion Workshop
THURSDAY JULY 15TH @ 9AM PT | 12PM ET
*A secret industry that's exponentially growing even during those unprecedented times
Dean Graziosi & Guests
Inside this 1-DAY live interactive training, you will discover how to take advantage of your own assets to build a better future:
Stop playing small, start or scale your own thing & THRIVE
Gain the roadmap to confidently pivot and take advantage of this window of opportunity
Pivot your thinking
Pivot your plan
Pivot your action
This advertisement is sponsored. For more information, I refer you to the disclaimer page
Tasos Perte Tzortzis
Marketing Consultant, Creator of the "7 Ideals" Methodology
Although doing traditional business offline since 1992, I fell in love with online marketing in late 2014 and have helped hundreds of brands sell more of their products and services. Founder of WebMarketSupport, Muvimag, SummerDream.
I enjoy reading, arts, science, chess, coffee, swimming, Audi, and playing with my kids.
Some of the links on this page are affiliate links. For more information, I refer you to the disclaimer page.