Project Next Is Open Until May 20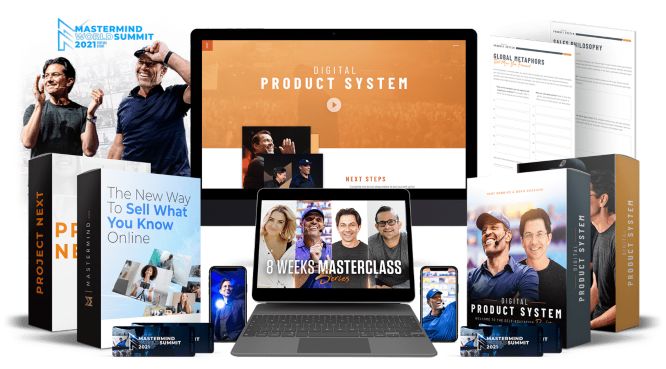 We discussed the self-education industry so much during these days and it was an amazing journey. Dean, Tony, and their elite guests created something memorable, something we will remember for the rest of our lives.
The "Own Your Future Challenge" has written history as THE largest online event. With nearly 1 million people gathering together to learn, have fun, and embrace the digital economy, one thing is for sure.
The world is about to change.
Will you be part of this change or an outside watcher?
Own Your Future Challenge
5-Day Free Virtual Event FAQ/Clarity Live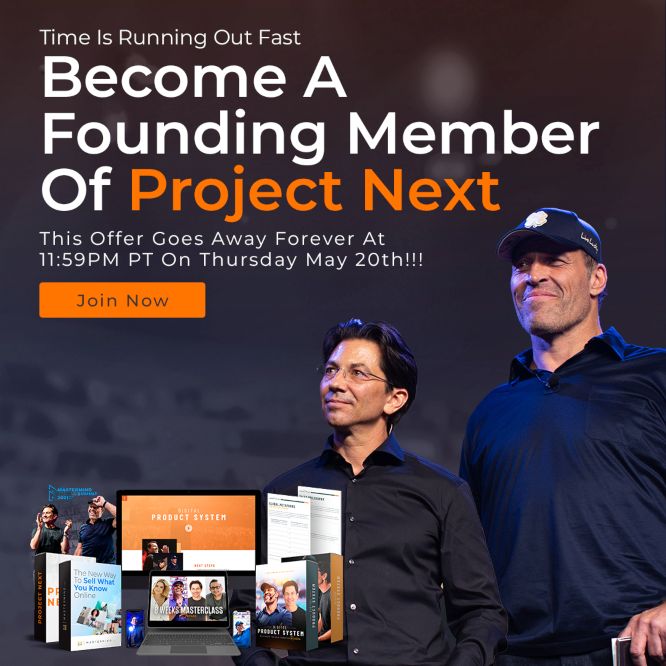 The "Project Next" has opened the registration doors. But not for long. It is closing down in just a few days.
Dean and his guests are hosting a live hot seat session to answer people's questions.
So if you are on the fence and you can't decide with peace of mind, this is the perfect time to join us live today.
I know, Project Next is an incredible offer, no one can deny this.
It has everything, the immersion – the Digital Product System standalone training program, the repetition – the 8-week live masterclass training to get your hands dirty, the implementation – the Mastermind platform to upload your products and start reaching people all over the world, and the mastery – the 3-day live Mastermind World Summit.
And there are so many bonuses packed by Dean's guests and our bonuses as well that make this offer insane.
At such a ridiculous price? $997 for this masterpiece? 
They did that because the world needed it. The pandemic was the main reason.
And if this program will be offered again they will never give it away at such a price tag.  
*New guests are joining the event as well. So you don't want to miss out today's session.
But it's not for everyone.
For example, if you are looking for a business in a box, this is not for you. There is work associated with this program.
If you are looking for ways to make a few quick bucks here and there, then again, this is not what this program is about.
If you are not ready, if you are not 100% committed to play full out and do what you need to do, then this program won't work for you.
On the other hand, if you are one of those that are looking for ways to be creative again and impact people's lives by sharing wisdom, knowledge, and your experiences, and creating something meaningful this is the only program you will ever need.
And if you think you don't have enough expertise to share, you can always become the reporter of other people and share their skills and knowledge.
These are some of the most common questions people asked during the challenge and the VIP sessions.
Will it work for my niche? Is not it a very competitive space?
Who would want to buy my course, training, workshop, or product?
Is this the right time?
How do I separate from the competition?
How do I attract people to my world?
Do I have enough knowledge to share?
I have some ideas but I don't know where to start
I have an idea but I am not sure it will work
You might have different questions and this is the time to get them answered.
Joni us today to get the confidence and the clarity you need.
The digital industries are growing even during these insane times.
The virtual world is stronger than ever before, and there is room for everyone.
This is when you can gain momentum and make things happen instead of just watching and waiting for something to change.
You know that's not going to happen.
Things happen when we move forward and we step up our game.
As Dean says…is this day one or is it just one day?
You get to decide
That's it, another article has finished, here on Web Market Support. I am waiting for your comments and thoughts. Till next time.
Power To Pivot
1-Day Live Virtual Immersion Workshop
THURSDAY JULY 15TH @ 9AM PT | 12PM ET
*A secret industry that's exponentially growing even during those unprecedented times
Dean Graziosi & Guests
Inside this 1-DAY live interactive training, you will discover how to take advantage of your own assets to build a better future:
Stop playing small, start or scale your own thing & THRIVE
Gain the roadmap to confidently pivot and take advantage of this window of opportunity
Pivot your thinking
Pivot your plan
Pivot your action
This advertisement is sponsored. For more information, I refer you to the disclaimer page
Tasos Perte Tzortzis
Marketing Consultant, Creator of the "7 Ideals" Methodology
Although doing traditional business offline since 1992, I fell in love with online marketing in late 2014 and have helped hundreds of brands sell more of their products and services. Founder of WebMarketSupport, Muvimag, SummerDream.
I enjoy reading, arts, science, chess, coffee, swimming, Audi, and playing with my kids.
Some of the links on this page are affiliate links. For more information, I refer you to the disclaimer page.