Project Next Is Open Until May 20
Is This Day One or Just One Day?
Dean explained that this event was the most fun adventure in his entire career. He thanked everyone for being receptive, for playing full out, for dedicating their precious time, for trusting his team and guests, for being part of their journey.
937,000 people registered for the epic challenge. Eventually, it will come down as the biggest event in the internet's history.
Today's challenge was understanding the biggest secret of success.
Day's 4 content was kept secret.
Let's see what happened today…
Own Your Future Challenge
5-Day Free Virtual Event – Day 3 Recap
Today 2 pm ET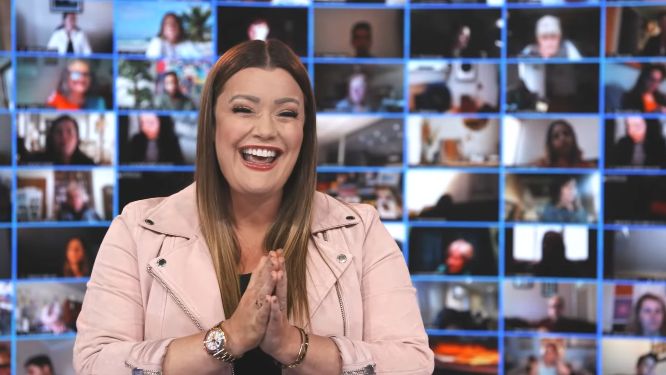 Another epic production, they were broadcasting on Facebook, YouTube, and Zoom (VIP) simultaneously.
Dean started out by recapping what happened during the first 2 days. He asked people what would they do if they had one week to prepare a course, training, or workshop and deliver it to their 20-year old self and convince them to spend $50 to get access to it.
He asked us what would we would if our 20-year old self said "Wel, I'm OK, I don't need this". 
Would we do everything we can to make them listen?
He explained that he and Tony were so enthusiastic about this challenge because they were presenting us with this extreme opportunity. 
He shared a beautiful story of her wife. 
Dean underlined the importance of loving what you do. And when you attach your enthusiasm and excitement to what you create, then selling does not feel like selling. 
He shared another incredible story when he was at an event with businesswomen. And how he helped one of them understand the real power of marketing and selling her product because when you avoid marketing and selling, you're actually making a huge disservice to your people.
He also shared the story of Jamie Falahee, who created a course on her cellphone in her kitchen to help naturally kids with eczema. She was Dean's student, and she had been through fire and hell to cure her son. And when she created a masterpiece course she was afraid to sell it. But Dean trained her and she overcame her limiting beliefs. The craziest part of this story is that 6 months later, Dean's wife was looking for help to cure their son's eczema and she discovered Jamie's course and went through it.
Dean again highlighted that selling is just service. 
Jamie Kern Lima was vulnerable and emotional.
She shared her beautiful story of how she transformed from a shy girl into someone who trusts her guts.
She was never fulfilled working for others, she always knew that there was something more.
She shared her story of IT Cosmetics, and the crowd was listening ecstatically as she was revealing how big cosmetic brands and TV shows were denying her proposals for cooperation.
But she decided to keep on going and trying no matter what. Her big why behind this brand new company and her vision helped her find the way to success. It was quite painful but so, so rewarding at the end.
At some point, they managed to book a meeting with a potential investor, and although the investor found the quality of Jamie's products superb he did not want to invest in her company.
And Jamie had the courage to ask why and she asked him to be sincere and honest.
And he said…
I just don't think women will buy makeup from someone who looks like you with your body and your weight.
Pretty devastating, right?
But she did not give up and after several years, she was able to sell IT Cosmetics for $1.2 billion to L'Oreal.
Bottom line: don't let others tell you that you can't do something. Actually, use these negative reactions as fuel, as your superpower to go further and further, and follow your dreams and vision no matter what.
The next guest Russell Brunson was absolutely excited.
He shared his story of being in college trying to support his girlfriend and searching online for ways to create an income stream.
At some point, he discovered that some people were getting paid for selling information. This seemed pretty awkward to him.
But he did not know what to sell and how to sell any piece of information. He was just a 20-years kid with no experience.
He shared the story of potato guns and how an idea came to life. He was curious if people would want to know how to make their own potato guns and if they were willing to pay for this kind of information.
He chased this dream, borrowed a camera to shoot a video showing people how to make potato guns. He then started working on building a website to start selling this DVD. And he managed to make a few sales.
This was a phenomenal success for him at this point. 
This is how Russell entered the knowledge industry, the self-education industry.
He also shared some video scenes from his past. How vulnerable and shy he was during some traditional presentations trying to sell his products. 
Incredible footage.
At the end of the session Karisha, assigned homework.
Besides, this is what challenges are all about. Getting challenged.
There were an example of a hook and 4 tasks to complete in less than 3 minutes inside the private Facebook group:
The hook: — Something compelling, unique, that thing, grabber, or "hook" that stops people in their tracks to read what you wrote or watch what you recorded. Example: "Have you ever in your adult life looked in the mirror and said… I thought I'd be further ahead in life by now… Well if so, you're not alone. My name is Dean Graziosi and I help…."
How has your view on selling changed from it being "salesy" to it being service?
Keeping in mind your ideal client is YOU a few years ago, when it comes to helping your ideal client move away from their current pain, what is one worry or fear they probably have?
When it comes to helping your ideal client move toward their desired future, what is one dream, or opportunity, they probably have?
Leaning into your new empowering belief system, complete this sentence: "Have you ever _____and thought _____? Well if so, you are not alone. My name is ___ and I help _____ with _____."
This time, the extra VIP session was all pure Q&A sessions. Dean and Russell answered specific questions people had about their businesses and how to enter the self-education industry.
Dean again explained the tremendous power of thinking about this business from this lens: that you are talking to your 20-year old self and helping them overcome obstacles and limiting beliefs.
Another phenomenal session. 
Investigate This Amazing Industry
The digital industries are growing even during these insane times.
The virtual world is stronger than ever before, and there is room for everyone.
This is when you can gain momentum and make things happen instead of just watching and waiting for something to change.
You know that's not going to happen.
Things happen when we move forward and we step up our game.
Today, Dean is going to reveal another big secret.
You don't want to miss this epic session.
Day #3 was the most powerful but Day #4 is the next logical and critical step.
I'll see you there.
That's it, another article has finished, here on Web Market Support. I am waiting for your comments and thoughts. Till next time.
Power To Pivot
1-Day Live Virtual Immersion Workshop
THURSDAY JULY 15TH @ 9AM PT | 12PM ET
*A secret industry that's exponentially growing even during those unprecedented times
Dean Graziosi & Guests
Inside this 1-DAY live interactive training, you will discover how to take advantage of your own assets to build a better future:
Stop playing small, start or scale your own thing & THRIVE
Gain the roadmap to confidently pivot and take advantage of this window of opportunity
Pivot your thinking
Pivot your plan
Pivot your action
This advertisement is sponsored. For more information, I refer you to the disclaimer page
Tasos Perte Tzortzis
Marketing Consultant, Creator of the "7 Ideals" Methodology
Although doing traditional business offline since 1992, I fell in love with online marketing in late 2014 and have helped hundreds of brands sell more of their products and services. Founder of WebMarketSupport, Muvimag, SummerDream.
I enjoy reading, arts, science, chess, coffee, swimming, Audi, and playing with my kids.
Some of the links on this page are affiliate links. For more information, I refer you to the disclaimer page.