Project Next Is Open Until May 20
Is This Day One or Just One Day?
Last night, we experienced an event like no other. This time the atmosphere was very different. 
Dean uncovered the secret "dot" strategy, we had guest speakers, and the VIP session was passionate and filled with surprises and many emotional moments.
The first day was all about the entrepreneurial mindset and understanding the tremendous opportunity associated with the digital economy.
Today's challenge was understanding why you are doing it, what is the dot, who your target audience is, how to gain momentum, how to amplify your mission, and so much more.
Day 3 is about the big secret of Dean's success. He kept it secret, of course, until tomorrow.
Let's see what happened today…
Own Your Future Challenge
5-Day Free Virtual Event – Day 2 Recap
Today 2 pm ET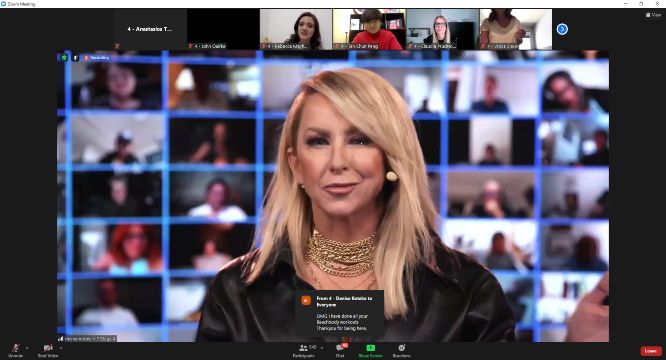 Another epic production, they were broadcasting on Facebook, YouTube, and Zoom (VIP) simultaneously. 
Dean started out in a dynamic way. He shared his secret "dot" strategy.
He shared his story with the "Million Motors" brand. How disappointed he felt when he was trying to sell his expertise to the whole world.
But he had a moment of epiphany.
He realized that he did not have the knowledge to deliver his product to everyone. He did not know the best strategies for selling cars that could satisfy experienced car dealers.
But he was good enough for a small minority, a small group of people.
Those that wanted to make some extra money selling a car a month. The newbies, the beginners.
And he thought that this idea would work. And it did. It worked big time, and this was just the beginning of an extraordinary career.
Dean also shared other people's journeys and how they found their own dots as a way to serve people and impact their lives. A garage of examples that clearly show the power of going deep, searching this micro-niche that you are destined to serve.
Chalene Johnson in an elegant black dress showed up and the attendees started shouting. If I say she was energetic it would be an understatement.
She fired us up.
She explained how important the dot is when you run a business either online or offline.
She shared her story and how everything changed when she decided to do one thing instead of doing everything. Her dad and relatives, who the majority of them were entrepreneurs, believed that an entrepreneur can do everything on their own and this is what they should.
But Chalene discovered that they were wrong.
She analyzed how Amazon, this giant empire, got started out. I bet you know what Jeff Bezos was selling from his garage-based business. Books. Slowly, Amazon started selling other things, now they sell everything. But when you start small, you actually expand your horizon.
She also revealed that you can change your dot anytime you want.
The next guest Trent Shelton entered the room aggressively and people went crazy. The chat filled with hearts, smiles, and thumbs up.
There are 3 types of people, the watchers, the wishers, and the workers.
And there are people that need your story. Listen to the voice inside you and get your greatness to the world.
When the mission is strong enough, the struggle will never be enough.
Sometimes losing everything is the best thing it can happen to us. Because this is when we wake up for real.
The biggest enemy is our inner voice telling us we are not good enough.
Don't wait for people to support you. Go on and support yourself. And the level you support you receive does not even matter to the level of success you are going to achieve. You set the tone for your life.
Your mission has to be magnified, your mission is your magnet. It has to be about leaving a legacy.
Everything changed for Trent when he was in his room, looking at his child's photos and started wondering if this was what life had for him. He was at the lowest point of his life, but an inner voice told him that this is just the beginning.
Opportunity cost: never let the fear block you from changing. Commitment, do what you start doing.
He decided to record a video and when 10 people watched this video he was excited. It meant the world to him.
This was the beginning of an amazing journey.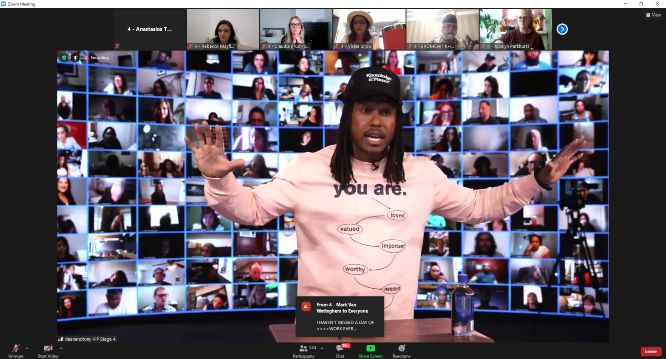 At the end of the session Karisha, assigned homework.
Besides, this is what challenges are all about. Getting challenged.
There were 4 tasks to complete in less than 3 minutes inside the private Facebook group:
What is the limiting belief that most often stops you from unlocking what's in your head and selling what you know to those who need your knowledge?
Leaning into your new belief system, what is the one thing your friends/family/colleagues come to you for (that is easy for you to do) that has them saying "Wow, I wish I could do that!"?
Knowing what you know now, what could you sell to others based on your (well above average) skill level on the topic? (ex: how to train a pet, how to sing like a pro, overcome anxiety, etc)
Knowing what you know now, who could you sell to? Remember, your ideal client is you just a few years ago. (Don't be afraid to get specific!)
This time, the extra VIP session was sentimental. We had Trent and Dean answering questions and at least 3 of the attendees expressed their emotions and almost fell to tears.
Dean and Trent made everything they could to go deep with their answers and help the attendees overcome their fears, insecurities, and disbelief. 
They clearly showed the way that is all about embracing ourselves for what we are and there are always people willing to hear what we have to say. We can't satisfy everyone but we can do miracles for some of them.
Today's sessions is one I will never forget!
Investigate This Amazing Industry
The digital industries are growing even during these insane times.
The virtual world is stronger than ever before, and there is room for everyone.
This is when you can gain momentum and make things happen instead of just watching and waiting for something to change.
You know that's not going to happen.
Things happen when we move forward and we step up our game.
Today, Dean is going to reveal the big secret of his success. He 
You don't want to miss this epic session.
Day #2 was the most critical but Day #3 is the most intriguing. It's the wake-up call.
I'll see you there.
That's it, another article has finished, here on Web Market Support. I am waiting for your comments and thoughts. Till next time.
Power To Pivot
1-Day Live Virtual Immersion Workshop
THURSDAY JULY 15TH @ 9AM PT | 12PM ET
*A secret industry that's exponentially growing even during those unprecedented times
Dean Graziosi & Guests
Inside this 1-DAY live interactive training, you will discover how to take advantage of your own assets to build a better future:
Stop playing small, start or scale your own thing & THRIVE
Gain the roadmap to confidently pivot and take advantage of this window of opportunity
Pivot your thinking
Pivot your plan
Pivot your action
This advertisement is sponsored. For more information, I refer you to the disclaimer page
Tasos Perte Tzortzis
Marketing Consultant, Creator of the "7 Ideals" Methodology
Although doing traditional business offline since 1992, I fell in love with online marketing in late 2014 and have helped hundreds of brands sell more of their products and services. Founder of WebMarketSupport, Muvimag, SummerDream.
I enjoy reading, arts, science, chess, coffee, swimming, Audi, and playing with my kids.
Some of the links on this page are affiliate links. For more information, I refer you to the disclaimer page.