Project Next Is Open Until May 20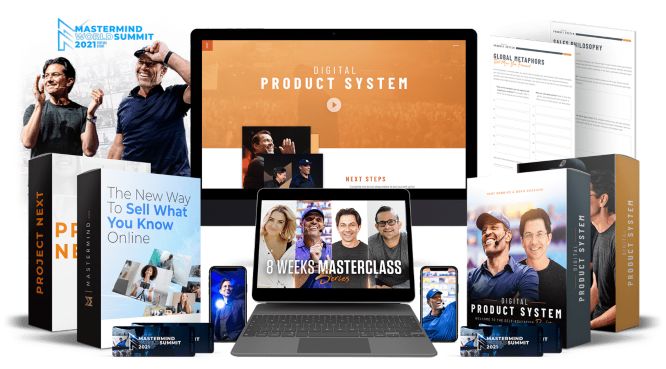 Yesterday the world was shaken up by Dean Graziosi, Tony Robbins, Jenna Kutcher, and KK that welcomed 850,000 people in an epic virtual event.
The first day was all about the entrepreneurial mindset and understanding the tremendous opportunity associated with the digital economy.
Today, at 2 pm ET, nearly 1 million people will gather together to go deeper.
Dean is going to reveal…
Own Your Future Challenge
5-Day Free Virtual Event – Day 1 Recap
Today 2 pm ET
They were broadcasting on Facebook, YouTube, and Zoom (VIP) simultaneously. An epic production.
KK welcomed people in the warmest way and got everyone excited about what's coming next.
We watched a short video clip of Dean Graziosi's story and KK invited Dean to the plateau.
Dean was absolutely professional. He revealed the huge opportunity in the modern digital economy business world and how he was able to transform his life after watching Tony Robbins' DVDs and tapes back in the day when he was young.
The crowd was going nuts and wanted to learn more, the chat was flooded by questions but Dean calmed everyone down. He underlined that first, it's very important to adopt the right mindset, the entrepreneurial spirit before moving on to details on how exactly we'll be creating digital businesses.
But he also explained how the self-education industry works. He brought a whiteboard and showed that digital economists are the "bridge" between where people stand in their life and where they want to be.
In our lives, we may go through a mess, we learn and experience things that change us, and we take uncomfortable action in order to find a solution to our problems, and as a result, we develop skills and become masters on specific topics.
In the self-education industry, you can help people move forward fast and avoid all the pitfalls and obstacles that got in your way, you are actually the bridge.
Now, it was time to heat things up and…
And so Dean invited Tony to the room and the atmosphere changed. Tony's unparallel passion and constant movement got people ecstatic.
The first 15 minutes were chaotic and the VIP guests were going crazy (me included- you can spot me in the upper left corner, the guy in this dark alien background).
After a while, Tony discussed his past and how Jim Rohn was leading him to a world he never thought existed.
You see, Tony's family could not provide the essentials and he knew that he had to do something about it.
When he discovered Jim Rohn, everything changed.
Jim used to say…for things to change, you gotta change. For things to get better, you gotta get better.
Become the best version of yourself, give away as much value as you can, and then things will change for you as well.
Tony analyzed the 3 mandates of leadership, limiting and empowering beliefs, the President's John F. Kennedy in 1962 speech, presented the story of Mel Fisher who worked for 16 years without getting back anything in return just to follow his dream that eventually became true., and the 3 core beliefs all digital entrepreneurs should embrace.
Tony led the discussion for an hour and a half.
At some point, he invited everyone to stand up and had us refuel our bodies with positive energy through an exercise that I absolutely enjoyed. 
People were shouting like maniacs, others were dancing, I could see a mix of emotions.
Tony surprised me for good.
Jenna was next and she was very nervous. It's logical when you are in the same room with legends like Tony and Dean. 
He showed people that everything is possible and how a small girl from Minnesota achieved extraordinary success after following her dreams.
A down Earth girl shared amazing stories and got people wondering if they can do it too.
At the end of the session Tony, assigned homework.
Besides, this is what challenges are all about. Getting challenged.
There were 4 tasks to complete:
Write down one "old belief" you had about your life and your ability to own your future
Write down one "new belief" empowering you to own your future.
What has that old belief cost you in time, money and resources?
What would the new belief allow you to be, do, have, make?
The extra VIP session was off the charts. Dean and Tony answered people's questions, they went deeper into the world of self-education and made a big promise for tomorrow (today).
Everyone applauded Jonathan (if I remember correctly his name), an aspiring entrepreneur, and a couple (can't remember names) that were frustrated about scaling their business.
Dean explained that this is only possible by hiring people and outsourcing things and Tony showed how he is able to manage over 80 companies, be a dad and husband at the same time, and a man that needs some time alone.
I won't reveal more information about the VIP session, on purpose, of course. 
Investigate This Amazing Industry
The digital industries are growing even during these insane times.
The virtual world is stronger than ever before, and there is room for everyone.
This is when you can gain momentum and make things happen instead of just watching and waiting for something to change.
You know that's not going to happen.
Things happen when we move forward and we step up our game.
Today, Dean is going to reveal his secret dot strategy that is all about defining who you are as a digital economist, and what products people desperately want that you can create.
You don't want to miss this epic session.
Day #2 is the most critical.
I'll see you there.
That's it, another article has finished, here on Web Market Support. I am waiting for your comments and thoughts. Till next time.
Power To Pivot
1-Day Live Virtual Immersion Workshop
THURSDAY JULY 15TH @ 9AM PT | 12PM ET
*A secret industry that's exponentially growing even during those unprecedented times
Dean Graziosi & Guests
Inside this 1-DAY live interactive training, you will discover how to take advantage of your own assets to build a better future:
Stop playing small, start or scale your own thing & THRIVE
Gain the roadmap to confidently pivot and take advantage of this window of opportunity
Pivot your thinking
Pivot your plan
Pivot your action
This advertisement is sponsored. For more information, I refer you to the disclaimer page
Tasos Perte Tzortzis
Marketing Consultant, Creator of the "7 Ideals" Methodology
Although doing traditional business offline since 1992, I fell in love with online marketing in late 2014 and have helped hundreds of brands sell more of their products and services. Founder of WebMarketSupport, Muvimag, SummerDream.
I enjoy reading, arts, science, chess, coffee, swimming, Audi, and playing with my kids.
Some of the links on this page are affiliate links. For more information, I refer you to the disclaimer page.