Online designing has never been easier. Even when I got started online, in late 2014, there were plenty of tools for everything I needed to create.
Banners and posters on the fly, social media posts, images and graphics for websites, photo editing tools, logo designing tools, vectors and illustrations, videos, animations, gifs, you name it.
Today, I'm sharing the tools I use the most.
Design creation applications, infographics, eBook covers, statistics, animated videos, color generators and palettes, color pickers, backgrounds, gifs, and more.
Although some of the apps in this list give you the option to edit photos beyond creating designs I will stick to design creating and related tools and I won't analyze the photo editing features of those apps.
You can access our photo editing catalog here.
Let's dive right in!
Best Online Graphic Design Tools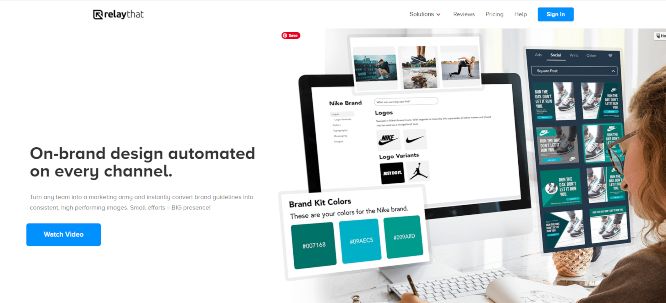 Main slogan: On-brand design automated on every channel. Turn any team into a marketing army and instantly convert brand guidelines into consistent, high performing images. Small efforts = BIG presence!
The design automation app that everyone's switching to:
Brand management: 

Manage and switch between multiple workspaces and campaigns in a single click

Headline generator: 

Karate chop writer's block in no time with wildcard keywords that automatically generate the perfect copy!

Defeat "creative block": 

Access curated libraries of the top-performing color and font combinations that professional marketers use

One-click resize: 

Resize and remix layouts to perfectly fit any advertising or social media channel with no additional tweaking needed

Unify your brand assets: Automatically create a consistent look for your brand without even trying. The more you use it the better it gets

Over 3 million free images: Enjoy access to 3 million royalty-free images with no usage fees or additional costs
Layouts:
Ads: medium rectangle, half page, leaderboard, mobile leaderboard, wide skyscraper, skyscraper, square, YouTube overlay, vertical rectangle, vertical banner, large rectangle, Reddit, large mobile, mobile banner, interstitial tall, interstitial wide, large leaderboard, billboard, banner, portrait.
Social: square post, wide post/FB ad, Pinterest pin, YouTube thumbnail, vertical story, 4×5 portrait, Google post, Google cover, Facebook cover, Twitter header, YouTube header, IGTV cover, LinkedIn company cover, LinkedIn profile cover, Meetup cover, Patreon cover.
Print: book cover, business card, US letter tall, US letter wide, 4×6 tall, 4×6 wide, 5×7 tall, 5×7 wide, A4 letter tall, A4 letter wide
Other: blog post, wide banner, video still, audio cover, crop photo, layout previews, watermark.
Other features:
Images: easily search over 3 million stock photos. They mostly use Unsplash, Pixabay, and Pexels. 
Photo editor

: You can apply effects to the image you use on any layout: fade, blur, smooth, B&W, desaturate, sepia, saturate, hue 90, hue 180, hue 270, invert, darken, brighten, contrast, vignette.

Fonts

Colors

Buttons

Titles

Magic import

SEO keywords
Pricing:
PRO: 2 users, 20 projects, $25/month
Enterprise: Unlimited projects $contact them for price
Other departments and resources: FAQs, guides, tutorials.
Review: You can create so many different designs, banners, ads, for all your channels. You can use them on social media, search engines, forums, communities, emails, webinars, videos, podcasts, literally everywhere.
You can import metadata assets, optimize your images for SEO with a few clicks, get inspired by the font pairs and the headline generator, search through 1M images and 100K icons, apply effects to the images, and get even color palettes on the spot.
Online reviews:
G2: 23 reviews, 4.3/5
Capterra: 101 reviews, 4.6/5
ProductHunt: 88 reviews, 5/5
SourceForge: 4 reviews, 5/5
About: 2-10 employees. Boston, MA 02116, US. Sole Proprietorship. Shaun Farr: Chief revenue officer, Michal Sikora: full stack developer.
Main slogan: Design anything.
Options:
Social media graphics: Instagram post & story & story highlight cover, animated, TikTok background, Facebook post & cover & ad, blog banner & graphic, YouTube thumbnail & channel art, Twitter post, Pinterest pin
Events: invitation & portrait, poster, brochure, announcement, ticket, Facebook event cover
Marketing: flyer, poster, logo, brochure, business card, gift certificate, coupon, email header, blog banner, large rectangle ad, wide skyscraper ad, medium rectangle ad
Documents: presentation, A4, letter, report, resume, brochure, magazine cover, invoice
Order prints: t-shirt, poster, business card, label, flyer, invitation, brochure, postcard, menu, card, invitation portrait, announcement, letterhead, resume, save the date postcard, real estate postcard, thank you postcard, birthday card, wedding invitation portrait, birthday invitation, program, newsletter, certificate, letter, circle sticker, mug, canvas print portrait
Video: video, YouTube intro, video presentation, animated social media, YouTube video ad, video message, mobile video message, mobile video, animated your story, Facebook video, animated Facebook cover, social feed video ad, video collage
School: poster, infographic, presentation, brochure, worksheet, lesson plan, yearbook, class schedule, mind map
Personal: invitation, card, photo collage, resume, Instagram story, label, desktop wallpaper, calendar, postcard, t-shirt, website
Templates:
Social media
Personal
Business
Marketing
Education
Trending
Features:
Photos
Icons
Print products
Apps
Explore
Pricing:
Free: everything you need to start designing
Pro: 

Professional design made easy with unlimited access to premium tools and content €11.99/mo, €107.88/year (up to 5 people)

Enterprise: empower your team, manage your brand, and scale your content all in one place €26/mo/person

Education:  free for classrooms

Nonprofits:  free
Review: Canva is a fast tool, easy to use, accurate and the variety of images and texts makes it a precious ally in my everyday endeavors. I create banners, headers, images for social media and that application saves me a lot of time.
Online reviews:
Capterra: 9,357 reviews, 4.7 out of 5 stars
G2: 2,760 reviews, 4.7 out of 5 stars
TrustPilot: 524 reviews, 2.1 out of 5 stars
TrustRadius: 458 votes, 8.9 out of 10 stars
About: Since launching in August 2013, Canva has been changing the way in which we communicate. Today our design tool has attracted over 15 million happy users across 190 countries, who have collectively created more than 1 billion designs. Funding via Crunchbase, Series unknown, 1 total investor. Melanie Perkins, co-founder and CEO, Maria Korina Bertulfo, founder and CEO.
200+
Business & Marketing Tools Collection
Work management, tracking, organizing, payments, accounting, Google, keyword, market, and competition research, SEO, analytics, and related, marketing & advertising, web development, website monitoring, domains & website hosting, coding, and related, design & multimedia, marketplaces, entrepreneurial communities, hiring & outsourcing.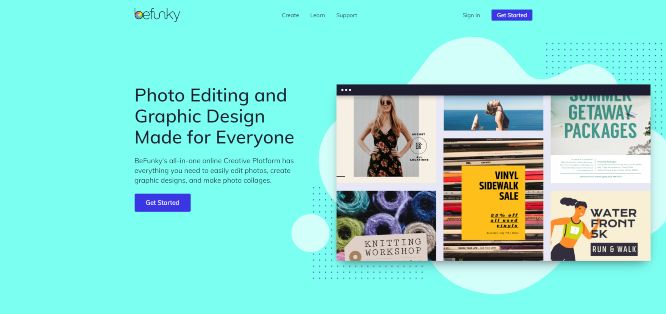 Main slogan: Photo Editing and Graphic Design Made for Everyone. BeFunky's all-in-one online Creative Platform has everything you need to easily edit photos, create graphic designs, and make photo collages.
Options:
Photo Editor
Collage maker
Graphic designer
Graphic Designer Templates:
Social media: Instagram post & stories, Facebook cover & page cover & event cover & story & post, Twitter header & post, YouTube thumbnail & channel art, Pinterest graphics, Etsy big banner & mini banner & order receipt banner, blog images
Business & marketing: business cards, poster, flyer, brochure, postcard, letterhead, menu
Online advertising: Facebook ad, skyscraper, leaderboard, medium rectangle, large rectangle, half page, large mobile
Events and cards: card, birthday, wedding set, valentine's day, mother's day, winter holiday
Collage Maker Layouts:
Featured
Grid
Big photo wrap
Facebook cover
Pinterest
Colla Maker Patterns:
Featured
Autumn
Fabric
Fancy
Geometric
Polka dots
Stripes
summer
Love
Winter
Learning center:
Getting started
Features
BeFunky plus
Learn BeFunky
Tutorials
Inspiration
What's new
Pricing:
Free: everything you need to start designing
Plus: 

All the features at one low price. Convenient monthly and annual billing. Cancel anytime €6.99/mo, €4.99.mo/billed annually
Review: I am super satisfied with the application. It runs very fast. The features include almost everything I need for my various graphic projects.
Online reviews:
G2: 49 reviews, 4.2 out of 5 stars
Capterra: 4 reviews, 4.5 out of 5 stars
JustUseApp: 6 reviews, 4.7 out of 5 stars
Crozdesk: 54 votes, 4.2 out of 5 stars
Alternative: 7 votes, 4.3 out of 5 stars
About: Founded in back in 2007, BeFunky was built with the idea that photo editing and graphic design should be made easy; that you shouldn't have to buy expensive, complicated software to be able to create. Funding via Crunchbase, Series A, US$ 850K. Tekin Tatar, co-founder and CEO.
Best Photo Editing Online Apps
The Ultimate List
(Free and Premium)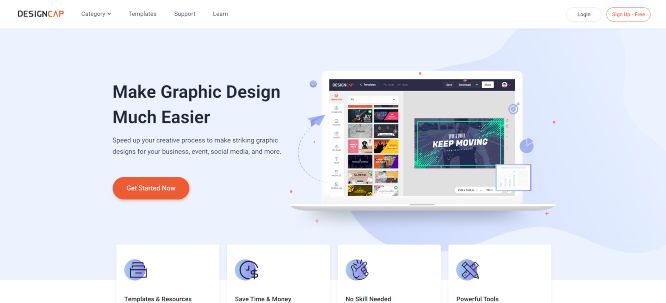 Main slogan: Make Graphic Design Much Easier. Speed up your creative process to make striking graphic designs for your business, event, social media, and more.
Graphic design options:
Marketing & event: infographic, poster, invitation, business card, Facebook ad, logo, chart, flyer, card, brochure, menu, leaderboard, email header
Document: presentation, resume, report, schedule
Social media: YouTube channel art & thumbnail, Facebook cover & post, Twitter header, Tumblr banner, Instagram post & story, Pinterest graphic
Features:
Templates & resources
Built-in fonts
Shapes
Backgrounds
Large library of stock photos and icons
Visual charts
Exclusive and well-grouped modules
*Upload your own fonts
Pricing:
Free: everything you need to start designing with limited options
Basic: Unlimited templates, stock icons, modules $8.99/mo $4.99/mo/billed annually
Plus: Unlimited $12.99/mo $5.99/mo/billed annually
Review: recommended for anyone, bloggers, marketers, entrepreneurs, authors, and even designers that want to create a design on the fly without having to compromise the quality of their work. I can create banners and media for emails, social channels, advertisements, and websites fast and easy.
There's nothing missing. Thousands of templates, millions of photos, icons, fonts, text shapes, various design elements. The app is fast and there are no loading times, and my internet speed is not the fastest in the world.
Plenty of settings, photo effects, layers, what else would you need? The membership options are affordable for the majority of people. It's worth the price.
Online reviews:
Capterra: 3 reviews, 3.3 out of 5 stars
PredictiveAnalyticsToday: 3 reviews, 9.3 out of 10 stars
TrustPilot: 58 reviews, 4.5 out of 5 stars
Crozdesk: 70 votes, 4.5 out of 5 stars
About: PearlMountain has focused on the research and development of graphic design software since 2006. We aim to make professional photo editing and graphic design capability accessible to everyone. Millions of users spreading over 100 countries and areas.
plus an exclusive giveaway bonus
Free Stock Photo Sites
The Ultimate List
Regular Updates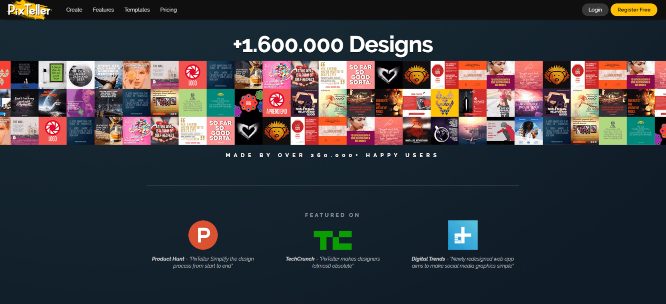 Main slogan: Bring life to your idea and use pre-designed graphic templates to turn words, photos and illustrations into marvelous images and animated videos in minutes. Use our free design tools to create, download, share – anytime, anywhere and blow your readers away with beautiful visuals.
Categories:
Graphic images
Logos
Slideshows
Banners
YouTube thumbnails
Posters
Animated logos
Quotes
Flyers
Wallpapers
Cards
Video story
Collages
Invitations
Animated GIFs
Features:
Photo editor
Animation maker
PixBot – 

automatically creates image & animated video templates

100,000 templates

5,000 animations

1,5M photos

100,000 shapes

Gradient colors

Animation timeline

Insipiring features
Templates:
Social media
Cards
Posters
Animated posts
Full HD video
Animations
Marketing
Events
Banner designs
Covers & headers
Animated ads
Custom visuals
Pricing:
Pro (graphic tool): $9/mo, $7/mo/billed annually
Diamond (graphic tool & animation tool): $19/mo, $12/mo/billed anually
Review: I am very satisfied with PixTeller. It's a photo editing application with many capabilities, features, and options. I'm enjoying their layouts and pre-made designs that look professional.
There are hundreds of templates to choose from, you can create designs for social media, blogs, and presentations in minutes.
It's a unique app that lets you create animations from photos, only a few apps include such a feature.
Also, you can test and use the app for free. You can optionally upgrade if the free version is not enough.
Online reviews:
Capterra: 165 reviews, 4.6 out of 5 stars
G2: 5 reviews, 4.6 out of 5 stars
Crozdesk: 9 votes, 4.6 out of 5 stars
Facebook: 18 votes, 5 out of 5 stars
About: Alexandru Roznovat, founder and CEO, Florentin Cristinel, senior PHP developer and CTO. 11-50 employees. Bucharest, Sector 1. Sole Proprietorship. Founded in 2014. 
plus an exclusive giveaway bonus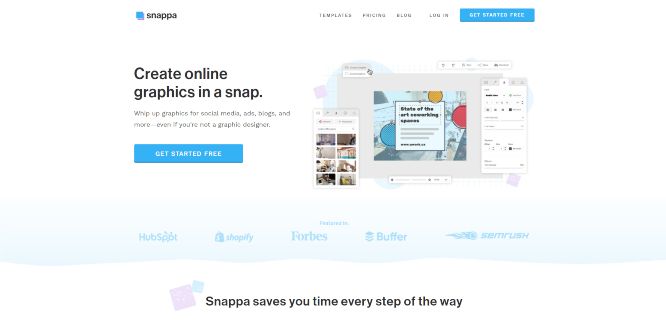 Main slogan: create online graphics in a snap. Whip up graphics for social media, ads, blogs, and more, even if you're not a graphic designer.
Use cases:
Banners
eBook covers
Facebook cover photos
Image quotes
Infographics
Instagram stories
Profile pictures
Social media graphics
SoundCloud banners
Twitch banners & panels
Twitter headers
YouTube channel art, outro, and thumbnails
Features:
Add text to photo
Background remover
Image blur
Image cropper
Image resizer
Image rotator
Photo editor
Speech bubbles
Templates:
Social media
Blogging
Infographics
Headers for various platforms (Facebook, SoundCloud, Twitter, Twitch, YouTube, Zoom)
Emails
Advertising
Pricing:
Starter: free (1 user, 6K+ templates, 5M+ photos and graphics, 3 downloads per month)
Pro: $15/mo or $10/mo (billed annually), 1 user, unlimited downloads, buffer and social media integrations, custom fonts, remove image backgrounds.
Team: $30/mo or $20/mo (nilled annually), 5 users
Need more than 5 users? contact them
Learning center:
Blog
Guides
Knowledgebase
Review: very easy to use application. Fast, reliable, and accurate.
There is a variety of templates appropriate for many industries, a huge collection of free photos plus you will be receiving free photos in your inbox on a weekly basis.
Their blog is a great source of inspiration.
Online reviews:
Capterra: 19 reviews, 4.4 out of 5 stars
PredictiveAnalyticsToday: 2 reviews, 8.6 out of 10 stars
Crozdesk: 30 votes, 4.6 out of 5 stars
Cuspera: 1,133 reviews, 4.4 out of 5 stars
About: founded in 2015 when we noticed that a lot of small businesses struggled to create quality online graphics. Headquartered in Canada. Christopher GimmerCo-Founder, CEO, Marc ChouinardCo-Founder, CTO.
Main slogan: power your brand with photo editing and design. Create scroll-stopping images for Facebook, Instagram, Youtube and more. Ads, logos? Them too.
Includes:
9,000 graphics and textures
100s of gorgeous fonts
1000s of templates
Stock photos and video
Features:
Make every image on-brand
Resize instantly
Remove backgrounds
Choose a pre-sized canvas or customizable template to start a graphic design
Add stock photos, fonts, graphics, logos, and textures.
Memes
Slideshows
Vision boards
Book covers
Photo collages
Moving designs with video
Branding tools
Templates:
Announcement, banner, branding
Business card, business plan, calendar
Card, certificate, checklist
Collage, cover letter, email
Etsy, Facebook, family tree
Flow chart, flyer, holiday & event
Infographic, Instagram, invitation
Invoice, label, lesson plan
Letterhead, logo, meal plan
Meme, menu, mood board
Newsletter, online ad, Pinterest
Planner, postcard, Poster
Presentation, proposal, quarantine and covid-19
Quote, recipe card, resume
Schedule, Snapchat, storyboard
Swot analysis, timeline, to-do list
Twitch, Twitter, venn diagram
Video, worksheet
YouTube, Zoom
Pricing:
Basic: €10.99/mo or €89.88/year
Pro: €16.99/mo or €143.40/year
Team: €42.00/mo or €359.88/year
There's a 7-day free-trial period.
Learning center:
Tips and tutorials
Events
Support
What's new
Review: A very professional app that you will enjoy right from the first minute. With 10 billion images made and millions of users in more than 200 countries you can't go wrong.
Online reviews:
Capterra: 783 reviews, 4.5 out of 5 stars

G2:  294 reviews, 4.4 out of 5 stars

TrustPilot: 89 reviews, 1.4 out of 5 stars

SiteJabber: 35 reviews, 1.8 out of 5 stars
About: headquarters in Seattle, WA and a worldwide office in Ireland. Frits Habermann – CEO. PicMonkey's trajectory is fueled by Spectrum Equity, a growth equity firm specializing in software-as-a-service companies.
Main slogan: Infographics, presentations, and reports maker. Improve your internal and external communication with Piktochart. Quickly turn any text- or data-heavy content into a visual story that your audience will love.
You can create:
Infographics
Posters
Presentations
Flyers
Reports
Social media graphics
Solutions for:
Human resources
Healthcare
Marketing
Finance
Features:
Easily create engaging and professional content in any format
Customize to your brand in seconds
Translate complex data into a visual story
Line graph maker
Bar graph maker
Donut chart maker
Pie chart maker
Scatter plot maker
Templates:
Brochures
Flyers
Infographics
News visualization
Posters
Presentations
Proposals
Reports
Resumes
Social media
Plans:
Free: up to 5 active visuals
Pro: $29/mo or $24.17/mo billed annually
Team: $99/mo or $16.50/mo billed annually for 5 team members
Nonprofits pro: $39.99/year for individual users
Nonprofits team: $199.95/year for 5 seats
Educators pro: $39.99/year for individual users
Educators team: $199.95/year for 5 seats
Start for free, no contracts, cancel anytime.
For teams: brings your entire team and all your brand assets into a single location so that you can focus on what matters: getting great visual work done. Together. 14-day trial. Contact sales.
Review: A very professional app that you will enjoy. Very good-looking graphics, infographics, charts, pies, and so much more.
Online reviews:
G2: 135 reviews, 4.4 out of 5 stars
Capterra: 90 reviews, 4.7 out of 5 stars
Getapp: 90 votes, 4.7 out of 5 stars
PredictiveAnalyticsToday: 3 reviews, 6.9 out of 10 stars
Facebook: 60 votes, 5 out of 5 stars
Other departments and resources: careers, values, help center, video tutorials.
About: Ai Ching, Co-Founder & CEO. Andrea, Co-Founder & CTO. Funding via Crunchbase, Pre-seed, US$ 150K. Various awards. 50+ employees.
Video Marketing Software
The Ultimate List
The Ultimate List of Multimedia Resources
Regular Updates
Images, Graphics, Audio, Video, Animation, Themes, Plugins, Code, Apps, Education, Jobs, Buy & Sell Art
This is just the beginning of an extended catalog. I will keep the thread updated frequently.
In the meantime, check out the other related resources we have in store for you.
That's it, another article has finished, here on Web Market Support. I'm waiting for your comments and thoughts. Which tool is the most promising or appealing? Which one should I add? Till next time.

Tasos Perte Tzortzis
Business Organisation & Administration, Marketing Consultant, Creator of the "7 Ideals" Methodology
Although doing traditional business offline since 1992, I fell in love with online marketing in late 2014 and have helped hundreds of brands sell more of their products and services. Founder of WebMarketSupport, Muvimag, Summer Dream.
Reading, arts, science, chess, coffee, tea, swimming, Audi, and family comes first.
Some of the links on this page are "affiliate links". For more information, I refer you to the Disclaimer page