Last Updated: June 17, 2018
From the moment I reviewed "My Internet Success Coach" program I fall into a sales funnel that seems endless.My mail inbox is receiving a hurricane of additional offers for excellent products that convert like "Crazy" … and I think I am going Crazy for real.All these offers and products are united from a well organised "Internet Conspiracy"…
Today With This Review I Dive Deep Into The "My Dot Com Business" Product aka Inner Circle Riches
…that unison's main target is to lead you and your campaigns into buying and therefore promote companies like MOBE , which is an MLM organisation founded by Matt Lloyd from New Zealand.Additionally today's product is associated with another back-end sales MLM funnel , called Empower Network , and although I have not reviewed the EN myself yet , I came across another EN bridge , named "Kalatu" few months ago.
Is the Inner Circle Riches one unique online opportunity to join one of the fastest growing internet communities today?…
I was not surprised at all when I visited their website.Apparently the owner , Paul Lynch , is just another online victim himself , but he won't admit it no matter what.He has been used by MOBE and Empower Network and now he is trying to recover some "Losses"….He claims that he is a mutli – millionaire … whatever….May be he is , indeed , one of Matt's best selling machines …..
When you are involved into Network Marketing companies like those the participation alone is very expensive….But may be Paul is a fan of MLM you would probably respond.
I will leave my answer to that for the end of this review , as a conclusion
What Is My Dot Com Business or Inner Circle Riches All About?
An online opportunity to build a front-end sales funnel to get access to MOBE's products like MTTB and Empower Network's products like Kalatu.Both MOBE and EN have numerous of products , really expensive ones , and their Up-Sells policies can easily dry someone's pocket out.We are talking about thousands of dollars.If you like to work in this way , go ahead and participate.But I am not recommending it in any case.Personally , I am not a fan of the theory "Steal your customers and run"…
I believe in the long term potential of every business and I want to build a Reputation , something I will be proud of and something for others to share and speak the word of mouth with their friends and networks.I therefore believe in the "Huge Power" of the repeating customers.And that part can't be accomplished by promoting so expensive products that don't worth it.The vast majority of your sales will lead to numerous complaints and reports.
Moreover you risk in losing your money once and for all if you fail to continue , and in order to continue you will have to feed the machine Non-Stop…Prepare to spare 1000's of dollars in a blink of an eye…Because this is how people like Matt or Paul making money , scamming and ripping off other people.
Have in mind that both networks , MOBE and EN , have received thousands of online complaints and scam reports and reviews.There are hundreds of bloggers that have been participated and did not make any money at all.They just lost.Another important thing to consider here is the average percentage of succeeded members with these companies is not exceeding the 2%.The average annual earnings for a casual member is reaching the $500 , imagine that … $500 for a year.If you can pay the bills with that money go ahead.
Important Update
MOBE has been halt by the FTC (Federal Trade Commission).
Related Article June 17, 2018:
How Inner Circle Riches Work?
Your back-office consists of the sales funnel , the Affiliate Suite (a theme) , a dashboard of analytics to track your links and campaigns.The support includes a dedicated support team to help you with sales.Your commissions are calculated on the 70% of the final price and there is an optional back-end sales funnel , the one I already described and I do not recommend.
Inner Circle Riches Products (Showcase)
Easy Sketch Pro 
A video suite to produce modern lightweight sketchy presentations.Animation is very popular among new videos so this option is quite interesting.I think you are going to make some sales if you promote it like "Madman".Prepare for a hard battle here because that video suite is not the only one in the market.There are better alternatives , that can be tested for free.Do your research before buying it.
NOTICE : Beware that the current campaign is currently NOT active due to an update.They are waiting for the new version of the product , Sketch Pro 3.But they are promising to get it live by the next week.
The You-Tube Tsunami
A software to search and find You-Tube videos that have no links and send automatic messages.According to their introduction that software converts like "Hell" , we are talking on 90% conversions and profits that reach the 2 million dollars.
How It Works: You go to You-Tube and search for a term , let's say "How to make money online".Now you are looking for videos that do not contain a link in their description.You click on the producer's name and from the drop down menu in the profile you click to send a message.That message is describing that you liked the video , spot the missing link and asking from the owner a favour.To insert your URL in the description for exchange of money that you will transfer to him when money rolls to you via paypal.
That is an obvious Black-Hat technique and Paul is not even interested on the content of the videos.Just from the video's title he communicates with the owners and ask for the placement of his URL…but if you get caught prepare for an immediate ban of your account on You-Tube which is Google's property.You are not only jeopardising your reputation but the owner's too.

The Pay Per Click Tsunami (2nd tsunami , who is going to get drown?….is it YOU?)
Is it a powerful low cost advertising method?…Even if it was the problem is that you are pushed to buy every single product Paul Lynch is offering under his affiliate links.This is not how successful websites are being built.
466 links for $9 , $997 for $17.But who is going to click on those ads?..Is it may be the same person who is selling you these offers with the help of his automated tools?…Are these 1000 clicks going to convert?…I doubt it because the website that you are going to buy from Paul it is not a user friendly website , it will be a website empty of content , full of ads and affiliate links….But if you decide to buy it and do not believe me go ahead , buy it , and then come back here on my blog to post your results.I am very curious …
I do not have experience with PPC advertising yet , as I prefer free online traffic that comes natural but one thing is for sure.PPC is an advanced marketing technique that if not applied correctly it won't lead to results at all.Not recommended for beginners.
For more information on that product I refer you to a review from a blogger that I trust , Vitaliy.
Are there any more Dark Marketing Techniques To Come?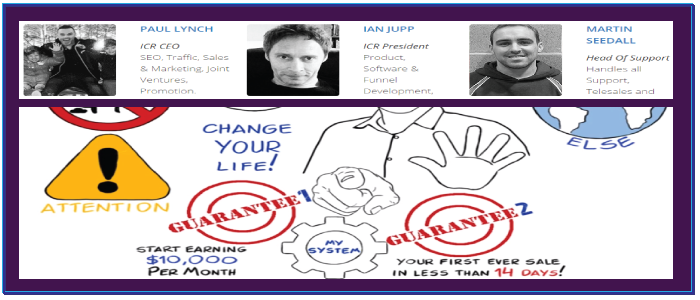 The CPA Tsunami (3rd tsunami , get away from the beach right now , a huge wave coming in…)
600+ members in Inner Circle Riches , 30 people added to Empower Network the last 30 days , the same apply for Pure Leverage (another MLM company) , 25000 proven subscribers to our list.This is how the product is announced by Paul.
Obviously Paul is member on all these MLM organisations.He wants you under his reign , that means you are going to enter as his down-line on all these companies.Good luck.That is not real and decent marketing but you can try it if you like it.
NOTICE : I could not enter in that campaign at all.I got this warning as seen on my screenshot…"Mailing list in NOT active , please contact the owner"…mmm…may be one by one his offers are being taken down for mysterious reasons , or is it failure?…or is it penalties?…Who knows..!!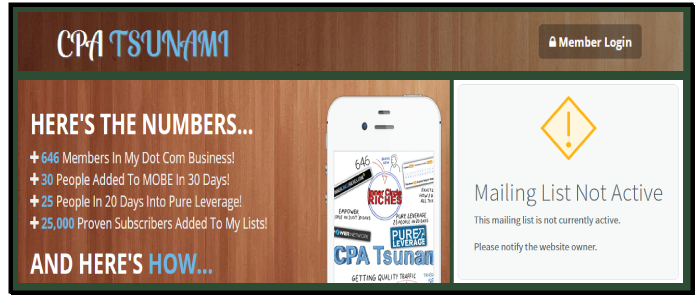 The "Elite" Program – Prepare To Be Dominated
The main product , that is where Paul wants you to take his bait.Wow , I almost got impressed by the luxurious lifestyle of Paul.What marketing is that?…Oh my , please …stop it…
Paul Lynch shows his true colours — 8* star hotels , expensive cars , multi million dollared yachts , champagne.
If you join the Elite's group Paul promises that he and his team will do everything for you.You just reach your pocket , get rid of any content and leave everything in "Fate's Hands".Then Paul is going to have his tele-sales team work for you and Rip other people off to get you money.
Additionally you will have access to all new the products that he is creating in the future (For FREE)…Every member that will sign up in the Elite group of Inner Circle Riches will send you an automatic payment of around $1000….Imagine that…You can become rich , really rich.
Of course you will be receiving 70% commissions on all sign ups and purchases through your Elite affiliate link….I wonder how many will be signing under you with such an ad intruding store (not website) that you are going to present.
Important Notice : as Paul … (in fact MOBE) … will be creating new products down the test of time (almost 1 product every month) , all the members that will enter the ICR group will be obliged to buy those new products in order to keep their affiliate role alive.Unless they become Elite members themselves.
Now sit for a moment and think …. That same rule applies to you as well.If you decide to stay in ICR without buying the Elite membership then you will have to buy every new product in order to continue promoting your affiliate links and therefore to earn money.If you don't you will be kicked out just like that.Imagine that , all your investments so far will be gone , vanish in the thin air , so that Paul will becoming richer and you poorer.
This is how people like Paul Lynch , Matt Lloyd and other guys form EN and Pure Leverage work.If this is what you want to deliver go on.But beware of the hungry beasts.
The fee for the Elite membership comes down to $1997 , just like the MTTB program of MOBE…Not a coincidence at all.
Prologue
I don't have any problem with people that work for MLM companies , not at all.Everybody has the right to make his decisions.In fact , I was part of this business model in the past , I have joined a few companies….I did not like the whole process.It was not for me.Generally I do not like to sell high ticket items , especially if that items are information products about Internet Marketing.If there are physical products of Premium TOP quality then that is another subject for discussion.
Additionally a friend of mine is promoting MLM opportunities.The thing is that in order to make a decent living she is advertising for more than 5 companies at the same time.That does not leave "Room" for personal life and other activities.Only to attend the often meetings takes a lot of your free time and of course you spend money for the transportations.
She is not very happy with her life , but now as she's involved "So Deep" in the mud , she can't go back , she's was very young when they trapped her ….She has to recover.We have talked so many times during some coffees we had together ,  and I can tell that she wished not to get started at all.
Final Opinion – Conclusion
My Dot Com Business is the new name of Inner Circle Riches , a website created by Paul Lynch.He is not selling any product that he owns , he is selling MOBE , EN and Pure Leverage…Additionally every new product from these companies that he likes will be added to his collection and you will have to buy if you want to stay active and make money.
But beware though that the website you are going to receive it will be a store like the Inner Circle Riches.You won't have rights to it and there will be restrictions to its usage.You will have NO FULL control and that is not business by any means,
The initial participation fee to get an entrance ticket for ICR is $49.This is the least money that you are going to spend.If you do spend that money there are 2 options.This is the exact same price for entering MOBE's labyrinth.
You understand what is going on when they try to Up-Sell you and you leave , you say goodbye and start a new business , healthy and relieved.
You continue and buy the Elite membership of $1997 , which is the initial fee for the MTTB 21 step program training of MOBE , which will lead to one endless dance of UP-SELLS that you will be obliged to buy ,one way or another , in order to continue.If you do continue

prepare to meet your psychiatrist very soon and your bank….And your lawyer

….You do not wanna get involved into this mess and make Paul rich….Do not Fall for this HYPE , ever.
NOTICE : The cost for MOBE can reach easily the $20K and exceed , the cost for EN is around $5K…Have that in mind before you continue…
This is one of the riskiest and darkest products out there in the market.I hate these kind of promotions , the showcase of the lifestyle and the expensive yachts and cars.Paul is taking advantage of his partnership with those MLM companies to create a powerful Down-Line that is going to depend on him.He is playing against any rules and he uses Black Hat Strategies all along.
DON'T FALL
I wish you understand what is going on soon enough.I do not want to extend although this subject is very important.I am preparing though a whole new post to open a general discussion on MLM companies and the techniques that people like Paul and Matt are using in order to trap people , deceive them and get rich of them.
If you are an ethical person and want to help people by building a beautiful website to provide solutions to problems and by promoting other companies products (with no restrictions on your choices) then you can read about my TOP recommended online opportunity at the bottom of this page , or any page.
Thank you for your trust so far , I am waiting for your comments and thoughts as always.Till the next review , your online partner.