Video Marketing
Software
Part 1
Video Marketing Software
A-Z List of Websites
PART 1
50 Listings
This list contains video marketing software options and related products.
This list does not contain software that promises you to monetize other people's videos (eg from YouTube)
Categories:
Video templates
Smartphone apps
Real actors
Spokespersons
Live footage
Background images
Motion backgrounds
Animated comic phrases
Animated speech bubbles
Royalty-free music
Video ads
Designer software
Video overlays
Transitions
Voice-overs
Thumbnails
Sketch videos
Text-to-speech
Monetization
Rankings
Intros, outros, CTAs, logo stings, social actions
Infographics
Social media and ads
Effects
Converters
Cinemagraphs
Memes
Quote-pics
Photo slideshows
Training & tutorials
Whiteboard graphics
Text animations
Doodle sketch images
Fonts
Cartoon characters
Cutout people photos
Slides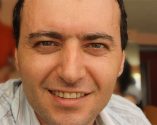 Tasos Perte Tzortzis
Marketing Specialist, Entrepreneur
Although doing traditional business offline since 1992, Tasos fell in love with online marketing in late 2014 and has helped hundreds of brands sell more of their products and services on the web.
He enjoys reading, music & arts, mathematics, chess, coffee, swimming, Audi, and playing with his kids.
BackgroundBand
Royalty-free music for your online projects
Find quality music for all of your commercial and personal YouTube videos as well as other projects
Over 100 tracks
Details: 60-days money-back guarantee
BiteAble
Make better videos than your competitors, on your lunch break.
Video templates (ads, animated, business, corporate, explainer, education, facebook, holiday, infographic, Instagram, marketing, motion graphics, and more), use your own photos, film, clips, and text, huge library of music tracks
By: Tommy Fotak, Simon Westlake, and James MacGregor
There's a FREE plan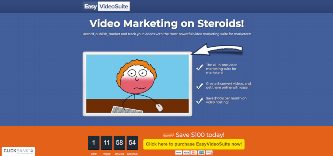 EasyVideoSuite
Record, publish, market and track your videos with the most powerful video marketing suite for marketers!
Seamless S3 integration, Desktop, web, iPhone apps, Add opt-ins & buttons, Video landing pages, Video split-testing, Video security, SEO features
Details: Windows & Mac
30-days money-back guarantee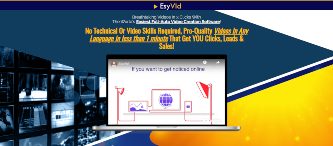 EsyVid
Breathtaking videos in 3 clicks
100% cloud-based, huge library of fully customizable templates, videos from articles, websites, templates, advanced editor, text-to-speech (50+ voices), fully edit content, positioning slides order, AI videos title creation & share to 200+ sites, super-fast video rendering with TTS option, music from a public library, or add, store from PC, 
Details: 30-days money-back guarantee
By: Akbar
Explaindio Elements
Video Creator That Makes Eye-Catching Spectacular Videos That Attract Attention & Convert Visitors Into Buyers in 3 Simple Steps
Lifetime updates
200 pre-made scene templates
500 doodle sketch images
180+ text animations & 300+ fonts
Details: Windows & Mac
30-days money-back guarantee
Extempore Video
Turn your smartphone into your personal teleprompter
HD videos, Dual video recording options, Full seamless HD video export, Square videos for Instagram, Auto-stop recording, Silent mode
Details: 100% money-back guarantee
FlexClip
A powerful video maker that creates marketing videos and family stories in minutes
Rich video templates (business, lifestyle, photography, real estate, birthday, social media)
Handy video editor
Dynamic text animations
Extensive media library
Movie maker
Slideshow maker
Free video trimmer
Free video converter
Learning center (video editing resources, tutorials, how-to guidelines, video essentials, and more)
3 membership plans (free, basic, plus)
by PearlMountainLimited
GrabVidTY
Transform PowerPoint into a design machine in 3 simple steps
Poster/flyer design templates, infographic animated templates, Facebook cover video templates, promotional video templates, Instagram banner templates, Roll-up banner templates, desktop/HP mockup, frame photo mockup, name card templates, resume/CV templates, smartphone mockup, letterhead templates, steb-by-step tutorials
Details: 30-days money-back guarantee
GraphySuite
300+ premium high-quality DFY graphics and video templates
Explainer videos, logo intros & outros, quotes, kinetic templates, HD background videos, social video frames, coupons, LinkedIn covers, Twitter covers, Instagram (stories ads, creative ads, posts, stories) Facebook (large ads, video ads, carousel ads, group covers, event covers),  YouTube (covers, thumbnails, video ads)
Details: Windows & Mac
30-days money-back guarantee
By: Roshni Dhal, Rofita Heru, Chirag Patel
Green Screen Actors
Make your videos look like Pro TV commercials by using real actors to sell your products
18 different actors, 160+ HD videos, 100% unique and original footage, 14 video categories
+Spectacular drone footage
BONUSES: HD live footage, cinematic background images, HD motion backgrounds, 100 high-quality MP3 music tracks, animated comic phrases, animated speech bubbles
Details: compatible with all video editors
Green Screen Lab
Make any video look professional and instantly grab attention
#1 Training
#2 – Backgrounds – 160 professional virtual assets
#3 – Free editing software and tutorials
Includes BONUSES
Insta-Consultant 2.0
Toolkit to create business sites, mobile sites, ready-to-print graphics and video commercials in just 7 minutes
Unlimited clients, SEO optimized, exquisite WordPress theme for business, video commercials (5 doodle templates, sales video scripts, professional US voiceovers, graphics & characters) (business cards, brochures, flyers, letterhead, envelope, CD/DVD covers, coupons, proposals, menu cards)
Details: 30-days money-back guarantee
By: Dr. Amit Pareek, Dr. Nimisha Vijay
IntroVideoCreator
An Adobe Air software that creates Logo Stingers using 2D and 3D animations
Fonts and backgrounds are customizable, allows you to add MP3 tracks
Intro video creator software, 15 intro video templates, 10 intro music tracks, 5 intro video templates, free video editor and training, free logo pack
By: Jimmy Mancini & the IVC team
Kynetico by Videolova
Create kinetic & dynamic style animated marketing videos instantly using PowerPoint
Kinetic typography, dynamic video opener, futuristic callout pointer, elegant titles, logo opener, lower third, transition, shape animation, footage, royalty-free stocks audio, stock images, high-end quality
Details: 14-days money-back guarantee
Magisto
Join the video revolution by making social videos in minutes with the smart video editor
Business movies (real estate, automotive, fitness, technology, fashion, education, tutorial, testimonials, travel, photographers), video templates (business, inspire customers, announce, celebrate, Birthday wishes, express your love, invitations, wedding, and more)
There are 3 membership options and a FREE trial period
Majestic Templates v3
Contemporary style video templates to create modern videos
Video templates (color the vibe, energetic stomp, great day, hip hop, minimalist, modern, party time, simply colorful, upbeat, urban upbeat, elegant, frozen, futuristic, glitch, Halloween, HUD, space, Facebook, and more)
Motioney
Make video ads & posts from a single picture on 9 major social media platforms
Details: Windows & Mac
30-days money-back guarantee
OmniGeometry
Designer software, recursive technology, export vector files, organic interface, animation, and more
Video tutorials, graphics, high-res images, PNG and PDF exports, cloud saving and uploading, 
PixoBlaster
Add spokesperson intros into your videos
100+ intro & outro spokesperson videos
15+ professional spokesperson
Over 40 niches
Details: Windows software
30-days money-back guarantee
PowerVideoTemplate
Create spectacular videos in 3 easy steps using PowerPoint (2016 and above for better results)
Compatible with all major video editors
70 Video templates
40 Logo opener templates
Notice: music used in the video templates are not included but reference to the original music source is provided so you can obtain the music as necessary from those source if you wish to use them
PowToon
Captivate, engage, explain with animated videos
Ready-made templates, drag & drop features, video templates (marketing, sales, training, learning, development, internal comms, HR, EDU, holidays & events, industries)
There's a FREE plan
Sales Video Creator
100 impactful music tracks
100 full HD background videos 
100 transparent video overlays
15 awesome transitions
Details: Windows & Mac
30-days money-back guarantee
ScriptVocalizer
Export your voice-overs to use in any video app
Free updates, 47 lifelike voices, 24 languages
Details: 100% cloud-based
Windows & Mac
30-days money-back guarantee
SocioTuber
125+ high-quality YouTube templates via PowerPoint
5 opener video templates, 12 logo reveals templates, 30 lower third templates. 12 transitions package, 10 end screens package, 10 side info video style, 12 motion title video style. 10 YouTube cover branding, 25 thumbnails video templates, animated subscribe button package, frame video placeholder package, music audio library package, 300 logos templates in PSD format
Details: 30-days money-back guarantee
By: Sam Arief, Bayu Tara Wijaya
SocioWide
Video & graphic templates to create social media marketing using PowerPoint
Video templates (Facebook cover, Instagram, YouTube promos, social story, subscribe channel, premium video social media
Graphic static templates (facebook cover banner, Instagram banner, social story, Twitter cover banner, thumbnail YouTube, premium graphic banner social media)
Details: 100% money-back guarantee
By: Videoowide
Stockocity 2
Royalty-free premium FHD video backgrounds & footage
6,000 FHD videos
75 new FHD videos every month
Details: 30-days money-back guarantee
Thumbnail Blaster
Attention-Grabbing Thumbnails
In 3 Clicks
30 thumbnail templates, drag & drop editor fully customizable, split test and publish
Details: Windows & Mac
60-days money-back guarantee
By: Stoica, Vlad M
TTS Sketch Maker
Whiteboard Sketch videos with text-to-speech human-sounding voices in minutes
25 voices included
No restrictions
Includes BONUSES
Details: 30-days money-back guarantee
VIDCredible
Create, distribute, and monetize your video instantly
Integrates with Google slides, audio recording capability, background music library, drag & drop interface, add slides on the fly, uploads videos directly
30-days free trial
60-days money-back guarantee
Viddictive
Create animated professional video ads with a 100% facebook integrated video promotion and video ad creation engine
100% customizable video templates & video ads
Details: 30-days money-back guarantee
By: Mario Brown, Oliver Goodwin
Viddyoze
Video animation software. Studio-Grade Intros, Outros, CTAs, Logo Stings, Social Actions, And Pure Live-Action
170+ professional templates, customizable animations
Details: 100% cloud-based
60-days money-back guarantee
VidEngagr
The next generation in affiliate marketing technology
Control where viewers see content, works on any device, cloud-based, unlimited description frames, custom thumbnails, unlimited campaigns, unlimited sites, 
Compatible with all major platforms
Details: 30-days money-back guarantee
By: Declan MC, Zeeshan Ahmed
VideoMakerFX
Product promotion, affiliate reviews, Amazon product reviews, offline business promotion, video sales letters, business presentation, photo slideshows, logo intros & stingers, and more
Details: 30-days money-back guarantee
By: Peter Roszak

Video Maker Toolkit
The ultimate video assets pack
69 assets packs 
Unique, custom-made content, quality
Compatible with any video editor
Video Maker Toolkit v2
Video & graphics assets bundle
100 HD animated video backgrounds, Dozens of live footage videos, 100's of whiteboard SVG graphics, 100 cartoon mascot characters, PPT templates with slides, 100 cutout people photos, 100+ background images, 100's audio files
Details: Compatible with all top video & graphics editors

Video Maker Toolkit v3
Video & graphics assets bundle
100 HD animated video backgrounds, 100 HD live footage videos, 100 animated icons/objects, 100+ whiteboard SVG graphics, 100+ cartoon mascot characters, explainer backgrounds, virtual studio backgrounds, PPT templates with 100's slides, and more
Details: Compatible with all top video & graphics editors
VideoMarketingBlaster
Rank on Google and YouTube. Find untapped buyer keywords, SEO optimized
Details: Windows-only software, 30-days money-back guarantee
By: Ali G, Stoica, Vlad M
Videoowide
Drag & drop simplicity, PRO designed video templates & animation
Logo opener video templates, Intro videos, Outro videos, Elegant infographics for business
Details: Windows & Mac
30-days money-back guarantee
Videoowide v2
8 video display templates, 6 explainer video templates, 8 promotion video templates, 10 opener logo templates, 6 welcome channel templates, 9 YouTube subscribe templates, 50 lower third animate , 5 packages act-fast bonus
Details: 30-days money-back guarantee
By: Sam Arief, Bayu Tara Wijaya
Videoowide v3
High-converting marketing videos in minutes
Movie style video templates, epic photo video templates, promotion video templates, explainer video templates, beat opener video templates, 3-in-1 social media video templates, 60 title text animated templates
Details: 30-days money-back guarantee
Videoowide v4
High-class video design to create amazing and animated videos in minutes
11 video display templates, 11 explainer video templates, 10 sales video display templates, 10 logo opener video templates, 10outro video templates, 10 YouTube subscribe templates, 20 modern transition video pack, 84 web ads banner templates, 5 business infographic templates, 40 colorful lower third templates, 100 viral quote poster templates, 250+ audio track music background
Details: 30-days money-back guarantee
VideoProducerPro
Includes: 
Video producer software, animated intro video maker, animated title video maker, micro-video editor, animated outro, screen recorder, image & video merger, YouTube downloader & uploader, 20 intro 2D animations, 20 title animations, 10 HQ 3 mins music tracks, 10 HQ intro music tracks, 5 extra 3D animations, YouTube external link training video
Details: 30-days money-back guarantee
VideoReel
Create Jaw-Dropping Videos For Social-Media & Ads
In Just 3 Clicks!
100+ video templates, 650+ music tracks, 4900+ images, add your own images, logos, animations, built-in text-to-speech with 50 different voices
Details: Cloud-based, Windows & Mac
60-days money-back guarantee

Video Spin Blaster
Create videos on the fly with text-to-speech and attention-grabbing effects
Details: Windows & Mac (with Parallels installed)
30-days money-back guarantee
By: Ali G, Vlad M, Stoica
VidVamp
Revamp Videos You Already Have & Boost Your Results From Other Video Apps You Already Have With The Ultimate Click & Render AI Tech
50 animated and static effects, 100 impactful music tracks, 100 HD backgrounds, 100 transparent action overlays, unlimited renders
Details: Windows & Mac
30-days money-back guarantee
VIP Video Converter
Premium Video & Audio
More than 200 video & audio formats supported
Fast conversion
High-quality output
Details: Windows
Viral Video Monetizer
Cloud-Based software to monetize You-Tube videos by sharing them on social sites
Video tutorials, quick start guide, bonuses, free updates, unlimited uses, priority technical support
Details: 60-days money-back guarantee
VisualReel
Create cinemagraphs, memes & quote-pics automatically
500+ cinemagraphs, 1000+ memes, 25,000 quote-pics, 1000+ ready to use quotes, post on 10+ social sites
Details: cloud-based
Windows & Mac
14-days money-back guarantee
WaveNetVocalizer
Voice over your scripts
84 lifelike voices in 27 languages and dialects
Details: 100% cloud-based
Windows & Mac
30-days money-back guarantee
WP Video Ace
Engagement forcing video player for WordPress
Easily add a multitude of engagement triggers, totally customizable, lock your valuable content, force engagement anytime, unlimited players, unlimited sites
Details: works with all major video platforms, video URL's, and direct uploads
By: Andrew Darius, founder of Explaindio
The Ultimate List of Multimedia Resources
Regular Updates
Images, Graphics, Audio, Video, Animation, Themes, Plugins, Code, Apps, Education, Jobs, Buy & Sell Art
Video Marketing
Software
Quick Navigation
#1 – Click on a tab to open it up
#2 – Click "Explore"
Some of the links on this page are "affiliate links". For more information, I refer you to the Disclaimer page