Free Stock Photos
A-Z List of Websites
PART 2
Last Updated: July 03, 2021
Regular Updates
This list contains sites that offer free stock photos that can be used for any purpose, both for personal and commercial projects. The majority of these images are used under the CC0 1.0 Creative Commons Universal public domain dedication. The majority of photos can be used without any attribution, but there are exceptions. When exceptions occur, I provide all the necessary information and I link to the source's license.
Restrictions
Have in mind, that you can't sell or redistribute free photos as they are or as prints. You can't add these images to other stock photo sites, replicate a similar or competing service, or claim the ownership.
Identifiable people may not appear in a bad light or in a way that they may find offensive unless they give their consent.
How photography copyright laws affect what you share online
The article by PikWizard about "Photography Copyright" explains everything in detail regarding images you find online. How you can use them, what problems might occur, anything you need to know is there.
Plus they created an infographic that highlights some very important information you should check out.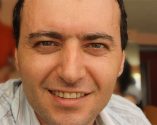 Tasos Perte Tzortzis
Marketing Specialist, Entrepreneur
Although doing traditional business offline since 1992, Tasos fell in love with online marketing in late 2014 and has helped hundreds of brands sell more of their products and services on the web.
He enjoys reading, music & arts, mathematics, chess, coffee, swimming, Audi, and playing with his kids.
FREE STOCK PHOTOS
100+ Listings
100,000 AI-generated faces.
Options: free to download with attribution, use commercially. 
They say "Every image was generated by our internal AI systems as it continually improves. Use them in your presentations, projects, mockups or wherever — all for just a link back to us"
Categories: people, faces
You can filter by ethnicity, age, skin, mood, sex, eyes, expression
FREE STOCK PHOTOS
100+ Listings
The Ultimate List of Multimedia Resources
Regular Updates
Images, Graphics, Audio, Video, Animation, Themes, Plugins, Code, Apps, Education, Jobs, Buy & Sell Art
Best Photo Editing Online Apps
The Ultimate List
(Free and Premium)