Being part of online communities, forums, and networks related to your industry is not just a must-to-do process. You don't do that because others do so.
You do that to explode your reach, get informed about the latest news and updates, network with like-minded people, make connections, relationships, and partnerships that will help you in business and life.
We compiled a list of time-tested and reliable platforms for marketing professionals, business owners, and publishers.
It's a list we'll be updating regularly. 
Let's dive right in!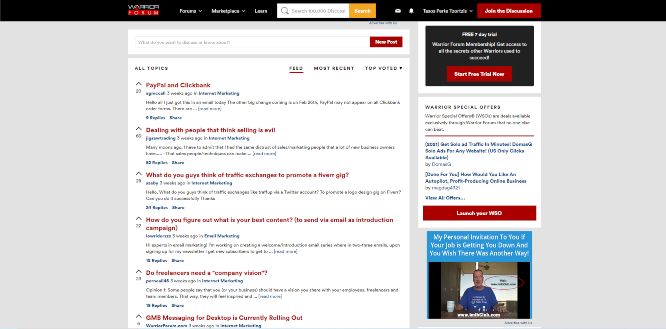 Main slogan: The world's largest internet marketing community and marketplace.
Forums:
Main internet marketing discussion
Special offers
Affiliate programs database, learn, the warrior path
Beginner's area, the war room, ad networks
Pay per click, search engine marketing, email marketing
Growth hacking, social media, offline marketing
Copywriting, eCommerce, wholesaling, dropshipping
Mind warriors, internet marketing product reviews & ratings
Member contests and challenges
Private forums: warrior book club, high voltage video forum, viral traffic network
Developer forums: programming, website design
Joint ventures, articles, eBooks: reciprocal links
The chat room: off-topic forum
Warrior events: local meetups, mastermind groups, warrior events
Support forums: suggestions, help, test
Threads: 776,914, Posts: 9,015,619, Members: 1,580,303.
Marketplace:
Special offers: exclusive products and services available only at Warrior Forum
The underground
Warriors for hire
Other website products and services
Wanted – members looking to hire you
Web hosting offers
Affiliate program database
Evergreen marketplace
Other departments and resources: FAQ, report abuse, classified ads, learn about internet marketing, advertise, directory, WSO service, help & support.
About: an advertising company that operates an online forum for marketers and entrepreneurs. The company was founded by Clifton Allen in 1997 and is based in Sydney, New South Wales.
Online Marketplaces
The Ultimate List
(Buy and Sell Products)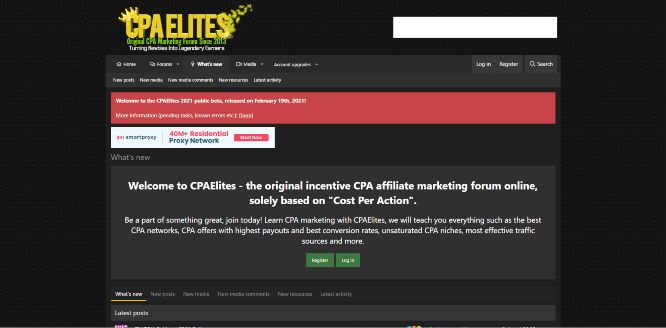 Main slogan: the original incentive CPA affiliate marketing forum online, solely based on "Cost Per Action".
Forums:
News, closed beta
Affiliate networks, groups & listings: CPA networks and affiliate programs, affiliate network groups and applications
CPA marketing, help desk, and experiences: for newbies, main CPA discussions & elites helpdesk, non-incentive CPA & eCommerce, dropshipping, case studies, journeys & bragging, niches, tutorial,s downloads
Cryptocurrency: crypto hub – invest now, profit later
SEO, social media, code, webmaster: whitehat & blackhat SEO, social media, coding, design, creatives, spying, research
Open discussions: elites lounge
Marketplace: VIP services & products, want to buy, deal disputes
Announcements, introductions, and rules
Sandbox and trashcan
About: Threads 51,693, Messages 565,050, Members 131,243. The forum was started back in 2013 and grown rapidly month by month, with over 130,000 active users.
200+
Business & Marketing Tools Collection
Work management, tracking, organizing, payments, accounting, Google, keyword, market, and competition research, SEO, analytics, and related, marketing & advertising, web development, website monitoring, domains & website hosting, coding, and related, design & multimedia, marketplaces, entrepreneurial communities, hiring & outsourcing.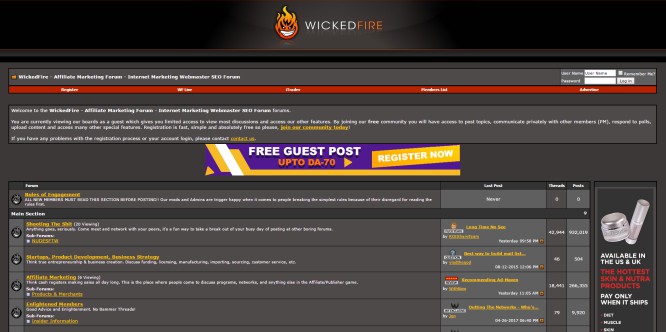 Main slogan: Affiliate Marketing Forum – Internet Marketing Webmaster SEO Forum
Forums:
Rules of engagement
Main section: shooting the shit, startups, product development, business strategy, affiliate marketing, enlightened members, traffic & content, the art of mailing, design, development & programming, hosting & domains, sell, buy & trade area, education center, industry news, affiliate managers, newbie questions
Other stuff: suggestion box
Other departments: WF live, iTrader, members list, advertise, 
About: Threads: 147,893, Posts: 2,115,279, Members: 222,106. An international registered Trademark of Coastal Synergy LLC.
Main slogan: providing a reputable internet marketing and web development resource where you can discuss running an online business, marketing, social networking, coding, and much more.
Forums:
Webmaster forums: getting started, forum lobby, tech talk
Business forums: online business, internet legal issues
Marketing forums: Google, SEO, marketing, writing for the web, webmaster revenue, web directory issues
Web development: coding, blogging, web design, forum management, graphic design, multimedia video, digital photography, web hosting, domain name
Webmaster marketplace: market, looking to hire
Support
Other departments: network, advertise, web directory.
About: Threads: 328,965, Posts: 1,888,797, Members: 283,600.  Jelsoft Enterprises Limited.  VIX-WomensForum LLC
The Ultimate List of Multimedia Resources
Regular Updates
Images, Graphics, Audio, Video, Animation, Themes, Plugins, Code, Apps, Education, Jobs, Buy & Sell Art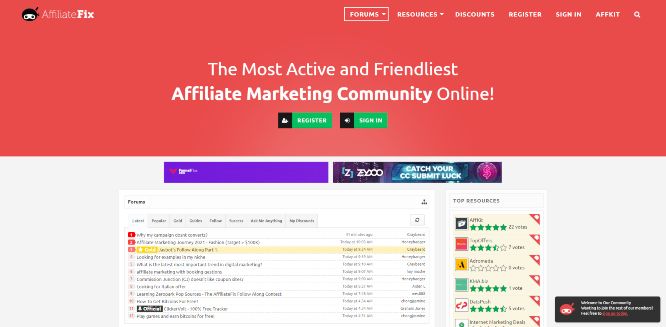 Main slogan: he Most Active and Friendliest Affiliate Marketing Community Online!
Forums:
Business centre, verified members
Getting started: what is affiliate marketing, introductions, newbie helpdesk
Learn and share: learn to earn webinars, follow along and online journeys, guides, case studies, tutorials, success stories and bragging
Publishers: general, business management, copywriting, design and creatives, domains and hosting, eCommerce solutions, programming and scripts, research and intelligence, testing, optimization, and scaling, tracking
Advertisers: general merchant and advertisers forum, affiliate management and recruitment, customer relationship management (CRM)
Traffic sources: general internet marketing, adult marketing, display media buying, email marketing, incentive marketing, lead generation, mobile marketing, native ads, pay per call, pay per click, pay per view, SEO, social media, video
Business: affiliate marketing networks, affiliate marketing programs, coaching, programs, and courses, cryptocurrency, events and networking, industry-related employment, resources, SaaS software
General forums: disputes and resolution, general discussions and lounge, news and announcements, support and feedback
Resources: Free, goodies, advertisers, affiliate management, affiliate networks, affiliate programs, apps, coaching and courses, cryptocurrency, digital products, events and networking, proxies, publishers, SaaS & software, services, traffic sources.
Other departments: FAQ, blog, landing page design, investment forum, internet marketing coupons. 
About: 100K+ discussions, 540K+ messages, 112K+ members. A company by Oliver Kenyon.
Forums:
Sub-message boards: Google SEO, supporters, Webhosting issues and options, website software support and usage, social media optimization, technology exhibitions and conferences, the wall, review my site
Social media: Facebook, Twitter, Pinterest, social media marketing, LinkedIn, deprecated – Google Plus
Mobile internet: native mobile and tablet application design and development, mobile website design and development, mobile and tablet advertising and marketing
Code, content, and presentation: Javascript and AJAX, HTML, CSS, Apache web server, PHP server-side scripting, Perl side server CGI scripting, WYSIWYG and text code editors, databases, content management, flash and shockwave, XML development, site graphics and multimedia design, RSS, ATOM, and related technologies, blogging, SEO blog administration, WordPress
Hardware and OS related technologies: webmaster hardware, website technology issues, Linux, Unix, and *nix like operating systems, smartphone, wireless, and mobile technologies
Webmaster world: website analytics, tracking and logging, content, writing, and copyright, webmaster general, eCommerce, new to web development, domain names, professional webmaster business issues, Apple software and technology, community building and user-generated content, accessibility and usability, web video creation and optimization, website security, website regulatory compliance news, issues, and guidelines, 
Browsers: Firefox, Opera, Chrome, Apple Safari, Microsoft Edge and Internet Explorer
Microsoft: IIS server and ASP.net, Windows OS, bing ads, bing search engine news, corporate, deprecated – Windows 7, deprecated – Windows 8
Yahoo: search engine and directory, publisher contextual ad network, search marketing pay per click marketing. Altavista, Altaweb, corporate
Marketing and Biz dev: link building, cloaking, keyword, SEM research, general search engine marketing issues, search engine submission
Advertising: paid inclusion engines and topics, affiliates, pay per click engines
Google: SEO news and discussion, APIs maps, tools and labs project, Alphabet Inc, finance, government, policy, and business issues, GoogleAds, AdSense, shopping, news archive, Gmail advertising, AMP
Search engines: sitemaps, metadata, robots.txt, Ask – Teoma, alternative search engines, directories, UK search and internet marketing news, Asia and Pacific region, search engine spider and user-agent identification, local search
Local: community center, commercial exchange, ?Foo, Pubcon
SEOchat
DevShed
Other departments and resources: SEO tools (website crawler, SE comparison tool, on-page SEO, keyword suggest, image and link analysis, page comparison), Social tools (author crawler, social activity tracker, edit social images, authorship, YouTube reputation search), Webmaster tools (HTTP response headers, find my IP, Whois domain look up, what\s my browser size, block image hot linking in .htaccess), Free tools (schema, PPC, web design, other, disavow backlinks, in-depth schema code), Resources (report a problem, library, hire experts), control panel, newsletter archives, supporters forum, hire.
About: owned by Pubcon Inc.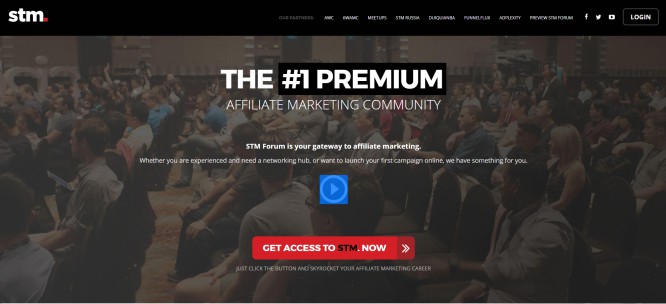 Main slogan: the #1 premium affiliate marketing community, your gateway to affiliate marketing, Whether you are experienced and need a networking hub, or want to launch your first campaign online, we have something for you.
Departments: partners, meetups, Duiquianba, preview forum.
Forums: 
Adult traffic, affiliate city guides, affiliate marketing
Affiliate world conferences, copywriting, conversion, and psychology, design
eCommerce, extras, Facebook
Fitness and health, managing work, life & money, mobile, native
Networks/offers, off-topic, outsourcing and employment
POP/PPV/Redirect, programming, servers & scripts, search/PPC
Local networking events, London 2015, success stories, tracking campaigns, travel
and more 
About:  launched late one night in January 2011 with the goal of providing case studies, guides, high-quality information on a variety of topics and to act as a core networking hub for industry veterans.
7 years later we are ​ the authoritative forum on affiliate marketing and our reach continues to expand. We now provide higher education, host conferences, and local networking events, and are continuing to improve and expand what the forum offers every affiliate marketer.
We Teach
Marketing &
 Business
Live on Zoom
Your host: Tasos Perte Tzortzis
Schedule an interview so we can evaluate where you are right now, your needs and goals, and we'll give you a detailed analysis of how the workshops work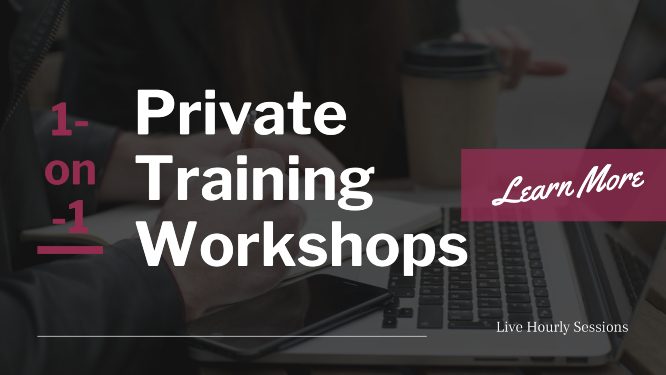 This is just the beginning of an extended catalog. I will keep the thread updated frequently.
In the meantime, check out the other related resources we have in store for you.
That's it, another article has finished, here on Web Market Support. I'm waiting for your comments and thoughts. Which community is your favorite? Which one should I add? Till next time.
Tasos Perte Tzortzis
Marketing Consultant, Creator of the "7 Ideals" Methodology
Although doing traditional business offline since 1992, I fell in love with online marketing in late 2014 and have helped hundreds of brands sell more of their products and services. Founder of WebMarketSupport, Muvimag, SummerDream.
I enjoy reading, arts, science, chess, coffee, tea, swimming, Audi, and playing with my kids.