You want to grow your email list, automate marketing and sales processes, build sales funnels, manage products, memberships, contacts, employees, and so much more.
Why?
Because you want to grow your business.
We all do.
You're in good hands. We compiled a list of reliable marketing automation tools and software solutions to save you valuable time.
This is a list we'll be updating frequently.
Let's dive right in!
Marketing Automation Software
Main slogan: Convert and Monetize Your Website Traffic. Instantly grow your email list, get more leads and increase sales with the #1 most powerful conversion optimization toolkit in the world.
Solutions: 
eCommerce conversion optimization
Publishers
Agencies
Features:
Drag & drop builder: pre-made templates, Yes/No forms, mobile-friendly popups, custom success message, canvas, MonsterEffects (

26+ attention-grabbing animation and sound effects)

Campaign types: lightbox popup, fullscreen welcome mat, slide-in scroll box, floating bar, countdown timer, sidebar forms, inline forms, content locker, coupon wheel optins

Campaign triggers: Exit-Intent technology, scroll trigger, MonsterLinks 2-step optins, InactivitySensor, timed display control, campaign scheduling, HTML elements, JAvaScript variables
Targeted campaigns: referrer detection, page-level targeting, OnSite follow up campaigns, OnSite retargeting, geo-location targeting, cookie retargeting, device-based targeting, AdBlock detection
Seamless integrations: list segmentation, lead sharing, success tracking scripts, smart tags
Actionable insights: real-time behavior automation, A/B testing, smart success, conversion analytics, TruLead (

Verify leads captured through OptinMonster forms for improved ROI, email deliverability)
Plans:
Basic: $9/mo billed annually
Plus: $19/mo billed annually
Pro: $29/mo billed annually
Growth: $49/mo billed annually
There's a 14-day money-back guarantee.
Other departments: University, Press, Testimonials, Blog, Careers, Support, Documentation, Product tour, Integrations, Popup examples, Alternatives.
About: Since our launch in 2013, we have been improving conversions for small independent businesses to Fortune 500 companies. Over a billion people see a website with OptinMonster on it every month.
4.6B+ visitor sessions optimized, 21.4B+ optins served, 1M+ sites using it, 217M+ conversions.
Thomas Griffin is the co-founder and President, Syed Balkhi is the co-founder and strategic advisor. Retyp, LLC.
Main slogan: Can Your Website Builder Do All This For FREE? Create 3 Full Websites, Sell Unlimited Products, Attract Affiliates, All Without Any Fees! The Last Online Sales System You'll Ever Need.
Departments:
Manage sites and funnels
Manage products
Email marketing
Manage memberships
Manage videos
GroovePages, GrooveSell, GrooveMail
GrooveFunnelMapping
GroovePipeCRM
GrooveMember, GrooveVideo, GrooveKart, GrooveAffiliate
GrooveBlog, GrooveWebinars, GrooveDesk
GrooveStreaming
GrooveCalendar, GrooveSurvey, GrooveQuiz
GrooveAutomations, GrooveProof
Marketplace
App store (multi-vendor marketplace)
API/SDK
GroovePay, GrooveAds, GrooveSolos
Events and workshops
GrooveDigital Academy
Tutorials
Blog
HelpDesk, guidelines
Corporate Site
Facebook Group
Careers
Features:
Unlimited products
Build brand websites with full navigation
Custom domains
Bandwidth and hosting
Sell products with 1-click upsells
Upsells, downsells, and order bumps
Affiliate program
Automated, behavioral-based email marketing
Membership site platform
Video marketing built right in
Marketplace
Analytics and data
Plans:
Free
Platinum lifetime: $1,397 one-time, 5 monthly payments of $497.
Platinum monthly (coming soon)
30-days money-back guarantee.
GrooveFunnels is not just a funnel and webpage builder. You can sell products and services, build an eCommerce site, join the multi-vendor marketplace, recruit affiliates, run email marketing campaigns, manage memberships, there are video marketing tools, various apps, CRM, and so much more.
About: Mike Filsaime, CEO. John Cornetta, President. Matt Serralta, COO.
Main slogan: Get back to growth with the world's #1 CRM, powered by Customer 360.
Products:
Customer 360:

Connect to your customers in a more intelligent way by uniting sales, service, marketing, commerce, IT, and analytics. All powered by our global community of Trailblazers.

SalesCloud: contact management, opportunity management, lead management, reports and dashboards, sales forecasting, sales collaboration, quote-to-cash, territory management, sales data and intelligence, inside sales console
ServiceCloud: lightning console, case management, knowledgebase, workflow and approvals, service analytics, telephone integration, service cloud voice, visual remote assistant
MarketingCloud: B2C journey management, email marketing, mobile messaging, social media marketing, digital advertising, interaction studio, B2B marketing automation, datorama
Commerce: commerce cloud digital, Einstein, B2C commerce, B2B commerce
Analytics: native to salesforce CRM, predict outcomes, get recommended next steps, easy to grasp AI, no coding necessary, connect analytics to action, access all your data from across the enterprise, interactive data visualizations, actionable insights, prep and catalog your data
MuleSoft Anypoint Platform: shorten development cycles by reusing prebuilt assets, build HQ APIs and integrations with a design-first methodology, protect your flow of data from threats, write code once, deploy it anywhere, management center
Platform: lightning, integration services, dev tools, mobile services, low-code app building, no-code process automation, prebuilt apps and components, mobile builders, services, and publishers, developer experience, extensible cloud services, component framework, enterprise services
Work: safeguard employee health and wellness, build trust with customers and employees, give employees self-service tools, healthcare, community responsiveness
Learning: on-board employees fast with a fun, on-demand learning platform, customize learning with your own brand and content, motivate your employees to learn the skills they need to succeed in their role
Employees: get updates with real-time alerts, connect with your team as you work, keep data at the center of teamwork, sell and service from anywhere, streamline sales and service, document templates, speed up processes, collaborate in real-time, make smart decisions
ExperienceCloud: partner relationship management, customer service, B2B commerce, external apps and portals
Industries: transportation and hospitality, financial services, healthcare and life sciences, retail, manufacturing, consumer goods, communications, media, public sector, nonprofit
Resources and other departments: partner ecosystem, blog, guides, research & reports, videos, resource center, trailhead and learning, expert-led learning, salesforce certification, career paths, free online learning, events (dreamforce, salesforce live, webinars, customer success), for developers, for admins.
Plans:
SalesCloud: essentials €25/user/mo billed annually, try for free, professional €75/user/mo billed annually, try for free, enterprise €150/user/mo billed annually, try for free, unlimited €300/user/mo billed annually, try for free
ServiceCloud: essentials €25/user/mo billed annually, try for free, professional €75/user/mo billed annually, try for free, enterprise €150/user/mo billed annually, try for free, unlimited €300/user/mo billed annually, try for free
Marketing Cloud – Pardot B2B marketing automation: growth €1,250/mo billed annually, plus €2,500/mo billed annually, advanced €4,000/mo billed annually
Marketing Cloud – Email, Mobile, and Web Marketing: basic: starting at €400/org/mo billed annually, pro: starting at €1,250/org/mo billed annually, corporate: starting at €3,750/org/mo billed annually, enterprise: request a quote
Marketing Cloud – Social Studio: basic: €1,000/org/mo billed annually, pro: €4,000/org/mo billed annually, corporate: €12,000/org/mo billed annually, enterprise: €40,000/org/mo billed annually
Marketing Cloud – Advertising Studio: basic: starting at €2,000/mo billed annually
Marketing Cloud – Audience Studio: basic: starting at €18,000/org/mo billed annually, professional: starting at €36,000/org/mo billed annually, multi-channel: request a quote
Marketing Cloud – Datorama: starter: starting at €3,000/org/mo billed annually, growth: starting at €10,000/org/mo billed annually, plus: request a quote
Marketing Cloud – Google Marketing Platform: Google Analytics 360 integration: starting at €12,500/org/mo billed annually, Google Analytics 360 + Optimize 360: starting at €17,500/org/mo billed annually
Marketing Cloud – Interaction Studio: contact them
B2B Commerce: starter: request a quote, growth: request a quote, plus: request a quote
B2C Commerce: starter: request a quote, growth: request a quote, plus: request a quote
Platform: starter: €25/user/mo billed annually, plus: €100/user/mo billed annually
SalesForce Anywhere: advanced: €100/user/mo billed annually
Experience Cloud – Self-Service: customer community: $2/login or $5/member/mo billed annually, plus: $6/login or $15/member/mo billed annually
Experience Cloud – Partner Relationship Management: $10/login or $25/member/mo billed annually
Experience Cloud – External Apps: $15/login or $35/member/mo billed annually
About: In 1999, we pioneered cloud-based CRM software and have helped 150,000+ companies run their companies more effectively. Now, we're creating an economy that will help millions of people find career satisfaction and enjoy better lives as well. Deb Dugan, CEO. 
200+
Business & Marketing Tools Collection
Work management, tracking, organizing, payments, accounting, Google, keyword, market, and competition research, SEO, analytics, and related, marketing & advertising, web development, website monitoring, domains & website hosting, coding, and related, design & multimedia, marketplaces, entrepreneurial communities, hiring & outsourcing.


Main slogan: quickly create beautiful sales funnels that convert your visitors into leads and then customers. Without having to hire or rely on a tech team.
Features:
Simple drag and drop webpage editor (Etison)
Quickly build sales funnels that convert
Smart shopping cart with 1-click upsells
Email marketing automation
Facebook marketing automation
One simple dashboard
Membership areas
Order forms
Affiliate centers (Backpack)
customization: logos, videos, text, CSS, padding adjustment, color
Lead generation
Follow up funnels
Analytics, stats
How it works:
Visitor lands on a page – added to email list
Sales page – build value
Collect money
Upsell page – 1-click upsell
Membership area – deliver your product
Categories: Agency/freelancer, Information products, eCommerce, Coaching/consulting, Network marketing, Local small business, B2B lead generation, Blogging/affiliate, Non-profits.
Other departments: Careers, Blog, Case studies, Training, Documentation, Official Facebook group, Support chat.
Plans:
ClickFunnels: $97/mo.
Platinum: $297/mo.
Two Comma ClubX: $2,497/mo.
About: ClickFunnels was born in 2014 when the frustration and time required to build a successful funnel just became too much to handle. Russell and Todd got together for a week and mapped out their dream software.
3443, W Bavaria St, Eagle, ID 83616, Boise, Idaho. Stats: 112K+ users, 1.60B+ contacts, 8.31M+ funnels, $10.4B+ processed.
Work Management Tools
Regular Updates
Main slogan: makes the complex buyer journey simple. Get measurable results from acquisition to advocacy with experiences that keep customers engaged and coming back.
Products:
Marketo Engage: attract and convert prospects, grow customer relationships, scale up your marketing, master account-based marketing, marketing data environment, content personalization, cross-channel engagement, experience automation, sales partnership, marketing impact analytics, plug n play integrations, sales insight, advanced journey analytics, website personalization, predictive audiences, account profiling, advanced BI analytics, predictive content, sales connect
Bizible: Premium Multi-touch Attribution. Maximize the revenue impact of every single touchpoint across your experiences.
Adobe Experience Cloud: AI-driven solutions for marketing, analytics, advertising, and commerce through the most comprehensive. set of customer experience applications and services available.
Industries: healthcare, manufacturing, higher education, financial services, technology
Other departments and resources: customer stories, find a partner, be a partner, services & support, University, resource center, upcoming events, upcoming webinars, live demo, customer community, CMO nation, blog, developers blog, leadership, newsroom, careers.
Plans:
Select: essential marketing automation and measurement, contact sales
Prime:

Full lead and account-based marketing with journey analytics and AI personalization, contact sales

Ultimate: The most complete and powerful experience automation with premium attribution, contact sales

Enterprise: Achieve the highest degree of scale and flexibility, request information
About: by Adobe, an American software company, headquartered in San Mateo, California.
Cloud Backup, Storage, Hosting
Reliable Services
Main slogan: the only tool you need to launch your online business.
Features:
Sales funnels: build a sales funnel in 30 seconds with just 3 clicks
Email marketing: send email newsletters, set up email campaigns. Unlimited email sending for each account
Sell products: 

Connect your Stripe and/or your Paypal accounts to sell your products. You can also add upsells, downsells and order bumps to your sales funnels

Online courses: build an online course and launch it

Dropshipping: Build high converting sales funnels to sell physical products

Launch your blog: A blog is a great way to bring in organic traffic. Build your blog with just a few clicks

Run evergreen webinars: Evergreen webinars are a game changer when building your email list and making sales on autopilot

Run an affiliate program: We use systeme to power our own affiliate program and generate over $300,000 in sales every month

Automate your business: save time
Plans:
Startup: $27/mo.
Webinar: $47/mo.
Enterprise: $97/mo.
Other departments: Blog, Tutorials, Marketplace (info-products, physical products, services, software, templates), Support, Knowledgebase, Online training.
About: Aurelian Amacker, founder. Stats: 139M+ emails delivered, $11M+ sales generated.
Presentation Tools & Sharing Platforms
Regular Updates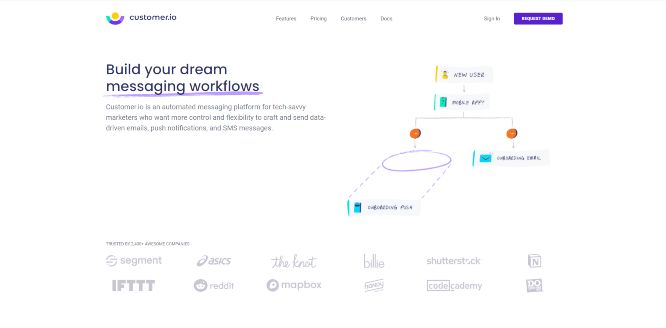 Main slogan: Build your dream messaging workflows. An automated messaging platform for tech-savvy marketers who want more control and flexibility to craft and send data-driven emails, push notifications, and SMS messages.
Transform your engagement ideas into reality:
Feedback:

Check-in with your users and ask for feedback regularly. Find out how they are using your product and where they need more support.

Upsell:

Leverage users' shopping patterns and trigger a campaign when they perform a specific event in your app or site.

Re-engagement:

Automatically trigger a drip campaign when users meet segment conditions such as inactive or canceled. 

Cross-sell:

Show users what they need. Use collection data in your message and automatically query products that go hand-in-hand.

Onboarding: Keep your product or service top-of-mind, and send your first onboarding email within the hour of users signing up.
Welcome:

Introduce your brand with a series of welcome emails. Using A/B tests and the Wait Until workflow item, uncover which messages perform the best.

Renewal: Increase your subscription renewal rate by reminding your subscribers their renewal date is approaching and what they can expect with the membership. Now's the time to boast about what your product or service has to offer!

Nurture: Reward users for opening and using your app. Send exclusive offers when they use the app at least 5 times a month.

Adoption: When someone creates a new account, trigger a one-time email immediately after completion of the Sign-Up form.
Features: 
Data & integrations: direct with the restful API, 3rd party
Segmentation:

Segments are calculated in real-time and performance scales with your business. With no limits on segmentation, you can be incredibly specific with whom you target, group people by (personal attributes, pages they view, what they do in your product, anything else that you send), use segments for (recipient lists, campaign triggers, filters, conversion goals)

Individual profile data: Easily view a full log of event and attribute data, where users are engaging, what messages they have received, and more.

Turn segments into ad audiences: Retargeting the right users and showing the best ads to your most valued customers

Messaging: spend more time on strategy and less on building, email, push notifications, Twilio SMS, slack message, data (attribute update, manual segment update, query colleciton, webhook), delays (wait until, time delay, time window), flow control (true/false branch, multi-split branch, random cohort branch, exit)

Transactional API: flexibility to apply your existing layouts and styles in Customer.io to your transactional messages. Consistent branding is essential across all your messages, not just marketing emails.

Connect with customers through newsletters: send multichannel newsletters within the user's time zone to make sure your Terms of Service update or new feature brief lands at the top of the inbox.

Send more personalized messages with Collections: include specific information about your business and tailor it for each individual person. Importing your Collection data is easy

Metrics & analysis: dashboard view, export, analysis reports

Experimentation: test your hypothesis, optimize your strategy

Best in-class technical support
Industries: SaaS, EdTech, 2-sided marketplaces, FinTech, Internet of Things, subscription box, media companies.
Resources and other departments: customer success, professional services, workflows, ad audience sync, demo, documentation, API, getting started guide, integrations catalog, data export methods, data warehouse sync, security and compliance, blog, support, partners, customers, careers.
Plans: 
Basic: $150/mo, send unlimited emails, SMS, push, webhooks, unlimited data storage, user roles & permissions, technical support
Premium: $995/mo, all of basic plus

a dedicated Customer Success Manager, deliverability control, and more.
About: a messaging platform that allows marketers to take an idea and turn it into a powerful automated message campaign. 81 team members, 17 countries, 5 continents, 2,400+ customers, Colin Nederkoorn, CEO.
Online Marketplaces
The Ultimate List
(Buy and Sell Products)
Main slogan: Easily create your website and landing pages with the only platform engineered by marketing nerds. Trusted by 40,000+ small business owners. turn clicks into customers. Leadpages helps small businesses connect with an audience, collect leads, and close sales. Easily build websites, landing pages, pop-ups, alert bars, and beyond.
Benefits:
Expand your reach and collect qualified leads: 

Reach new audiences with targeted opt-in offers that build your email list.

Self-schedule your free consultations: 

Easily offer and schedule consultations and appointments from any web page or pop-up.

Sell your expertise: 

From services and digital products to workshops and registrations, build a steady income.
Features:
Websites, landing pages, alert bars, pop-ups: 

Create your online presence and build your email list with high-converting offers and opt-in forms.

Code-free, drag & drop builder: 

Create and publish professional-quality, mobile-responsive content in a matter of minutes without touching a speck of code.

Mobile-responsive templates: 

Leadpages optimizes each template to look great on any device, whether desktop, tablet, or mobile.

SEO-friendly pages: 

Customize and preview how your pages appear on search engines. Set your meta tags (title, description, and keywords), and preview your page in real-time.

Powerful integrations: Connect with tools you already use: MailChimp, Google Analytics, Infusionsoft, WordPress, and more! Plus 1000+ apps through Zapier.

Opt-in form builder: Easily drag and drop a form onto a web page or pop-up, choose your fields, customize your design, and route your leads to any tool or app.

Real-time conversion tips: Experience the only platform that gives you optimization tips in real-time, to help predict a page's performance before you publish.

Tracking & analytics: Easily track the real-time performance of your landing pages and Facebook ads, so you can optimize as you go.

A/B testing: Optimize your landing pages for higher conversions by running unlimited split tests—including A/B tests.

Free hosting: Securely host your website and/or landing pages on a free Leadpages domain, secured with SSL encryption and hosted on an HTTPS address.

Device-specific preview: 

Preview your content across different device screen sizes so that you can easily optimize how your content displays on desktop, tablet, and mobile.
99.9% uptime: 

Powered by Google's App Engine, Leadpages delivers both reliability and speed, keeping your content in the hands of your audience.

Automatic SSl encryption: 

All pages on our servers are secured with SSL and HTTPS protocols. Whether you use your Leadpages domain or connect your own domain, your pages are secure.

GDPR compliance: 

The data you collect with Leadpages is processed securely and in accordance with GDPR requirements. Easily add an active consent checkbox to any opt-in form.

Top speed & reliability: 

Increase conversions and improve user experience with industry-leading page load speeds and 99.9% uptime.
Other departments: Tech support, Webinars & coaching, Online community, Certified professionals, Blog, Podcast, Help center, Facebook group, Press, Careers., FAQ.
Plans:
Standard: $27/mo billed annually, $37/mo.
Pro: $59/mo billed annually, $79/mo.
Advanced: $239/mo billed annually, $321/mo.
About: Headquartered in Minneapolis, Minnesota, our company started in 2012 and has grown to serve hundreds of thousands of customers around the world.
Online Survey Tools
Regular Updates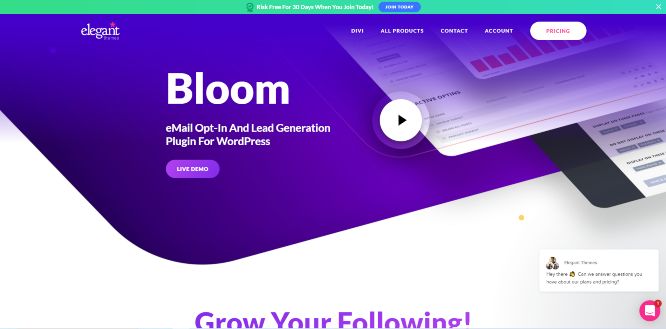 Main slogan: eMail Opt-In And Lead Generation Plugin For WordPress. Convert visitors into loyal followers. Bloom gives you all the tools you need to turn your website's visitors into loyal followers and customers. Not only is Bloom going to convert extremely well, it's going to look great doing it.
Benefits: 
More email subscribers:

Email marketing is extremely powerful. In fact, we see 20X the engagement from emails than we do from posts to our social media profiles.

Highly-targeted content:

Bloom lets you target or exclude specific posts and pages and display unique forms with unique offers based on visitor location and interaction.

Elegant design options:

We have built over 100 amazing templates, each of which can be completely customized using Bloom's extensive design settings.
Features:
Display types: automatic optin popup, automatic option fly-in, in-line optin form, below content option forms, widget area option forms, require optin to unlock content
Triggers: timed delay, bottom of post, after scrolling, after commenting, after purchasing, after inactivity
Integrations: 19 email marketing integrations
Design & customize: 100 pre-made templates, well-designed optin forms.
Optin form orientations: bottom, left, right
Customized borders and edges
Image orientation options, left, right, above, below
Unlimited color options
Fully responsive
Highly-targeted display settings: automatic fly-in and popup triggers, events, meetups, products, modern, projects, icons, refine on a per post or page level
Dashboard: increase conversions with A/B testing, add, modify, and track accounts, conversion and email list statistics, import and export data
24/7 premium support
Other departments and resources (part of Elegant Themes): DiviBuilder, layout library, live demo, customer showcase, marketplace, hosting, divi theme, extra theme, monarch plugin, WordPress themes, WordPress plugins, documentation, community, developer docs, blog, resources, business, careers.
Plans:
Yearly access: Divi, Extra, Bloom, Monarch, $89/year
Lifetime access: Divi, Extra, Bloom, Monarch, $249/one-time
Risk-free guarantee, cancel your membership or upgrade to a different package at any time after signing up.
About: Elegant Themes isn't just a company, it's a community, and we cling to the community-centric values that have guided us over the past 12 years. We love WordPress, we love Open Source, and most of all we love building great things for our amazing customers. Nick Roach – founder and CEO.
115 team members, 12 years in business, 767,000+ customers.
Main slogan: your online business made easy. Finally, everything you need, all in one place. 
Features:
Checkouts: 

Sell products or services online through our secure and gorgeous checkout forms for both credit card and Paypal payments.

Pages: 

Amazing drag-and-drop page builder with hundreds of professionally designed templates. Ultimate flexibility and 100% mobile optimized.

Leads: 

Build your leads, prospects and customers database. Organize them in theme groups via lists and custom tags.

Funnels & campaigns: 

Engineer a multi-page funnel flow to convert visitors into leads, leads into customers, and customers into recurrent clients!

Mail: 

Create live or automated email/SMS marketing campaigns to communicate and engage with your user base.

Memberships: Deliver your content, course or training material with our professionally designed, drag-and-drop membership portal builder.

Videos: Video marketers rejoice! Pop offers mid-way through your video, inject lead capture forms, multi-video playlists and much more.

Helpdesks: Helpdesk portal with support ticketing and live chat. Fully integrated with Kartra Checkouts to also provide billing support.

Calendars: Register and organize your one-to-one scheduled sessions with your customers, all from within one integrated dashboard.

Forms: Gorgeous lead capture forms. Create your own custom fields with powerful tagging and automation rules.

Affiliates: Recruit, manage and track an army of affiliates to promote your products. Flexible commissions, payment milestones, etc.

Agency: Do you service other people's online business? Manage customer accounts from one centralized console!

Marketplace: Sell your marketing funnels and expert services, or discover resources created by other Kartra users (internet marketing & eCommerce, healthy, beauty & fitness, self help and personal development, parenting, family & children, sports, cooking & food, home and garden, new age/spirit, mobile, green products, finance, business, religion)

Integrations & API: If you're code-savvy and want to program your own custom add-ons, our comprehensive API will be your play field!
Plans:
Starter: $99/mo, $79/mo billed annually
Silver: $199/mo, $149/mo billed annually (agency included)
Gold: $299/mo, $229/mo billed annually (agency included)
Platinum: $499/mo, $379/mo billed annually (agency included)
For enterprise-level accounts, please contact the support team.
Available add-ons: Additional domains, emails, bandwidth, integrations & API.
30-days money-back guarantee.
About: Genesis Digital LLC, 7660 Fay Ave #H184, La Jolla, CA 92037, +1 (872) 777-2727. Stats: 40K+ customers served, 500K+ webinars streamed, 6+ years in business, 100+ employees.
Business Accounting Solutions For Every Need
Regular Updates
Main slogan: Do more than automate your email — activate your entire customer experience. ActiveCampaign gives you the email marketing, marketing automation, and CRM tools you need to create incredible customer experiences.
Products:
Email marketing: broadcast emails, triggered emails, targeted emails, email autoresponders, email funnels, scheduled emails, multi-user editing, revision history, managed deliverability, integrations, conditional content, mobile-optimized, link actions, custom data, geotracking, audience segmentation, free image hosting, site tracking, personalization, social sharing, analytics 
Marketing automation: site tracking, event tracking, automation goals, automation map, attribution, split action,

automate your email follow up, find your most engaged contacts, integrate your favorite apps, segmentation, map out exactly what's happening in your automation, sign up forms, migration services, goal tracking, advanced reporting, lead scoring, notification emails

Sales + CRM automation: contact and lead scoring, gmail extension for chrome, mobile app, notify your sales team, update deals & create tasks, nurture leads automatically, manage your contacts in a central platform, automatically update contact details and view a lead's entire history from the contact record, sales reporting, win probability, marketing automation, segmentation, notification remails, automated deal updates, task assignments, note creation
SMS marketing:

Add automated SMS sending to your automation work flows and send follow ups to your contacts, notify sales agents, and more, manage and collect phone numbers, appointment reminders, SMS messages to event attendees, confirmation or coupon code delivery, flash sale notifications

Customer service automation: multi-channel support, site and event tracking, flexible pipeline, chatbot automation, native integrations, team collaboration, automated tasks, automated workflows, consolidated records
Landing pages: customizable templates, drag n drop designer, build your list & send emails on the same platform, get up and running fast
Conversations:

Live chat, automated chatbot workflows, and a unified inbox, create deals in the CRM, automate live chat, add tags and personalize, customize each chat experience, update custom field data, assist customers while reps are offline, improve team productivity, agent assignments, automated chatbots, Facebook messenger built-in, multi-channel support, chatbot automations, collect contact info, add chat data to contacts, conversation management, notifications, filer conversations, reporting

Social media: You can add people to Facebook Custom Audiences automatically. When you run your Facebook Ads through an automation step, you can target your audience based on almost any behavior.

Web personalization: target audience (segment by tag, element editor, CTA, header image), Any page on your website can be personalized 
Other departments and resources: get started, community, automation recipes, help resources, product updates, marketing glossary, blog, events, become a partner, developer center, free tools (subject line generator, webinar templates, Black Friday toolkit, freelancer resources, SaaS homepage audit worksheet, CRM template, calculate cart abandonment, content templates, social media calendar template, buyer persona template, no generator), featured apps, FAQ, how we compare, customer stories, careers.
Pricing Models:
Lite (unlimited sending, email marketing, newsletters, marketing automation, chat & email support, up to 3 users)
Plus (everything from Lite, CRM, sales automation, contact & lead scoring, deep data integrations, custom user permissions, custom domain, custom branding, 1-on-1 training, SMS marketing, up to 25 users)
Professional (everything from Plus, site messaging, attribution, up to 50 users)
Enterprise (everything from Professional, custom mailserver domain, dedicated account rep, in-depth onboarding, free design services, free social data, phone support, uptime SLA, unlimited users)
Pricing Plans (they depend on the number of contacts – 500, 1000, 2500, 5K, 10K, 25K, 50K, 75K, 100K, >100K) and there are 2 options (Monthly and Yearly plans):
Lite (starting from $9/mo up to $459/mo + custom pricing for >100K contacts)
Plus (starting from $49/mo up to $399/mo + custom pricing for >50K contacts)
Professional (starting from $129/mo up to $599/mo + custom pricing for >50K contacts)
Enterprise (starting from $229/mo up to $499/mo + custom pricing for >25K contacts)
Start a 14-day free trial. No credit card, no setup, no hassle.
About: began as a solution for business owners who needed to keep in touch with their contacts. Today is one of the fastest-growing global tech startups. 130,000+ customers, 750+ employees worldwide, Chicago, Sydney, Dublin.
The Ultimate List of Multimedia Resources
Regular Updates
Images, Graphics, Audio, Video, Animation, Themes, Plugins, Code, Apps, Education, Jobs, Buy & Sell Art
This is just the beginning of an extended catalog. I will keep the thread updated frequently.
In the meantime, check out the other related resources we have in store for you.
That's it, another article has finished, here on Web Market Support. I'm waiting for your comments and thoughts. Which solution is the most promising? Which one should I add? Till next time.
Tasos Perte Tzortzis
Marketing Consultant, Creator of the "7 Ideals" Methodology
Although doing traditional business offline since 1992, I fell in love with online marketing in late 2014 and have helped hundreds of brands sell more of their products and services. Founder of WebMarketSupport, Muvimag, SummerDream.
I enjoy reading, arts, science, chess, coffee, tea, swimming, Audi, and playing with my kids.
Some of the links on this page are "affiliate links". For more information, I refer you to the Disclaimer page