Social Selling Machine 2.0
Kim Walsh Phillips 
*
Are you among the 99% of business owners that use social media the traditional way with little to no results? or are you part of the 1% that do get a measurable return on their investment in social media marketing?
What's included
The new and improved

 

social selling machine course: a simple-to-use system to help you attract your right-fit customers on autopilot and multiply your sales in just 12 minutes daily
Official bonus #1:

 

17 ways to generate leads for free ($497 value). Strategies to hack the algorithms with organic reach, equals free advertising.
Official bonus #2:

 

the celebrity formula. Unlock the secrets of influencer accounts on how to get more comments, likes and shares for all of your posts on any platform
Official bonus #3:

 

6 weeks to 6 figures: Six weeks of live coaching with Kim to generate revenue from your online audience.
Our bonus Done-For-You and With-You Marketing Services (real value $1,997): more details here.
This advertisement is sponsored. For more information, I refer you to the disclaimer page
Last week, we participated in the "10X Your Followers Challenge" by Kim Wash Phillips, a 6-day event where we learned some amazing strategies to gain leads and grow our businesses using social media.
Thousands of people immersed themselves in Kim's training sessions.
Today, Kim is organizing a free masterclass, all about growing and monetizing audiences.
17 Ways To Grow Your Online Audience & Monetize It
Free Masterclass
Aug 18 @ 1 pm ET
Kim Walsh Phillips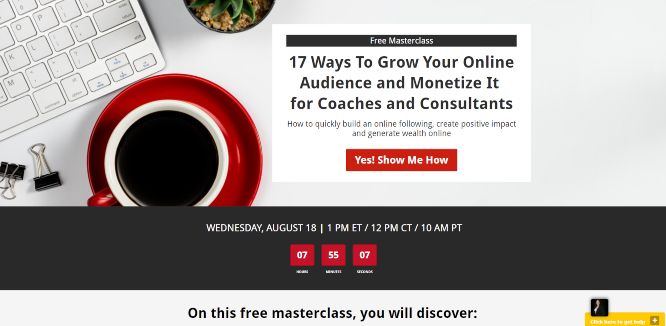 Kim Walsh Phillips' Background
Kim is also a speaker and has appeared on stages like the Synergy Business School in Moscow, Etisilat Corporate in Dubai, and Traffic and Conversion, GKIC Super Conference and Kevin O'Leary's Shark Tank Meet Up in USA.
And she's obsessed with empowering entrepreneurs to 10x their business and life.
Kim's Superpower: Turning clicks into cash and identifying the superpowers in others so they can fly high.
Kim has been featured on channels like Forbes, Inc, Entrepreneur, and Success.
The main slogan is this: how to quickly build an online following, create positive impact and generate wealth online.
This masterclass is for you if you are:
A coach or consultant
A service provider
Business owner
Aspiring entrepreneur
Someone with a message
Kim's strategies and methods work for:
Physical products
Digital products
B2B
B2C
Any industry
Any niche
You will discover:
H

ow to generate wealth while growing your list online 

The revolutionary Cider Sample method that generates your right-fit clients again and again
A super-simple way to close more sales, get more repeat business and generate tons of referrals

The ONLY place where you can literally turn your marketing into money making machine and exactly how to do it

and much more
Who is your ideal, right-fit client? It's all about your target audience. No matter the business, industry, and quality of your products, you need to attract the right customers that are actually interested in your offerings. Kim will help you identify your dream customers, who they are, and how to create the perfect magnet to attract them.
The follower multiplier. Kim is an expert when it comes to audience building. She will reveal her top strategies to help you generate thousands of followers in just minutes for pennies a day no matter your niche, location, or right-fit customer.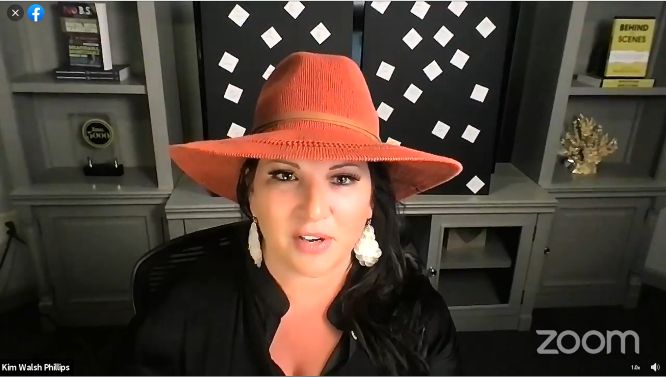 If you are a coach, consultant, service provider, business owner, or aspiring entrepreneur, and you are having a hard time growing your audience, this masterclass is for you.
The revolutionary methods by Kim, like the Cider Sample method that generates right-fit clients over and over again on autopilot will help you realize the true potential of doing business online.
If you know you can bring amazing results for your clients and the world, but marketing is not your "thing", Kim will simplify the whole process for you.
Her online social media blueprint works for any business, industry, or niche.
It's about attracting only the ideal prospects, presenting yourself as an authority, and adding tremendous value to people's lives, thus making a big impact.
If you don't want to appear salesy or sleasy, and you need a formula to promote your business without working extra hard, this is an event you don't want to miss by any means.
I'm following Kim for quite some time now after I read her book "NO BS guide to direct response social media marketing, which she co-authored with Dan Kennedy, one of the most revered marketing advisors today.
She's a marketing agency owner as well and has worked with really big names like Jeff Walker, Grant Cardone, Dan Kennedy, Rich Schefren just to name a few.
I am using many of her social media strategies for me and my clients. 
I took her challenge this week and I am currently working on her newly revealed methods and strategies. My first results are absolutely astonishing.
I will be sharing a full report in a few days . Right now I'm gathering data and monitoring conversions.
Kim's methods work. She uses ethical, value-driven marketing that puts customers first.
More importantly, from a marketing perspective, you will experience high conversion rates and low-cost ads that will give you momentum and the capacity to increase your bidding and scale your campaigns in a very short period of time.
It's all about making relationships, listening to people's needs and wants, and building an online presence using social media.
There's no better time to get involved with an online business, use social media, grow your following, and skyrocket your business.
We want to compliment your decision to devote your time and energy to attend this masterclass.
We will be creating a marketing campaign for your brand by applying my "7 Ideals" methodology. We'll have the chance to discuss all the details in a first meeting live online.
You'll get to combine 2 methodologies for maximum results, you will reduce ad costs, and we will grow your ROI. 
You'll get to see other marketing strategies beyond social media and how we drive ultra-targeted traffic with paid advertising.
Please contact me for more information on how to claim your bonus.
Tasos Perte Tzortzis
Marketing Consultant, Creator of the "7 Ideals" Methodology
Although doing traditional business offline since 1992, I fell in love with online marketing in late 2014 and have helped hundreds of brands sell more of their products and services. Founder of WebMarketSupport, Muvimag, SummerDream.
I enjoy reading, arts, science, chess, coffee, swimming, Audi, and playing with my kids.
Some of the links on this page are affiliate links. For more information, I refer you to the disclaimer page.