Social Selling Machine 2.0
Kim Walsh Phillips 
*
Are you among the 99% of business owners that use social media the traditional way with little to no results? or are you part of the 1% that do get a measurable return on their investment in social media marketing?
What's included
The new and improved

 

social selling machine course: a simple-to-use system to help you attract your right-fit customers on autopilot and multiply your sales in just 12 minutes daily
Official bonus #1:

 

17 ways to generate leads for free ($497 value). Strategies to hack the algorithms with organic reach, equals free advertising.
Official bonus #2:

 

the celebrity formula. Unlock the secrets of influencer accounts on how to get more comments, likes and shares for all of your posts on any platform
Official bonus #3:

 

6 weeks to 6 figures: Six weeks of live coaching with Kim to generate revenue from your online audience.
Our bonus Done-For-You and With-You Marketing Services (real value $1,997): more details here.
This advertisement is sponsored. For more information, I refer you to the disclaimer page
Today was the sixth day of the "10X Your Followers Challenge" by Kim Wash Phillips, a bonus day to the 5-day event, and it was amazing.
Thousands of people immersed themselves in Kim's training session.
Today it was all about Clubhouse.
10X Your Followers Challenge
5-Day Free Virtual Event
Aug 9-16 @ 12 pm EST
Day #6 Multiply Your Results With Clubhouse
Kim Walsh Phillips' Background
Kim is also a speaker and has appeared on stages like the Synergy Business School in Moscow, Etisilat Corporate in Dubai, and Traffic and Conversion, GKIC Super Conference and Kevin O'Leary's Shark Tank Meet Up in USA.
And she's obsessed with empowering entrepreneurs to 10x their business and life.
Kim's Superpower: Turning clicks into cash and identifying the superpowers in others so they can fly high.
Kim has been featured on channels like Forbes, Inc, Entrepreneur, and Success.
The Challenge: 10X Your Followers
The main slogans are these: how to grow your social media audience with right-fit clients and customers, and how to increase your followers online, grow your list, and multiply your sales. 
The challenge is all about social media marketing but not in the traditional way as you probably know and doing it already. Kim has spent years developing an innovative system that actually works and you'll be surprised by the strategies she is going to share during this live event.
Every day Kim and her guests will be focusing on one specific topic to help you progress, move forward with confidence, and be able to answer all your questions.
Day #1 – who is your ideal, right-fit client? It's all about your target audience. No matter the business, industry, and quality of your products, you need to attract the right customers that are actually interested in your offerings. Kim will help you identify your dream customers, who they are, and how to create the perfect magnet to attract them.
Day #2 – the follower multiplier. Kim is an expert when it comes to audience building. She will reveal her top strategies to help you generate thousands of followers in just minutes for pennies a day no matter your niche, location, or right-fit customer.
Day #3 – the audience avalanche. Another secret strategy to help you double up on your audience growth so that you can grow your following in an instant.
Day #4 – the clicks to customer formula. Having a huge social following does not mean much unless you turn these followers into active and paying customers and this is what this day is all about. Kim and her guests will share their best insights on how to generate sales while multiplying your audience.
Day #5 – the automatic selling machine. Kim will also help you automate the whole process so you can grow your business stress-free. This session is all about "setting and forgetting" your social media sales machine so that your business continues to grow on autopilot.
Day #6 Multiply Your Results With Clubhouse
Kim welcomed people and gave a quick overview of yesterday's session where she revealed several marketing strategies you can use to grow your business online.
Today's session is all about Clubhouse, the medium that took the world by storm, since its inception last year. 
The social audio world has emerged and now it's time to expand your business by utilizing the power of this platform in combination with your "voice".
We analyzed social audio and why it is an emerging trend earlier this year, we took a look at some of the most popular social audio platforms, including Clubhouse, and we discussed the major benefits of podcasting and social audio for business owners, and so much more.
Today's session is all about the emerging market of social audio.
Kim asked people to share their thoughts regarding yesterday's session and the training overall.
Adam revealed his success story with Instagram live and how he was able to leverage his audience on this platform to sell his course by sharing his interviews on Instagram.
Kim took advantage of Adam's story to underline the fact that we should be using social platforms to expand our reach and increase our authority. And doing interviews is one of the greatest ways to create content that builds trust. Because an interview is way more authentic than having a customer share a testimonial. It's more personal and people can relate to it.
Here's how you should be doing interviews. Ask them what their struggle was, how your business helped them, and how their life looks like now after they have used your services. A before-after journey, a short story. 
Adam added that he had the chance to leverage 2 different audiences at the same time by going live on Instagram with another person for the interview. His audience and his guest's audience were both getting notifications that they are going live. 
Phil shared his accomplishments by using podcasting and social media. 
Clubhouse has had an incredible impact on Kim's business. Back in time you needed somebody to give you permission to speak at their events, get you on their shows, get the front page of a magazine or a newsletter. You needed permission to put your message out there. 
This is something you don't have to do anymore. Things changed. 
Anyone can go live on Facebook, create an Instagram story, they can have their own radio show by launching a podcast or a magazine, to reach their audience in real-time. Now you don't need permission to do that.
Now Kim shares a story where she was invited by one of her coaches, a company that was organizing events for Tony Robbins, Russell Brunson, Jeff Walker, and others. At this event, she had the chance to listen to some amazing business strategies and she was amazed by people's questions. They were all engaging with the speakers and she had a great experience that got her thinking of the opportunity attached within Clubhouse. 
This is where she decided to spend some time on the app.
Now, the app is free for anyone, and it is available on Android as well. Earlier it was available only via Apple devices and you needed an invitation to get in. Not anymore. Clubhouse connects with Instagram and Twitter, at least for the moment. There is also a direct messaging option.
If you are a coach, a consultant, a professional who seeks clients, someone who sells high-ticket items, either B2B or B2C, this is the best platform to spend your time on. Because people that are using the platform, are seeking information and they are also action takers. 
Kim first started participating in other people's stages to learn some strategies to leverage in the future. 
Now she has grown an audience of about 50,000 followers on Clubhouse and she spends 30 minutes daily there.
She was able to promote her live events and she also sold coaching services to clients she met on Clubhouse a few weeks ago.
Incredible results for Kim!
When it comes to leveraging an audience, and you think of the profit pyramid that Kim shared in the first session, you need to think of who stands at the top of your pyramid.
Think of ways to create rooms for these individuals. What are they interested in? And now, instead of trying to reach those people one by one, you use a platform like 'clubhouse to find them hanging there. 
For example, Kim's prospects are hanging out in rooms dedicated to entrepreneurship, coaching, and social media. Kim is going to spend some time in these rooms to make connections and create relationships. Some of them will even invite Kim to their stages and rooms.
Now Kim discusses what to do when you are just getting started. Clubhouse shows brand new members to everyone and you have a chance to connect with others who visit your profile page. 
So, in your bio write down why people would want to pay attention to your sayings, who you are there to serve, and how they can connect with you.
This is where the cider offer, the free gift you created during this week, can be very helpful. Share your cider offer in your Clubhouse bio.
More importantly, this cider offer is something you should be sharing everywhere, on every social platform, on your blog, email signature, and so on.
You can also take advantage of the fact that people on Clubhouse can connect with you on Instagram. You can create ads using the Facebook ads manager to target people that are actively engaged with your Instagram account.
The first step is to find rooms that you enjoy. Look for rooms that have in the tile words like "AMA – ask me anything", or Q&A – questions and answers. These are rooms that allow people to get up on stage and ask questions or interact with the speakers and others. Look for networking rooms. 
When you speak, don't just ask your questions, give a super quick intro of yourself, for example, hey, I'm Phil, I have a podcast that reaches this X number of people, or hey I'm Shanna, I help people connect spiritually by doing this. People are interested in who you serve and what you do.
Then ask your question and when they give you advice, write it down and then find this individual and say…thank you for telling this. Here's the action that I took, here's the result that I got. So, essentially, you are giving them a little testimonial, and you are thanking them for their time to serve you.
And you also say that you are interested in coming in that room again to share your results with others in the room as well. This is where you start to build relationships.
Click on their name on Clubhouse, find out where they host their next event and add it to your calendar. 
Repeat the same process to other rooms, find rooms where you can add value.
You can take it one step further. Let's say you are a YouTube expert and you find a room dedicated to social media. You can ask them if they have a video channel expert in their room and if they don't they might invite you to join them. 
When you reach 500 followers, start building your own rooms. 
Now, Kim runs some rooms. She used these rooms to promote this challenge, the 10x your followers challenge. She shared valuable stuff inside these rooms and every 10-15 minutes she was promoting her challenge, this was the call-to-action.
She's also using the software Direcon to analyze Clubhouse statistics and other valuable data from the platform. You can also use MobileMonkey and ManyChats to automate some responses. 
Kim is only searching for right-fit clients. She repeats the same process on every platform, not just Clubhouse.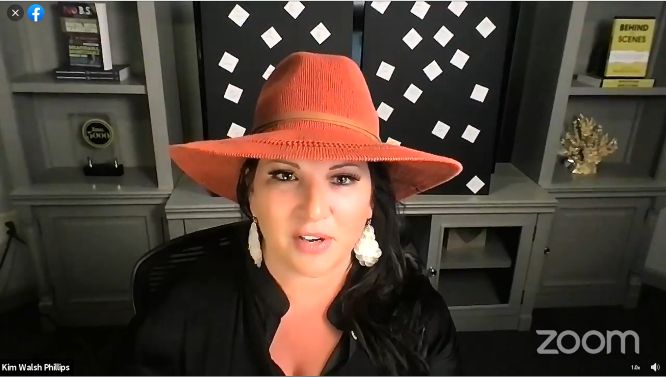 Today's homework: #MyPeople. Unlock your own social selling machine.
The rest of the session was dedicated to people's questions. Kim answered questions regarding Clubhouse exclusively.
Kim's Clubhouse strategy makes sense. First, you build relationships, add value to other people's rooms, they invite you again and again, you reach 500 followers, you create your own rooms and scale up.
I have a Clubhouse account and now it's time to use the app. I am so excited.
*I'll be reporting on my progress daily. So bookmark the page to get the critical updates (we always announce some goodies).
We want to compliment your decision to devote your time and energy to attend this challenging event.
For many of you, it's very hot right now, and setting up 1 hour daily to focus on acquiring the tools and resources to grow your business is remarkable.
That is what I am doing anyway. And I will be thrilled if you want to join me.
So, I am giving an extra bonus if you attend the event. 
We will be creating a marketing campaign for your brand by applying my "7 Ideals" methodology. We'll have the chance to discuss all the details in a first meeting live online.
Please contact me for more information on how to claim your bonus.
*Extra Bonus (added Aug, 14, 2021)
If you enroll in Kim's "social Selling Machine"  training program we want to compliment your decision with another huge bonus.
10 video-call training sessions with me on Zoom privately 1-1. 1 hour each session to help your brand with marketing and business growth strategies beyond social media that Kim is teaching you.
Here's what we are going to cover:
Niche selection, goal setting, future plan

Business coaching (entrepreneurial mindset, online business basics, running a website, business model components, analogs, antilogs, leaps of faith)

Marketing & advertising training (market research, keyword research, competition analysis, customer avatars, unique value proposition, emotional motivators, the customer purchase lifecycle, inbound methodology, content marketing, SEO, blogging, guest posting, native advertising, influencer outreach, relationships, lead generation, email marketing, local marketing, copywriting & persuasion, storytelling, outbound & guerilla tactics, advertising principles, press releases, paid advertising) and more

Sales strategies and tactics (cold calling principles, attitude, motivation, handling objections, setting appointments, follow-up, closing the deal, guerilla marketing)
More information about my bonuses.
That's it, another article has finished, here on Web Market Support. I am waiting for your comments and thoughts. Till next time.
Tasos Perte Tzortzis
Marketing Consultant, Creator of the "7 Ideals" Methodology
Although doing traditional business offline since 1992, I fell in love with online marketing in late 2014 and have helped hundreds of brands sell more of their products and services. Founder of WebMarketSupport, Muvimag, SummerDream.
I enjoy reading, arts, science, chess, coffee, swimming, Audi, and playing with my kids.
Some of the links on this page are affiliate links. For more information, I refer you to the disclaimer page.