Social Selling Machine 2.0
Kim Walsh Phillips 
*
Are you among the 99% of business owners that use social media the traditional way with little to no results? or are you part of the 1% that do get a measurable return on their investment in social media marketing?
What's included
The new and improved

 

social selling machine course: a simple-to-use system to help you attract your right-fit customers on autopilot and multiply your sales in just 12 minutes daily
Official bonus #1:

 

17 ways to generate leads for free ($497 value). Strategies to hack the algorithms with organic reach, equals free advertising.
Official bonus #2:

 

the celebrity formula. Unlock the secrets of influencer accounts on how to get more comments, likes and shares for all of your posts on any platform
Official bonus #3:

 

6 weeks to 6 figures: Six weeks of live coaching with Kim to generate revenue from your online audience.
Our bonus Done-For-You and With-You Marketing Services (real value $1,997): more details here.
This advertisement is sponsored. For more information, I refer you to the disclaimer page
Today was the fourth day of the "10X Your Followers Challenge" by Kim Wash Phillips and it was amazing, for one more time.
Thousands of people immersed themselves in Kim's training session.
Today it was all about flooding our businesses with followers and monetizing our presence and assets.
10X Your Followers Challenge
5-Day Free Virtual Event
Aug 9-16 @ 12 pm EST
Day #4 Followers & Monetization
Kim Walsh Phillips' Background
Kim is also a speaker and has appeared on stages like the Synergy Business School in Moscow, Etisilat Corporate in Dubai, and Traffic and Conversion, GKIC Super Conference and Kevin O'Leary's Shark Tank Meet Up in USA.
And she's obsessed with empowering entrepreneurs to 10x their business and life.
Kim's Superpower: Turning clicks into cash and identifying the superpowers in others so they can fly high.
Kim has been featured on channels like Forbes, Inc, Entrepreneur, and Success.
The Challenge: 10X Your Followers
The main slogans are these: how to grow your social media audience with right-fit clients and customers, and how to increase your followers online, grow your list, and multiply your sales. 
The challenge is all about social media marketing but not in the traditional way as you probably know and doing it already. Kim has spent years developing an innovative system that actually works and you'll be surprised by the strategies she is going to share during this live event.
Every day Kim and her guests will be focusing on one specific topic to help you progress, move forward with confidence, and be able to answer all your questions.
Day #1 – who is your ideal, right-fit client? It's all about your target audience. No matter the business, industry, and quality of your products, you need to attract the right customers that are actually interested in your offerings. Kim will help you identify your dream customers, who they are, and how to create the perfect magnet to attract them.
Day #2 – the follower multiplier. Kim is an expert when it comes to audience building. She will reveal her top strategies to help you generate thousands of followers in just minutes for pennies a day no matter your niche, location, or right-fit customer.
Day #3 – the audience avalanche. Another secret strategy to help you double up on your audience growth so that you can grow your following in an instant.
Day #4 – the clicks to customer formula. Having a huge social following does not mean much unless you turn these followers into active and paying customers and this is what this day is all about. Kim and her guests will share their best insights on how to generate sales while multiplying your audience.
Day #5 – the automatic selling machine. Kim will also help you automate the whole process so you can grow your business stress-free. This session is all about "setting and forgetting" your social media sales machine so that your business continues to grow on autopilot.
Day #4 Followers & Monetization
Kim welcomed people warmly and congratulated everyone for taking action. Many attendees have moved forward building their Facebook ad campaigns.
She also gave an overview of what we have covered so far.
Kim asked what was the #1 takeaway from yesterday's session to warm up the waters.
People started responding immediately like Lillie who was ecstatic about her results from yesterday's campaign and she discussed the simplicity of Kim's strategy that helped her get extraordinary results in just a short period of time. Lillie has become extremely confident and she's ready to level up her social media game.
Sandy went through the training sessions, and she managed to acquire 400 followers.
Captain Jack got 600 likes in 8 hours with his Facebook campaign.
Barbara says…we either win and get these followers or we learn. Now she's learning, she's done that before, She had 50,000 followers with another project. She tried Kim's strategy and she got followers but she thinks she missed out on some details and she is going through the training again to improve her performance.
But Kim took it one step further and actually asked Barbara to share her screen so she can help her with her FB campaign. Barbara was targeting people worldwide but she did not enter any interests and behaviors. Her audience was too broad for this kind of campaign. Now Barbara has to work on her audience settings and she's good to go.
Today's session is all about flooding our businesses with followers and begin monetizing.
Kim suggests that we gain at least 2,000 new followers to like our ad and business page.
But what matters most, is monetizing our social presence.
So.ci.al selling machine stands for:
So-social proof for instant influencer status to flood your business with your right-fit clients
Ci-cider sample
Al-always make an offer
Getting these followers was the first step in monetizing our presence. You need that social proof in order to do business with other people.
That is why we choose a restaurant with people sitting and eating instead of the one that is empty. 
That is why we buy a product on Amazon that has more reviews than another.
It's why the audience before the sale works.
If you have an audience already before you launch a product, you are more likely to be successful with this launch. 
That's what many of Kim's clients did, they built an audience first.
So we have our followers, what's next?
The next step is the social selling machine.
To build your social selling machine you need:
A magnet
People opting-in
Monetize
A client generation campaign: with our magnet, we are making an irresistible offer that people can't refuse. We call this "a little offer up-front". Your cider offer. It needs to be free and it's a sample.
Kim's favorite sample for coaches, consultants, and authors is a video of you teaching something. You are attracting them with something that will help them get to know you better.
You can also do a challenge, a masterclass, a webinar, give away a checklist, a cheat sheet, a template, a discount, a giveaway, an eBook, a podcast, an interview.
You want people to consume your cider offer, love it, and want more from you.
It has to give people a quick win, something valuable.
Now, we need to get people to opt-in to our email list.
The followers you acquired are not necessarily people that are going to buy from you. These people give you social proof that your business is trustworthy so that you can go out and reach out to your potential clients.
17 ways to generate leads for free:
Facebook cover photo
Facebook "about us"
Facebook 3-line posts
Facebook group
Instagram posts
Instagram live
Instagram stories with swipe up
Instagram polls
Commenting on IG and Facebook with auto-reply
LinkedIn events
LinkedIn posts
LinkedIn live
Twitter posts
Guest on someone's podcast
Your own podcast
Interesting statistics:
69% of US adults use Facebook.
These people average 34 minutes on the platform daily
They are educated, they have a high income, they are ready to buy things, they are reading the news and you can get these clients for less than $5 a day. 
But we don't want to invest our money upfront. 
That is why we are going to use our social selling machine to monetize. 
So, always make an offer on your thank you page. About 5-20% will take you up on it…and that can cover all of your ad costs. 
That is what Kim does with her 10X your followers challenge right now. She invites people to the free challenge but she is selling the VIP experience on the thank you page.
She also places an offer behind the VIP, tickets to the upcoming Academy Live event.
Kim reveals her stats for this campaign:
Opt-ins: 2,346
VIP: 251 sales (<10%) at $4,267 total
Launch Academy Live tickets: 26 sales at $2,522 total
Combined sales: $6,789
Kim highlights that organic social traffic is awesome but it's not going to scale your business as much as paid advertising can.
And that is absolutely true: when I started paying for ads, 4+ years ago, my business changed. 
The time spent daily on Facebook by US adults in minutes
Then Kim displayed some of her clients' examples using the social selling machine to fill up their lists and make money while doing so.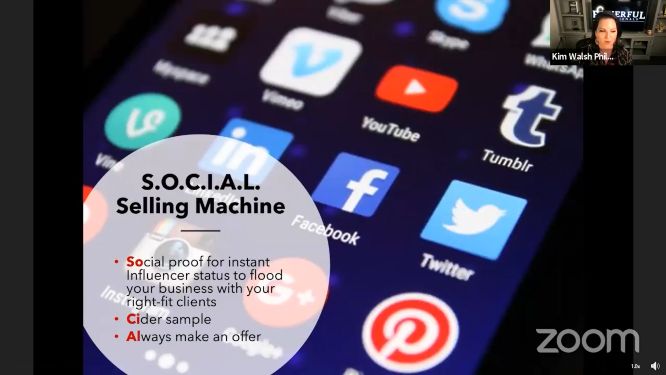 Social Selling Machine 2.0
Kim made an introduction to her brand new training program, called "Social Selling Machine 2.0".
Kim made an introduction to her brand new training program, called "Social Selling Machine 2.0".
It's all about helping you attract your right-fit customers on auto-pilot and multiply your sales. 
You get the ad, the cider offer, the monetization pages, you just click a few buttons and you are ready to rock.
You'll learn how to 5x your followers not only on Facebook but on Instagram, Linked In, and Twitter.
You get ready-to-go posts and templates for engaging content daily.
You get plug-and-play influencer campaigns to attract your right-fit clients.
You also get ready-to-go lead generation campaigns to quickly grow your list with right-fit clients (cider offers).
There are templates for coaches, authors, webinars, travel niches, high-ticket sales, fitness & wellness, network marketing, affiliate marketing, retail & eCommerce, non-profit, and so much more.
You get instant access to the course and the plug-and-play templates ($2,997 value).
You also get 1 year of live coaching calls with Kim ($997 value).
And there are some bonuses as well:
The instant influencer kit:
Facebook live success secrets
Podcasting for profits
Bestselling book funnel to instantly push your release to bestselling status
And you also get the celebrity posting formula ($497 value).
And last but not least, you are getting access to Kim's brand new program…six weeks to six figures live coaching.
There are 2 more bonuses, exclusively for people that joined the live challenge. 
The challenge funnel: plug and play templates, ads, and emails you can use to launch your own campaign
Challenge de-brief: what worked, what didn't, and how to scale
And the 24-hour fast-action bonus: the profit multiplier mastermind ($997 value).
Today's homework: #Doubled. Unlock your own social selling machine.
The rest of the session was dedicated to people's questions. Kim answered questions regarding the social selling machine training program.
Kim's strategy is very promising, to say the least. It makes sense. I am sure her Facebook ad settings will lead to massive engagement and many likes for business pages. 
But I have to test it for a while before I am 100% confident of the results it can bring to my business. 
There's work to be done as I need to create cider offers from scratch and fill out my funnels before I start spending money on FB ads. 
*I'll be reporting on my progress daily. So bookmark the page to get the critical updates (we always announce some goodies).
We want to compliment your decision to devote your time and energy to attend this challenging event.
For many of you, it's very hot right now, and setting up 1 hour daily to focus on acquiring the tools and resources to grow your business is remarkable.
That is what I am doing anyway. And I will be thrilled if you want to join me.
So, I am giving an extra bonus if you attend the event. 
We will be creating a marketing campaign for your brand by applying my "7 Ideals" methodology. We'll have the chance to discuss all the details in a first meeting live online.
Please contact me for more information on how to claim your bonus.
*Extra Bonus (added Aug, 14, 2021)
If you enroll in Kim's "social Selling Machine"  training program we want to compliment your decision with another huge bonus.
10 video-call training sessions with me on Zoom privately 1-1. 1 hour each session to help your brand with marketing and business growth strategies beyond social media that Kim is teaching you.
Here's what we are going to cover:
Niche selection, goal setting, future plan

Business coaching (entrepreneurial mindset, online business basics, running a website, business model components, analogs, antilogs, leaps of faith)

Marketing & advertising training (market research, keyword research, competition analysis, customer avatars, unique value proposition, emotional motivators, the customer purchase lifecycle, inbound methodology, content marketing, SEO, blogging, guest posting, native advertising, influencer outreach, relationships, lead generation, email marketing, local marketing, copywriting & persuasion, storytelling, outbound & guerilla tactics, advertising principles, press releases, paid advertising) and more

Sales strategies and tactics (cold calling principles, attitude, motivation, handling objections, setting appointments, follow-up, closing the deal, guerilla marketing)
More information about my bonuses.
That's it, another article has finished, here on Web Market Support. I am waiting for your comments and thoughts. Till next time.
Tasos Perte Tzortzis
Marketing Consultant, Creator of the "7 Ideals" Methodology
Although doing traditional business offline since 1992, I fell in love with online marketing in late 2014 and have helped hundreds of brands sell more of their products and services. Founder of WebMarketSupport, Muvimag, SummerDream.
I enjoy reading, arts, science, chess, coffee, swimming, Audi, and playing with my kids.
Some of the links on this page are affiliate links. For more information, I refer you to the disclaimer page.