Social Selling Machine 2.0
Kim Walsh Phillips 
*
Are you among the 99% of business owners that use social media the traditional way with little to no results? or are you part of the 1% that do get a measurable return on their investment in social media marketing?
What's included
The new and improved

 

social selling machine course: a simple-to-use system to help you attract your right-fit customers on autopilot and multiply your sales in just 12 minutes daily
Official bonus #1:

 

17 ways to generate leads for free ($497 value). Strategies to hack the algorithms with organic reach, equals free advertising.
Official bonus #2:

 

the celebrity formula. Unlock the secrets of influencer accounts on how to get more comments, likes and shares for all of your posts on any platform
Official bonus #3:

 

6 weeks to 6 figures: Six weeks of live coaching with Kim to generate revenue from your online audience.
Our bonus Done-For-You and With-You Marketing Services (real value $1,997): more details here.
This advertisement is sponsored. For more information, I refer you to the disclaimer page
Today was the second day of the "10X Your Followers Challenge" by Kim Wash Phillips and it was amazing, once again.
Thousands of people immersed themselves in Kim's training session.
Today it was all about the right-fit clients for any business and Kim shared incredible insights.
10X Your Followers Challenge
5-Day Free Virtual Event
Aug 9-16 @ 12 pm EST
Day #2 Your Right-Fit Client
Kim Walsh Phillips' Background
Kim is also a speaker and has appeared on stages like the Synergy Business School in Moscow, Etisilat Corporate in Dubai, and Traffic and Conversion, GKIC Super Conference and Kevin O'Leary's Shark Tank Meet Up in USA.
And she's obsessed with empowering entrepreneurs to 10x their business and life.
Kim's Superpower: Turning clicks into cash and identifying the superpowers in others so they can fly high.
Kim has been featured on channels like Forbes, Inc, Entrepreneur, and Success.
The Challenge: 10X Your Followers
The main slogans are these: how to grow your social media audience with right-fit clients and customers, and how to increase your followers online, grow your list, and multiply your sales. 
The challenge is all about social media marketing but not in the traditional way as you probably know and doing it already. Kim has spent years developing an innovative system that actually works and you'll be surprised by the strategies she is going to share during this live event.
Every day Kim and her guests will be focusing on one specific topic to help you progress, move forward with confidence, and be able to answer all your questions.
Day #1 – who is your ideal, right-fit client? It's all about your target audience. No matter the business, industry, and quality of your products, you need to attract the right customers that are actually interested in your offerings. Kim will help you identify your dream customers, who they are, and how to create the perfect magnet to attract them.
Day #2 – the follower multiplier. Kim is an expert when it comes to audience building. She will reveal her top strategies to help you generate thousands of followers in just minutes for pennies a day no matter your niche, location, or right-fit customer.
Day #3 – the audience avalanche. Another secret strategy to help you double up on your audience growth so that you can grow your following in an instant.
Day #4 – the clicks to customer formula. Having a huge social following does not mean much unless you turn these followers into active and paying customers and this is what this day is all about. Kim and her guests will share their best insights on how to generate sales while multiplying your audience.
Day #5 – the automatic selling machine. Kim will also help you automate the whole process so you can grow your business stress-free. This session is all about "setting and forgetting" your social media sales machine so that your business continues to grow on autopilot.
Day #2 Your Right-Fit Client
Kim got straight to the point as she did not want to waste people's valuable time.
Kim asked what was the #1 takeaway from yesterday's session to warm up the waters.
People started responding immediately like Arthur who's #1 takeaway was the money priorities and goal setting as described by Kim.
Kim responded that we should not limit ourselves with our goals, she gave us permission to dream even bigger. 
Captain Jack added his #1 takeaway, and it was all about the simplicity Kim brought to the table, no complex formulas, no complex plans, just targeting the right people to help them climb up the profit pyramid.
For Siah, it was the ability to take action now and how to deal with procrastination.
2 more people discussed the targeting method of Kim.
Phil also insisted on the simplicity of Kim's business model.
Today's session is all about the "Right-fit customer lead machine" as Kim defines it.
Kim highlighted again that you need to start with the end in mind.
Kim answered this critical question…"Why Facebook fans"? Why are we going after them anyway?
The answer lies within Robert Cialdini's theory of social influence.
We are making decisions based on what other people are already doing.
It's extremely important to build a social image for our brand. This is what people see first.
Of course, it's important to build an email list too. But no one is going to see your email list, it's secret. They see your social following.
Also, when people like your page, Facebook is going to show your page to their friends so you can collect more likes and social recognition.
Not surprisingly, Facebook is a global and huge community. 
But you need to get people to engage with your long-form content. That is what people need. Not a quick 10-sec video on TikTok. Long-form content on Facebook.
Tools to find your right-fit client on Facebook:
Kim showed us how these tools work:
With the 1st one, you are using your niche and industry to find out people's interests.
The 2nd tool, the free one, gives you a part of the results but they hide some results for the premium version. But Kim insists that you don't need the premium version.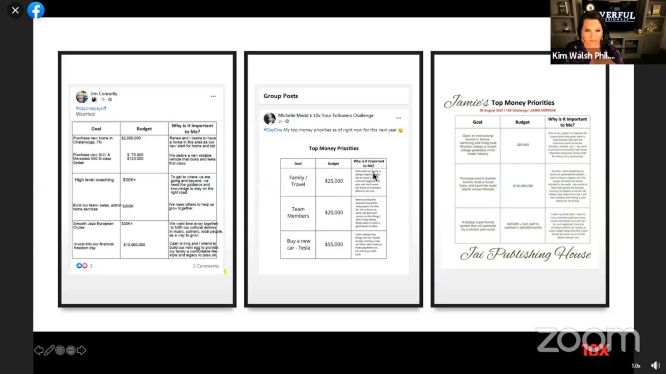 Attendees were asked to discover their right-fit client. 
Who do they want to spend time with? Who is the ideal client that you are delighted to work with?
Then people had to share their Facebook research using the hashtag #DayTwo.
The rest of the session was dedicated to people's questions.
But before the questions, Kim discussed that our Facebook audience needs to have money to spend on our products and services. 
Kim answered questions like:
How do you attract clients when your business is boring, like selling insurance? Kim's answer…focus on the benefit that your customer gets, on the outcome, not the product
How do I use this system as an affiliate marketer?
How to qualify an audience that has money for a non-coaching service?
Should we go through the list of people's interests no matter how long it is?
The right-fit client model as Kim analyzed it, makes so much sense.
For example, I could shorten the list of my marketing agency services potential clients if I dedicate my time to those clients who are the most ideal and exclude business owners that I don't want to spend time with. 
I'll be working with the tools that Kim shared and I'm super excited for tomorrow to see how everything fits together.
*I'll be reporting on my progress daily. So bookmark the page to get the critical updates (we always announce some goodies).
We want to compliment your decision to devote your time and energy to attend this challenging event.
For many of you, it's very hot right now, and setting up 1 hour daily to focus on acquiring the tools and resources to grow your business is remarkable.
That is what I am doing anyway. And I will be thrilled if you want to join me.
So, I am giving an extra bonus if you attend the event. 
We will be creating a marketing campaign for your brand by applying my "7 Ideals" methodology. We'll have the chance to discuss all the details in a first meeting live online.
Please contact me for more information on how to claim your bonus.
That's it, another article has finished, here on Web Market Support. I am waiting for your comments and thoughts. Till next time.
Tasos Perte Tzortzis
Marketing Consultant, Creator of the "7 Ideals" Methodology
Although doing traditional business offline since 1992, I fell in love with online marketing in late 2014 and have helped hundreds of brands sell more of their products and services. Founder of WebMarketSupport, Muvimag, SummerDream.
I enjoy reading, arts, science, chess, coffee, swimming, Audi, and playing with my kids.
Some of the links on this page are affiliate links. For more information, I refer you to the disclaimer page.