Today I will be discussing about a popular MLM company that promises it is not the same old story of skin care and supplements.And they continue.."we are not not the same old network model…"Jeunesse is a global business that helps people reach their full potential in youthful looks , in healthy living , in embracing life.."
What is Jeunesse Global all About?
Jeunesse combines breakthrough sciences in a product system that enhances youth by working at the cellular level.By focusing on the health , longevity and renewal of cells , they help people enjoy vibrant , youthful results that last.
They redefining youth…OK..let's move deeper
Products
Luminesce – the skin care component of Y.E.S – Luminesce super charges the production of young , fresh skin cells.
Instantly ageless (vials) – 5 strips of 5 vials – £65,70 (plus VAT)
Cellular rejuvenation serum – 1 (15 ml) – £110,84 (plus VAT)
Daily moisturising complex – 1 (30 ml) – £59,36 (plus VAT)
Advanced night repair – 1 (30 ml) – £83,91 (plus VAT)
Youth restoring cleanser – 1 (90 ml) – £38,77 (plus VAT)
Essential body renewal – 1 (150 ml) – £51,44 (plus VAT)
Ultimate lifting mask – 1 (118 ml) – £59,36 (plus VAT)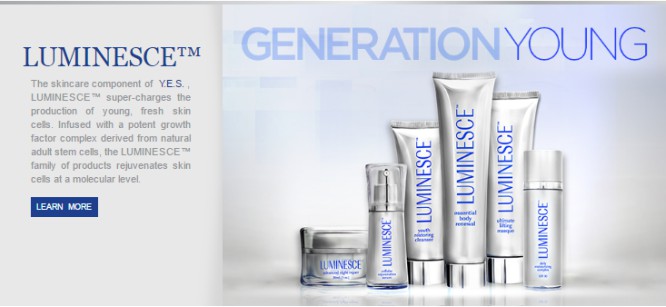 Nutrition – youth begins within , so the nutrition components of Y.E.S bring the energy of youth to a cellular level.These products target DNA repair and telomere maintenance protecting cells from free radical damage.
Reserve – 30 packets of 30 ml – £110,84
Finiti – 60 capsules in 1 bottle – £121,56
Finiti set – 2 bottles – £227,85
ZEN Pro chocolate dream – 14 packets in 1 box – £63,32
ZEN shape – 120 capsules in 1 bottle – £46,99
ZEN Pro vanilla bliss – 14 packets in 1 box – £63,32
ZEN Fit fruit punch – 30 packets in 1 box – £44,31
ZEN Fit watermelon – 30 packets in 1 box – £44,31
Basic nutritional package – 1 bottle ZEN shape + 1 box ZEN fit watermelon + 1 bottle ZEN Pro vanilla bliss + 1 box Reserve – £192,75 plus $25 retail sales bonus
NEVO peach mango – 1 case – 24 cans – £49,70
NEVO lemon ginger – 1 case – 24 cans – £49,70
Y.E.S = Youth Enhancement System
Additionally there are more packages that you can choose from.
The Company
Randy Ray – Founder & CEO
Wendy Lewis – Founder & COO
Rob Dawson – Executive – legal counsel
Other executive members are Scott A Lewis , Ryan Ogden , Mark Patterson , Kanwar Bhutani , Debbie Kurley , Lucy West , David Matichak , Geri Dorman , Miguel A Beas , Alison Blackwell , Jennifer Luce , Vivian Lund and Brian Trustman.
Medical Advisors
Nathan Newman , Vincent Giampapa , William Amzallag , Donna Antarr
The Gobal headquarters found at Altamonte springs , in Florida.
International distribution and support offices all around the world (Colombia , Ghana , Guinea , Hong Kong , Indonesia , Israel , Japan , Kenya , Malaysia , Mexico , Nigeria , Panama , Philippines , Russia , Singapore , South Korea , Taiwan , Thailand , Ukraine , Australia , South Africa)
Charity – Jeunesse Kids
Is a non profit organisation staffed by volunteers.The Global village has already supplied 810 million meals to date.Jeunesse kids is about to help push this number even higher.Their goal is to feed 10 million kids within the next 6 months.
Jeunesse Global Opportunity
Jeunesse is not only promising financial rewards to its distributors.They promise rewards that change outlooks , reshape goals and dreams and transform the way people experience life.
There are 6 ways to get paid
Retail profit
New customer acquisition bonus
Team commission
Leadership matching bonus
Customer acquisition incentive
Leadership bonus pool
The financial rewards plan pays commissions on sales volume weekly with no limit to the number of levels on which you can earn commissions.You earn money based on product sales and by building and training your own organisation of Independent Sales Representatives (ISR).
Retail Profit – At any level in Jeunesse distributors are able to purchase products at the wholesale price for personal use and resell them to earn retail profit (20% – 45%).
Get 2 , it's paid for you program is the main slogan here
Preferred customers receive a 10% discount on the normal retail prices or a 20% discount if they enroll to the Autoship program.
Moreover there are bonuses on the first orders of your referrals along with the team commissions and the other bonuses mentioned earlier.
In order to earn commissions as a distributor you must generate 100 PV points in one month during your first year and you can accomplish that in 2 ways
Purchases made through your replicated website by retail or preferred customers
By purchasing Jeunesse products for personal use or resale.
It is mandatory that you first purchase the Starter Kit that costs $49,95 to qualify for the commissions.
As you progress towards building your Jeunesse business there are 15 different ranks you can achieve.
The executive levels are
Associate – You purchase the Starter kit that includes a replicated website with a retail store and shopping cart and a virtual business management system.You can earn retail profit , preferred customer bonus and first order bonuses.You can not earn or generate points.
Distributor – beyond the Starter kit you need 100 PV within a 30 day period within one year.
Executive – as a distributor if you personally enroll 2 more distributors (1 in each team) that both have generated the 100 PV.Now you can earn team commissions.
Jade executive – you must be a qualified executive with 4 enrolled executives or 8 enrolled distributors.
Pearl executive – you must be a qualified executive with 8 enrolled executives or 12 enrolled distributors
Sapphire executive – a qualified executive with 12 enrolled executives
Sapphire elite – a qualified sapphire executive that have earned 100 team commissions…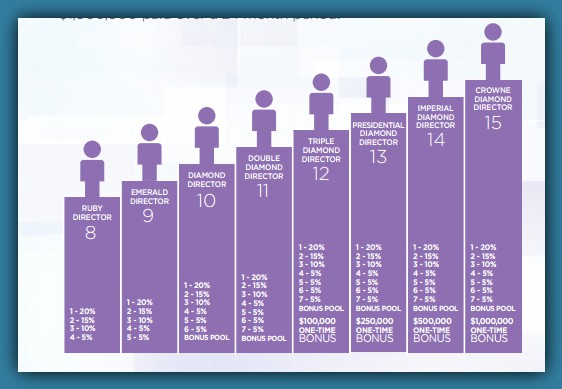 Director Levels
Ruby director
Emerald director
Diamond director
Double diamond director
Triple diamond director
Presidential diamond director
Crowne diamond director
CV stands for Commissionable volume
PV stands for personal volume
The full financial rewards plan of Jeunesse Global can be found here , it is long , you can study it at your own pace.
Pre-Conclusion
Jeunesse operates since 2009 and for that matter I read many reviews during the last week.Of course there are distributors who analyse and praise the products in order to sell.There are others that call Jeunesse a scam or a pyramid scheme and there are complaints as it happens with every company.
Have in mind though that a company's products can not satisfy the whole earth's population.
The health care products are not my specialty and I am not using them.But before you proceed with the promotion of a company like Jeunesse , it is obvious that you first test the products yourself.You won't be successful if you don't have a personal experience.
Therefore it is easier to promote products that you find useful and you enjoy and not just for the sake of money.Health care products have a high demand in the market and I believe that these products will continue to sell for many years to come.So there is potential here.
And MLM companies that are based on quality physical products are those who last longer.
Recap – Final Words
We deal with an MLM organisation that produces and distribute health care products.There are retail sales and you can even purchase Jeunesse products on their website.
Randy Ray , the founder , has experience in the MLM industry with companies like Global Telecom Connect and Forever Freedom.
Jeunesse compensation plan rewards distributors for retail sales but at the same time give higher incentives for those that enroll in the Autoship program.
There are different rules for US and Canada affiliates and those outside the 2 countries.It seems that US and Canada affiliates get retail sales bonuses but for the rest of the world they count the autoship (recruitment) program.
You need to generate points continuously and build an actionable team if you want to qualify for the MLM commissions and rank higher in the company.So there are costs that have to be paid each and every month.The beginning looks challenging but that is the normal with any MLM promotion.
But you can promote Jeunesse even as an associate without taking part in the MLM compensation plan.All you need is the Starter Kit.
There are many distributors that sell Jeunesse products on the Amazon platform., lower than the Jeunesse retail prices.That will make your promotions even harder.
For example the Luminesce cellular rejuvenation serum of 15 ml sells at $64,50 on Amazon while on Jeunesse website the price is set to £110,84 (plus VAT).
Probably they are distributors that earn more from commissions based on autoship recruited affiliates and they have stock of some products.They do not care much about the price , they just want to eliminate their stock.
Generally , Jeunesse Global is far better than many MLM companies that lack a solid production line and I suppose that will be active in the future.Retail sales exist but of course recruiting new affiliates is what will make you stand out of the crowd.
If you want to promote Jeunesse or any other company it is not enough to go offline.The traditional ways of marketing seem obsolete compared to the power of internet.With the help of a website you can market any product you want and target the whole population.
If you don't know how to start an online business with a website I suggest that you follow my recommended online business package for newbies.This is how I started and this is the best way you can market yourself as a brand and not only as an independent promoter of a particular company.
Top Places to Get Affiliate Marketing Help
That's it , another review has finished , here on Web Market Support.I am waiting for your comments and thoughts.Till next time , your online partner.

Anyone Can Grow an Online Business .. Even Working All Alone!