More exciting news today!
Jeanna Gabellini, a master business coach with 25+ years of experience, just released a quiz to help business owners attract clients by tapping into their secret superpower.
If you are overwhelmed by the myriad of options when it comes to attracting clients, then this quiz is for you.
Jeanna simplifies the process so that you don't get intimidated.
Jeanna Gabellini
Client Attraction Superpower Quiz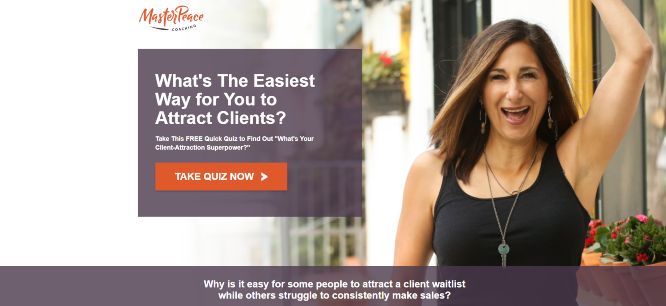 Her philosophy:
You can monetize anything you want…as long as you dig it.
Jeanna is a master business coach, law of attraction expert, and for the last 25+ years she's been helping business owners liberate themselves from the curse of "not enough" and the satanic myth "hard work pays off".
To have real success in business, you need to shift the way of thinking, your mentality, your mindset.
Change inside you…and everything will follow.
You need to change the way you think and feel about your own business. You gotta believe in your magic and what you bring to the world something amazing, that has the potential to change lives, not just make you rich.
She has been featured on channels like NBC, CBS, The Wall Street Journal, ABC, Fox, Yahoo Fiannce, to name a few.
The Client Attraction Superpower Quiz
There are four categories of client attraction superpowers. 
You need to tap into your strengths in order to attract clients like a magnet, not chasing them.
The quiz reveals the common mistakes people make with your superpower, so you don't have to.
Believe it or not, you have a superpower but you don't know how to use it yet.
You will receive a free digital report explaining your results and a video.
My #1 client attraction superpower is known as "IN" or "Innovation Superpower.
The report continues…
You plop yourself onto the leading edge…which can look many different ways. It can be entertaining, artsy, extra fancy with tech, or simply busting up the old paradigms in your niche.
…your ability to captivate them with your uniqueness is what will take them from interested to sold. Your spirit of innovation will be a breath of fresh air.
This is just a tiny fraction of the report that goes deep, it's actually 9 pages long.
The quiz takes just 1-2 minutes to complete and you'll gain invaluable insights that can help you grow as an entrepreneur and as a result, your business will grow.
That's it, another review has finished, here on Web Market Support. I am waiting for your comments and thoughts. Till next time.
Tasos Perte Tzortzis
Marketing Consultant, Creator of the "7 Ideals" Methodology
Although doing traditional business offline since 1992, I fell in love with online marketing in late 2014 and have helped hundreds of brands sell more of their products and services. Founder of WebMarketSupport, Muvimag, SummerDream.
I enjoy reading, arts, science, chess, coffee, tea, swimming, Audi, and playing with my kids.
Some of the links on this page are affiliate links. For more information, I refer you to the disclaimer page.