The other day I had a conversation with a friend during a mini coffee break downtown. The big question was " Is it a good idea to invest in a coffee shop after all?"
The very short answer is yes, don't worry. It's a business and as such, it can be profitable BIG TIME.
But, it depends on a multitude of factors you should consider very seriously before you proceed with any investment. Yes, it's a hard decision, I have to disappoint you a little bit.
It's one of those "special" business models where you can FALL into a BIG TRAP.
How do I know? I produced coffee for many years and I managed other people producing and serving coffee, drinks, and food for my businesses, either in my hotel or other stores in various locations (this one plays a big role). And during those years I made some important observations that were always justified with my experience as a loyal fan and customer of coffee shops around the world.
I love coffee, but when it comes to business, we should proceed very carefully. I see coffee shops come and go everywhere, but just because this business exists forever doesn't mean you're going to create a successful one.
Is A Coffee Shop A Good Business Idea?
Before we analyze the multitude of factors I mentioned in the opening, let me share with you the rest of our conversation the other day.
My friend noticed that a coffee shop we used to hang out in was not doing very well. I see fewer people every day. What is wrong with this place?
I wished it was just one thing, I replied. Do you like coffee there?
No, not very strong and expensive
Do you enjoy the outdoor area?
Not much, there's no music outside
Why did they change such a nice food menu?
Yeah, the new menu sucks
Where are the owners? I hardly see them
Exactly, and it seems that the serving personnel is out of control
For me, these are signs of abandonment. When the owners don't care, we can't expect much from the staff.
And then I remembered something and I asked.
Oh, what about their competitor 500 metres away?
What about them?
Whenever I visit this place, I feel very negative energy surrounding me. I don't know how to describe it, but I don't feel comfortable
Their coffee is great
I agree, one of the best in our neighborhood, but that is not enough. I can't stand seeing this manager. He's not the "ideal" person for this position.
Well, you have a point here. He's always in a bad mood. And yelling too much.
You see, this is unacceptable behavior. You can't yell right there. You need to do that when the store is closed, although I don't agree with such a management profile. There are other solutions to get people to work for you effectively.
Like?
First, you have to be friendly. To enjoy your stay and speak politely. To show you're having fun and smile. To encourage staff and to reward good performance. Talk with customers, build relationships, and so much more. Oh, and to pay your staff on time.
Right, sure. But let me ask you.
Is it a good idea to invest in a coffee shop? 
It depends on various factors, but generally, I would not encourage you to do that. I mean, not in the way these 2 cafes operate.
What's your point here?
These shops can't do very well in the market for one reason that's not very obvious.
Really? what is it?
How many people produce coffee and food at a given time? I asked
1, or 2, 3 tops he said
And how many people are responsible for the service and all the other operations (music playing, cleaning, storage, transportation of goods, manager, the doorman, waiters, assistants)?
6,7, and sometimes 10 and more
Exactly, that's why. There are people working without producing coffee and food. Sure, these people are necessary to offer a premium experience but it's way too expensive for the business. Salaries, taxes, daily expenses, merchandise, vendors, paying the rent, bills, and on, and on. A business needs people that produce first and foremost.
And I continued…let's say there's a factory producing metallic parts for kitchenware. And let's imagine they have clients that are paying and there are orders to be fulfilled. And let's say they have 20 people producing metallic parts and 10 people for the other operations. That's probably a healthy business (depends on other factors as well). But if the same factory has only 5 people producing and 10 people for the rest, this is not a healthy business.
Aha, he smiled.
So, if you want to invest in a coffee shop, there are other models you can follow.
This is when our conversation was interrupted but let's move forward with our analysis!
Important Factors To Consider
Every business is different and there are so many factors you have to consider and so many costs to calculate before you proceed with any investment. At least, that's what I do, I don't like gambling in business.
Let's underline the most important factors for a coffee shop and then we'll analyze them so you can get an idea!
Location (country, city, area, foot traffic)
Competition (local)
Type & services (luxury, fast coffee takeaway, mini local store, indoor/outdoor, with bar and food, delivery, other services)
Investment (own funds, franchise, loan, investors, equipment)
Operating Costs (staff salaries & bonuses, rent, bills, merchandise, vendors, supplies, other)
Marketing & advertising (online, offline)
In order to analyze these important factors and to understand how a coffee shop business is working, we should proceed with the 5 business model components, as they described in the book Getting to Plan B (Randy Komisar, John Mullins). 
I give a more detailed analysis of this process in the article "Mirasee – Business Ignition Bootcamp Review"
The 5 Business Model Components
These are:
Revenue Model: what you're going to sell and what will convince people to buy
Gross Margin Model: how much money you get to keep from each sale that you make
Working Capital Model: the time in between when money goes out of your business, and when more of it comes back in
Operating Model: what it costs to keep your business running day in, and day out
Financing Model: how you're going to pay for everything until your business can start paying for itself
The Revenue Model is all about your offers, the prices, your unique value proposition, marketing and advertising. How are you going to generate revenue?
Let's take a look at some examples:
Starbucks sells premium quality coffee at very premium prices by offering a unique customer experience in a specialized environment. There are shops in my country and around the world offering a similar experience.
The majority of coffee shops in my country sell coffee at medium to premium prices by offering a good customer experience
There are local coffee shops that rely heavily on the takeaway model. Customers order coffee to take away with them. In some of these shops, people can enjoy their coffee there.
There are local shops selling coffee along with a wide range of other products, related or not. You can buy a coffee at bakeries, pastry shops, canteens, buffets, or even at hospitals, universities, stadiums, airports, ports, or restaurants, hotels, shopping centres, and so on.
Also, you can enjoy your coffee at cafe-bars that usually operate at different hours from the other coffee shops or at beach bars
There are coffee shops offering delivery and other services unrelated to coffee.
And if you dig deeper, I'm sure you'll find more variations and types of coffee shops
At this point, we should analyze the "Location" factor which is essential.
There is a different philosophy of serving coffee in big cities, tourist destinations, small villages, on the streets, inside buildings.
You should evaluate foot traffic, automotive traffic, access points, and competition. You should visit various locations in different hours of the day to find out if there is enough traffic all day long. Because as a local business, a coffee shop relies on people walking the streets or passing by the area.
How competing coffee shops operate in your area of interest? Should you follow their approach or should you invest in a different type of coffee shop?
How much should you charge per coffee? What other services or products are you going to offer?
And what about marketing and advertising? How are you going to promote your new shop in the market? Will you rely on offline connections and mass advertising? Will you build a website? Are you going to create social media profiles?
The Gross Margin model is about how much money you get to keep from each sale that you make.
In any business, there are 2 types of costs:
The standard – those that you pay no matter how much products you sell (rent, staff salaries, and so on)
The costs that are associated with sales. In our case, the costs that you pay when you sell a coffee.
At this point, we will only analyze the costs that are associated with sales.
And let's say that our coffee shop sells only cups of coffee.
Example:
Let's calculate the cost of a cup of cappuccino. It's coffee, water, milk, and maybe some drops of cinnamon plus a glass of water and a few cookies (in the case we offer a premium customer experience). After a thorough investigation, we estimate the cost of a cappuccino cup at $0,60. If we decide to sell a cup of cappuccino for $4.00 then our Gross Margin is $3,40.
The ideal is to have a fat gross margin and the smallest cost.
Other businesses have fat gross margins, others thin, but coffee is generally a low-cost product with a fat gross margin. So reducing the costs associated with coffee production might not be essential as it is to keep our customers satisfied by offering premium services and having them pay premium prices for coffee.
The working capital model is about the time in between when money goes out of your business, and when more of it comes back in. In other words, it's the time between when costs occur and when these costs generate revenue for our business.
In our case, if we sell coffee in a premium environment we would receive a payment when customers leave our coffee shop. If we sell coffee in a takeaway model, the moment we take the order we receive the payment. 
Generally, in such a business the working capital model is healthy because the time between the coffee production and when we receive the payment is not long.
Also, we won't have a lot of money tied up in inventory (coffee supplies like beans, powders, milk, sugar, cookies, etc)
We Teach
Marketing &
 Business
Live on Zoom
Your host: Tasos Perte Tzortzis
Schedule an interview so we can evaluate where you are right now, your needs and goals, and we'll give you a detailed analysis of how the workshops work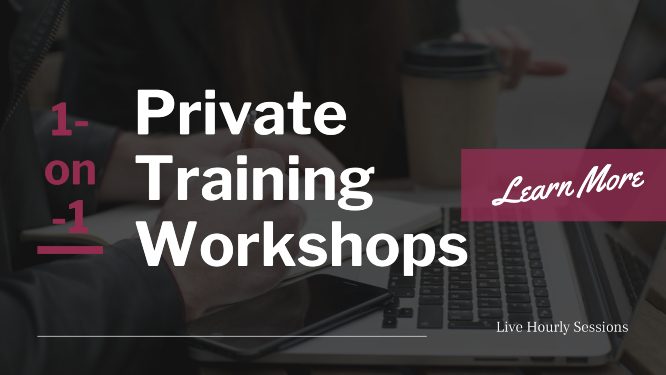 The operating model is about the costs to keep our business running throughout the year. Rent, electricity and phone bills, salaries, and so on.
The total of these costs is our burn rate, how much money we burn each month to keep our business running.
If our business is up and running, then the Gross Margin that we make on a sale, multiplied by the number of all the sales that we make, has to be bigger than our burn rate. If it's smaller, we simply lose money.
If our business is a startup in early phases, then we use the burn rate and multiply it by the number of months that we think we need to reach a level of sales healthy enough to cover our burn rate, and that's our runway. 
So if our burn rate is $5,000 a month and we think we need 24 months to break even, that means we need a runway of 24X$5,000=$120,000.
The big question is, where are we going to find this money?
The financing model is about the way we're going to pay for everything until our business is healthy enough and starts paying for itself.
It all depends on our runway, which we calculated in the previous paragraph. Ideally, we want to modify and adjust the other 4 business model components so that we won't need a lot of money, to begin with.
So, this is where all come together to give us an idea of what type of coffee shop we should decide to adopt.
If we want to offer a premium experience to our customers, then we need to invest heavily in quality equipment, premium supplies, and superior decoration.
If we don't have a lot of money, to begin with, then we might consider opening a takeaway style coffee shop.
At this stage, we should evaluate carefully the "Big Costs" associated with our business. Location, rent, the size of our shop, how many employees are needed for the type of coffee shop we decide to pursue, how many days of the year the shop will operate, how many hours during the day the shop operates, taxes, bills, competition. Everything.
This is the process I follow when I evaluate a new business venture. There are even more factors to consider depending on the business, but these factors and the 5 business model components will give you a very good idea of what is going on.
Business means risking that's why we should proceed carefully by analyzing thoroughly these important factors. We don't want to lose money, right? And times are hard, we don't have the luxury to make "Big" mistakes.
There are new coffee shops entering the market each day, but there are also shops that close down.
So now, let's get back to the question, is a coffee shop a good business idea after all?
As you can see, it depends on a multitude of factors but the most important is how much money we have to get started, the gross margin model, and our runway.
The ideal location for a coffee shop is in places with masses of traffic, where cars and bikes can easily park, at beaches or tourist destinations. On the other hand, choosing a tourist destination might force you to have the store closed for some months.
It's OK to open a coffee shop next to competing cafes. In my experience, areas with a variety of coffee shops attract more people. Shopping centres, airports, train stations, or even ports, are usually a Big Deal. But in this case, we would have to pay more for rent.
I would not go with the franchise model if this was my first coffee shop attempt. Way too expensive and risky. You would need at least 5 years to break even.
I tend to prefer small coffee shops relying on the takeaway model along with other related products in crowded areas. A small shop, a few employees all of them producing coffee and selling, medium or cheap prices, a large volume of sales.
This way you won't have to wait very long to break even and have a healthy business paying for itself. That means, making a profit faster could lead you to open a new coffee shop in a few years without having to worry about investing again.
But, it's your call.
I hope that this article can help you a little bit with your decision, which is very hard. But that's what entrepreneurship is all about. Generating ideas and pursuing your dreams without being afraid of taking risks.
I want to close with a favorite quote by John Sculley.
People who take risks are the people you'll lose against
Do you need help deciding? Do you want to analyze another business idea?
Do you want to know how to create amazing products and services that people love?
Schedule a free video-call interview and let us help you.

Tasos Perte Tzortzis
Business Organisation & Administration, Marketing Consultant, Creator of the "7 Ideals" Methodology
Although doing traditional business offline since 1992, I fell in love with online marketing in late 2014 and have helped hundreds of brands sell more of their products and services. Founder of WebMarketSupport, Muvimag, Summer Dream.
Reading, arts, science, chess, coffee, tea, swimming, Audi, and family comes first.