Notice: I apologize for the quality of audio as concerns my voice. I had a wrong audio recording setup for my microphone and as a result, my voice was recorded very low.
I tried to increase the volume of my voice but it adds noise so I left it as it is.
Hopefully, Matt's voice recorded just fine and he's talking all the time. So, I guess, after all, it's not a big deal. It was my first interview ever!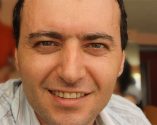 Tasos Perte Tzortzis
Marketing Specialist, Entrepreneur
Although doing traditional business offline since 1992, Tasos fell in love with online marketing in late 2014 and has helped hundreds of brands sell more of their products and services on the web.
He enjoys reading, music & arts, mathematics, chess, coffee, swimming, Audi, and playing with his kids.