I received amazing knowledge at the university but unfortunately, there was something missing.
Putting theory into practice.
More importantly, we were taught to organize, manage, and administer businesses but the focus was doing it as employees for big corporations and organizations.
Instead of helping us develop an entrepreneurial mindset and spirit to open our wings and create something amazing the world needs, we were enslaved into a system where the rich get richer and the…
How I Was Immersed In The Sel-Education Industry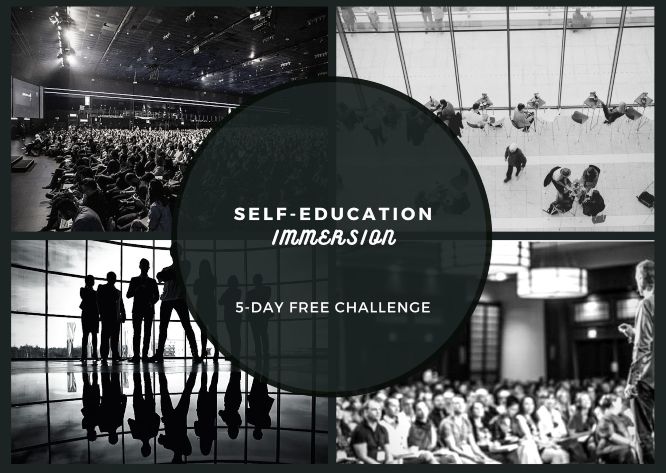 I was one of the lucky students. I was able to continue my parents' manufacturing business. But most of my colleagues ended up working for other companies, following the plan.
That does not mean they did not do well, but it's one thing working for others and another thing to be your own boss.
And I'm not talking about money because you could be making way more as an employee and without having to risk anything on your end. 
But I'm talking about the freedom, the feelings, and emotions associated with taking that risk trying to make it on your own.
Related:
And so I got a deep dive into the business world and founded many successful brick n mortar businesses throughout the years.
But at some point, I realized that the internet was providing a huge opportunity that I was not taking advantage of yet.
Have in mind also, that in my country, the majority of businesses are traditional. Internet was an unnecessary luxury and in many cases, a waste of time.
But I decided to check things out.
As I was researching online for various opportunities, I was pretty much overwhelmed by the enormous amount of information.
I realized that information was a new currency.
As I was reading blogs, articles, and surfing through websites, I came across some weird advertisements promising me to get rich overnight.
But how could these types of ads attract someone like me?
I knew firsthand that success takes time. Of course, I was experienced only in the offline world, but why would the internet be something totally different?
Anyway, fast forward a couple of weeks later, I read an article about an American company I was once a distributor of. An MLM company.
Yes, I tried that too when I was in my mid-twenties as I was looking for ways to create multiple income streams.
The author of the article was comparing the MLM business model to affiliate marketing.
I was attracted by the latter. It seemed like a great way of entering a growing industry without risk much and without the need to develop products or services.
And of course, I wanted to try something new, and becoming an MLM distributor was not a dream for me either. I tried it and I knew how hard it was to gain momentum.
Besides, I was looking to test the waters.
After a while, I decided to dive deep into the online world following this new to me affiliate marketing model.
I had marketing experience from the university, how different would that be?
But it was.
The principles of marketing were quite the same, but the online world was functioning differently in terms of technology and infrastructure.
I realized I had to learn a lot to get started.
I joined a beautiful community, an online portal helping people build businesses using the affiliate marketing model.
I won't mention any names in this article, because if I do I will have to do that for everyone and the article will end up being an advertisement.
They were providing marketing and web development education, marketing and business tools, and a platform to build websites.
To become successful with this model, you had to build a website, attract traffic and monetize it in various ways but mainly through partnerships with companies running affiliate programs.
This community helped me get started. It's a very interactive place with tens of thousands of marketers helping one another.
There were classrooms, live training every Friday with experts, the main training department, and a live chat that I found extremely useful.
I started absorbing knowledge as a maniac but at the same time, I was putting theory into practice.
I built this website but that was not my first website though. I had built a Weebly website prior to that but I abandoned it. I had plans to start a trading (import-export) business at that time.
The big plan with WebMarketSupport was to get started with affiliate marketing, see how it goes, acquire online marketing knowledge and hopefully turn this business into a marketing agency. Back then, this was only a dream.
Entering the self-education industry.
I started studying affiliate marketing, SEO, keyword and market research, paid advertising, content creation, video marketing, email marketing, copywriting, social media, and other marketing subcategories.
I received tremendous help from other experienced marketers in this community, but I was eager to learn even more.
I joined other communities, forums, networks, and platforms. I read blogs and subscribed to various magazines and serious publications.
I read comments and started interacting on many platforms.
At the same time, I was blogging on this website and I was taking lessons and courses on web development, coding, and web design. I knew I had to acquire new skills in order to appear professional and trustworthy.
I started using social media and created accounts on a plethora of networks. I was discussing with people, making connections, exchanging ideas, giving, and receiving feedback.
I watched countless tutorials and videos on YouTube and Vimeo.
I read an infinite number of blogs and articles, research, reports, and case studies.
I participated in online challenges.
I took online bootcamps, I attended seminars, webinars, live events.
I enrolled in various training programs to receive specialized knowledge.
I was mentored and helped by a number of people and I made valuable connections with people all over the world.
I never stopped learning and I absolutely love it.
Looking back, I know that entering the self-education industry was a gift. 
I never stopped receiving and giving knowledge back.
I was privileged to enter an industry that is not only growing exponentially even during these crazy times, but an industry where you get to meet some amazing, influential, and impactful people.
We all contribute to a better world, or at least we believe we do. You can be our judge though.
I managed to make my online dream come true and I turned WebMarketSupport into a marketing agency and helped hundreds of brands along the way.
More is to come, that s for sure. 
You can enter the movement that has taken the world by storm. It's not late. This was just a warm-up.
It's the dawn of the digital economy and if you don't take massive action today, you will get left behind.
You know what to do.
Join the 5-day free challenge that starts on August 02, and enter the digital economy dynamically.
And more importantly, if you attend the event, you'll be able to follow a proven entrepreneurial path and avoid the pitfalls associated with trial and error, as I did.
In this 5-day epic event. you'll meet some of the most amazing people on the planet. Each and every one of them is a self-education advocate.
They don't have degrees or credentials, they are not certified professionals, but they all impacted thousands of people.
Is not that beautiful?
This is going to be the biggest event in the internet's history, over 1 million people will gather together to learn, help one another, grow, plan and strategize.
The article ended up being an advertisement (but it's for your own good). 

It's in my blood, you know that.
That's it, another article has finished, here on Web Market Support. I am waiting for your comments and thoughts. Till next time.
Tasos Perte Tzortzis
Marketing Consultant, Creator of the "7 Ideals" Methodology
Although doing traditional business offline since 1992, I fell in love with online marketing in late 2014 and have helped hundreds of brands sell more of their products and services. Founder of WebMarketSupport, Muvimag, SummerDream.
I enjoy reading, arts, science, chess, coffee, tea, swimming, Audi, and playing with my kids.
Some of the links on this page are affiliate links. For more information, I refer you to the disclaimer page.