More awesome news today!
Hope Writers, is an amazing community for authors that provides ongoing training, support, access to a private Facebook group, and the ability to join independent circles created by other members for additional support, feedback, and help. Every member can join these circles and create their own circles as well.
The hope writers team is huge and consists of 20+ team members dedicated to helping authors in their publishing journey.
They have over 3,200 paying members now, from beginning writers to published authors.
This is the 5th year that hope writers exist as a community.
They have announced a series of free online events you can attend. they will be answering burning questions, sharing secret strategies for authors that want to get their work published, and a multitude of tips, methods, and tactics that can help writers progress and move forward with clarity and confidence and gain momentum in this competitive landscape.
Hope Writers Community May 2021 Free Events
Your words matter! And this series of events will help you get the clarity, confidence, and momentum you need to move forward and share your brilliance with the world.
Monday May 24 & Tuesday May 25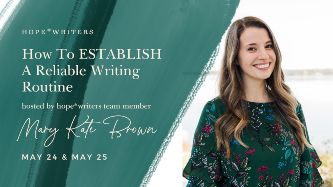 How To ESTABLISH a Reliable Writing Routine
(Even if you are busy and don't have time.)
In this training you'll make the shift from feeling overwhelmed and not making any real progress in your writing to finally learning how you can establish a writing routine that leads to progress — without adding more to your schedule.
hosted by hope*writers team member
Mary Kate Brown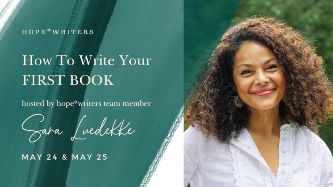 How To Write Your FIRST BOOK
(Even if you feel like it's too late.)
Ready to break through procrastination and finally get your first book finished? This workshop will teach you how to get clarity on your message, push past platform overwhelm, and streamline finishing your first book.
hosted by hope*writers team member
Sara Luedekke
How To ENGAGE Your Ideal Reader Online
(Without selling out, being fake, or losing yourself in the process.)
In this training you'll learn to engage your audience with confidence and intention, and share your message with more people — without sacrificing your real life in the process.
hosted by hope*writers team member
Kelly Streiff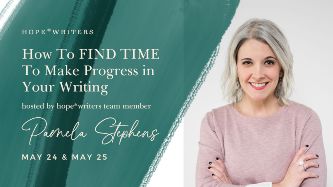 How To FIND TIME To Make Progress in Your Writing
(Even if you have too much on your plate, in your life, and on your mind.)
This is for the person who feels called to write and can't seem to find time for it. It's for the busy person who wears a lot of hats and has a lot on their plate. This one-hour presentation works through SIMPLE ways to actually find time for your writing, even when it seems impossible.
hosted by hope*writers team member
Pamela Stephens
A Guaranteed Way To Get Published Without Rejection
In the complicated world of publishing, there is a guaranteed way to get your book in the hands of reader. You can learn how to be successful in publishing without dealing with rejection.
hosted by hope*writers team member
Melody Pendlebury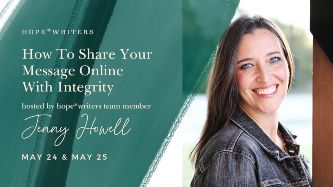 How To Share Your Message Online With Integrity
(Without compromising your values, selling out, or feeling like an impostor.)
I'm going to show you how to step into your calling with confidence and make the simple shift from doubting your message and fearing authenticity to recognizing your voice and sharing without comprimising your values.
hosted by hope*writers team member
Jenny Howell
Tuesday Teaching May 25, 2021
Tuesday Teaching With Jenn Giles Kemper
Join us on our Facebook page as we interview Jenn Giles Kemper. Using her own experience becoming a founder and CEO, Jenn will share her tips for going from a hobbyist to a professional writer.
Wednesday May 26 & Thursday May 27
Why hope*writers Is for You Even if You Don't Have Time
Anna brings you the stories of three hope*writers who found success through membership even though they thought they didn't have the time. They'll share their best tips and strategies for overcoming this common writer's obstacle. 
hosted by hope*writers team member
Anna Franks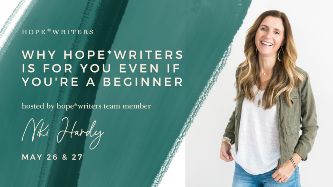 Why hope*writers Is for You Even if You're a Beginner
Niki brings you the stories of four hope*writers members who were beginner writers when they joined. They'll share how being in a community with writers of all stages wasn't as intimidating as they first thought but instead helped inspire them. And they'll share the resources in the resource library that helped them make progress. 
hosted by hope*writers team member
Niki Hardy
Why hope*writers Is for Fiction Writers
Anna brings you the stories of four hope*writers members who write fiction. Yes, hope*writers is for fiction writers, too! They'll share the resources they found helpful for writing in their genre and the connections they made with other fiction writers in the community. 
hosted by hope*writers team member
Anna Franks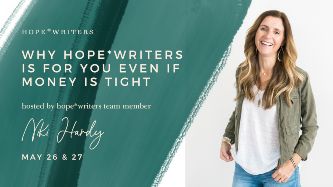 Why hope*writers Is for You Even if Money Is Tight
Niki brings you the stories of three hope*writers members who didn't think they could afford membership — the most common barrier to joining we hear people face. They'll share why they decided to invest in their writing despite their nervousness and why membership has been more valuable than they ever thought. 
hosted by hope*writers team member
Niki Hardy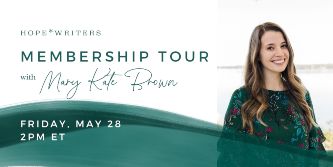 Behind-the-Scenes Tour of the hope*writers Community
Mary Kate Brown will be your tour guide as we walk through the member library, weekly teachings, writing small groups we call hope*circles, our member directory, the private Facebook group — and much more! You'll also get to meet the team members who will support you along the way.
hosted by hope*writers team member
Mary Kate Brown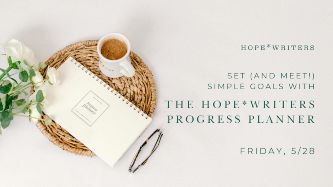 Set (and Meet!) Simple Goals With the hope*writers Progress Planner
This printed planner is perfectly crafted to help you organize your writing goals, process the feedback and instruction you receive, and make the most of your writing time. Learn more about what's inside the planner and how to use it during this online event.
hosted by hope*writers team members
Karla Colahan, Emily P. Freeman, and Niki Hardy
Are You Ready To Take Your Writing To The Next Level?
This series of events will answer many of your questions regarding writing and the hope writers community.
This is a great chance to take a look behind the scenes and get to know some of their team members.
You'll get familiar with their philosophy, writing and publishing approach, and so much more.
More information about this awesome community in my full review.
Are you a beginner, an aspiring, or an established author?
Do you have any questions? Let me know.
That's it, another article has finished, here on Web Market Support. I am waiting for your comments and thoughts. Till next time.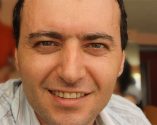 Tasos Perte Tzortzis
Marketing Specialist, Entrepreneur
Although doing traditional business offline since 1992, Tasos fell in love with online marketing in late 2014 and has helped hundreds of brands sell more of their products and services on the web.
He enjoys reading, music & arts, mathematics, chess, coffee, swimming, Audi, and playing with his kids.
Some of the links on this page are affiliate links. For more information, I refer you to the disclaimer page.