Are you looking for ways to expand your business but don't have a team yet?
Hiring and outsourcing people does not have to be a headache.
There are platforms with talented freelancers and other experts and professionals to get the job done for you in no time.
On the other hand, if you are a freelancer and want to connect with millions of business owners around the globe looking for your services, then this catalog is for you.
We compiled a list of trustworthy, reliable, and time-tested marketplaces and platforms to hire and get hired.
Let's dive right in!
Hiring & Outsourcing Platforms
Main slogan: find and hire expert freelancers. Work with the best freelance talent from around the world on our secure, flexible and cost-effective platform.
Stats:
800K+ employers worldwide
1M+ paid invoices
$250M paid to freelancers
99% customer satisfaction rate
3M+ customers
Freelancing Categories:
Programming & development, writing & translation, design & art
Administrative & secretarial, sales & marketing, business & finance
Engineering & architecture, legal, education & training
1,807,910 Freelancers offering 4,471,384 freelancing services online.
Find jobs: 2,627 freelance jobs online. Send a Quote to get hired.
Post jobs: Get Quotes from top Freelancers for free. Give your job a title, describe in detail, what work do you need? how do you want to pay? share your preferences, 
Solutions:
Enterprise: offers everything you need to work efficiently and affordably online with Freelancers. Get in touch with a free consultation or demo.
Agency: help you build your brand online, attract more Employers and earn more money for your business.
Purchase orders: Add purchase order (PO) numbers on all invoices generated on Guru and align with your internal accounting system.
Agreements: define exactly how you want to work online (fixed price, hourly, recurring payments, task-based)
SafePay: a secure, transparent and convenient way to make and receive payments for online freelance services on Guru.
How it works: Find and hire freelance talent using a secure, flexible and cost-effective online platform:
Sign up: 

Simply join for free, post your job, and start receiving Quotes. Use the Find Freelancers tool to get Quotes from quality Freelancers.

Hire: 

Review, compare and select the best Freelancers for your job.

Manage: 

Use WorkRooms to manage Freelancers and keep track of progress.

Pay: 

Pay a Freelancer for a job well done through our secure payment system.
Other departments: 
Help & FAQ
Blog
APIs
Freelancer directory
IP policy
Pricing for employers: You can find, hire, and manage Freelancers at no cost on Guru.
They do charge a nominal handling fee of 2.9% for each invoice you pay. However, if you use eCheck or wire transfer you will receive 100% cashback on the handling fee!
About: Since 1998, they have been working tirelessly out of their offices in Pittsburgh, PA and Noida, India to turn these aspirations into reality. 
Main slogan: Hire the best freelancers for any job, online. Millions of people use freelancer to turn their ideas into reality.
Categories:
Website design, apps, software architecture, graphics, logos, photoshop, banners, illustrations
Public relations, logistics proofreading, translation, research, research writing
Articles, technical writing, blogging, internet marketing
Web scraping, HTML, CSS, HTML 5, Javascript, data processing, Python
C# programming, software development, PHP
WordPress, web search, finance, legal, Linux, manufacturing, Amazon web services
Link building, eCommerce, data entry, content writing, marketing, Excel
Ghostwriting, accounting, MySQL, C++ programming, 3D modelling
and so much more.
Over 1800 categories.
What's great about it:
Browse portfolios
View bids
Live chat
Pay for quality
Track progress
24/7 support
How it works: Choose from endless possibilities. Get anything done, exactly how you want it. Turn that spark of an idea into reality.
Post a project or contest
Choose the perfect freelancer
Pay when you're satisfied
Find jobs: 
By skill
By language
Latest jobs
Featured jobs
Browse jobs – filters:
Keywords
Onlien job
Location
Budget: fixed price, hourly, all durations, contests
Type
Skills
Languages
Job state
Fees and charges:
For employers: projects (

free to sign up, post a project, receive bids from freelancers, review the freelancer's portfolio and discuss the project requirements, For fixed price projects, a fee of 3% or $3.00 USD (whichever is greater) is levied at the time a project that has been awarded by you has been accepted by each freelancer you award, For hourly projects, a fee of 3% is levied on each payment that you make to the freelancer), contests (There is no contest fee for posting and awarding the contest for employers), services (At the time of ordering a service, employers must provide funds equivalent to the total service price)

For freelancers: projects (For fixed price projects, if you are awarded a project, and you accept, we charge you a small project fee relative to the value of the selected bid, as an introduction fee, For hourly projects, the fee is levied on each payment as it is made by the employer to you, The fee for fixed price projects is 10% or $5.00 USD, whichever is greater, and 10% for hourly projects), contests (Submitting entries to a contest is free, The freelancer contest fee is 10% or $5.00 USD, whichever is greater), services (If you are subsequently hired to perform that Service, a 20% fee of the total service price is charged)
Other departments:
Preferred freelancer program
Project management
Local jobs
Showcase
API for developers
Security
Investor
Quotes
News
Press
Careers
Media kit
About: They connect over 50,654,167 employers and freelancers globally from over 247 countries, regions, and territories. Freelancer Limited is trading on the Australian Securities Exchange under the ticker ASX:FLN. Locations: Vancouver, London, Buenos Aires, Manila, Jakarta, Sydney. 
Freelancer.com has acquired several outsourcing marketplaces including GetAFreelancer.com and EUFreelance.com (founded by Magnus Tibell in 2004, Sweden), LimeExchange (a former business of Lime Labs LLC, USA), Scriptlance.com (founded by Rene Trescases in 2001, Canada, one of the early pioneers in freelancing), Freelancer.de Booking Center (Germany), Freelancer.co.uk (United Kingdom), Webmaster-talk.com (USA), a forum for webmasters, Rent-A-Coder and vWorker (founded by Ian Ippolito, USA, another early innovator in the freelance marketplace space).
200+
Business & Marketing Tools Collection
Work management, tracking, organizing, payments, accounting, Google, keyword, market, and competition research, SEO, analytics, and related, marketing & advertising, web development, website monitoring, domains & website hosting, coding, and related, design & multimedia, marketplaces, entrepreneurial communities, hiring & outsourcing.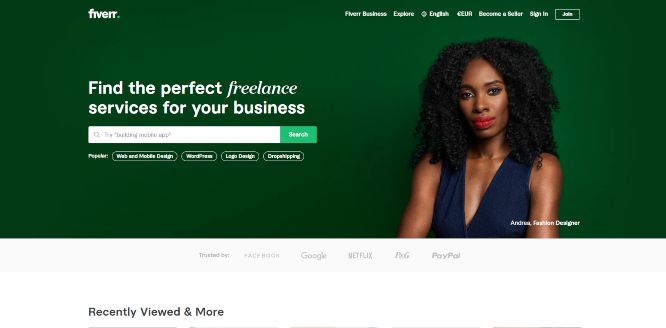 Main slogan: find the perfect freelance services for your business.
Categories:
Graphics & design
Digital marketing
Writing & translation
Video & animation
Music & audio
Programming & tech
Business
Lifestyle
Browse results – filters:
Category
Seller details
Budget
Delivery time
Pro services
Online sellers
Relevance
Explore:
Discover projects made on Fiverr
Guides: in-depth guides covering business topics
Learn: professional online courses, led by experts
Community: connect with Fiverr's team and community members
Podcast: inside tips from top business minds
Blog: news, information and community stories
Become a seller: work your way, you bring the skill, we'll make earning easy.
A gig is bought every 4 sec
50M+ transactions
Price range: $5 – $10,000
How it works:
Create a gig
Deliver great work
Get paid
Buying:
Check out the freelancer's work samples
Check out the feedback from buyers like you
Choose the package that best fits your needs
Contact the freelancer with any questions to make sure they are aligned with your expectations
Get free offers: Too busy to browse for services? Just ask for what you need done, set your delivery time, budget, and receive custom offers straight to your inbox.
Other departments:
Fiverr Business: boost your team with exceptional talent. 

Set your team up for success every time with the help of freelance talent you can count on.

Careers
Press
News
Investor relations
Help & support
Trust & safety
Guides
FAQ
Selling on Fiverr
Buying on Fiverr
Events
Forum
Community standards
Invite a friend
Fiverr Elevate
Fiverr Pro
Fiverr Studios
Fiverr Logo Maker
Get Inspired
ClearVoice
About: Fiverr was founded by Micha Kaufman and Shai Wininger, and was launched in February 2010. The founders came up with the concept of a marketplace that would provide a two sided platform for people to buy and sell a variety of digital services typically offered by freelance contractors.
Main slogan: make bright ideas happen. Find the best freelancers to deliver your project.
Categories:
Technology and programming
Writing and translation
Design
Digital marketing
Video, photo, and image
Business
Music and audio
Marketing, branding, and sales
Social media
Benefits: 
Get matched with expert freelancers in minutes
Dedicated 24/7 customer service team
Money-back guarantee and anti-fraud protection
Stats: 
3M+ rated freelancers
8,700+ skills
$150M+ earned by freelancers
Top freelancers earn $7,000+.mo
10 minutes to track a freelancer
90% of projects completed in 7 days
How it works: PeoplePerHour connects clients to expert freelancers who are available to hire by the hour or project.
For buyers: post a project, discover freelancers, uncover new ways to grow your business, meet project stream, review proposals, communicate, pay freelancers with a tap, rate your freelancer.
For freelancers: apply to become a certified freelancer, build a great profile, find the perfect projects for you, offer your best skills at your best price, meet project stream, your proposal, your way, easy invoicing, build lasting relationships with clients, provide quality experiences
Other departments:
Team
Careers
Blog
Trust & safety
Help centre
Plus works
Academy
Customer stories
Business cost calculator
Startup cities
About: PeoplePerHour started in 2007 with a pen, pad and telephone. A lot has changed since then but our goals remain the same; connect clients to our community of expert freelancers who are available to hire by the hour or project; provide flexibility to work when it suits you, outside the archaic 9-to-5 day; and enable people to live their work dream.
So far we've connected over 1 million clients and freelancers and paid over £100 million to freelancers — We think we might be onto something.
Main slogan: your top source for freelancing work.
Categories:
Writing
Copywriting
Blogging, articles
Website content
Email newsletter
Product description
White papers
Social media
Editing/proofreading
Technical writing
Journalism
Other
Browse by:
Date
Keywords
Job source: FLW exclusive, freelance job openings, freelance blogging jobs, Ed2010, Craiglist, Indeed, BloggingPro
Skills
Location
Writer resources:
Articles
Writing contests
Writer's guidelines
Free eBooks for writers and authors
About: Since 1997, we have been providing the resources and services to help thousands of people make their mark on the freelance writing world. Editor: Monica Mizzi.
Freelance Writing LLC, 3422 Old Capitol Trail, PMB# 793, Wilmington, DE 19808, Phone: (800) 607-4491.
This is just the beginning of an extended catalog. I will keep the thread updated frequently.
In the meantime, check out the other related resources we have in store for you.
That's it, another article has finished, here on Web Market Support. I'm waiting for your comments and thoughts. Which platform is the most promising? Which one should I add? Till next time.

Tasos Perte Tzortzis
Business Organisation & Administration, Marketing Consultant, Creator of the "7 Ideals" Methodology
Although doing traditional business offline since 1992, I fell in love with online marketing in late 2014 and have helped hundreds of brands sell more of their products and services. Founder of WebMarketSupport, Muvimag, Summer Dream.
Reading, arts, science, chess, coffee, tea, swimming, Audi, and family comes first.
Multimedia
Multimedia resources(AZ directory - images, graphics & design, audio & music, video, animation, themes, plugins, code, apps, tools, education, jobs, buy & sell, communities, freebies)
Free stock photo websites(AZ directory, overviews, reviews)
Video marketing software (AZ directory and overviews)
Some of the links on this page are "affiliate links". For more information, I refer you to the Disclaimer page