In times like this, we all need to contribute as much as we can. Some can't contribute and that's absolutely OK. But we can.
Despite the fact that some of our businesses are paused, we decided to create a brand new video course and give it away for free.
I was planning to host a series of live workshops, our subscribers know very well, but unfortunately, my internet connection right now is very slow and all my attempts failed dramatically. I can only broadcast to one or two persons, no more. Make it 5 and the connection drops. And I am still waiting for an upgrade to cable since January.
Producing videos is much harder than hosting live workshops but we can't have everything.
Anyway…It's a video course about entrepreneurship, to help you become a fully equipped and innovative entrepreneur in 2020 and beyond. I already hosted this content in the form of private 1-on-1 workshops locally and online.
So here's what is all about…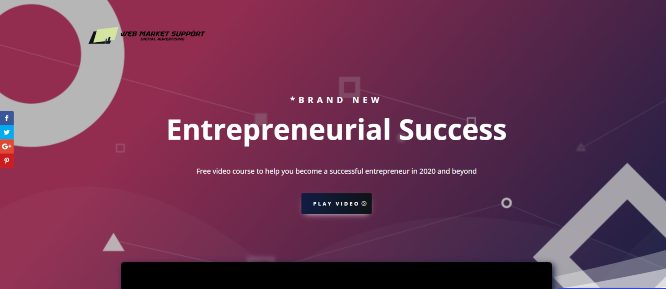 We are going to discuss what an entrepreneur really is and my personal definition of entrepreneurship, which is not just running businesses. 
You're going to learn the skills and mindsets successful entrepreneurs have.
You'll learn how to become a leader, the importance of creativity, and how to become productive. 
Also, you're going to learn how to create products and service customers really want and the basic principles of marketing. 
We'll discuss why successful entrepreneurs are innovators, risk-takers, and why they constantly improve. 
We'll explore partnerships, joint-ventures, and you'll learn how to expand your business.
We are going to explore why times like the coronavirus pandemic are actually the greatest opportunities ever.
You'll learn that you should never take things for granted and that you should always find new ways of doing business. 
And finally, we are going to explore why you should not rely on 1 business, 1 idea, 1 product, 1 income stream, ever.
Module #1 Entrepreneurial Mindset and Principles
Module #2 Productivity
Module #3 Creativity
Module #4 Innovation
Module #5 Marketing
Module #6 Customer Service
Module #7 Leadership
Module #8 Expansion
Module #9 Products & Services
The mindset of an innovative and strategic entrepreneur.
The skills that will help you face any obstacle and problem with certainty.
We'll share cutting-edge strategies and tactics we use to grow our businesses.
You'll get feedback on your work, ideas, and projects.
You'll get tools and various resources in digital format.
Unlimited support via email and/or personal assistance via live 1-on-1 workshops.
It's a training that is priced at $297 but now you have the chance to get it for free.
It's a self-paced course you can watch on your own.
The introductory module airs on Tuesday, May 26, 2020, and every week we will be unlocking a new module.
We do that so you can absorb the information and get back to us with your questions and give you feedback.
We are so excited to share this course with you and we look forward to your next success story.
Tasos Perte Tzortzis
Marketing Consultant, Creator of the "7 Ideals" Methodology
Although doing traditional business offline since 1992, I fell in love with online marketing in late 2014 and have helped hundreds of brands sell more of their products and services. Founder of WebMarketSupport, Muvimag, SummerDream.
I enjoy reading, arts, science, chess, coffee, swimming, Audi, and playing with my kids.