Following our discussion on product launches and the 2-day challenge "Launching & Crushing" we hosted this week, I want to thank you for your interest and participation.
It means a lot.
And you can watch the replays here.
Now, I have some amazing news to share.
As product launches have become extremely popular and 1,000's of brands use them, this is the best time to do a launch for your next product and create anticipation, excitement, and a beautiful community of fans and followers for a lifetime.
But not all brands do successful product launches, only those who apply a winning strategy get massive results and enjoy success.
So how exactly do you get started?
Which strategy is the best fit for your market, products, needs, goals, and current situation?
This decision also depends on your company's size, your experience, and familiarity with product launches.
It's a tough decision and that's why I created a short 2-min quiz.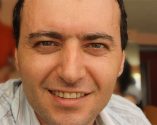 Tasos Perte Tzortzis
Marketing Specialist, Entrepreneur
Although doing traditional business offline since 1992, Tasos fell in love with online marketing in late 2014 and has helped hundreds of brands sell more of their products and services on the web.
He enjoys reading, music & arts, mathematics, chess, coffee, swimming, Audi, and playing with his kids.