Free Online Marketing Training
Overviews – Part 1
Free Online Marketing Training
A-Z List of Websites
Part 1 – Overviews
25 Listings
Prologue
By learning online marketing you open up unlimited doors, opportunities, and gateways for your career, your business, and your life. Marketing is by far the leading instrument in every industry and connects brands with any audience. Without marketing, even the best products out there will disappear. Marketing makes people curious about a brand, builds trust, and eventually is driving results for companies.
And of course, in a digital era of instant communications and unlimited networks, digital marketing is a science that every entrepreneur should take very seriously.
The future of business is online and as Bill Gates says…
If your business is not on the internet, then your business will be out of business
Whether you own a brick & mortar store, a practice or any offline business, and you want to expand online to increase sales or if you want to create a strong presence online and make money by promoting other companies products or to create your own digital products, online marketing education is a must.
Companies that are not utilizing the power of online advertising and use only the well-known offline advertising methods, simply put, they are in danger.
Offline advertising is time-consuming and costs a lot of money. On the other hand, online marketing is cost-efficient, effective, and you can target the whole population (almost 4 billion users are online as we speak)
By learning online marketing you'll be able to
Create a marketing agency
Offer marketing services and create campaigns (locally & globally) for companies and clients (paid advertising, landing pages, sales funnels, email campaigns, and more)
Create and develop websites for clients
Create digital content for agencies or other sites
Increase traffic and sales for your current offline or online business with a website
Promote and sell other companies products for one-time or recurring commissions (this is how I started).
Offer SEO (search engine optimization) services
Build a coaching, speaking, or consulting business
Work as a freelancer
Work as a copywriter
Make money with and without a website using various techniques
Manage social media accounts or business pages/profiles for other companies
Sell memberships, courses, videos
Create eCommerce stores and e-shops for you and clients
Sell arts & multimedia
Make money with blogging or vlogging (video blogging)
Promote and sell products and services using email marketing techniques, videos, or webinars
Write for others, write your own books, create digital products
Organize live events, local seminars, speak on stages, or even teach on local workshops
Market yourself and clients effectively with skills that last a lifetime
…just to name a few opportunities
But, your budget might be limited, or you don't have any budget at all. Don't worry, there are plenty of solutions!
And now let's examine the best free options on the net…
eMarketing Institute was founded in Copenhagen, Denmark in 2014 by Thomas Jaskov. They offer 100% FREE beginners level courses, FREE certifications and FREE ebooks within the field of digital marketing. Their mission is to give everyone (rich or poor) a chance to get certified.
Affiliate marketing 
Blogging 
Content marketing
eCommerce
Email marketing
Online marketing
Search engine marketing
SEO
Social media marketing
Web analytics
Main slogan: Learn the skills you need to move your business forward. FB Blueprint is an education, training, and certification program to help advertiserrs get the most out of their powerful marketing platform. 
eLearning
Get started with FB, get started with advertising, learned advanced buying options, target the right audience, build awareness
Drive consideration, generate leads, promote apps, increase online sales, increase in-store sales, choose ad formats
Get creative inspiration, manage ads, measure ad performance, learn about Messenger
Learn about Instagram, distribute and monetize content
Achieving scale with the reach objective
Ad auction and delivery overview
Ad policies for content, creative, and targeting
Ads in Instagram stories
App installs
Audience insights
Audience network native ads…
FB offers a certification for all the participants, webinars, live workshops (61 cities, 10K participants, 1 jam-packed day), case studies (IPGMediaBrands, HealingWaters, Read Dog).
The Bloueprint program is praised by companies like Entrepreneur, USA Today, TheDrum, CampaignUS.
FutureLearn – Get Ahead in Marketing
Main slogan: Keep up with the latest trends in marketing – from brand storytelling to social media – with these free online marketing courses. Learn with experts from top universities and professional organizations.
Cardiff University – Community Journalism: digital and social media
University of Southampton – Digital Marketing: challenges and insights
D&AD – Storytelling in advertising
UEA (University of East Anglia) – The secret power of brands
Sungkyunkwan University (SKKU) – Transmedia storytelling
UCL (University College London) – Why we post: the anthropology of social media
You can purchase a personalized, digital, and printed certificate
GCF Learn Free – Social Media
For more than a decade, the GCFLearnFree.org program has helped millions around the world learn the essential skills they need to live and work in the 21st century. From Microsoft Office and email to reading, math, and more, GCFLearnFree.org offers more than 180 topics, including more than 2,000 lessons, 800+ videos, and 55+ interactives and games, completely free. 
About: Social media can be used for many things: staying in touch with friends and family, promoting your cause, and keeping up with trending topics and news. Knowing how to use social media is an essential 21st-century skill. 
Blog basics, Facebook, Facebook for iPhone, Google hangouts, Instagram, LinkedIn basics, Meetup
Pinterest, Skype, Snapchat, Twitter, WhatsApp, YouTube, WordPress resources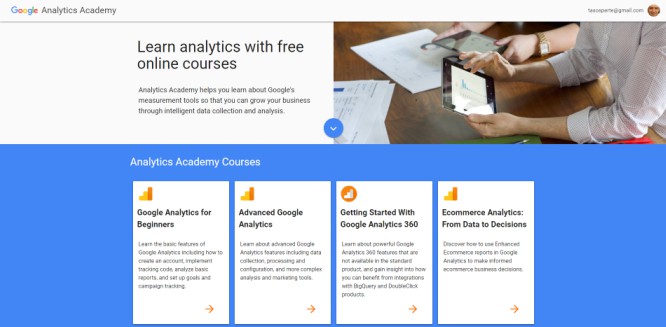 Slogan: Analytics Academy helps you learn about Google's measurement tools so that you can grow your business through intelligent data collection and analysis.
Google analytics for beginners
Advanced Google analytics
Getting started with Google Analytics 360
eCommerce analytics: from data to decisions
Google tag manager fundamentals
Main slogan: Grow your career or business at your own pace, with flexible and personalized training courses designed to build your confidence and help you thrive. Discover tools to make your business succeed, improve your interview skills, prepare for the career you want.
The Digital Garage is your one-stop shop for mastering digital marketing. If you have what it takes to complete each of the 26 topics and unlock every badge, you can earn the esteemed Digital Garage Certificate of Online Proficiency.
The online opportunity, your first steps in online success, build your web presence, connect through email, get started with search
Get discovered with search, make search work for you, be noticed with search ads, improve your search campaigns, get started with analytics
Find success with analytics, get noticed locally, help people nearby find you online, get noticed with social media
Dive deep into social media, discover the possibilities of mobile, make mobile work for you, advertise on other websites
Dive deep into display advertising, expand internationally, make the most of video, build your online shop
Sell more online, plan your online business strategy, get started with content marketing, turn data into insights
Increase productivity at work, intro to machine learning, improve your online business security
land your next job, intro to code
A certification is a great way to make your CV shine. It shows you've got genuine digital skills, and that you are motivated to learn: two essential qualities in today's business world.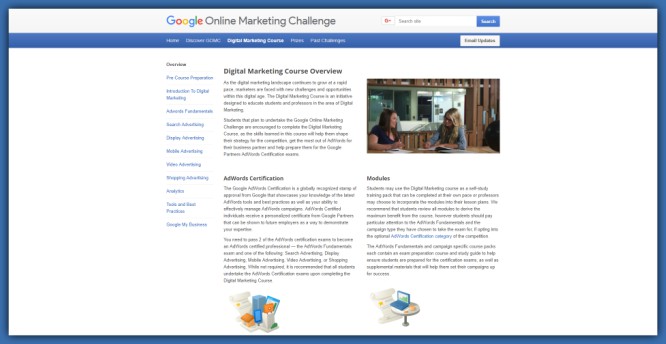 As Google describes: The Digital Marketing Course is an initiative designed to educate students and professors in the area of Digital Marketing.
Education
Introduction to Digital Marketing – the digital garage, digital marketing glossary, building your online marketing plan
AdWords fundamentals – prep, exam study guide, refresher guide, Google academy for ads, Guide to AdWords success, building relevant ads with ad extensions, how to build the best keyword list, campaign settings, 3 steps to budget smarts
Search advertising – prep, exam study guide, refresher guide, introduction to remarketing lists for search ads (RLSA), supercharge search with remarketing lists for search ads
Display advertising – prep, exam study guide, refresher guide, display settings, introduction to remarketing, setting up remarketing
Mobile advertising – prep, exam study guide, refresher guide, mobile ads
Video advertising – prep, exam study guide, refresher guide, types of video ads, selling AdWords for video, how to make video ads
Shopping advertising – prep, exam study guide, refresher guide
Analytics – Academy, IQ study guide, AdWords and analytics, Google analytics, smart goals
Tools and best practices – guide, think with Google planning tools, Keyword planner and display planner, Google trends, consumer barometer with Google
Google my business – what it is, why it's important, how to create and verify a business listing, how to make changes to business information
AdWords Certification
A globally recognized stamp of approval from Google showcasing your knowledge of the latest AdWords tools and best practices and your ability to effectively manage AdWords campaigns.  AdWords Certified individuals receive a personalized certificate from Google Partners that can be shown to future employers as a way to demonstrate your expertise.
Modules
Students may use the Digital Marketing course as a self-study training pack that can be completed at their own pace or professors may choose to incorporate the modules into their lesson plans.
Online Marketing Challenge
Google used to offer a marketing challenge for those who participated in these courses. Over 120,000 students and professors from almost 100 countries have participated in the past 10 years.
With a $250 AdWords advertising budget provided by Google, students used to develop and run an online advertising campaign for a business or non-profit organization over a three week period. The teams that developed and communicated the most successful campaigns won awesome prizes, including trips to Google offices. Students also had the opportunity to participate in the optional AdWords Certification category by studying and passing the necessary exams to become an AdWords Certified individual in the Google Partners platform.
But now there's an announcement:
Evolving the Google online marketing challenge to free digital skills trainings. After 10 years of great impact, we will no longer be hosting the annual Google Online Marketing Challenge. Google will continue to support student development through our free digital skills trainings and certification programs
Overview
If you want to stay on top of the ever-changing advertising world then Google's education modules are the perfect courses to help you build a strong presence, build authority, and get high-paying clients looking for certified marketers. PPC (pay per click) advertising is still one of the most lucrative methods that all successful companies use to get unique and high-quality traffic.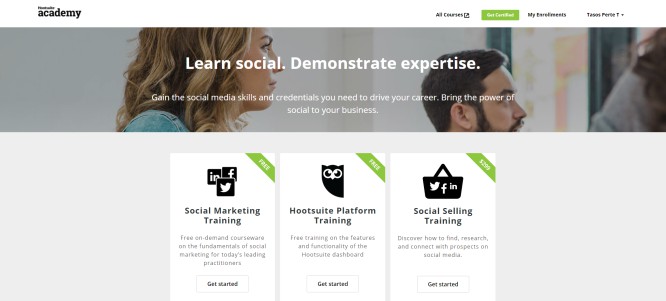 Main Slogan:
Gain the social media skills and credentials you need to drive your career. Bring the power of social to your business.
#1 Social Marketing Training
A Free on-demand courseware on the fundamentals of social marketing for today's leading practitioners.
96 videos, 27 quizzes, 44 texts, 3 downloads, 4 hours
Welcome
1) Introduction to social media
Overview, introduction to social media marketing, marketing your business, social networks, Facebook, Twitter, LinkedIn, Instagram, YouTube, Pinterest, Snapchat, recommended next steps
2) Optimizing your social media profiles
Introduction, best practices, optimizing your Twitter business profile, profile settings on Twitter, strategic best practices for Twitter list, Facebook pages profile, profile settings on Facebook pages, strategic best practices for Facebook pages, LinkedIn company page, profile settings on LinkedIn company pages, Instagram profile, business profile settings on Instagram, YouTube profile settings, profile settings on YouTube, recommended next steps, how Hootsuite helps, an overview of the Hootsuite dashboard
3) Social media strategy from A to Z
Overview, what is social media strategy, the value of a social media strategy, essential components, conducting a social media audit, setting strategic goals, setting goals, objectives, and KPIs, budgeting for a social media program, tactical best practices, tactics and tools to consider, factoring in timing and key dates, specifying brand persona and voice, putting together a content game plan, operational considerations, how to set up the roles and responsibilities on your team, implementing social media governance within your organization, creating a crisis management plan, evaluating your success, applying quantitative and qualitative measurement to your social media strategies, using data to adjust course, how Hootsuite helps with social media strategy, an introduction to Hootsuite analytics, how to use boards in Hootsuite analytics
4) Building your advocate community
Introduction, community building fundamentals, introduction to advocacy and community, engaging, growing, and leveraging your social media audience, engaging with influencers and advocates, best practices for growing community across social media channels, measuring the ROI of your community building efforts, how Hootsuite helps with community building, engaging with your audience across the networks, using geo-search to find relevant conversations with Hootsuite, creating Twitter lists
5) Content marketing fundamentals
Creating a content strategy for social media, content curation and creation for social media, best practices for sharing across networks, best practices for sharing video content, measuring the ROI of your content program, how Hootsuite helps with social content marketing, composing and scheduling a message, using the Hootsuite publisher, advanced publishing tactics, scheduling messages in bulk using Hootsuite
6) Social advertising fundamentals
Using social ads effectively, best practices for using Facebook ads, best practices for using Twitter ads, best practices for using LinkedIn ads, best practices for using Instagram ads, measuring the ROI of your social ads, ads metric, putting the measurement data to work
7) Social marketing certification exam
Social Media Certifications
The HootSuite courses are recognized industry credentials demonstrating your social media expertise to clients and employers. Thousands of companies, individuals, and marketers use their certifications to get high-paying clients around the globe.
Overview
It's a course that I started studying lately. Hootsuite is a platform that I use daily to connect effectively with people on social media. When you're marketing it's not enough to create content and engage with people on your sites, it's crucial to have a strong online presence and Hootsuite is a well-recognized organization with thousands of happy clients and students around the world. The training expands on all the major social networks and along with the Hootsuite platform helps you get social authority.
#2 Hootsuite Platform Training
Welcome
1) The fundamentals of using Hootsuite
The Hootsuite platform, engagement, publishing, Hootsuite mobile, Hootsuite campaigns, Hootsuite app directory
2) Advanced uses of Hootsuite
Overview, advanced engagement tactics, advanced publishing tactics, advanced campaigns, advanced analytics, advanced mobile tactics, advanced tactics for administrators, Hootsuite's ecosystem of app integrations
3) Hootsuite platform certification exam
Overview
Hootsuite is trusted by 16+ million users in 175+ countries and is the industry standard for social media management.
With Hootsuite's Platform Education and Certification, you'll develop the skills to use core Hootsuite products to their full potential — giving your social media efforts a significant efficiency boost and a major leg up on the competition.
Designed and produced in consultation with product experts, practitioners  and social media strategists, the industry-leading certification equips social media professionals with the practical guidance they need to master this powerful tool.
Introduction
1) Inbound fundamentals – 

Essentials of an effective Inbound strategy
Attract
2) Optimizing your website for search engines
3) Creating content with a purpose
4) The fundamentals of blogging
5) Amplifying your content with social media
Convert
6) Enticing clicks with calls-to-action
7) The anatomy of a landing page
8) Guiding the next step with "Thank You" pages
Close
9) Sending the right email to the right person
10) The power of smarketing
11) Taking your sales process inbound
Delight
12) The pillars of delight
Overview
HubSpot Academy's free Inbound Certification course features twelve classes that span the four stages of the Inbound Marketing Methodology. From optimizing your website for more search traffic, to landing page anatomy that generates more leads, this free course and certification exam covers the fundamentals of inbound.
HubSpot's certificates are recognized around the globe and there are countless marketing agencies that use HubSpot's certificates to get high-paying clients.
This is a course I'm taking right now and I hope to get it finished in the next 2 months or so.
Along with the Free video courses HubSpot gives you access to Free marketing and sales tools. Additionally, they offer transcripts, slides, templates, podcasts, and blog posts that surround the courses' material.
Important announcement:
On March 29, 2018, the HubSpot's courses will be updated with new material. I will update this thread accordingly when the changes take effect.
#2 HubSpot Marketing Software
This certification demonstrates your proficiency in the theory and practice of inbound. It tests your knowledge of inbound best practices and your ability to apply those practices using HubSpot to achieve measurable results. After passing the HubSpot Marketing Software Certification, you'll be able to call yourself a HubSpot power user.
2 sections, 59 videos (around 6 hours), 1 certification exam (90 questions, 120-minute time limit).
#3 HubSpot Sales Software
The HubSpot Sales Software Certification demonstrates your ability to execute an inbound sales process using HubSpot's free marketing and sales tools.
2 sections, 35 videos (around 2 hours), 7 optional quizzes, 1 certification exam (50 questions, 75-minute time limit).
Learn how to design on the HubSpot COS (Content Optimization System). This certification is meant for web designers who have, at minimum, an intermediate familiarity with CSS and how it applies to HTML.
1 section, 22 videos (around 3 hours), 1 certification exam (70 questions, 90-minute time limit).
Contextual Marketing helps you tailor your website to the users who are most important to your organization. In the Contextual Marketing Certification, you'll learn how to create a website experience tailored to your users' needs and preferences. The content in this certification is closely tied to who your contacts are and how they're segmented. In order to be successful, you should have at least 500 contacts in your HubSpot Contacts database and should feel comfortable with lead segmentation strategies. You should also have clearly developed buyer personas and content tailored to each stage of the buyer's journey.
1 section, 26 videos (around 2 hours), 1 certification exam (60 questions, 90-minute time limit).
HubSpot's free Inbound Sales Certification features five classes that introduce you to the Inbound Sales Methodology. From identifying potential buyers, to developing outreach strategies, to building personalized presentations, this free certification covers the basics of what inbound sales is all about.
5 sections, 20 videos (around 3 hours), 1 certification exam (60 questions, 75-minute time limit).
In the Growth-Driven Design certification course, you'll learn how to build and optimize a peak-performing website that delivers user value and drives business growth. This includes video training, tools, quizzes, and templates to help you develop a strategy, build a launch pad website, and implement data-driven continuous improvement. In addition to the content, you'll gain access to the global GDD Slack community, where you can ask questions and collaborate with the instructors and thousands of GDD practitioners.
1 section, 34 videos (around 4 hours), 1 certification exam (55 questions, 75-minute time limit).
#8 Growth-driven Design Agency
Deliver better client results and accelerate agency growth by offering Growth-Driven Design services to clients. This on-demand, 5-class course will give you the training and templates needed to start marketing, selling, and servicing GDD with clients. Before starting this course, it is critical that you have already completed the Growth-Driven Design Certification.
1 section, 22 videos (around 3 hours), 1 certification exam (32 questions, 50-minute time limit).
2.4 million emails are sent every second worldwide, but most of them are never opened. This advanced email marketing training course will teach you how lifecycle marketing, segmentation, email design, deliverability, analytics and optimization come together to create an email marketing strategy that grows your business, and your career.
9 sections, 27 videos (around 4 hours), 9 optional quizzes, 1 certification exam (60 questions, 75-minute time limit).
Content marketing is the foundation for executing an effective inbound marketing strategy. This content marketing certification course will teach you how storytelling, content creation, repurposing, and promotion come together to build a content marketing machine that grows your business, and your career.
11 sections, 35 videos (around 4 hours), 10 optional quizzes, 1 certification exam (60 questions, 90-minute time limit).
The Sales Enablement Certification will teach you how to develop a marketing-driven sales enablement strategy. This course was designed with marketing managers in mind, but other marketers, as well as sales leaders, can benefit from learning the principles involved in this approach to sales enablement.
5 sections, 40 videos (around 4 hours), 1 certification exam (60 questions, 75-minute time limit).
About: With our simple success program, you can get your business off the ground by using the most valuable tools and knowledge available to Internet Marketers.
Through these training sessions, this course offers a step-by-step guide to creating a successful website that generates business for you 24 hours a day, 7 days a week. From creating a great website, to driving traffic and converting that traffic, the Launch2Success Internet Marketing Training Program covers the basics every internet marketer must know for their business to take flight
Building an eCommerce site with WordPress (2017 edition)
Podcast & RSS marketing
Keyword research
Email marketing basics
Using Google sitemap
Web design principles (tips for success)
YouTube and online video marketing
Main slogan: The idea is simple – to publish all of our course materials online and make them widely available to everyone.
MIT OpenCourseWare (OCW) is a web-based publication of virtually all MIT course content. OCW is open and available to the world and is a permanent MIT activity.
Through OCW, educators improve courses and curricula, making their schools more effective; students find additional resources to help them succeed; and independent learners enrich their lives and use the content to tackle some of our world's most difficult challenges, including sustainable development, climate change, and cancer eradication
Marketing Courses Examples
#1 – Entrepreneurial Marketing – Sloan School of Management
This course clarifies key marketing concepts, methods, and strategic issues relevant for start-up and early-stage entrepreneurs. At this course, there are two major questions:
Marketing Question:

 

What and how am I selling to whom?
New Venture Question:

 

How do I best leverage my limited marketing recourses?
Specifically, this course is designed to give students a broad and deep understanding of such topics as:
What are major strategic constraints and issues confronted by entrepreneurs today?
How can one identify and evaluate marketing opportunities?
How do entrepreneurs achieve competitive advantages given limited marketing resources?
What are the major marketing/sales tools most useful in an entrepreneurial setting?
Because there is no universal marketing solution applicable to all entrepreneurial ventures, this course is designed to help students develop a flexible way of thinking about marketing problems in general.
#2 – Marketing Management: Analytics, Frameworks, and Applications – Sloan School of Management
This course helps students develop skills in marketing analysis and planning, and introduces key marketing ideas and phenomena, such as how to deliver benefits to customers and marketing analytics. It presents a framework for marketing analysis and enhances problem-solving and decision-making abilities in these areas. Material relevant to understanding, managing, and integrating marketing concepts in managerial situations, from entrepreneurial ventures to large multinational firms, and to consulting is presented.
#3 – NextLab I: Designing Mobile Technologies for the Next Billion Users – Media Arts & Sciences
A hands-on-year-long design course in which students research, develop and deploy mobile technologies for the next billion mobile users in developing countries. Guided by real-world needs as observed by local partners, students work in multidisciplinary teams on term-long projects, closely collaborating with NGOs and communities at the local level, field practitioners, and experts in relevant fields
MOZ – SEO Learning Center
Main slogan: Whether you need the latest advanced tactics, a refresher on the basics, or to start from scratch, this is your home for SEO knowledge.
Moz was founded by Rand Fishkin and Gillian Muessig in 2004. It was called SEOmoz, and started as a blog and an online community where some of the world's first SEO experts shared their research and ideas. They launched the Beginner's Guide to SEO and their first Search Ranking Factors study, and that hub of industry expertise transformed into a small consulting firm and led them to create some of their first SEO tools.
#1 – Search Engine Ranking and Visibility
What is SEO? what is a SERP feature? domain authority, page authority
On-site SEO, on-page ranking factors, title tag, meta description, alt text, duplicate content, robots.txt
Robots meta directives, schema.org markup, HTTP status codes, page speed, conversion rate optimization
Domains, URLs, canonicalization, redirection
#3 – Links and link building
Off-site SEO, internal links, external links, anchor text, backlinks, link equity, MozTrust, MozRank
Local search marketing, local listings and SEO, setting up local business listings, local business categories, claiming local listings
Local citations, duplicate business listings, reviews and ratings, understanding review guidelines, getting reviews
Responding to reviews, building your website, updating listing data, local search terms glossary, prioritizing your review efforts
#5 – Keywords and Keyword Research
What are keywords? exact match keywords, keyword research
#6 – Crawling and Site Audits
The technical site audit checklist, how to perform the ultimate local SEO audit, beyond PageSpeed insights
#7 – SEO Analytics and Reporting
Google search operators, reporting on SEO bootcamp, domain authority, page authority, link count metrics, SEO checklist
Why content marketing? creating successful content, metrics for creating successful content, what content should I create?
#9 – Social Media, Influencer Marketing, and SEO
Creating social media strategy, identifying social channels, measuring social engagement, influencer marketing
International SEO, Hreflang attribute, ccTLDs
Mobile optimization, key strategies and concepts, the mobile content mandate, the truth about mobile-first indexing
Related Resources
Blog, Q&A forum, workshops and training, help hub, free SEO tools, Google algorithm change history
The beginner's guide to SEO
Weekly video lessons on 'Hot' SEO topics, research, case studies, innovation.
The campaign comeback: what to do when content fails, where clickbait, linkbait, and viral content fit in SEO campaigns
How to discover featured snippet opportunities, the #1 reason paid ads fail, how and whether to invest in and structure online communities
What does it mean to write for SEO in 2018? why it can pay to get links from domains that don't always rank highly
This is my favorite destination for all things SEO. I never miss the WhiteBoard Friday episodes.
Oberlo allows you to easily import dropshipped products into your ecommerce store and ship them directly to your customers – in only a few clicks.
50 Ways to get sales with Dropshipping
10 online stores to use as inspiration for your first store
101 eCommerce experts share their secrets
Facebook ads tactics that'll skyrocket sales
The complete guide to marketing channels
The ultimate guide to starting your first eCommerce business
Open2Study provides free, specialized short courses, entirely online, across the world, in a range of subject areas.
Additionally, If you're looking for a recognized qualification such as a bachelor degree or postgraduate course, then you can choose the Open Universities Australia accredited courses. 
Marketing & Advertising
Big data for better performance, online advertising, user experience for the web, writing for the web
Business
Entrepreneurship and family business, human resources, innovation for powerful outcomes, intro to business in Asia
Intro to enterprise architecture, leadership: identity, influence, and power, principles of project management, sports & recreation management
Finance
Diagnosing the financial health of a business, financial literacy, financial planning
Management
Emergency, competitive edge, negotiation and conflict resolution, strategic
There you have it, a whole list of Free online courses to get started with your marketing education. Have you completed any of these courses? Which one is your favorite? Which course should I add to this list? Let me know.

Tasos Perte Tzortzis
Business Organisation & Administration, Marketing Consultant, Creator of the "7 Ideals" Methodology
Although doing traditional business offline since 1992, I fell in love with online marketing in late 2014 and have helped hundreds of brands sell more of their products and services. Founder of WebMarketSupport, Muvimag, Summer Dream.
Reading, arts, science, chess, coffee, tea, swimming, Audi, and family comes first.
The ELITE Marketing Training List
Top-notch marketing education from industry leaders. A carefully selected list only for serious "players"
Best Affiliate Marketing Training
An ELITE list of comprehensive, proven, and tested training programs to turn you into a publisher ninja
Free Online Marketing Training
Quick Navigation
#1 – Click on a tab to open it up
#2 – Click on "Explore"
Some of the links on this page are "sponsored". For more information, I refer you to the Disclaimer page