You want to improve your content marketing performance, understand your customers better, and create remarkable content people love to consume.
We compiled a list of reliable platforms, tools, and software solutions to help you accomplish all of that and so much more.
Streamline your social media and content marketing, discover content, influencers, gain insights, analyze which content performs best, publish and automate processes, engage with followers, fans, and customers, monitor content, plan, distribute, and on and on. 
It's a list we'll be updating frequently.
Let's dive right in!
Content Marketing | Tools & Software
Main slogan: Streamline Your Social Media And Content Marketing. Powerful content marketing and social media management platform for publishers, brands, agencies and, startups who want to share the best content consistently and increase their reach.
Products:
Discover: content discovery, influencer discovery, RSS feed reader, content insights
Publish: composer, planner, automation
Analyze: social media analytics
Engage: social inbox
Solutions:
By business type: agencies, small business, large teams
By use case: content curation, content marketing, social media analytics, social media automation, social media management
Features:
Content discovery:

Monitor content by keywords, topics or sources of your interest. Curate content that drives




engagement on all of your channels,

Save Time Finding Content Gems In Your Industry, Powerful Search And Query Builder, See What's Trending Right Now, AI-Generated Post Captions, Multiple Regions And Languages Supported, Add Custom Sources And RSS Feeds, Full Content Preview
Influencer discovery: Find Influencers On Twitter, YouTube, And Instagram, Unlimited Influencers, Analyze data points, reach out, demographics, engagement stats, niche, location, contact info (roadmap), cost estimation, works for agencies, B2B, B2C.
RSS feed reader:

Follow your favorite content sources and read the best blogs, news, podcasts to instantly share it across social channels from one place,

Add, Follow, And Monitor Your Favorite Feeds, Effortlessly Read Through Heap Of Content,

Facebook, Twitter, LinkedIn, and Instagram,

Bulk Import And History, pocket integration, influencer authentication, feed groups, feed discovery, curated topics, bulk uploading & history
Content insights:

Become a smart marketer with deep actionable insights by understanding key




success factors, finding content gaps, and identifying trends, most engaging social network, top-performing content type, share of sentiment,

Analyze By Historical Activity, Best Performing Day, Top Domains And Authors, Content-Length Analysis
Composer:

Powerful tools to help you create the perfect content for your




blog and social media, multi-channel composer and publisher, get inspiration from content assistant, embed videos, royalty-free images, GIFs, optimize blog posts with SEO assistant,

Translate Or Rephrase Content, Drip-Feed Publishing Sequence, customize posts for each network, enhance reach with post recycling, prime-time posting schedule, post previews, built-in image editor, saved hashtags, Link Shortening, Retargeting Pixels & CTAs, Intelligent UTM Assignment
Planner: manage your content from a single place, Interactive Content Calendar, List-View For Convenience & Details, Team Collaboration & Workflow, Powerful Filters For Effortless Organization, Omni-Channel Content Management
Automation:

Keep your audience always updated with fresh & relevant content,

Hassle-Free & Regular Content Sharing, keyword And Domain Filters, Advanced Filters For Targeted Content, Smart Suggestion, Set And Forget Post Scheduling
Social media analytics:

Gain meaningful insights from social data and create gorgeous reports to




impress clients or team members with data they haven't seen before,

One Section For Your Social Media Analytics Report, Create Beautiful Customized Reports To Amaze Your Clients, Keep Clients Updated With Regular And Automated Reports, Measure And Analyze The Performance Of Your Content, customizable data range, group reports, schedule reports via email, detailed engagement stats, white-label reporting, competitor benchmarks
Social inbox:

Forget about logging into multiple social accounts and manage all of your social media




conversations in a single place and take better care of your customers and followers, Manage social media interactions on Facebook, Instagram, Twitter and Youtube – from one collaborative inbox – in real-time,

High Engagement With Customers, Collaborate with teammates, assignment, collision detection, saved replies, notes, advanced filters, notifications, search, user history, on-the-go managemen
Other departments and resources: integrations, startup program, blog, compare, help center, changelog.
Plans: 
Pro: solo marketer, $49/mo or $39/mo billed annually
Small: business & agency, $99/mo or $79/mo billed annually
Medium: business & agency, $199/mo or $159/mo billed annually
Large: business & agency, $299/mo or $239/mo billed annually
There's a 14-day free trial period. The annual plan gives you 2 months for free. 
About: Waqar Azeem, CEO, Co- Founder. Muhammad Azhar, CTO, Co-Founder. 20M+ posts created, 207K+ social profiles connected, 23.5K+ automation campaigns created, 60K+ customers, 30 employees, 5 years in business. 
Main slogan: Boost Your Marketing with Interactive Content. Use Outgrow's simple, no-code tools to acquire qualified leads.
Products:
Calculators:

Use Outgrow To Make ROI Calculator, Pricing Calculator, Growth Calculator, Website Calculator, etc.

Quizzes: branded, funnel analytics, branching logic, smart builder, graphs and charts, embed anywhere, boost marketing, integrations, support
Surveys:

Build Engagement Survey, Customer Satisfaction Survey, Product Awareness Survey, etc

Chatbots: website pricing page, lead qualifier, lead generator, website/service explainer, customer satisfaction surveyor, out-of-office information, and more
Assessments: English language test, IQ quiz, calculate your IQ, IQ tests, German language test, the BMI certified IQ test, and more
eCommerce recommendations:
Polls: various solutions
Features:
All layouts are heavily optimized for: conversion, engagement, multiple screen sizes, different browsers, share rates
Branding: your logo, your colors, your assets, your fonts, your style
Funnel analytics: conversion rate at each stage, section and question-level funnel charts, detailed analytics for each user
Branching logic: unlimited branches for each question, and/or logic, send to a specific question or result
Conditional messaging: different messages for different results, unlimited result conditions, add images, videos to each message
Smart builder accelerates developments to minutes: text input, single and multi-select, numeric slider, opinion scale, rating, date/time picker, file upload, and more
Graphs and charts: line, pie, tables, bar, radar/polar
Embed anywhere: full screen, iFrame, popup, chatbot
Close the marketing loop: personalized confirmation emails, dynamic text, segment leads & assign to different campaigns
Generate new targeted leads: flexible lead gen, optimized for conversion, multiple form field options
Improve social footprint: add share call-to-action, embed like & follow buttons, share on social
Over 1000 integrations
Teams, agencies
Support
SSL secure
Other departments and resources: templates, support, partners, wall of love,  increase conversions, increase ROI, increase sales, blog, certified partners, idea generator, intern with us, marketing trends, marketplace, podcast, webinars, careers.
Plans:
Free (covid offer)
Freelancer limited: $22/mo or $14/mo billed annually
Freelancer: $45/mo or $25/mo billed annually
Startup SpL: $85/mo or $55/mo billed annually
Essentials for teams: $115/mo or $95/mo billed annually
Business for teams: $720/mo or $600/mo billed annually
Custom for enterprise, agency: contact the sales team
About: Pratham Mittal, co-founder, Randy Rayess, co-founder. 50+ team members, 50,000+ calculators, 150+ countries. 401 Park Ave, 10th Floor New York, 10016.
Main slogan: Content Marketing Platform. Centralize and automate every aspect of your content operation: from strategy mapping and editorial line selection, to the creation, distribution and analysis of your results.
all. in. one. place!
*previously known as contenttools.
Features:
Document your strategy:

Map our persona description, buyers stage, keywords, tags, tone of voice and connect those with your content.

Editorial line:

Suggest and receive suggestions of content ideas, approve it and schedule the starting date of the production

Produce content:

Choose your content types, templates, workflows, deadlines – and after connecting all the dots, create your content.

Publish and distribute:

Drag-and-drop editorial calendar integrated with blogs and social media, you can schedule and publish your pieces automatically.

Analyze and improve: Analytics integration digest your traffic data, cross-match with your mapped audience and gives you daily insights of opportunities

Marketplace: +2k certified content professionals at your disposal to be filtered and hired on-demand by your team whenever needed.

Worksflow: Create as many steps as needed for each content, set deadlines for each stage, assign the responsible, set subtasks and let it play out

Access control: Define the types of users in your team and their level of permission, controlling precisely what each actor can or can't do/see.

API: Want to distribute your content on WordPress, or your in-house-built CMS, or in your company intranet or anywhere? Our API will do the job

Data storage: Want to upload long-form videos, company PDFs, large documents, a repository of images, your branding guide? We've got you covered.
Plans:
You can watch a live demo and contact them for more details.
Other departments and resources: experiment (software solution for growth teams), growth services, community, university, conference2020 & 2021.
Related:
About: Our mission is to help companies ignite sustainable growth using the cross-functional, value-based approach proven effective by today's fastest-growing companies such as Facebook, Airbnb, Amazon, and Netflix. We help companies rethink and transform their approach to growth through the following solutions.
Sean Ellis – CEO: After igniting growth for Dropbox, Eventbrite, LogMeIn, and Lookout – each now worth billions of dollars, Sean coined "growth hacking" as the approach he used.
Main slogan: Having trouble promoting your content and getting more organic traffic to your website? Respona is the only content marketing platform you need for content promotion and getting more eyes on your blog posts.
Content Marketing Platform Features:
Find high-quality content:

From blogs, to podcasts, to influencers, and more, you'll never run out of opportunities to choose from. Use Respona's live search engine to curate the best content that is relevant to the content you are looking to promote

Construct email campaigns:

Streamline your content marketing process by setting up an outreach template that fills in the blanks for you. Use variables to expedite personalization while setting up automated follow-ups in case your initial outreach slipped through the cracks.

Get contact information automatically:

No need for any manual research here! Answer a few questions to set up Respona's campaign contact automation and just let it run. With the help of AI, all the data mining is done for you to find and verify direct email addresses for your opportunities.

Build awareness through personalized pitches: Why not add some of your recipient's own content into your message? Hyper-personalize each message with summary snippets, scraped straight from the opportunities, to really stand out. Add a human touch to your marketing strategy with unique author profiles which allow you to connect with your recipients via multiple channels and touchpoints
Let respona do the bulk of work: Respona will take care of the outreach while you can sit on the sidelines and still call the shots. Manage each campaign with custom reports to follow delivery, open, reply, and bounce rates. Add opportunities at any time so not a single piece of content feels left out content marketing strategy.
Other products:
Link building: find outreach opportunities, create email campaigns, find direct email addresses, deeply personalize each pitch
Public relations (PR): find press opportunities, create email campaigns, find direct email addresses, deeply personalize each pitch
Outreach: simply import leads, build sequences with follow-ups, automate the search for contacts, personalize pitches instantly
Influencer marketing: find relevant influencers, build email campaigns, automatically find contact info, keep your pitch relatable
Cold email: easily import your leads, create email drip campaigns, automate the search for contacts, personalize messages in seconds
Blogger outreach: increase your site traffic with brand mentions, build relationships for future opportunities, earn high-quality backlinks to improve your search rankings
Plans:
Standard: $145/mo or $95/mo billed annually
Custom: starting at $299/mo or $245/mo billed annually
You can request a demo for both versions. There's also a 30-day money-back guarantee.
Other departments and resources: blog, access.
Plans: 
Pro: solo marketer, $49/mo or $39/mo billed annually
Small: business & agency, $99/mo or $79/mo billed annually
Medium: business & agency, $199/mo or $159/mo billed annually
Large: business & agency, $299/mo or $239/mo billed annually
There's a 14-day free trial period. The annual plan gives you 2 months for free. 
Main slogan: Software to align your content strategies alongside the customer journey. Plan, produce, distribute, and analyze your marketing content —all in one place.
Features:
Build seamless customer experiences through content and a unified voice

Find the place where content and business strategy can come together.

Discover where the real content marketing magic happens

Align marketing with sales

Anchor your strategies to support business objectives and prove ROI.

Build a seamless content stack.

Produce and distribute across various platforms: Marketo, Eloqua, Salesforce, Office 365, Google Drive, Box, Adobe Experience Manager, Domo, Google Analytics, Hubspot, Sitecore, WordPress, Drupal, Seismic, Savo, Sprinklr, Hootsuite, LinkedIn, Facebook, Twitter, Social studio

Plan, analyze, and distribute

Content journey orchestration

Message unification

Strategy alignment
Other products: business operations, contact center, HR & legal, IT, marketing, project management, sales:
AccuRoute, Adestra, Altify
Cimpl, ComSci, Eclipse PPM
FileBound, InGenius, Intelligent Capture
InterFAX, Localytics, Mobile messaging
PostUp, PowerSteering, PSA
Qvidian, Rant & Rave, RightAnswers
RO Innovation, Ultriva
Other departments and resources: training, success stories, webinars, blog, videos, careers, investor relations.
About: 800+ global employees. Frost Bank Tower, 401 Congress Avenue, Suite 1850, Austin, TX 78701-3788, USA.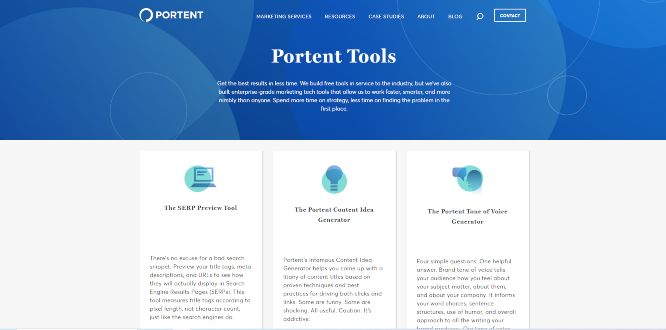 Main slogan: Get the best results in less time. We build free tools in service to the industry, but we've also built enterprise-grade marketing tech tools that allow us to work faster, smarter, and more nimbly than anyone. Spend more time on strategy, less time on finding the problem in the first place.
Products:
The SERP preview tool:

There's no excuse for a bad search snippet. Preview your title tags, meta descriptions, and URLs to see how they will actually display in Search Engine Results Pages (SERPs). This tool measures title tags according to pixel length, not character count, just like the search engines do.

Content idea generator:

Portent's infamous Content Idea Generator helps you come up with a litany of content titles based on proven techniques and best practices for driving both clicks and links. Some are funny. Some are shocking. All useful. Caution: It's addictive.

Tone of voice generator:

Four simple questions. One helpful answer. Brand tone of voice tells your audience how you feel about your subject matter, about them, and about your company. It informs your word choices, sentence structures, use of humor, and overall approach to all the writing your brand produces. Our tone of voice generator will help you communicate better.

SEO page review chrome extension: An SEO that lives in your browser? Portent's SEO Page Review Chrome Extension is a lightweight browser add-on that reviews basic onsite SEO elements. It pulls the essential elements like Title Tags, Meta Description, Canonical tag, HREFLANG tags, on-page links, Open Graph, Twittercard, and all other meta data so you can quickly view the elements on the page.

RainCage – digital marketing diagnostics: Evaluate your entire online marketing platform in one fell swoop from on-page SEO, to content, and more. Our proprietary toolset, RainGage SEO, provides a complete inventory of your site and your digital marketing presence. Spend less time on diagnosis, and more time on strategy.

Click worth calculator: What's a click really worth to your website? No matter if you run a lead-based business or retail-based business, you can find the secret to the almighty ROI and break-even question with the Click Worth Calculator.
Other departments and resources: services, case studies, blog, guides, eBooks, working at portent. 
About: Portent is a full-service digital marketing agency with offices in Seattle, Washington and Salt Lake City, Utah. Founded in 1995.
Main slogan: Find the content that performs best. Collaborate with the influencers who matter. Use our content insights to generate ideas, create high-performing content, monitor your performance and identify influencers.
Features:
Content discovery
Content research
Find influencers
Monitoring
Chrome extension
API
Content discovery: Infinite ideas at your fingertips. Spark content ideas by browsing topics, trends and forums. BuzzSumo shows you what's going down and what's rising up.
Keyword tool: generate thousands of relevant keywords, monthly search volume, cost per click, search trends, full insights
Trends:

Access real-time views of viral trends for any topic, domain or location, predict viral hits, rela-time results, geograohic filtering, custom feeds

Topics: Related topics alongside real content examples kickstart your research, identify keywords, content examples, dig deeper, think different

Questions: Search millions of forum posts, Amazon, Reddit, Quora and Q&A sites, genuine questions, Reddit search, forum search, customer voice
Content research: scan billions of articles and social posts so you can harvest meaningful insights.
Data-powered content: 5 billion articles, identify top formats, competitive benchmarking, years of data
Backlinks:

Peek at the websites linking to key domains and competitor sites, social engagement, instant alerts, realtime updates, export
Find influencers: Look past vanity metrics to uncover truly influential leaders. Identify authors and creators with engaged audiences and genuine authority on Instagram, Twitter and the web.
Twitter: meaningful metrics, millions of profiles, competitor analysis, power shares
Authors with authority: engagement first, search by size, language filter, domain analysis
Chrome extension: Research content as you go. 20,000+ marketers have used the free BuzzSumo Chrome Extension to instantly reveal the social shares, links and influence of content
Get the measure of your competitors in an instant
Save tons of time on content research
Pocket great content to discuss with your team later
Examine any piece of content that exists online
Other departments: 
Use cases: competitor intelligence, content strategy, crisis alerting, digital PR, influencer marketing, video marketing
Resources: research and insights
Blog
Testimonials
API docs
Webinars
Help
Plans:
Pro: $99/mo or $79/mo billed yearly
Plus: $179/mo or $139/mo billed yearly
Large: $299/mo or $239/mo billed yearly
Enterprise: $499+ custom plans tailored to you
Online reviews:
G2: 80 reviews, 4.5/5
Capterra: 123 reviews, 4.5/5
TrustRadius: 57 votes, 8.9/10
GetApp: 123 votes, 4.5/5
SoftwareAdvice: 122 reviews, 4.5/5
About: BuzzSumo Ltd. Sovereign House, Church Street, Brighton, BN1 1UJ | Company number: 11796969 | VAT number: 316 140 051.
The Blog Post Ideas Generator
Main slogan: Ready to Serve When Your Brain is Out of Service.
What it can do for you: helps inspire bloggers in creating fresh, enticing, clickable content. While clicking on 'generate blog post idea' you can get an idea about what you can write. In our blog post ideas generator, we have more than 300 blog post ideas for you.
About: Matthew Loomis launched Build Your Own Blog to serve people and online businesses searching for a smooth blog setup that points them in the direction of long-term success.
Main slogan: There's a better way to grow. Marketing, sales, and service software that helps your business grow without compromise. Because "good for the business" should also mean "good for the customer."
Marketing hub products:
Blogging:

Publish relevant, engaging, conversion-optimized content with tools that speed up creation, keep formatting consistent, and make it easy to optimize for search

Landing pages:

Launch landing pages that look perfect across devices, add forms optimized for completion in one click, and automatically change content based on who's viewing your page

Email:

Create stunning email templates, automatically personalize subject lines and content for each recipient, and run A/B tests to improve open rates and clickthroughs

Marketing automation:

Let your leads find their own path to purchase to close more deals. With marketing automation, you can use each lead's behavior to tailor emails, content, offers, and outreach at scale

Lead management:

Access each contact's information and see every interaction you've already had. Use this data to create hyper-targeted campaigns that close more deals

Analytics:

Gain insight into your entire customer journey to see which marketing assets are working the hardest. Use multi-touch revenue attribution to show how marketing impacts the bottom line

Partitioning:

Separate all your marketing assets by team so every user has access to the right content

Social media:

Monitor brand mentions and relevant conversations, track engagements automatically, and schedule your social posts to be published when the right people will see them

SEO:

Plan your content strategy around topics that will elevate your authority in search engines, get as-you-type optimization advice as you're creating content, and measure real SEO ROI with integrated analytics

Calls-to-action:

Design CTAs visitors can't help but click, know who clicks which CTAs, and measure performance to optimize clickthrough rates over time

Ads:

Track the ROI of your Facebook, Instagram, LinkedIn, and Google advertising with precision, and stop struggling to justify your paid ad spend

SalesForce integration:

Bi-directional sync with Salesforce means a record of every email open, CTA click, and form submission is at your fingertips. Use this data to score leads and create segmented lists
Other products:
Free CRM tools: contact management, contact website activity, companies, deals, tasks & activities, company insights, gmail and outlook integration, app marketplace integrations, custom support form fields, prospects, ticketing, forms, ad management, conversations inbox, reporting dashboard, email tracking & notifications, email templates, canned snippets, documents, calling, meeting scheduling, messenger integration, custom properties
Free marketing tools: forms, email marketing, ad management, landing pages, conversations inbox, list segmentation, team email, live chat, conversational bots, mobile optimization, reporting dashboard, messenger integration, custom properties, mobile app, form follow-up emails
Free sales tools: live chat, conversational bots, team email, quotes, calling, email scheduling, email tracking & notification, conversations inbox, email templates, canned snippets, documents, meeting scheduling, reporting dashboard, deal pipeline, messenger integration, custom properties, mobile app
Free service tools: ticketing, live chat, email scheduling, conversations inbox, calling, conversational bots, team email, canned snippets, email templates, meeting scheduling, tickets closed reports, rep productivity reports, time-to-close reports, reporting dashboard, email tracking & notifications, documents, messenger integration, custom properties, mobile app
Sales & CRM: organize sales processes, connect with prospects on their terms, track, iterate, improve, manage your growing team, personalize your outreach at scale, configure, price, quote, customiza to match your business, extend administrative controls, coach and enable at scale
Customer service: organize and track customer communications, maximize productivity, measure efficiency, delights customers at scale, help customers help themselves, measure and improve customer experience, deliver exceptional service, consistently, manage multiple teams & businesses, enable self-service at scale
CMS: build remarkable web pages, grow traffic & convert leads, secure your website, build powerful web app experiences, gain governance at scale, extend your brand
Marketing hub plans: 
Free
Starter:

€46

/mo or

€41

/mo billed annually

Professional: 

€823

/mo or

€740

/mo billed annually

Enterprise: starts at

€2,994
There's a free 14-day trial period. There are also bundles of tools and solutions.
Other departments and resources: app marketplace, asset marketplace, solutions directory, academy, product updates, training & services, careers, investor relations, blog, customer support, partners, for startups.
About: As fellow graduate students at MIT in 2004, Brian and Dharmesh noticed a shift in the way people shop and buy. Consumers were no longer tolerating interruptive bids for their attention — in fact, they'd gotten really, really good at ignoring them.
From this shift, a company was born: HubSpot. It was founded on "inbound", the notion that people don't want to be interrupted by marketers or harassed by salespeople — they want to be helped.
The Ultimate List of Multimedia Resources
Regular Updates
Images, Graphics, Audio, Video, Animation, Themes, Plugins, Code, Apps, Education, Jobs, Buy & Sell Art
Main slogan: Great Writing, Simplified. Compose bold, clear, mistake-free writing with Grammarly's AI-powered writing assistant. Beyond Grammar and Spelling. From grammar and spelling to style and tone, Grammarly helps you eliminate errors and find the perfect words to express yourself.
Grammar check features:
Check grammatical errors
Incorrect punctuation
Spelling errors
Misused words
Enhace your writing
Works on:
Emails and messages: gmail, outlook, messenger, yahoo, and more
Documents and projects: slack, google docs, jira, salesforce, and more
Social media: medium, facebook, twitter, linkedin, and more
Plans:
Free:

Basic writing suggestions, spelling, grammar, punctuation

Premium: starting at $11.66/mo – Style, clarity improvements, and additional advanced corrections. All in free plus clarity-focused sentence rewrites, tone adjustments, inclusive language, word choice, formality level, fluency, additional advanced suggestions

Business for teams: starting at $12.50/member/mo – All in premium plus style guide, admin panel, centralized billing, priority email support, SAML SSO (for accounts with 50+ users)
Other departments and resources: @edu, desktop apps, keyboard, for MS Office, product feature news, tone detector, plagiarism checker, help center, security, careers and culture, blog, tech blog, press.
Online reviews:
TrustPilot: 2,300+ 4.3/5
SiteJabber: 877 reviews, 3.9/5
Capterra: 2,800+ reviews, 4.7/5
G2: 939 reviews, 4.6/5
TrustRadius: 44 votes, 9.2/10
About: Every day, 30 million people around the world use our AI-powered product to strengthen their writing and say what they really mean. 400+ team members, 2,000+ institutions and enterprise clients, 30M+ daily active users. Max Lytvyn, Alex Shevchenko, and Dmytro Lider founded Grammarly in 2009 with the goal of helping people communicate more effectively.
Work Management Tools
Regular Updates
Main slogan: checks the grammar of your texts and finds spelling mistakes. Avoid copy-pasting and keep the formatting of your original texts. 
Departments: 
Grammar check
Dictionaries
Grammar rules
API
Extensions
Features:
Options: spellcheck, show solutions of unknown proper nouns, autocorrect after pasting a text, font size of the document
Color key: grammar, verbs, suggestion, typography & punctuation
Actions: copy, paste, clear, export, print, share
Try our sample: style (redundancies, words repetition, rephrase, vocabulary enhancement, subjectivity, sentences, language registers), synonyms, statistics (words, sentences, paragraphs, characters, avg words per sentence, avg syllables per word, readability, reading time, speaking time, sentences, word pattern occurrence, dual-triple-word phrase frequency, avg syllables per word)
Dictionaries: search, definition, conjugation, synonyms
Grammar rules: verbs, homonyms, misc, typography, part of speech
Extensions: for internet (

Email: Gmail, Hotmail, Outlook.com, Yahoo, etc.




Social networks: Facebook, Twitter, LinkedIn, Instagram, etc.




Sites with text zones: WordPress, blogs, forums, forms, etc.), for office automation (Office, LibreOffice, OpenOffice, Google docs, sheets, and slides, Office 365)
Plans:
Free: correction, explanation, dictionaries, style
Premium: extensions, capacity, ad-free – 1-month €9.90, 3-months €19.90, 1-year €49.90, business pack – Use Scribens Premium on several different machines, You benefit from a significant reduction per machine.
200+
Business & Marketing Tools Collection
Work management, tracking, organizing, payments, accounting, Google, keyword, market, and competition research, SEO, analytics, and related, marketing & advertising, web development, website monitoring, domains & website hosting, coding, and related, design & multimedia, marketplaces, entrepreneurial communities, hiring & outsourcing.

Main slogan: check grammar and spelling for English texts. Get all Reverso tools in one click. Translate directly in your browser. This tool enables you to correct the most cumbersome mistakes, with a high degree of accuracy and speed, and to improve your written English.
Features:
English, French
Synonyms
Recommendations
Search
Definition
Conjugator
Grammar
Online grammar: translation, context, dictionary, conjugation, synonyms
Irregular verbs: translation, context, spell check, synonyms, translate documents, grammar, dictionary, expressio
Adjectives and adverbs: article, syntax, verbs conjugation, English spelling
Conditional clause
Other departments: corporate translator, language barriers, web translator, IBM connections, translation technologies.
About: Reverso Corporate Translator, the web-based solution for enterprises, powered with Artificial Intelligence, is the leading instant translation platform that significantly improves communication and collaboration among global teams, their clients and suppliers worldwide. 
45M+ monthly users, 5M+ active corporate users, €30M_ invested in R&D, 12M+ apps downloaded. Reverso Technologies Inc.
Cloud Backup, Storage, Hosting
Reliable Services
Main slogan: Instantly Enhance Your Writing. LanguageTool's multilingual grammar, style, and spell checker is used by millions of people around the world.
Features:
Distraction-free writing experience
Personal dictionary
Quality scoring for your texts
Texts are securely stored
Access even more suggestions with the "picky mode"
Browser add-on: works anywhere
Integrates with your favorite office program: Google docs, Microsoft word, OpenOffice, LibreOffice

Go well beyond grammar and spell checking, and impress with clear, precise and stylistically correct writing

Languages: English, German, Spanish, French, Portuguese
Plans:
Free: for beginners, basic grammar, punctuation, and style checking, 10,000 characters per text 
For individual users: €3.93/mo or €47.20/year, enhanced grammar, punctuation, and style checking, 60,000 characters, tone and style suggestions, detection of incorrect names and titles in emails, incorrect numbers
For teams: €7.87/mo or €94.40/year, plus user management
For businesses: contact them for a free trial
Proofreading API: €29/mo, 250 calls, 4 more plans
Other departments: open-source development, help center, community, source code, careers.
About: It all started in 2003 as an open-source project that attracted many contributors, fans and followers, and over time turned into a service that helps millions of users every day to improve their writing.
Daniel Naber – co-founder, Christopher Blum – co-founder.
30+ languages supported, 1M+ active installations of add-ons, 143 people contributed to the technology, 150+ companies using the language tool, 15M+ texts are improved every day.
Online Marketplaces
The Ultimate List
(Buy and Sell Products)
Main slogan: check grammar to bring perfection in writing.
Products:
Text analysis: grammar check, plagiarism checker, paraphrasing tool, word counter, spell check, MD5 generator, change text case, merge words, image to text, translate English to English, text to speech, reverse text generator, small text generator
Image tools: reverse image search, compression, favicon generator, resizer, crop, convert to jpg, RGB to hex, video to gif converter
Keyword research: keyword position, keyword density checker, suggestions, for websites, find keyword-rich domain, LSI keywords, long-tail keywords, competition, competitors, live analysis, meta tag analyzer, meta tag generator, difficulty, overview, PPC keywords
SEO backlink: backlink checker, backlink generator, backlink counter, link price calculator, reciprocal link checker, website link analyzer, broken link checker, backlink tracker, broken backlink checker, valuable backlink checker, competitors
Website management: SEO score checker, Google PR checker, pinging tool, page speed checker, webpage size checker, webpage snooper, website hit counter, XML sitemap generator, URL rewriting tool, screen resolution simulator, UTRL encoder-decoder, AdSense calculator, OG checker, OG generator, QR code generator, Htaccess generator, get HTTP header, Twitter card generator, internet speed test, WP-theme detector, instant search suggestion, AVG antivirus checker, screenshot capture, email privacy, mobile-friendly test, CSS minifier, HTML minifier, JS minifier, robots txt generator, URL shortnererHTML viewer, HTML editor, HTML formatted, PHP formatted, XML formatted, online text editor
Website checker: server status, code to text ratio checker, Alexa rank comparison, page comparison, spider simulator, comparison search, Google cache checker, whois checker, Moz rank checker, page authority checker, Google index checker, Alexa rank checker, redirect checker, similar page checker, cloaking checker, Google malware checker, find Facebook ID, check Gzip compression, SSL checker, Pokemon go serve status, blog finder tool, apps rank tracking, what is my browser, social stats checker, check indexed pages, anchor text distribution
IP tools: what is my ip, IP location, free daily proxy list, reverse IP domain, class C IP checker, GEO IP locator, check referring IPs
Domain tools: domain age, domain authority, domain IP lookup, domain hosting checker, find DNS records, domain name search, domain to IP, backlist lookup, find expired domains, bulk domain rating
Password manager: password encryption utility, password strength checker, password generator
PDF tools: pdf to word, word to pdf, pdf to jpg, jpg to pdf, rotate pdf, compress pdf, split pdf, power point to pdf, excel to pdf
Development tools: Json viewer, Json to XML, Json beautifier, Json validator, Json formatted, credit card validator
Unit converter: length converter, temperature conversion, area converter, byte converter, torque converter, voltage converter, power converter, pressure conversion, speed converter, volume conversion, time converter, weight conversion, roman numerals data converter
Binary translator: binary to text, to hex, to decimal, to ASCII, hex to text, hex to decimal, hex to binary, text to hex, text to ASCII, text to binary, ASCII to binary, ASCII to text, decimal to binary, decimal to hex
Online calculators: probability, age, percentage, margin, GST, average, sales tax, confidence interval, paypal fee, LTV, CPM, discount, earnings per share
Grammar check features:
Types and numbers of errors found
Auto-correct after pasting a text
Punctuation checker
Sentence correction
Proofreading
Countries
Languages
Other departments: testimonials, blog, banners, FAQ.
About: The DupliChecker.com team comprises of experts in different fields, all with the same primary focus: helping our clients generate greater business by use of online services. Since 2006, we have delivered over 1 000 000 pages of high-quality content which attracts large amounts of traffic to our client's websites.
Main slogan: Meet the cloud-based content audit platform made for content strategy. Inventory, audit, and analyze your online content. Identify gaps. Map your strategy. Keep your business goals and customer experience on the right path.
Features:
Centralize your content

Analyze and audit content

Launch a plan of action

Create an inventory

Plug in analytics

Share the results

Audit all the things
Who is it for:
Agencies and consultants

In-house web teams
Other departments and resources: blog, guides.
Online reviews:
Cusperra: 43 reviews, 4/5
About: 4211 Glass Road, North East Suite A, Cedar Rapids, IA 52402, United States. A product of Atlantic BT.
Catalogs, Directories, Lists
Marketing & Business Training
We Teach
Marketing &
 Business
Live on Zoom
Your host: Tasos Perte Tzortzis
Schedule an interview so we can evaluate where you are right now, your needs and goals, and we'll give you a detailed analysis of how the workshops work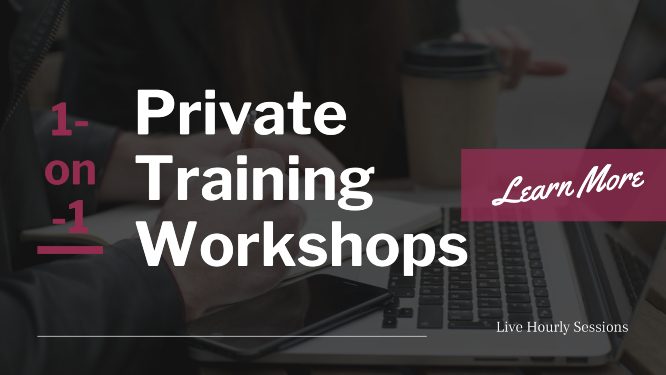 This is just the beginning of an extended catalog. I will keep the thread updated frequently.
In the meantime, check out the other related resources we have in store for you.
Do you need help creating exceptional content your ideal prospects and customers would love? Do you need help with your marketing campaigns?
Schedule a free video-call interview to help us understand where you are at your business right now, your needs and goals, and we will give you a detailed analysis of how we work. Then, we'll create the first campaign for you for free to prove we can get you results.
That's it, another article has finished, here on Web Market Support. I'm waiting for your comments and thoughts. Which solution is the most promising? Which one should I add? Till next time.

Tasos Perte Tzortzis
Business Organisation & Administration, Marketing Consultant, Creator of the "7 Ideals" Methodology
Although doing traditional business offline since 1992, I fell in love with online marketing in late 2014 and have helped hundreds of brands sell more of their products and services. Founder of WebMarketSupport, Muvimag, Summer Dream.
Reading, arts, science, chess, coffee, tea, swimming, Audi, and family comes first.