Are entrepreneurs any different? Then, what makes them unique? Can we discover common traits that define them?
Yes, I clearly notice common characteristics in the majority of them. Not every entrepreneur is the same, but some patterns are obvious.
For example, there are organized and non-organized entrepreneurs that both can get awesome results and reach the masses with their message.
If you want to become one or if you want to improve in all areas of life and business, study these traits carefully. And even you aren't an entrepreneur and you just want to impress your boss or to get a promotion, this guide will help you.
Common Characteristics of Successful Entrepreneurs
Risk-Takers/Being Courageous
This is the most important characteristic. You can't really progress as an entrepreneur if you don't take massive action. You can't wait for the perfect moment in time or the perfect opportunity to knock on your door, you gotta seize the day and take some risks. Without risks, experiments, and failures along the way, you can't reach new levels of success.
The world needs you and your ideas today.
But entrepreneurs also know their limits, they can't just risk everything for something that might not return results, there should be a line that should not be crossed. Usually, they take calculated risks.
This is what defines successful business owners. 
And at some point, you'll have to deal with dilemmas, problems, and issues…you need to move forward. 
Being courageous is what will help you. 
This is the right mindset, being courageous. But…also we don't want to cross the line, we don't want to suicide as business owners, we need to take calculated risks. 
The Harvard Business Review mentions that in business, courageous action is really a special kind of calculated risk-taking. Business courage is not so much a visionary leader's inborn characteristic as a skill acquired through decision-making processes that improve with practice. 
It's a skill, you can become better by practicing and you'll improve as a business owner over time. 
Innovating does not always mean inventing something new. Just a new perspective of doing things or a new angle in your products and services might lead to innovative ideas.
The most successful entrepreneurs come up with their own ideas, they don't just copy what others do. Of course, they are getting inspired and influenced by others, but they also add their personal touch.
Innovation, experiments, and inventions lead to progress. Progress is also created by competition. If there's no one to compete with, progress may slow down or even immobilize.
They jump from idea to idea until they hit gold. They experiment a lot. they know that not all ideas will work out the way they wanted them to work but they do not give up. But they are also selective, they don't just follow every idea that comes in their way.
They create new products and services and improve their current product line to satisfy the changing needs of their customers.
They also create opportunities and success for others and for themselves.
If you're not creative, you can't survive in the competitive marketplace. On the other hand, if you're constantly creating new things and implementing new ideas, you improve, you're reaching new audiences and discover emerging trends and markets, and so you're getting noticed.
Action Takers/Highly-Motivated
Entrepreneurs can't wait. They take action immediately. Their inner strength and power are unlimited. They are also very good at motivating others, their team members, and partners. They want to succeed no matter what happens around them. They implement new ideas right away to test them out and collect data.
They are committed and they want to create something amazing that the world remembers, this alone is enough to keep them doing and moving forward forever.
This 'mindset' is their secret weapon.
They definitely do not procrastinate. As risk-takers, they know that a decision has to be made today, not tomorrow. They make decisions under pressure, any time of the day, and they always evaluate their actions.
These are the ones that others seek advice and help with their decisions. 
They are aware of time limitations. They know that tomorrow might not be the same. This way, they push themselves into producing more and more and they produce more than they consume. They don't care if it's Christmas, Easter, or their birthday. Every day is a chance for improvements.
And they give the best of themselves when they produce. They are like machines and they usually sleep way less than other people and professionals.
They take full responsibility for their actions and decisions. They do not complain. They do not blame others for their failures or mistakes. 
They accept their mistakes and move forward. They know that there is always time to make things up, to fix them. They know these signs are just pieces of the puzzle.
Successful leaders are disciplined. And discipline comes with a set of benefits. 
It helps leaders eliminate distractions thus increasing the chances of reaching their goals.
Discipline acts as a motivational factor and leads to better and wiser choices, a positive outlook, emotional stability, and even health and wealth.
Discipline brings balance between business and life and helps bridge gaps.
They are focused on the marketplace, the needs of their customers and clients, and their problems. They provide solutions to make the lives of their customers easier.
And they want to provide as much value as they can. So what is value? Different people value different things. Entrepreneurs are interested in learning what other people value, their desires, aspirations, needs, and wants.
And they create products and services to satisfy those needs.
To be successful in the marketplace, entrepreneurs should be able to recognize people's needs, wants, aspirations, and problems. You need to listen and listen carefully. You need to get feedback from the market for your actions. Only then, you'll be able to provide solutions everyone loves.
They also listen to their partners and they take care of their problems whenever possible, they listen to competitors and how they position themselves in the market, they listen to everything.
Any information is valuable.
They lead instead of following. They enjoy administration, management, and giving directions.
That doesn't mean they are cruel and savage.
They discern people's abilities and they discover new talents wherever they are. 
And as leaders, they recognize ambitious, dedicated, and people with entrepreneurial characteristics and they reward them.
They are flexible and they are prepared for changes, failures, mistakes, events that may change the situation and the trends in the market. They are open to new ideas and they usually invite their team members and partners to come up with their own ideas. They capitalize on opportunities that may come their way. They are always on the lookout for something new and they strive to improve everything.
They want to improve and scale in every area of their business, whether it is production, marketing, sales, or customer service.
They are adaptable to changes and they also create space, new environments where their ideas will have the chance to shine.
Curiosity is one of the most powerful forces, fuels progress, innovation, and creativity, and helps us learn and grow. That's why you should start asking questions in your business and life.
Curiosity didn't kill any cat. It's just a myth because they don't want you to learn and grow.
And if you're not curious, you can't really innovate in your business. So, keep researching the market, people's needs, and let your creativity juices flow so you can come up with BIG IDEAS in your business. Big ideas? it's the second phase in our methodology, the "7 Ideals". And without those big ideas, we can't really build the base of a thriving brand and that's especially true in the new version of the web, Web 3.0.
They constantly educate themselves and study other successful leaders, entrepreneurs, and companies. Knowledge is their fuel to become competent in the marketplace. The read, practice, and take action. They also learn from their failures and mistakes. They study their mistakes so they can improve and become better versions of themselves, They learn by listening to the feedback from the market. 
Wherever they are, they stand, they always observe things. They have their eyes and ears open. They often spy on people's conversations and on their competitors. To learn as much as they can. 
They are not only learning constantly, they put theory into practice right away.
They implement things and they practice to hone their skills.
They practice mastering the leadership game.
They don't just practice to get things right, they practice until they can't get things wrong in all areas of business and life.
There's a huge difference.
They often proceed with collaborations, joint-venture partnerships, and they hire the best people for their team. They know the importance of working with others as their dream is to grow their companies.
They recognize the power of unions and what a group of highly-successful people can do if they join forces.
So, they take notes all the time and they seek out potential partners and high-performing individuals that may cross paths with them.
They support people around them, in their organization, team, family, or network. 
And they take this role very seriously.
They support people financially as benefactors, morally as supporters, they give good advice and direction as mentors, and they give love like parents and family members.
They know that when they support others through transitions and transformations, they become a raw model, and those who they supported are now going to support others thus they help make this world a better place.
It's a virtuous cycle.
All leaders are self-confident. They know their superpowers and this is reflected in every move they make.
They know that other people can count on them and they are ready to assist whenever it's necessary.
But there's a fine line that successful entrepreneurs don't cross. 
They are confident, yes, but not extremely confident.
Leaders know that they make mistakes too and they always seek feedback and they evaluate their own actions as well.
This leads us to the next trait.
Leaders know well that in order to leave their own legacy, it's important to constantly improve in all areas of business and life.
To do that, they look at themselves and are critical.
They know there's always room for progress, they are examining themselves regularly.
By evaluating their own actions, behavior, and accomplishments, they get insights into what's possible, what needs to be changed, and what to do next.
Analyzing their mistakes, they learn from experience and grow.
They reconsider everything and they enter a state of renewal. They also reward themselves.
They set higher goals, always striving for improvement.
But they are also self-aware.
They want to know how other people in their organization, team, family, or network think about their actions and they are asking for feedback.
They tend to get what they want in the end. They are usually good at marketing, sales, and persuasion. They like selling and it's not only about products. They enjoy selling their ideas, thoughts, and vision. They have their own unique way of having others say 'yes' to their requests.
They also manage to persuade family members and friends. Rare are the occasions where their suggestions are getting rejected. 
They put their needs at the forefront. Because a successful entrepreneur is one that is well-balanced. Although they are collaborative and seek out partnerships, they need some time alone to get things done. They need their privacy and often you'll find them alone in the office doing important stuff, walking in the park for a break, or driving just to clean their minds and refresh.
They know that without distractions, they can progress fast and come up with brilliant ideas. And this is why they are taking advantage of their private time whenever possible.
The most successful entrepreneurs and leaders understand that the game is not about selling a much as they can. It's not about producing non-stop and coming up with product ideas all the time.
Instead, they are 100% focused on helping as many people as they can, impacting as many lives as possible.
As the famous Zig Ziglar said…
You can have everything in life you want, if you will just help enough other people get what they want.
And this is our focus with our "7 Ideals" methodology, providing unique user experiences and impacting people's lives.
Without the vision, you can't move forward in the entrepreneurial world. You need to pursue your dream day and night. They often get little to no sleep thinking of their next product or service, a new idea that could move mountains and make the world a better place. And when they wake up, they are full of energy to chase new ideas. They can't stop thinking of new ways to do things and progress.
And they also envision things all the time. They believe in something before they see it and they have a very strong imagination. They don't care if people think that they are crazy, they move on no matter what.
They want to create something remarkable, that people enjoy and remember for ages.
They want to be remembered.
They are empowered by their 'vision'.
We Teach
Marketing &
 Business
Live on Zoom
Your host: Tasos Perte Tzortzis
Schedule an interview so we can evaluate where you are right now, your needs and goals, and we'll give you a detailed analysis of how the workshops work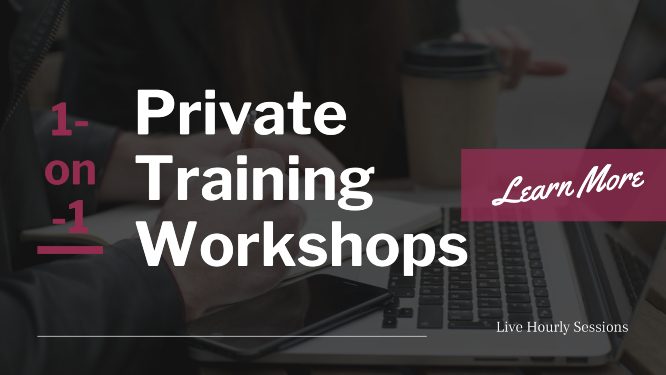 I could add more characteristics to the mix. But these are the most important, these are must-have traits you should focus on. 
Do these characteristics ring a bell? Is this your personality type?
And finally, do you have the vision, the dream? 
Then, go for it.
That's it, another article has finished, here on Web Market Support. I am waiting for your comments and thoughts. Till next time.
Tasos Perte Tzortzis
Marketing Consultant, Creator of the "7 Ideals" Methodology
Although doing traditional business offline since 1992, I fell in love with online marketing in late 2014 and have helped hundreds of brands sell more of their products and services. Founder of WebMarketSupport, Muvimag, SummerDream.
I enjoy reading, arts, science, chess, coffee, tea, swimming, Audi, and playing with my kids.