Are you thinking of transitioning from local disk drives to the cloud? More and people do, it's a trend.
Cloud storage can reduce costs, it comes usually with multiple tiers and options, backups are protected against ransomware/malware, and encrypted.
On the other hand, backups and restores may appear slower, and sometimes the internet connections are not very stable.
We prepared a list of reliable cloud backup, storage, and hosting services.
Let's dive right in!
Cloud Backup, Storage & Hosting Services
Main slogan: Host your favorite software in the Cloud – SharePoint, Office 365, QuickBooks, Virtual Desktop, Project Server & Exchange. Empowering 10,000+ businesses since 2003, we are your one-stop provider for all cloud services – hosting, migration, consulting, and management. Enjoy premium cloud solutions at the best prices with 24/7 support.
Stats: 90+ countries, 10K+ customers, 25K+ mgrations, !M+ end users, 16+ years cloud expertise.
Options:
Host your favorite business software, desktop, and server applications in the cloud: SharePoint hosting, QuickBooks hosting, Microsoft Office 365, Hosted exchange, Project Server Hosting, other hosted applications.
Leverage a secure cloud infrastructure: Azure platform, Azure marketplace, Virtual desktop, Virtual GPU, Hyper-V server, Citric desktop
Cloud migration strategy, services, and support: consulting, migration, on-premise, server management, disaster recovery, hybrid solutions
Email hosting
Virtual dedicated server
MS project server
MS dynamics CRM
Why Apps4Rent:
Scalable server solutions
Reliable and secure
Reduced investment
Low pricing, simple terms
Use only what you need
Up-to-date software
User friendly
24/7 support
Popular plans:
SharePoint foundation: unlimited users and sub-sites starting from $8.95/mo.
QuickBooks hosting: best software for small business accounting starting from $22.47/mo
Office 365: 24/7 free end-user support on all plans starting from $5/mo
Virtual desktop: hosted desktops with an option to add GPU starting from $22.47/mo
Free Office 365 migration: free if you qualify
Money-back guarantee.
Trusted by: 
BBB accredited business
Paypal, Mastercard, Visa, American Express, Discover
Secure data encrypted
Intuit authorized standard host 
QuickBooks solution provider
Citrix partner
Microsoft cloud solution provider
Microsoft partner
Help/Support:
Blog
Product demos
Support
FAQ
Live chat
About: Our corporate offices are located in Maplewood, New Jersey. Our IT infrastructure is located in two top-tier data centers in New York City and New Jersey. Our SSAE 16 certified data centers provide the physical environment necessary to keep servers up and running 24 hours a day, 7 days a week. These data centers are equipped with scalable, redundant, and reliable bandwidth, redundant power supplies, climate control system, and physical security system.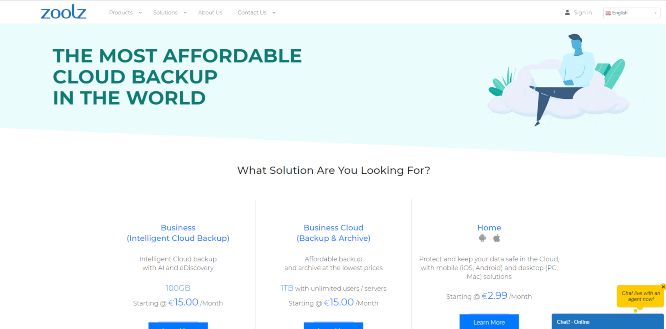 Main slogan: the most affordable cloud backup in the world.
Products: 
BigMind Business: intelligent cloud backup and eDiscovery
Zoolz cloud backup: backup and archive your data for life, 100TB+, large amounts of data, affordable cost
Genie9 for business: backup important data from any Windows PC or server to any internal, external, or netword drive
Genie9 for users: backup personal data from any Windows desktop or laptop to any internal, external, or network drive
Solutions:
Intelligent documents and media eDiscovery
For media and broadcasting companies
SQL and servers backup
Low-cost cloud archive for long term backup
Data transport solution to move high volume data
For telecoms
Complete white-label solution
API integration
Industries:
Healthcare, media, CCTV
Legal, accounting
Photography, education
Real estate 
Non profit
and more
Compliance: 
GDPR
HIPAA
DPA
Data centers
ITAR
Amazon web services partner network
HM Government G-cloud
EU Model Torino
Cyber essentials
FIPS
BigMind pricing:
100 GB: €35.88/yearly – 1 user, 3 computers, 3 mobile/tablet devices, SD video streaming, no backup limitations, unlimited external drives, standard support
500 GB: €83.88/yearly – 3 users, 9 computers, 6 mobile/tablet devices, all from the previous plan
1 TB: €155.88/yearly – 5 users, 15 computers, unlimited mobile/tablet devices, HD video streaming, all from the previous plan, premium support
Trusted by:
Canon
Dell
Acer
Harvard library
EarthLink
Avionica
and more
Help/Support/Other:
Blog
Help center
Tech support
Sales
Feedback
Demo
About: Zoolz is a market-leading provider of cloud-based storage. Level 1, 184 Shepherds Bush Rd, Hammersmith, London W6 7NL.
Main slogan: Accelerate your transformation with Google Cloud. Object storage for companies of all sizes. Store any amount of data. Retrieve it as often as you'd like.
Features:
Object lifecycle management
Object versioning
Retention policies
Object holds
Customer-managed encryption keys
Customer-supplied encryption keys
Uniform bucket-level access
Requester pays
Bucket lock
Pub/Sub notification for cloud storage
Cloud audit logs with cloud storage
Object- and bucket-level permissions
Why Google:
Develop new apps and experiences faster
Enable smarter decision making across your organization
Transform how you connect and collaborate
Build and invest in your cloud with confidence
Multicloud, open cloud
Sustainability
Trust and security
Analyst reports
Global infrastructure
Customer stories
Data analytics
Blog
Trusted by:
Nintendo
Australia Post
PayPal
Twitter
Spotify
FedEx
Toyota
The New York Times
Forbes
Airbus
Bloomberg
and more
Solutions:
Industry
Application monetization
Artificial intelligence
Business application platform
Databases
Digital transformation
Infrastructure modernization
Productivity and collaboration
Security
Smart analytics
Products:
Featured: compute engine, cloud storage, cloud SDK, cloud SQL, Google Kubernetes engine, BigQuery, cloud CDN, dataflow, operations, cloud run, anthos
AI and machine learning
API management
Compute
Containers
Data analytics
Databases
Developer tools
and so much more (over 100 products)
Pricing:
Standard storage: starting at $0.02/GB/mo
Nearline storage: starting at $0.01/GB/mo
Coldline storage: starting at $0.004/GB/mo
Archive storage: starting at $0.0012/GB/mo
About: Our mission is to organize the world's information and make it universally accessible and useful. 
200+
Business & Marketing Tools Collection
Work management, tracking, organizing, payments, accounting, Google, keyword, market, and competition research, SEO, analytics, and related, marketing & advertising, web development, website monitoring, domains & website hosting, coding, and related, design & multimedia, marketplaces, entrepreneurial communities, hiring & outsourcing.


Main slogan: start building on AWS today. Whether you're looking for compute power, database storage, content delivery, or other functionality, AWS has the services to help you build sophisticated applications with increased flexibility, scalability and reliability.
Free products:
Amazon CloudFront: 

Web service to distribute content to end users with low latency and high data transfer speeds, 

50 GB

 

of data transfer out, 2,000,000 HTTP or HTTPS requests

Amazon EFS: Simple, scalable, shared file storage service for Amazon EC2 instances, 

5GB of storage

AWS storage gateway: Hybrid cloud storage with seamless local integration and optimized data transfer, 

Up to 100GB/month free, up to $125/month maximum charges, No transfer charges into AWS
Amazon Glacier: Long-term, secure, durable object storage, 10 GB of Amazon Glacier data retrievals per month for free. The free tier allowance can be used at any time during the month and applies to standard retrievals

Amazon S3: Secure, durable, and scalable object storage infrastructure, 

5 GB

 

of standard storage, 20,000 Get requests, 2,000

 

Put requests

Amazon elastic block storage: Persistent, durable, low-latency block-level storage volumes for EC2 instances, 

30 GB

 

of Amazon EBS: any combination of general purpose (SSD) or magnetic, 2,000,000 I/O (with EBS magnetic), 1 GB

 

of snapshot storage
Benefits:
Data durability
Flexibility and scalability
Cost efficiencies
Backup for all data types
Security and compliance
Data-transfer methods
Common backup use cases:
Hybrid cloud backup
Tape replacement
Database backup
Data lifecycle management
Global data resiliency
Archive and compliance
Disaster recovery
Services:
Centralized backup
Object storage
Hybrid storage
Block storage
File storage
Data transfer
Networking
Global infrastructure
Online Marketplaces
The Ultimate List
(Buy and Sell Products)
The Ultimate List of Multimedia Resources
Regular Updates
Images, Graphics, Audio, Video, Animation, Themes, Plugins, Code, Apps, Education, Jobs, Buy & Sell Art
This is just the beginning of an extended catalog. I will keep the thread updated frequently.
In the meantime, check out the other related resources we have in store for you.
That's it, another article has finished, here on Web Market Support. I'm waiting for your comments and thoughts. Which one is your favorite? Which app should I add? Till next time.
Tasos Perte Tzortzis
Marketing Consultant, Creator of the "7 Ideals" Methodology
Although doing traditional business offline since 1992, I fell in love with online marketing in late 2014 and have helped hundreds of brands sell more of their products and services. Founder of WebMarketSupport, Muvimag, SummerDream.
I enjoy reading, arts, science, chess, coffee, tea, swimming, Audi, and playing with my kids.
Some of the links on this page are affiliate links. For more information, I refer you to the disclaimer page.