We discussed the tremendous power of quiz funnels that have taken the world by storm. A form of sales funnels based on a series of questions that take prospects into a fun and short journey to identify their needs and provide them with solutions tailored to their situation.
Quiz funnels outperform other types of funnels in terms of cost per lead, engagement, and conversion rates.
We also get to collect valuable data and feedback from prospects so we can better serve them. We gain insights into the language people use so we can take advantage of it in our copy and landing pages. 
I could not be more excited as things kick off in less than 3 hours, so let's see what this challenge can do for your business.
Choose Ask Build Free Challenge
Day 03 June 09 @ 3 pm CT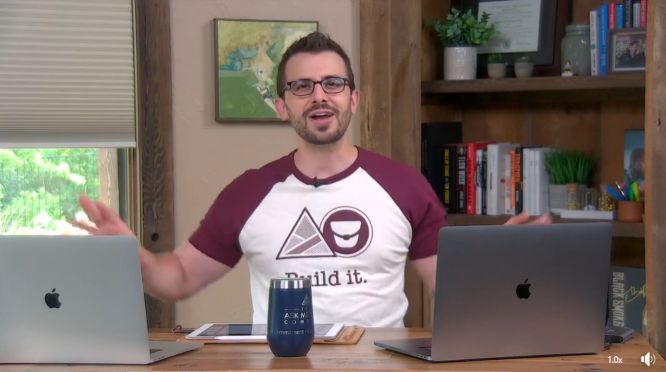 Choose Ask Build Challenge Day 03
In this epic event, you'll discover your "sweet spot" market, how to ask the right questions to identify what people actually want, and how to build sales funnels that convert.
Inside this live interactive challenge, you will discover:
Who to serve if you don't already have a business with a simple 5-second test to validate your business idea online.
You'll identify where your ideal customers are spending their time online.
Ryan will also share his free tools for creating killer-eye-opening marketing research.
You'll identify the biggest pain points and problems in your market, the most important buckets that are the hungriest segments of your market, and how to put it all together to create a marketing machine that is going to acquire new leads, new customers, new sales, every day all on auto-pilot.
How to create powerful sales funnels on the back of quizzes, questionnaires, surveys, and related methods
Day 01 was all about YOU. What kind of business is right for you based on the type of entrepreneur best describes you.
Ryan revealed the 4 types of entrepreneurs and the 4 types of businesses based on those 4 types of entrepreneurs.
Day 02 was all about WHO. Your target audience, who you are trying to serve, your ideal clients and customers. Ryan is going to reveal the 5 Market MUST-HAVES and how to choose the right market step-by-step…
And he will walk you through a simple free online tool to find these markets and test their potential.
Day 03 is all about WHERE. Where to find your ideal customers.
The power of quiz funnels
Quiz funnels can be used in any business, industry, or niche. They work for physical and digital products, services like coaching and consulting, for local businesses. 
The main benefits of a quiz funnel:
Cheaper leads (business were able to cut their costs, often 1/3rd to 1/1oth the cost)

Faster results (less than 30 days, like Jamal Miller who used a quiz called "why are you still single? to generate 10,000 opt-ins in less than 14 days). Quizzed=s often go viral as people are loving them and they share them on their networks, and so you are getting traction pretty quickly. 

Higher conversion (customize your copy and offer, can often 2-3X conversion rates)

High volume – people love quizzes, quizzes are getting completed at higher rates than other marketing forms, people share them with their network

Incredibly valuable data 

Better sell and better serve
Quiz funnels outperform other types of funnels in terms of cost per lead, engagement, and conversion rates.
We also get to collect valuable data and feedback from prospects so we can better serve them. We gain insights into the language people use so we can take advantage of it in our copy and landing pages. 
The challenge will help you make the most important decision in your business before you launch your quiz funnel. 
It's all about choosing the right market, figuring out what problems you're going to be solving in this market, and how to build a quiz funnel to solve those problems.
Beginners
Those who start over
Anyone starting an online business from scratch
People that are making a pivot in their business and want to test out the phenomenal power of quizzes and funnels
Those who shift from an offline to an online business model
Retirees that want to do something new
Brands and entrepreneurs
Marketers
Bloggers
Coaches
Consultants
Copywriters
Wannabe business owners
Digital products
Physical products
Services
Brick & mortar
Agencies
eCommerce
Software (SaaS)
Membership site owners
Another amazing session that left people excited about what's coming next. Over 27,000 have joined the private community.
There were over 1,400 comments, and this shows the tremendous power of online challenges that are highly interactive, people love them and they take massive action.
Ryan started out by sharing the results of the 2nd assignment where people were evaluating markets.
Stacy Liddell: #MyWho – people who want to improve their health and fitness. All 5 boxes checked.
Robert D. Lee: niche/market – blogging/cultural arts tours, type PBPF, all 5 boxes checked.
Laura Bohling: helping people become the absolute authority on their big dreams. All 5 boxes checked.
Judy Jordan: success coaching kingdom entrepreneurs leaders, all 5 boxes checked.
Stanley Young: helping introverted professionals and executives set the pay promotion and recognition they deserve, all 5 boxes checked.
Rachel Woods: she tested 3 different markets. 1 proceed with caution, 1 green light, and 1 for future reference.
Joey Lai Pei Yen: 3 boxes checked, needs help with the 2 boxes though.
Today's focus – WHERE:
Where do we find our ideal customers online?
On Monday, it was all about you and why you do what you do. An introspection.
Yesterday, it was all about the market, our prospects.
Answering the question "Where" will show us if the market is active and if people are looking for solutions and if they are willing to spend money.
5 places where your market is online
Facebook (groups): FB groups are places where people share a common goal, interest, or conflict. Are there people in related groups in your market that are actively engaged and having conversations right now? We are looking for evidence that people in these groups have questions, problems, and challenges so we can solve those struggles as entrepreneurs. Ryan uses FB to search for the term "orchids". then he filters by groups. He discovered a ton of active groups with hundreds of posts per day. 
Google (forums): Ryan uses Google to search for the term "orchid forum". The "OrchidBoard" forum is active. Total number of members – 43,000, active members today – 648. The "Orchid" forum is not so active. The "Houzz" forum is not so active either. The "OrchidTalk" forum is not so active. The "GardeningAssociation" forum is active. The "SlipperTalk" forum is very active as well.
LinkedIn (groups): a great place for B2B businesses. Ryan searches for the term "business consulting and consultant". He is not using the term "orchid" because this is a hobby for consumers mainly. He filters by groups. There are active groups but most of them require us to join them to track their activity. They are not public groups.
Quora (topics): this is a Q&A forum. We are looking for people's problems, struggles, challenges, and needs and if they are willing to spend money in this market. Ryan searches for the term "orchids". He then chooses the topic filter. There are 14,000 people. One asks my orchid needs help…Is it possible for an orchid…what is the best way to…How long can orchids go without water? Quora also provides spaces related to this search term. 
Meetup (groups): a great tool for local businesses and people that meet up locally. Ryan searches for the term "orchids". In the area of Austin, Texas, there are no groups available. He expands the radius to 100 miles, still nothing. He expands the radius to any distance and finds some events, but not very specific to orchids. He then searches for events in Miami, Florida. No great results here either. That tells us that the orchid market is not a great candidate for a local business, people prefer to meet up virtually.
Ryan invited people to share some ideas for markets to evaluate. 
#1 home brewing: on FB – groups: there are many active groups. Google – there are active forums.
#2 zero waste living: by searching on FB for the term "zero waste" Ryan discovered other interesting keywords. The keyword "homestead" revealed a group with over 110 posts a day. Ryan explained that we need to be flexible. We can't negotiate our destination, but we may change the vehicle that helps us reach our destination. There are a million ways to make a million dollars. You have to pick one and in the way, you might change. 
#3 python coding: Ryan search on Google for the term "coding forum". He also searched for the term "coding for kids forum". It's hard to discover forums for kids as most websites protect this kind of content. It would make sense to search for adult forums where parents discuss about their children. Sometimes, you have to dig a little deeper. He used FB to search for the term "coding python" and filtered by groups. There was some activity going on. 
Today's assignment:
Find and identify at least 3 groups of people online in your market. Groups that represent your ideal customer and that are active. We'll use these communities in tomorrow's training, it is the 2nd layer of research where we'll try to spot people's struggles, problems, and questions. We'll also discover the hyper-responsive segment of your market that most needs help with today. This is the key to find an opportunity in your market where you can build a quiz funnel to solve people's needs and problems. Make sure that you join these groups as well.
Tomorrow is all about the "WHAT". What people want to buy in your market, what is the one thing that people would buy without second thought?
My marketing agency business forums & groups research:
My ideal clients are startups.
The FB group "Small Startups business" has 30,000 members and 230 posts a day. Many of the posts inside this group are spam ads but there are some questions people ask. I clicked to join this group. 
On Google, I discovered a forum that is coming soon. The StartupNowForum in Greece. I bookmarked it.
I joined "Startup Nation", a forum I had reviewed in the past.
I requested to join the "Startup Specialists Group" on LinkedIn, 618,000 members.
I also requested to join the "OnStartups" group on LinkedIn, 838,000 members.
I followed the topic "Startup Founder" on Quora, 313,000 followers. 
There are no startup-related events on the "Meetup" website in Greece.
It was another breathtaking session where Ryan revealed his secret framework for evaluating markets. I'll be reporting on my progress with the challenge on the "Choose Ask Build" challenge review page and I'll be sharing highlights of all days on this page as well.
That's it, another article has finished, here on Web Market Support. I am waiting for your comments and thoughts. Till next time.
Tasos Perte Tzortzis
Marketing Consultant, Creator of the "7 Ideals" Methodology
Although doing traditional business offline since 1992, I fell in love with online marketing in late 2014 and have helped hundreds of brands sell more of their products and services. Founder of WebMarketSupport, Muvimag, SummerDream.
I enjoy reading, arts, science, chess, coffee, swimming, Audi, and playing with my kids.
Some of the links on this page are affiliate links. For more information, I refer you to the disclaimer page.