We discussed the tremendous power of quiz funnels that have taken the world by storm. A form of sales funnels based on a series of questions that take prospects into a fun and short journey to identify their needs and provide them with solutions tailored to their situation.
Quiz funnels outperform other types of funnels in terms of cost per lead, engagement, and conversion rates.
We also get to collect valuable data and feedback from prospects so we can better serve them. We gain insights into the language people use so we can take advantage of it in our copy and landing pages. 
I could not be more excited as things kick off in less than 3 hours, so let's see what this challenge can do for your business.
Choose Ask Build Free Challenge
Day 01 June 07 @ 3 pm CT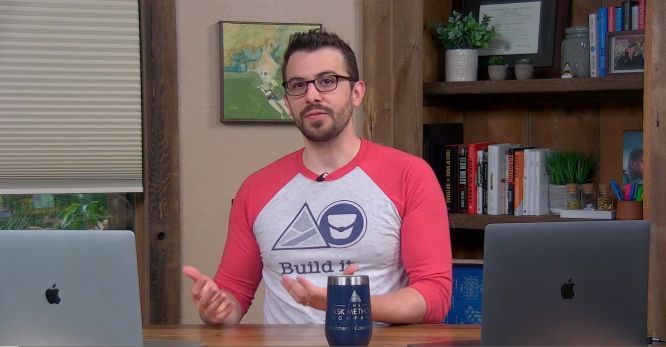 Choose Ask Build Challenge Day 01
In this epic event, you'll discover your "sweet spot" market, how to ask the right questions to identify what people actually want, and how to build sales funnels that convert.
Inside this live interactive challenge, you will discover:
Who to serve if you don't already have a business with a simple 5-second test to validate your business idea online.
You'll identify where your ideal customers are spending their time online.
Ryan will also share his free tools for creating killer-eye-opening marketing research.
You'll identify the biggest pain points and problems in your market, the most important buckets that are the hungriest segments of your market, and how to put it all together to create a marketing machine that is going to acquire new leads, new customers, new sales, every day all on auto-pilot.
How to create powerful sales funnels on the back of quizzes, questionnaires, surveys, and related methods
Day 01 is all about YOU. What kind of business is right for you based on the type of entrepreneur best describes you.
Ryan will reveal the 4 types of entrepreneurs and the 4 types of businesses based on those 4 types of entrepreneurs.
The power of quiz funnels
Quiz funnels can be used in any business, industry, or niche. They work for physical and digital products, services like coaching and consulting, for local businesses. 
The main benefits of a quiz funnel:
Cheaper leads (business were able to cut their costs, often 1/3rd to 1/1oth the cost)

Faster results (less than 30 days, like Jamal Miller who used a quiz called "why are you still single? to generate 10,000 opt-ins in less than 14 days). Quizzed=s often go viral as people are loving them and they share them on their networks, and so you are getting traction pretty quickly. 

Higher conversion (customize your copy and offer, can often 2-3X conversion rates)

High volume – people love quizzes, quizzes are getting completed at higher rates than other marketing forms, people share them with their network

Incredibly valuable data 

Better sell and better serve
Quiz funnels outperform other types of funnels in terms of cost per lead, engagement, and conversion rates.
We also get to collect valuable data and feedback from prospects so we can better serve them. We gain insights into the language people use so we can take advantage of it in our copy and landing pages. 
The challenge will help you make the most important decision in your business before you launch your quiz funnel. 
It's all about choosing the right market, figuring out what problems you're going to be solving in this market, and how to build a quiz funnel to solve those problems.
Beginners
Those who start over
Anyone starting an online business from scratch
People that are making a pivot in their business and want to test out the phenomenal power of quizzes and funnels
Those who shift from an offline to an online business model
Retirees that want to do something new
Brands and entrepreneurs
Marketers
Bloggers
Coaches
Consultants
Copywriters
Wannabe business owners
Digital products
Physical products
Services
Brick & mortar
Agencies
eCommerce
Software (SaaS)
Membership site owners
More than 25,000 people attended the first session. An amazing experience that left people excited about the second day. 
There were over 1,900 comments, and this was something expected because online challenges are interactive, people love them and they take massive action.
The "Choose Ask Build" methodology is all about choosing a niche market you want to serve, then asking people what they need help with and what they want, so that you can build your quiz funnel to solve those problems, serve the market, to give people exactly what they want and need in your business. 
Ryan invited people to share their "WHY" using the hashtag #MyWhy.
What's your big reason why? Why you do what you do? What's your primary motivational force? Is it because you want to leave a legacy for your grandchildren? Is it because your family and close environment is not supporting you right now? Does no one believe in you? Do you want to prove the world wrong? Do you want to prove what it takes? Do you want to provide a better life for your family and kids? Or maybe you want to take care of your parents and help them live a better life and enjoy their retirement. 
People responded – here are a few examples:
#mywhy to build a dream of owning my own business. Wanting to work from home and live a financial freedom life that my and my family deserve to experience. No more working for the BOSS.
#MyWHY To create a life I love! One where I get to travel when I want to, work when I want to and have the freedom to choose!
#MyWHY I want to provide for my children as a single mother it's been hard also I want to give others permission to dream and find their purpose
Today's focus – YOU:
Why you are here, who you are, your identity, and based on that information, getting clarity on answering the first important question..what is your entrepreneur business type?
There are 4 types of entrepreneurs
MB – Mission-based: the type of person who wants to "right" some wrong in the world, a cause they want to support, some type of evil in the world that you want to eliminate to help and serve people. It's a mission that you've been called to, you've been drawn to, it's what drives you, it's part of your through-line, it's why you are here. An example – Christy Kennedy is a student of the ASK Method and she uses quiz funnels. She is a mom whose son was born autistic. And when her kid grew up and went to elementary school, her son was bullied in the schoolyard. And like any mon, she stepped in, she got involved, she intervened, she talked to the teachers, to the principals, and she made her a mission to eliminate bullying not just of her son but of all kids in the school. One thing led to another and the school asked her for her help to extend her work to the entire school district. Then, she was invited to extend her work to the entire state. Fast forward today, Christy's mission is to eliminate school bullying across the entire country.
PB – Passion-based: this type of entrepreneur is in contrast to the mission-based entrepreneur. This type of entrepreneur does not move the world away from something evil. They want to move the world toward something they love and are passionate about. It can be art, sports, a hobby, a subject that you absolutely love, something that you want to introduce to the world and share because it is your life's passion. An example: Charlie Wallace was a traveling musician living in the back of his van, playing the guitar to share his passion, music with the world. But he had a problem, he was a broke musician like many are. He had to make some money so he decided to build an online business using the ASK Method and the power of a quiz funnel and in less than 9 months, grew his business completely from scratch, making $2.2 million per year by sharing his passion, teaching other people how to play the guitar.
OB – Opportunity-based: is the type of person that sees opportunities everywhere, they don't have a through-line passion or a mission that draws them. But when they look around them they ask themselves…how is it that nobody has ever solved this problem? They have a million ideas in a million days. They are pulled into a million different directions, trying to discover the next opportunity to pursue. An example – Dana and her husband Michael, were new parents, had their first child, and they struggled as newborn parents getting their infant to sleep through the night. Things got rough and no one was sleeping at all. And Dana performed some serious medical research. She found a solution. Later that month, she had dinner with some of her neighbors that were struggling with the same problem, and she helped them. One thing led to another and soon she became the go-to solution for moms across her city. She never thought of building a business around this topic but she decided to pursue this further. 10 years later, Dana and Michael have created a training program called "Sleep Tense that helped over 100,000 parents worldwide to this day. She never intended of doing this, it was just an opportunity knocked at the door, but she was open-minded to discover the hidden potential.
U – Undecided: they know they want to start a business, they know they want to be their own boss, they want to control their own destiny, to have control of when they work, where they work, and for how long. They just don't know what kind of business they want to start. If you are undecided, this is perfectly OK. An example – Ryan Levesque, your host was in your place once. In this case, you should begin with a practice business. You just pick something, doesn't has to be something you will do for the rest of your life, it doesn't have to be your legacy business, it's something to get you off the ground. You will learn the process of evaluating demand in your market, identifying a hungry group of people online who will pay money to solve a problem. It's what Ryan did when he got started when he tried the scrabble-tile jewelry market. It was not his passion, it was not his mission, he just decided to pick something so he can learn the process. And in that process, he was able to build a massively successful business. After all those years, Ryan has built many businesses and now one of them has become his mission, to help as many entrepreneurs as he can to adapt the ASK methodology.
The dark/shadow side of each type of entrepreneur
You have to be aware that each type of entrepreneur has a dark side and you need to prepared for when this creeps in. So you can recognize it and push it away without letting it take control. 
A mission-based entrepreneur is so drawn to the mission, that in many cases they walk away broke. They are so consumed by the mission, consumed by helping people, and they end up making no money at all. 
A passion-based entrepreneur often struggles with what was once a passion, now becomes a J O B. A job. And they end up losing their passion. 
An opportunity-based entrepreneur often has to deal with the feeling of being "empty" inside. They may have built a business that fills their bank account, but it does not fill them inside simultaneously. It does not fuel their soul, they wake up one day and ask themselves…why did I spend the last 25 years of my life doing this? what was the point?
The undecided entrepreneur often struggles with what we call "Analysis Paralysis". One more idea, not this one, one more and they never get off the ground. They stay in this undecided state forever. This is where the practice business comes in.
The 4 types of online businesses
PF – product-focused business: here you are reaching a large audience selling digital or physical products. You are serving a large number of people in a relatively small way. If you run an eCommerce store, if you are writing books, if you an affiliate marketer, you probably don't know the names of your individual customers and readers. You are not working with them on a close 1-on-1 basis. In these cases, you don't have a close relationship, your customers are only names in an order receipt. 
CF – client-focused: here, you are serving a relatively small number of clients in a deep way. You know your customers by name, you may provide coaching or consulting services, or you are a freelancer, or an agency working with clients directly. You may not have millions of clients but you serve your clients in a deep and profound way. You have the chance to change their lives. 
MF – membership-focused: This lies somewhere between the previous 2 zones. You create some form of membership or online community, where you are serving a group of people on an ongoing regular basis. You have an ongoing recurring relationship with those people. You might not calling them on phone, you might not interact with them on a 1-on-1 basis, but your customers are not just numbers in an order receipt. They are members of your community. Your community might start small and grow over time. 
EF – event-focused: here, there is a starting and an endpoint. You do things for a concentrated period of time, and then you have an end to that. For example, this challenge is an event-focused type of business. It has a starting and end date. 
As you are evaluating these different types of businesses, you can mix things up. But Ryan suggests that if you are just starting out, focus on one of those types. Don't try to do all things at once. It's OK to be a serial entrepreneur, but take things one step at a time. 
A product-focused and a membership-focused business are most suitable for introverted personalities. You are not interacting with people on a 1-on-1 basis, If you are very introverted, then a product-focused business is the perfect fit for you. If you are less introverted, then a membership-focused business is the best fit. 
A client-focused and event-focused business is a better fit for extroverted personalities. If you are very extroverted you might want to pick the event-focused business and if you are less extroverted you may choose the client-focused type.
There are no hard rules, if you are introverted and you are drawn to a client-focused business, it's OK to pursue your dream. 
Then Ryan invited people to leave their feedback and give a 4 letter acronym describing what type of entrepreneur is the best fit for them and what type of online business mostly attracts them.
People responded – here are a few examples:
Start as PBPF moving into PBMF
UCF/EF
PFEF
and all sorts of mixed answers. 
My entrepreneurial type and type of business:
As I am a very advanced entrepreneur with years of experience, I probably fit into all those categories. 
First of all, I am an introverted personality, very introverted. 
I started out with a product-focused business, my family's manufacturing company. We were selling women's clothes abroad but some of our clients were visiting us and we had dinner with them. So it was like a client-focused business as well.
I run a hotel which is a client-focused business. I run other local stores which are all client-focused and product-focused businesses. 
Now, when I got started online, it was a product-focused business, an affiliate business where I was selling other people's products and services. I still do, this is part of my business, but only a small one. Even this side of business turned to be client-focused as I was helping people with marketing and extra bonuses, sometimes 1-on-1 or in groups.
Then, it was transformed into a client-focused business. Now I provide marketing and other services directly to clients as an agency and I work on a 1-on-1 basis with them. 
I provide private training workshops, another client-focused business. 
I did events and I had built a membership section on this website as well.
I was an undecided entrepreneur when I expanded online, but I quickly decided to pick up a practice business that later became my mission.
I'm also an opportunity-based entrepreneur that jumps from idea to idea.
But I got started doing 1 thing only. When your business grows, and you run multiple businesses, you will be able to expand upon new types.
That's it, another article has finished, here on Web Market Support. I am waiting for your comments and thoughts. Till next time.
Tasos Perte Tzortzis
Marketing Consultant, Creator of the "7 Ideals" Methodology
Although doing traditional business offline since 1992, I fell in love with online marketing in late 2014 and have helped hundreds of brands sell more of their products and services. Founder of WebMarketSupport, Muvimag, SummerDream.
I enjoy reading, arts, science, chess, coffee, swimming, Audi, and playing with my kids.
Some of the links on this page are affiliate links. For more information, I refer you to the disclaimer page.