Inside the aissystem.com website, there is an introductory video presentation of someone named Chris Cobb. A very bad production, I could hardly listen to what he was saying, broken microphone. At least he is providing the same information in written format. He says that when he started he knew nothing about making money online, but now he is banking thousands of dollars every single day from his methods. And of course, he wants to share it with the rest of the world.
Automated Income Streams System Review
This product was listed on ClickBank.
My first impressions right after the bad video were in the same direction. A photograph of Chris posing between 3 luxury cars. Now he wants to clarify why this system is totally different from all the others in the market. It is because this system has nothing to do with investing, gambling and it is not a quick get rich scheme. It is legal and ethical and he personally guarantees that it works, not only for him but for everyone that will get involved.
We did not start pretty well, I am not amazed by his marketing techniques so far.
Screenshots, True Marketing
Instead of laying out how this system works he is bombarding me with the "well-known images" of status. Pay-checks, PayPal accounts and the rest. That does not prove anything, even in the case that these images are 100% true.
Why? Even if he has that money in his accounts that does not prove that this money came from his system, maybe the money transferred from someone else due to a house sale, a heritage, and a hundred other reasons. Additionally, that does not prove that you or anyone else would be able to earn this money and that does not prove the time that was needed to get to such a level.
More pictures of him, more screenshots, I think he is wasting my time, I will try to speed up for a bit.
He pays himself thousands of dollars every month and sometimes 5 or 6 figures in a single month. How he proves all of the above? He redirects me to a new website – chriscobb.co.uk.The header image on that website adds to my first suspicions. It is a mixture of 3 photographs, Chris walking on a beach, posing in a luxury car and in the middle we have checks in Great Britain pounds.

1-2-1 Coaching
Every 3 months he opens new slots for his personal training. Stand in line people, Chris is a very busy man. There is a sign-up form to fill your details in order to submit an application for this tremendous event. It says "Qualify for your FREE coaching and strategy call with Chris (worth $500)…So FREE…Chris obviously defines FREE as something else than you and me.
If we scroll down this survey form we glance at this awesome question…"How much are you willing to invest in yourself?"…Remember when he claimed that his system had nothing to do with investing? Now there are multiple options to choose one from a)Less than $100, b)less than $500, c)$500 – $1000, d)$1000 – $3000, e)$3000 – $5000, f)$10000 (private 1 on 1 training with Chris in person)
…..So the totally FREE no investment private coaching comes to $10 thousand. Are you willing to invest $10,000 for someone that is posing on the camera and nothing more than that?
The Rest Of This Chris Cobb Website Is A Joke
The lifestyle section – for the garbage.The "Our cars" section – another boast attempt.Aston Martin, Lotus, Porsche. What the heck this man has to do with online making money possibilities? Why he did not create a blog for luxury car lovers? Still no clue on how to make money online and what his system is. He keeps it secret and he does that for a reason. But I won't be polite anymore Chris with you. My patience is getting very limited.
The Remaining Content – Home Study Course
More claims, more fancy proofs, some testimonials, we know the Menu. He works from home, on average spending 2-3 hours a week earning more than $1000 a day. At least he is not running on auto-pilot.
Module 1 – As A Trial – The foundations of building an automated income stream business.
FREE Bonus – A behind-the- doors DVD recording with Chris…Of course, a superb bonus.
Another FREEBIE – a personal and private consultation with him…FREE as $10,000? You will get access to his personal email address…And he will respond immediately.
Live the life you deserve – no loans, no credit cards, be your own boss.
Guarantee – 56 days to test the trial module 1.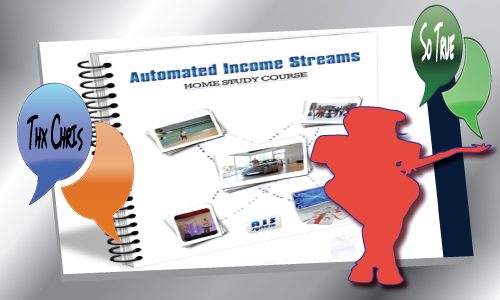 How Much Does It Cost To Succeed With Chris Cobb?
Hmmm…7 days trial for module 1 comes as a very lousy $4.95 So cheap Chris? How are you going to buy more Porsche's? More FREE Bonuses blah blah blah. And that's it.
So, what I am getting for this $4.95? I will tell you what. I have made some research online and what I found was a confirmation of my doubts on his system.
Final Opinion – Conclusion
First of all, there is no word about how this system works and what it is.
Only claims, screenshots, bank accounts, images, luxury cars, nonsense talking on general stuff.
After my research, I came across this article. They say that Chris is providing a course series of lessons that are arriving in monthly parts. He is teaching you how to make money online with internet marketing. And why should you pay for such information?
In fact, on my website, I provide all this information for FREE.
According to that review, Chris never stops boasting about his money and his properties. His content is very OLD, he does not explain critical aspects of internet marketing, for example how to generate traffic to your website.
People's complaints – Take some time to read some of the comments in the end. I am including some screenshots of people talking about Chris's methods.
No refunds complaints, Chris is not keeping his word.
What does he do? He gets you buying this cheap Front-End offer. That is the showcase. Then he is asking for additional fees for the next modules (back-end). Prepare for a very generic content with that first module, if he has any content at all. He will promise you Heaven on Earth. Then he will try to sell you the much more expensive upcoming modules.
This is not an online business. At least not for the purchasers. Internet marketing needs decent training and consistent work, especially for the first months. If you wait for one month just to get this module you will be disappointed.
No other content. And he does not include an earnings disclaimer page on his website.
Therefore, no contact details, no privacy policy, nothing. N O T H I N G.
One of the worst presentations ever. I hope you enjoyed another very negative review. Internet marketing is full of these programs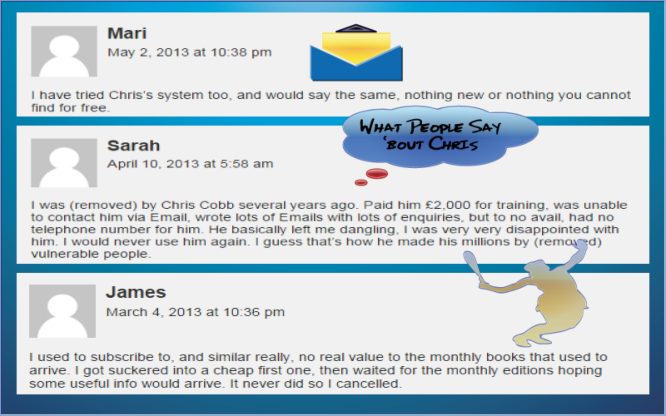 Manorama Kate GoFundMe Campaign
Help A Nurse To Survive
Archived Article – May 23, 2021
In August 2015, I came across a marketing product that I found extremely suspicious and I published a review. 
The product was called "Automated Income Stream System".
It was obviously a scam, there were pictures of luxury cars, screenshots of paychecks, PayPal accounts, and money claims.
At the time I was writing the review, I notice people's complaints and there were many cases of refunds.
After the review was published and the page was getting traffic, people were stopping by with their comments. 
Many of them lost money to this product and they were not able to recover them.
Fast forward to December 2020, I received a comment from Nelson, a student saying…
My mom was also a victim of Chris Cobb scam and we've lost 12k to him. Do you know anyone who has recovered some or at least half of what they've invested?
A Sad Story Needs Some Attention
I was sorry about this news and at that time, I suggested that Nelson should file a complaint through FTC (Federal Trade Commission). 
After 2 weeks or so, she replied with this message…
Hey Tasos,

Met Chris through my mom as she stumbled upon him on Facebook. Then the dark days began he told her about ais and other stuff which she bought without knowing how it works and trusted him so that she can earn money online, she also went to one of his crap events. In the end it was money in the drain. He had her with word's saying all kinds of sweet things to make her trust him and he even came home once to set up her computer to show, how ais works. Then last year I was just searching for him and stumbled upon your page and was shocked to know how this bald guy was ripping off vulnerable people of all their savings and showed my mom all his scams and warned her to block him right away but she didn't and was in contact with him anyway and when she asked him about it he said it was all a lie and some people are trying to bad mouth him cause of his success, so at the end of last year, she needed some money and I transferred her as she was bed ridden due to leg infection from last 2 year's which got bad. Then she stumbled upon one of bald Cobb's mail's as she thought of him as brother and he was very friendly with her to get money out of her. So she invested 14k into his done for you trading and she didn't told me as she wanted to surprise me, so when I came to know about this I told her to mail him and withdraw all the money , when she requested him some money out of the interest accumulated he sent her 500 first and then 1500 so that she can invest more into this and kept mailing her some Excel sheets with fake numbers and then in November as mom was going threw some financial problems she requested him to withdraw all the money but he didn't reply and blocked her on Facebook, so I sent him a heartfelt mail about my financial situation and problems I went threw to save that money to help my mom but he is heartless person and never answered to any of my mails and messages on Facebook. Now I'm totally broke and my mom is in depression and her medical condition is getting worse day by day.
What a tragic story. I suggested Nelson file a complaint through FTC, or the European anti-fraud office, share her story on social media, or use a service like GoFundMe.
After a while, Nelson replied that she had intentions to fight for this case.
And yesterday, I received an email from Nelson.
She informed me that she setup a GoFundMe campaign to pay for her mom's bills, rent, and other expenses.
She said…
Please read my story and share it as much as possible, any help will be appreciated.
When I read this email, I found her name somehow familiar. But I could not remember exactly who she was.
I searched my email list but I could find her email address. I did not check the comment section though. 
The last time she commented on the blog was in February, so it was a big gap.
Anyway, I read her story on GoFundMe and I decided to share it on my social accounts.
She came back to me with another email where she mentioned that her mom was a victim of that product. 
This is when I realized who she was.
Hello everyone my name is Nelson and  I'm raising funds for my mom(Kate) as we are going through a tough time, last year we had to sell our house due to mortgage payment been left behind and not getting work due to this pandemic. She was diagnosed with Psoriasis as she was constantly working in and out of hospital as she is a nurse and caught covid as well while looking after patients, she is the strongest women I've ever known.When we sold the house to keep us financially stable we were unfortunately scammed of all that money and we have nothing left no house, no car and all our savings are gone. My mom has been walking miles to take buses to work and she doesn't even have a car anymore, I would appreciate it if you could help her out of this crisis as she can barely walk because of this infection, it's like 3rd degree burns all over her legs and arms but still, she goes to work every day but doesn't show any concern to keep me strong. Any help would be appreciated as we have our rent, bills to pay to get through this tough crisis.

No donations are small or big, every help will be appreciated.
Because I believe in Nelson's story. She was investigating this product online and she came across my review. 
With her first message, she was asking for more information, and if someone was able to recover money from this money fraud.
She shared her story in her second message, after 15 days or so, and she said she was ready to fight for her mom in her 3rd message.
The way she described the incident I understand that this is a real story. 
This is what happens to victims of money fraud, people that are desperate and someone presents them with something extraordinary, too good to be true, but at the same time, so desirable.
That's why I decided to give some publicity to this story.
I'm asking you that you read Nelson's mom's story and my review of this product and then you can visit the GoFundMe website.
You can read her comment on the blog following this link.
I'm not asking for you to donate.
All I'm asking is that you share this article or the GoFundMe page with your network.
Someone might want to donate. Together, we can help a person in need.
Another article has finished, here on WebMarketSupport. I'm waiting for your comments and thoughts. Till next time.
Making Money Online Resources
We Teach
Marketing &
 Business
Live on Zoom
Your host: Tasos Perte Tzortzis
Schedule an interview so we can evaluate where you are right now, your needs and goals, and we'll give you a detailed analysis of how the workshops work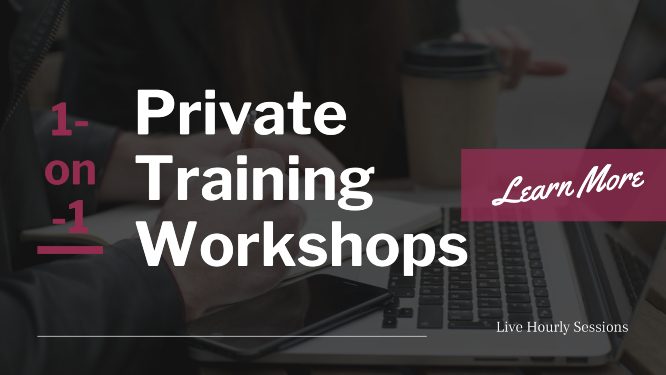 That's it, another review has finished, here on Web Market Support. I am waiting for your thoughts and comments. Till next time.

Tasos Perte Tzortzis
Business Organisation & Administration, Marketing Consultant, Creator of the "7 Ideals" Methodology
Although doing traditional business offline since 1992, I fell in love with online marketing in late 2014 and have helped hundreds of brands sell more of their products and services. Founder of WebMarketSupport, Muvimag, Summer Dream.
Reading, arts, science, chess, coffee, tea, swimming, Audi, and family comes first.