I was completely exhausted today and something bad happened just before the live event.
I know, I wasn't as focused as I wanted to, but these things happen.
I'll make it up during the next live training that's coming soon.
But before that, let me quickly give you an overview of what we covered so far regarding the new era of podcasting and social aduio.
"Social Audio" Revolution
Live Training Sunday, Apr 18 Audio Monetization & Leverage
We discussed podcasting and social audio a lot lately as a frame for our upcoming live training that is happening tomorrow.
Podcasting has seen tremendous growth during the last tears as medium and social audio is an emerging trend and we analyzed what that means for business owners, agencies, brands, marketers, and people that want to share their message online.
When we say "Social Audio" we refer to social media platforms and apps where we can use audio as a means of communication. We all use text, videos, emojis, GIFs, graphics, images, and other visuals to get in touch with people and brands on various social networks.
And audio is the new big thing.
What we covered before this training
What we covered so far with our training sessions and free material we shared:
April 11: we broadcasted the

 

1st live training session. We discussed the tremendous opportunity associated with podcasting and social audio and why now is the best time for brands, entrepreneurs, and people that want to share their message to invest in these mediums. And most importantly, we helped clarify what an ideal audience is, how to identify your own niche market, your target audience, and we gave numerous examples. Targeting the right people is critical for any business and it's the first step towards success.
April 15: We broadcasted our 2nd training. This time we delivered a recorded webinar.

 

The Social Audio Revolution Part 2 – Marketing & Planning. We discuss ed various marketing channels and strategies that you can use to increase your visibility and authority online, market and competition research, what is direct response marketing and branding, how to plan and prepare your podcast show, how to approach and pitch podcasting icons, medium-sized influencers, and hosts,

 

and we gave you an overview of Steve's 1st session.
Clubhouse global downloads as of February 16, 2021
People that will listen to a podcast each month in 2022
We shared marketing channels and strategies that you can use to enhance your authority and status, monetization strategies, sales, funnels, and how you can combine social audio and podcasting together to explode your reach online.
We discussed:
Leveraging the combined power of podcasting and social audio for maximum results.
Advanced marketing channels and strategies to help promote your podcasts and social audio discussions to targeted and qualified leads that are actually interested in your offers
Monetization strategies so you can drive revenue from the episodes you record, live events, audio conversations, and your appearances as a guest on podcasts and social audio rooms and clubs.
Helping your leads move forward in your buyer's journey and turn them into paying customers using sales funnels
Get access to the training material
You can get free access to all the replays, the worksheets and slides, and all the free material that we release by signing up using the form below.
Plus, you get access to Steve Olsher's free resources and training material he releases.
Steve is a friend and podcasting icon since 2009, founder of the Podcast Magazine.
There's no better teacher regarding podcasts and social audio than Steve.
And you know about me, I'm a marketing nerd.
That's why I'm supporting you in this field.
Broadcast your brilliance
Your voice is an incredible tool that you can use to attract an ideal audience, build brand awareness, credibility, trust, and authority and monetize your online presence in numerous ways.
Register for the free live training we host this Thursday, Apr 22 @ 6 pm GMT+3. It's called "The Audio Opportunity To Dominate Your Market Today".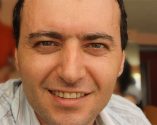 Tasos Perte Tzortzis
Marketing Specialist, Entrepreneur
Although doing traditional business offline since 1992, Tasos fell in love with online marketing in late 2014 and has helped hundreds of brands sell more of their products and services on the web.
He enjoys reading, music & arts, mathematics, chess, coffee, swimming, Audi, and playing with his kids.