UPDATE – 15 Aug 2016
I received comments from Paul Korzeniowski , who is the founder of American Bill Money , redirecting me to the original website of ABM.
The review I posted a few days ago was based on 2 affiliated with ABM sites.Although I found ABM through a new advertisement on an ad marketplace , the info on those sites was old.
Since then ABM has changed the compensation plan , the outlook of the postcards and other things , so I had to update this thread with new information.
The ABM's slogan describes the opportunity …"Providing a consistent direct-mail lead source for the American home based industry.."
How the system works
You purchase the monthly membership for $125 or the 12 month prepay for $1500.This way you become an affiliate of the product.
Monthly
You are buying 150 fresh leads of opportunity seekers and buyers every month.Also you get 150 ABM postcards with 150 ID stickers (with your name and ID # on them) and you have to add a postcard stamp and mail them.
Annual
You receive 1800 leads and 1800 ABM postcards.And an additional bonus of 3200 postcards.All the 5000 postcards will be custom printed with your ID # and name and you won't have to add the stickers and labels on your own.ABM staff will do it for you.You can also add your picture if you like to personalise the message to the leads.
The new postcard – Front
The new Postcard – Back
The package also includes
The tools and services of the automated sales process.
The toll-free recordings
What ABM sells and how you can get paid (recorded by Paul , the founder).
Customer comments and testimonials
How to get started and their phone numbers
The website of ABM that explains everything.The home office with the live operators that answer all questions to your prospects 24 / 7 , so you don't have to.
The compensation plan
ABM pays a 60% commission immediately on all the people you refer to ABM , after your first referral.
If I get it all right , that means your first referral goes to ABM.Then you receive $75 for the 2nd referral or $900 for the annual members.
If you manage to refer 3 people , then you will receive $75 X 2 = $150 or $900 X 2 = $1800 and you are profitable covering the expenses of your membership.
The first referral is called .."The Qualifying Sale" and this is how your sponsor or Upline will earn money from you.From the second referral on you are getting paid and the system goes infinitely deep.
ABM is only available to the USA
Unfortunately I can not test ABM on my own , although I was ready to start.Too bad , may be in the future Paul will find a solution.
Therefore I can not judge if this opportunity really works.
If you are an ABM member I would like to hear from you.If you have any other questions do not hesitate to add a comment.
And this is where the original review starts.
Original Article 11 Aug 2016

I found another promising landing page today while I was searching for online opportunities.They say….
…"If you have failed at online marketing you need to go offline"…earn a huge monthly income ($1K , $4K , $10K or more…) mailing our full colour , professional postcards.
I did not know that mail men get paid that much money.May be it is because of the full colour and professional outlook of these postcards.Let's see…
What American Bill Money is all about?
I signed up with my email details and redirected to the official website.
But please tell me , is this a professional look for a postcard?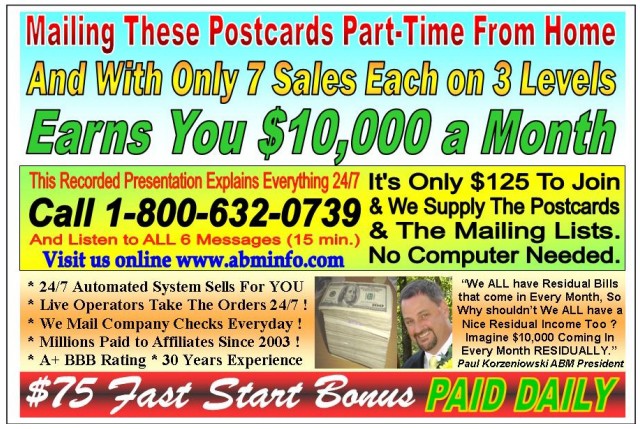 The postcard highlights.."mailing these postcards part-time from home and with only 7 sales each on 3 levels earns you $10K / month.."
First of all , it is obvious that this is an MLM system.I strongly doubt that you will be making money with that system any soon.They say that with 7 sales on 3 levels will earn you $10K…
Let's move on…and I will explain the difficulties that arise with such systems later
The postcard continues…"the recorded presentation explains everything 24 / 7.Call 1-800….and listen to all 6 messages (15 minutes).I wonder if they charge you for these calls..
…it's only $125 to join and we supply the postcards and the mailing lists , no computer needed.Now they are asking for money…it is very soon to do that…I start to worry a little bit.
More details on the postcard
24 / 7 automated system sells for you
Live operators take the orders 24 / 7
We mail company checks everyday
Millions paid to affiliates since 2003
A+ BBB rating
30 years of experience
Now this report generates some questions
If American Bill Money operates since 2003 how they can explain that their website has DA (domain authority) = 13?…very small number , I would wait 40+ at least.
American Bill Money Product
The direct mail business kit includes
150 postcards (150 virtual sales reps working on your behalf)
150 lead lables.Names & addresses of opportunity seekers
150 ID stickers for your postcards
Training support
Live operators 24 / 7
Toll free number overview (6 recorded messages)
Use of the entire marketing system all for only $125 / month
ABM Pay plan details
$75 fast start commissions paid daily and unlimited $25 per person monthly residual commissions for everyone within your 3 level organisation.
Out of each customers $125 purchase , ABM pays out $75 in commissions every month , residually.
The first month's purchase , the full $75 commission is paid immediately to the sponsor and is called a "Fast Start" bonus.
Each subsequent month if the sponsor is not a "Direct Deluxe" , he will be paid $25.Their sponsor will be paid $25 and their sponsor another $25.
First level commissions are paid weekly.
2nd and 3rd level overrides are paid on the 1st of each month for the month prior.If the sponsor is a "Direct Deluxe" , he will receive the entire $75 every month.
For those of you that personally refer 100 Deluxe customers to ABM you'll earn the title of "Direct Deluxe".
From your 101st referral on , you'll earn $75 not just the first month , but every month on all sales from your 101st on.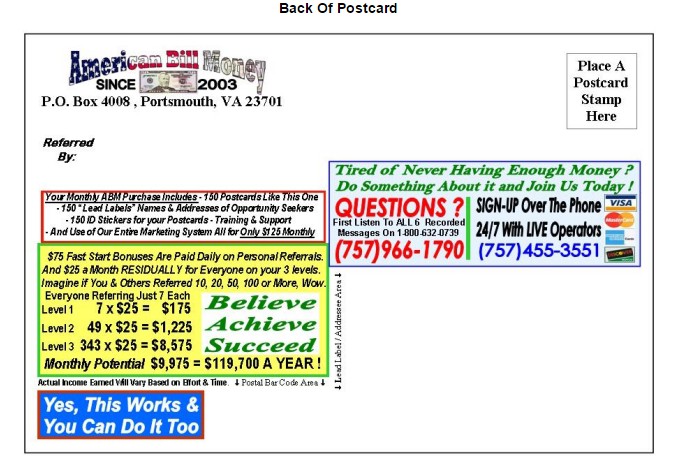 How ABM works
As a customer of ABM you will be purchasing the Deluxe package for $125 / month.
You are buying 150 fresh income opportunity seeker names and mailing addresses also known as leads on peel and stick mailing labels each month.
These leads can be used as often as you like , to promote any income opportunity , now and in the future , including ABM.The leads are guaranteed deliverable or they are replaced 2 to 1 if you have them returned to you.You may even resell these leads if you desire.
With your monthly order you will receive 150 postcards and ID stickers for all your materials with your ABM # and name on them.
Other services included with the Deluxe package are
2 toll free 800 numbers and the company website that explains everything about ABM to your prospects for you.
Live operators on our website are taking your orders 24 / 7
All questions are answered by the company for you
All orders are sent by Priority Mail immediately from the company
You are personally notified every time you refer someone and paid $75 the next day.
Free genealogy reports with every check
Analysis
ABM pays $25 a month per referral on everyone on 3 levels.
Everyone you personally refer is called your First Level.
You will be paid $75 the next day for everyone you refer and then $25 residually every month for as long as they remain active.
Everyone your First Level refers is called your Second Level , you will earn $25 a month for everyone on your Second Level.
Everyone your Second Level refers is called your Third Level.And again , you will earn $25 a month on everyone on your Third Level.
If you are a Direct Deluxe – you will earn $75 on all personal referrals from your 101st on.You will be paid $75 the next day for everyone you personally refer and then $75 residually every month for as long as they remain active.
You only need one active personal referral or quotas to meet , you must remain an active customer in good standing,
No other Information
And that's it.This is where the ABM website stops , leaving you wondering if this is a true opportunity or another "Dust in the Wind" fake advertisement.
In order to proceed you have to pay $125 every single month.And you have to refer people into the business by persuading them that this system works.But you don't even know if this is working or not.
And those referred people have to stay active and refer others so that your residual income could grow.
Final Words
Things to consider before joining
The starting purchasing kit is not very affordable for the majority of people.
Recruiting others is Not for inexperienced marketers.You need strong sales skills to survive.Getting 101 people to sign under your name won't happen the first month or even after a year.
The leads are being sent to you by ABM , but who can guarantee that these names are people who are searching for income opportunities and that they will remain active.And if you want to sell you can't simply rely on the ABM postcards list of leads , you have to work your b..t off , both on / offline to find leads on your own.
I don't like the outlook of the postcards and most people will believe that this is a scam.
It is a system clearly based on recruiting with no retail products to end customers.
There are way better alternatives.
I will try to find people that are using this system , starting out from partners and other bloggers.But no one has written a review so far.
That's it , another review has finished , here on Web Market Support. If you are a member of ABM I would like to hear your experience. Till next time.

Tasos Perte Tzortzis
Business Organisation & Administration, Marketing Consultant, Creator of the "7 Ideals" Methodology
Although doing traditional business offline since 1992, I fell in love with online marketing in late 2014 and have helped hundreds of brands sell more of their products and services. Founder of WebMarketSupport, Muvimag, Summer Dream.
Reading, arts, science, chess, coffee, tea, swimming, Audi, and family comes first.