I want to welcome you to another review of WebMarketSupport. Today we will be discussing an e-commerce opportunity that is very popular online. Inside the Amazing.com website and in the free membership area there is a 4 video series explaining how you can leverage your own e-commerce business in partnership with Amazon. The co-founders guide us step-by-step to build an Amazon Seller Central account and give instructions and insights for the operation and growth of this particular business model.
Amazing Selling Machine Review
The Amazing Selling Machine (ASM) is a training program created by Matt Clark and Jason Katzenback teaching aspiring online entrepreneurs how to sell and co-operate with the largest US online retailer. Everybody knows Amazon, anyone that has purchased a product online crossed paths with this giant retailer. I personally use Amazon quite often to get presents, electronics, books, compact discs, and other products for over 15 years. I never had any problem whatsoever with the shipments or payments.
Amazon has gained huge recognition throughout the world for its product quality, fast deliveries, accurate shipments, and excellent customer support. Amazon makes billions of dollars in profit every year and thousands of retailers, producers, manufacturers, traders, and affiliates work as partners with this corporation.
Lately, Jeff Bezos, founder of Amazon, became the richest man in modern history.
So what exactly is this Amazing Selling Machine opportunity.?
..In a nutshell ASM helps you create your own brand of physical products that you will be buying from producers or manufacturers from anywhere in the world and you will be promoting and selling through Amazon. This can be done from the comfort of your home using your computer and an internet connection (of course, there will be trips and other costs associated).
Free Online Videos
In the 1st video Matt & Jason are introducing Amazon and present a clear diagram of their unique partnership model.
They recommend that you start with the Amazon.com platform instead of the other Amazon platforms like Amazon (UK), (Australia), (Germany), (Japan), and others because Amazon.com is the fastest. With this video comes a pdf document explaining in depth the procedure of registering an Amazon seller account, the verification, and the final creation of your brand. No matter where you live in the world you can start up this kind of business.
Although Amazon.com has restrictions and a certain Approved Bank List according to specific countries Matt & Jason provide solutions for people living outside of this List and they interpret how to set up a bank account and validate a mailing address that you need in order to create your seller partnership account.
The video includes live examples to help us choose hot Amazon product opportunities and how we can use those as examples and formulas for our business. Fully detailed and highly professional, this video goes deep inside the Amazon operation and cites the best product scopes based on keyword research, content, imagery, and final presentation. They highlight the most important criteria that a physical product and its presentation must have in order to achieve a successful and profitable lifecycle.
Tips for the Right Supplier
They examine exclusively the market potential on how to find the right supplier for our products. How to research the most suitable suppliers with the help of the internet, how to get in contact with them through some contact templates, how to order samples and review them to find out if the product meets your brand's criteria, and how to place your first inventory order. Another detailed video production that won't leave you with many unanswered questions.
They examine the unique trading opportunity that Internet offers and they compare this business model with the trading business of the past decade in which you were obliged to own warehouses, shipping equipment, managers, and staff throughout the world and a lot of money to invest. I totally agree at this point and this kind of international trading was one of the most expensive and risky investments. But things have changed and will continue to change with the development of technology.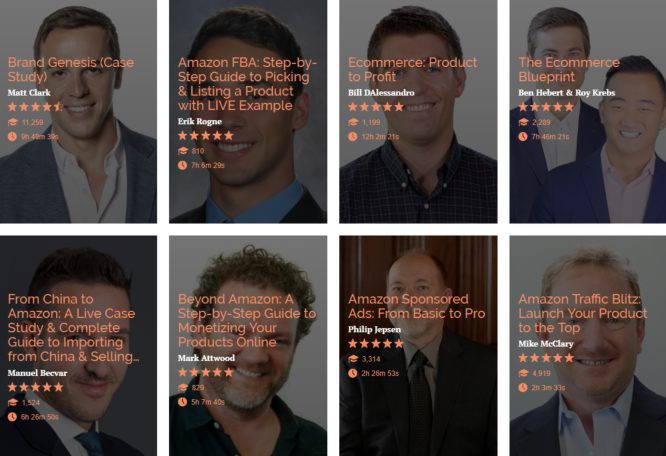 Listing Launch Formula 2.0 – Tools & Testimonials
Now they reveal how to launch your new product on Amazon, how to create Amazon ads, get category rankings and eventually bring traffic to your offers in order to make sales. They investigate the whole setup for the product and how to begin a marketing campaign to target potential buyers. Where to get reviews for your product and how to use ads and other methods for the acquisition of valuable online traffic to your Amazon seller listings.
Ultimately they represent video testimonials of successful participants with the Amazing Selling Machine Business Model and they also underline that the doors are closing soon.
The Momentum Learning Method
Their online training program gives you the opportunity to participate in a supportive community of premium members that can help you along the way. Let's illustrate the most important points of the 8 Modules Program.
♦ MODULE 1
Why start with Amazon
Setting up your business name
Creating an Amazon seller account
Picking a product of the hot products opportunity based on specific criteria
Building your hot product opportunity list
Choose your top 3 starting product opportunities
♦ MODULE 2
Finding and working with Suppliers
Researching suppliers for the top 3 products we chose
International product sourcing
Contacting Suppliers
Supplier follow up
Choosing your best product option
Selecting suppliers & Ordering product samples
♦ MODULE 3
Evaluating product samples
Choose the best supplier
Create a brand name for your business
How to get the best price and terms from that supplier
The lighting live method (how to get your 1st product selling as quickly as possible)
Finding the best-performing keywords for your product
The 4-part rapid Amazon product listing setup (Crafting the perfect product title – Writing an irresistible product description – Creating Attention-Grabbing product images)
Grabbing your piece of Amazon real estate
Placing your 1st inventory order

♦ MODULE 4
6-step listing jump start system
Release product series
Free product promotion with the Alliance
Building social proof with a Facebook brand page
Your 1st product promotional video
Create your product brand website in less than an hour
Getting 5-star reviews with Active Loop
♦ MODULE 5
Listing Launch Formula 2
Getting your 1st product reviews
Amazon sponsored ads
Promotion tool
Leverage your reviews
Igniting rapid growth with a discount promotion and more
♦MODULE 6
Running your business (seller operations overview)
The daily seller checklist
When to reorder inventory
The brand enhancement blueprint (Create a brand logo)
Premium packaging options from the supplier
Hiring a designer for custom packaging design
Give the supplier the final packaging design for production
Preparing for frustration-free packaging for the future
Placing your enhanced inventory order
plus bonus – The power of package inserts
♦MODULE 7
Ultimate sales accelerator
Velocity sales boost
Building your product launch list
Leverage top Amazon reviewers
Advanced Amazon-sponsored ads
URL boosting
Re-optimizing your product listing
♦MODULE 8
Outsourcing your business for massive growth and the ultimate freedom
Getting started with outsourcing
Hiring your first outsourcing employee
Managing your team
Scaling the business (when to add new products)
Product launch checklist
Expanding and diversifying your traffic sources
Expanding internationally
Expanding your product empire beyond Amazon
Web-Based Software & Tools
1) Active Loop (emails, customer experience, getting 5-star reviews)
2) A private electronic network called the Alliance (promotion tool) and additional tools like a press release tool – product watchdog – HTML compressor- profit calculator – URL booster
3) The community – other amazing selling machine members already selling on Amazon that will support us
4) The team – proved graduates of this program for 1-1 support along the way – the ASM mentors
What's Included
The ASM creators proceeded with a 5th time complete overhaul. They updated and created from scratch all the lessons, all the videos, and all the strategies.
Members will get:
The brand new 8-week online web class ($9,997 value)
Access to the private ASM mentor program ($4,997 value)
Lifetime access to the private and exclusive members' community ($1,997 value)
The upgraded private resource vault ($9,997 value)
Special bonus #1 ($1,597 value)
Special bonus #2 ($997 value)
Special bonus #3 ($797 value)
Examples of Courses
Top Rated:
Brand Genesis (Case Study) by Matt Clark
Amazon FBA: a step-by-step guide to picking and listing a product with a live example by Erik Rogne
eCommerce: Product to Profit by Bill D'Alessandro
The eCommerce blueprint by Ben Hebert & Roy Krebs
Marketing:
Advanced product marketing on Amazon by Mike McClary
Amazon conversion maximizer by Karyn Thomas
Copy command by Franklin Cole
Amazon sponsored ads, from basic to pro by Philip Jepsen
eCommerce:
Retail arbitrage fast track by Christie Nachtrab
App start-up by Andreas Kambanis
Amazon barcodes and brand registry by Christie Nachtrab
Fundamentals:
The insider blueprint to Sourcing from China by Mark Houng
From China to Amazon: a live case study & complete guide to Importing from China & Selling by Manuel Becvar
Amazon seller operations: streamline your Business by Jessica Steele
Productivity:
Beyond Amazon: a step-by-step guide to monetizing your products online by Mark Attwood
ASM Price

4 payments of $1497 or 1 payment of $4997 with a ZERO RISK guarantee for 30 days after the first module releases. You can try it out and if it is not something you like send an email, access the live chat, or make a phone call and they will refund you 100% and they buy back up to $1000 inventory if you already bought products from the suppliers.
Update Oct 14, 2018
Now ASM offers memberships, there are 2 plans:
Monthly membership: $97/month (unlimited access to training, community, 14-day money-back guarantee, cancel anytime, no obligations)
Yearly membership: $67/month – you save $360 (unlimited access to training, community, 14-day money-back guarantee, cancel anytime, no obligations)
Is ASM Legit?
Absolutely, this is definitely a legit and legal opportunity. It has nothing to do with online scams or other kinds of fraud. This is an e-commerce business structure in partnership with Amazon, the world's most trustworthy retailer. Matt & Jason have created a training solution and they have years of experience in selling products on Amazon.
ASM stood the test of time and is being promoted and endorsed by leaders, top marketing experts, and influencers.
The free membership that comes with the 4 videos is a Goldmine itself. Matt & Jason present an extended research on Amazon's selling model and without these documents, you would need weeks or months just to understand how things work. But I want to amplify the pros and cons of this model in order for you to better understand this kind of business and to give you my final conclusion/opinion.
PROS
You can build your own Amazon seller partnership brand with the help of successful and experienced sellers like Matt & Jason
Detailed step-by-step guidance along the way with exclusive tools and methods
Supporting community, live chat
30 days guarantee, reduced to 14 days, but they offer very affordable monthly and yearly memberships
Low start-up cost ($5000 or $6000) compared to a FRANCHISE business or the creation of a traditional brick and mortar business ($40000 up to 1 million and more).
Amazon Reputation
ASM is being launched with huge success for many years now
CONS
High initial cost compared to other online business models, like Affiliate Marketing business ($50 up to $200)
A highly risky model – trading physical products – (1) possible defective products (2) transportation problems (3) quality problems (4) delays (5) trusted suppliers (6) product cut-offs – discontinued items
Extra costs  – (1) Logo and brand packaging – (2) Outsourcing employee (s) (3) Remaining products unsold (4) ads and paid reviews (5) video production outsourced
The margin of Profit can be very low depending on the products
Limited control of the transportation (from the suppliers directly to Amazon warehouses)
ASM Statistics
16,000 students
200 courses available
150 instructors
150 countries
10,000 hours of training
Overview – Who Is It For?
I am not a fan of trading physical products but that does not mean you can't be successful following the ASM training. As a manufacturer for over 20 years, I believe that selling physical products has a decent margin of profit only in the case that you produce those products (being a manufacturer). When you buy from producers and sell through another network (Amazon in that case) your profit is very limited and still you own the products, you have to deal with delays, faults, and complaints and you have to pre-pay for the costs. On the other hand, the Amazing Selling Machine model is a low-cost business compared to franchise opportunities or other kinds of local businesses.
The final price of ASM alone is $5000 or $6000. Add the extra costs and you possibly meet the $10000 or $12000 for such a business. You will need a lot of time, and hard work (as with any business) to make a profit and finally to get your initial costs covered. So I think that Amazing Selling Machine stands for wealthy entrepreneurs, those that can cover that costs and are ready to invest in the physical products market If you had in mind to invest in a franchise or brick-and-mortar business this opportunity is a cheaper option with less risk.
*Update Oct 14, 2018: the monthly and yearly memberships are very affordable
Final Conclusion
This is a great opportunity if you seek to trade physical products. Amazon provides the platform, the network, the warehouses, and the final delivery of the products to the customers. This saves you a lot of unnecessary costs and hard work. It is a decent online opportunity and has a low starting cost compared to traditional and franchise businesses.
But there are some risks you have to consider that we already stated. But it is a business, every business includes risk and hard work. There is a free membership area where you can test the ASM on your own.
Have in mind that as with every online business model, Amazing Selling Machine requires from you to put in the work. There are over 200 courses that cover everything you need to know to master this business, but you have to make it happen. More importantly, you have to apply what you learn. You won't get any results by just investing in a detailed and comprehensive training program like ASM. ASM won't do the work for you. ASM only provides the tools and support.
But if you decide to purchase the course, the high-quality training material will help you get started the right way. The support is enormous and there is an established private community to answer your questions and give you feedback.
*Update Oct 14, 2018: The updated memberships are very affordable
I hope you have a better understanding of what Amazing Selling Machine is all about and that this review will help you decide if this program is the right one for your needs.
That's it, another review has finished, here on Web Market Support. I am waiting for your comments and thoughts. Till next time.
We Teach
Marketing &
 Business
Live on Zoom
Your host: Tasos Perte Tzortzis
Schedule an interview so we can evaluate where you are right now, your needs and goals, and we'll give you a detailed analysis of how the workshops work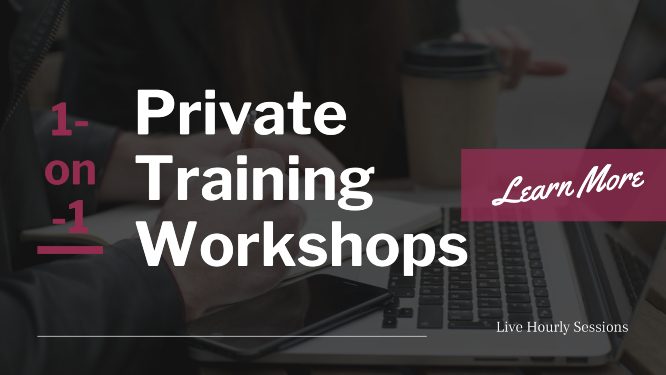 Tasos Perte Tzortzis
Business Organisation & Administration, Marketing Consultant, Creator of the "7 Ideals" Methodology
Although doing traditional business offline since 1992, I fell in love with online marketing in late 2014 and have helped hundreds of brands sell more of their products and services. Founder of WebMarketSupport, Muvimag, Summer Dream.
Reading, arts, science, chess, coffee, tea, swimming, Audi, and family comes first.